EDITION NUMBER 26 - VALENTINE'S DAY AND CHINESE NEW YEAR EDITION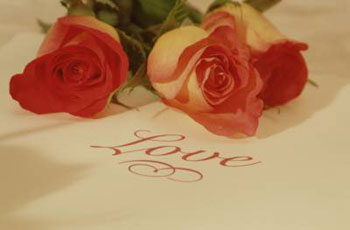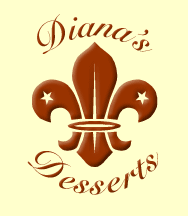 February 6, 2005

Welcome Home Bakers and Friends,

After taking a break for the holidays, I am back with a new edition of Diana's Desserts Newsletter. It's been since early December 2004 when I sent out my last newsletter and now here we are in the second month of the New Year of 2005 already. Time has a way of going quickly, doesn't it? I want all of you to know that I hope all of your holiday desserts turned out spectacular and that you enjoyed yourselves with your family and friends.

My husband Kenny and I spent a quiet holiday season at home, just the two of us. Of course we had our 4 doggies with us, but other than that it was a quiet time, not doing too much, really not doing a lot of baking or running around doing a lot of shopping (I did most of my holiday shopping on the Internet), just relaxing. Since we had quite a bit of badly needed rain, we spent most of our time at home watching a lot of good movies on television and enjoying each other's company. It was a very "needed" break from our usual busy schedule, but now it's time to get back to "reality" and also a time to start doing a little baking again just in time for the very romantic holiday of Valentine's Day which is celebrated on February 14th and for Chinese New Year which begins on February 9th this year and is the Year of the Rooster.

I have included in this edition of Diana's Desserts Newsletter several dessert recipes for Valentine's Day and Chinese New Year. I hope you enjoy them and if you decide to make any of these goodies, please let me know how they turned out.

Look for more recipes for Valentine's Day and Chinese New Year on my website:

My Recipe Book-Valentine's Day

Or:
Guest Recipe Book-Valentine's Day

My Recipe Book-Chinese New Year

Or:
Guest Recipe Book-Chinese New Year

As always, there is a Guest Submitted Recipe included in the newsletter. This month the recipe is for Grandma's Secret Chocolate Chip Cookies, submitted by Ashley Shannon.

The Food Tips and Information Section below is all about Oranges and included is a wonderful recipe for Chocolate Soufflé Cake with an Orange Caramel Sauce. A lovely cake for Valentine's Day or for that matter any time of the year. By the way, Oranges are especially important during Chinese New Year, so any dishes you might make using oranges (or tangerines) would be very appropriate during this time. It is very popular to give oranges during Chinese New Year, because in Chinese, the word "orange" sounds like "Ji", which means "good luck". People present oranges to express their respects and good wishes to their friends and relatives for the coming year.


Guest Submitted Recipe
Submitted by Ashley Shannon

Grandma's Secret Chocolate Chip Cookies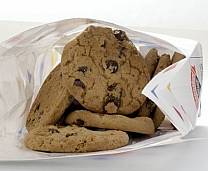 Comments:
My grandma has worked on a recipe for chocolate chip cookies for years and this is the final result and it's perfect!!

Ingredients:
3 1/2 cups all-purpose flour
1 1/2 teaspoons baking soda
1/2 teaspoon salt
1 1/2 cups granulated sugar
3/4 cup brown sugar
3 eggs
2 teaspoons vanilla extract
3/4 cup shortening
1 stick (1/2 cup/4 oz/113g) softened butter
1 (12 ounce) bag semi-sweet chocolate chips

Instructions:
Preheat oven to 350 degrees F (180 C). Line one or two cookie sheets with parchment paper. Set aside.

In a large mixing bowl, combine shortening, butter, sugar, brown sugar, and vanilla. Beat until light and fluffy. Add eggs and beat until smooth.

Sift flour, baking soda, and salt in another large bowl. Add flour mixture gradually to butter/egg mixture; beat well. By hand, stir in chocolate chips.

Drop cookie dough by teaspoonfuls or tablespoonfuls about 2 inches apart onto prepared cookie sheet (s). Bake in preheated 350 degrees F (180 C) oven for 5-8 minutes. Don't worry if they still look gooey after 8 minutes as they will harden later but will be soft and chewy inside.

Note:
The amount of servings (number of cookies) this recipe makes depends on the size cookies you make.

Source: My Granny

Submitted By: Ashley Shannon

Date: January 6, 2005

Thank you Ashley for submitting your Granny's "secret" recipe. I know several guests to Diana's Desserts Website will want to try these special chocolate chip cookies and hopefully they will let us know how they turned out....Diana

Click here to view recipe and photo of Grandma's Secret Chocolate Chip Cookies on Diana's Desserts Website


---
Chinese New Year
2005-The Year of the Rooster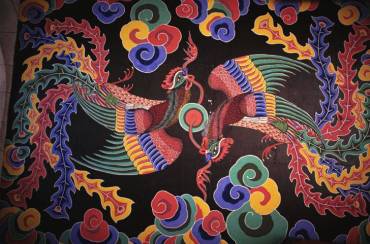 Chinese New Year 2005 begins on February 9th. The New Year season lasts fifteen days. The first three days are the most important and most often celebrated with visits to friends, family as well as greetings of good luck. The seventh day traditionally is everyone's birthday, the day when everyone grows one year older. The celebrations end on the important and colorful Lantern Festival on the evening of the 15th day of the new moon.


History of Chinese New Year
The Chinese New Year has a great history. In other traditions, by this time in the year, most resolutions made on December 31, have been subtly forgotten and placed in a cupboard marked "maybe next year." However, all hope is not lost, as there's a second chance to start afresh with the celebration of Chinese New Year on February 9th.

The Chinese New Year is very similar to the western New Years, swathed in traditions and rituals.

The origin of the Chinese New Year is itself centuries old. In fact, too old to actually be traced. It is popularly recognized as the Spring Festival and the celebrating lasts for 15 days.

Preparations tend to begin a month from the date of the Chinese New Year (similar to a Western Christmas), when people start buying presents, decoration materials, food and clothing. A huge clean-up gets underway days before the New Year, when Chinese houses are cleaned from top to bottom, to sweep away any traces of bad luck, and doors and windowpanes are given a new coat of paint, usually red. The doors and windows are then decorated with paper cuts and couplets with themes such as happiness, wealth and longevity printed on them.

The eve of the New Year is perhaps the most exciting part of the event, as anticipation creeps in. Here, traditions and rituals are very carefully observed in everything from food to clothing. Dinner is usually a feast of seafood and dumplings, signifying different good wishes. Delicacies include prawns, for liveliness and happiness, dried oysters (or ho xi), for all things good, raw fish salad or yu sheng to bring good luck and prosperity, Fai-hai (Angel Hair), an edible hair-like seaweed to bring prosperity, and dumplings boiled in water (Jiaozi) signifying a long-lost good wish for a family. It's usual to wear something red as this color is meant to ward off evil spirits, but black and white are out, as these are associated with mourning. After dinner, the family sit up for the night playing cards, board games or watching TV programs dedicated to the occasion. At midnight, the sky is lit up by fireworks.

On the day itself, an ancient custom called Hong Bao, meaning Red Packet, takes place. This involves married couples giving children and unmarried adults money in red envelopes. Then the family begins to say greetings from door to door, first to their relatives and then their neighbors. Like the Western saying "let bygones be bygones," at Chinese New Year, grudges are very easily cast aside.

The end of the New Year is marked by the Festival of Lanterns, which is a celebration with singing, dancing and lantern shows.

Although celebrations of the Chinese New Year vary, the underlying message is one of peace and happiness for family members and friends.


---
Chinese New Year Recipes
Portuguese Egg Tarts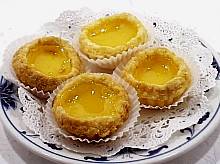 Guest Submitted Recipe
Recipe submitted by Joanne Teo
December 22, 2003

Comments:
"These egg tarts have influences from the east and west. In Singapore (that's where I'm from), they are very popular with the young and old alike. They can be served to guests during Chinese New Year (which falls on February 9, 2005). Their melt-in-your-mouth custard is sure to be a hit".....Joanne

Ingredients:
Pastry
100 g (3 1/2 oz.) plain (all-purpose) flour
1/4 cup (1/2 stick/2 oz./56g) margarine or butter
1-2 dessertspoons (2-4 teaspoons/10-20 mL) cold water
pinch of salt

Filling:
2 tbsp. milk
2 level tsp. granulated sugar
150ml (5 oz.) thickening cream (heavy cream)
2 egg yolks
1/2 tsp. vanilla essence (extract or flavoring)

Instructions:
1. Sift flour and salt together.

2. Cut margarine (or butter, if using) into small pieces. Rub them into the flour using fingertips until the mixture resembles fine bread crumbs.

3. Add water, a little at a time and mix with a fork. Mix until a dough is formed.

4. Dust the rolling pin and pastry board lightly with flour. Roll and cut the pastry into rounds.

5. Line the patty tins (mini tartlet pans) with pastry rounds. Lightly prick the base of the pastry with a fork.

6. Melt the sugar in the milk, (do not boil).

7. When the sugar has melted, remove from heat and add cream, egg yolks and vanilla essence. Beat lightly.

8. Pour the mixture into the pastry shells until 3/4 full.

9. Bake at 200 degrees C (400 degrees F) until golden brown or approximately 15-20 minutes.

Click here to view recipe and photo of Portuguese Egg Tarts on Diana's Desserts Website


---
New Year's Cake
(Neen Gow or Nian Gao)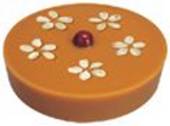 Servings: Makes one 8-inch cake, 72 slices

Comments:
Neen Gow (or Nian Gao), New Year's Cake, is the most important cake eaten on Chinese New Year's - the main ingredient, glutinous rice flour, is a symbol of cohesiveness. The egg-dipped, pan-fried slices have a mellow sweetness and are slightly chewy from glutinous rice flour. Mama remembers watching her grandmother's servants scraping the slab brown candy, peen tong, for this cake, which is the traditional technique. Brown candy is a kind of sugar that is sold by the slab in 1-pound packages and is also available loose in bins in some Chinese markets. The slabs are about 5 inches long, 1 1/4 inches wide, and a scant 1/2 inch thick. The scraping of the sugar is extremely labor-intensive, so some cooks dissolve the slabs of sugar in water, which is less authentic but much easier to prepare. Be sure to use glutinous rice flour here, not regular rice flour!.........Grace Young-Author of Wisdom of the Chinese Kitchen

Note:
See below for how to serve and store this New Year's Cake.

Ingredients:
3 Chinese dried red dates
5 slabs brown candy (peen tong), about 11 ounces
3 teaspoons vegetable oil
7 cups glutinous rice flour
1 tablespoon white sesame seeds
1 large egg
Vegetable oil, for pan-frying

Instructions:
In a small bowl, soak the red dates in 1/4 cup cold water for 30 minutes, or until softened. When softened, remove and discard the pits.

Cut each brown candy slab into 8 pieces. Place sugar in a heatproof bowl, pour 2 cups boiling water over the sugar, and set aside until dissolved and completely cooled.

Grease a heatproof 8-inch round, 3- to 4-inch-deep, straight-sided bowl, such as soufflé dish, with 2 teaspoons vegetable oil.

In a large bowl, place rice flour. Make a well and stir in cold sugar water. Knead dough in the bowl, adding an additional 1/3 cup cold water until dough is smooth, slightly moist, and shiny, 5 to 10 minutes.

Place the dough in the prepared dish and pat until it fills the dish evenly.

Cut the red dates into halves and place cut-side down in a ring around the outside of the dough, leaving a few to decorate the center.

Sprinkle the top with sesame seeds. Coat with the remaining 1 teaspoon oil, using your fingers and lightly pressing down on the dates and sesame seeds.

Bring water to a boil over high heat in a covered steamer large enough to fit the dish without touching the sides of the steamer. Carefully place the dish into the steamer, cover, and steam 35 to 40 minutes on high heat. Check the water level and replenish, if necessary, with boiling water. The cake is done when it begins to pull away from the sides
of the pan. Carefully remove the dish from the steamer and pour off any excess liquid on the surface. Place on a rack to cool. Loosely cover and set at room temperature in a cool room until the next day, when it will be ready to eat.

Run a knife along the edge of the cake to loosen sides. Place a cake rack over the bowl and invert to unmold. Flip the cake right-side up onto the cutting board. Wrap the cake in plastic and refrigerate until ready to use.

When ready to eat, cut the cake into quarters. Cut each quarter crosswise, not into wedges, but into two 2-inch-wide strips. Cut each strip crosswise into scant 1/4-inch-thick slices. This is the typical way of slicing a cake Chinese style. Beat an egg in a small bowl, until frothy. Dip the slices in egg.

Heat a 14-inch flat-bottomed wok or skillet, over medium heat until hot but not smoking. Add just enough vegetable oil to barely coat the wok, add the egg-dipped slices in batches and cook 2 to 3 minutes per side, until golden brown. Serve immediately.

Makes one 8-inch cake, about 72 slices.

TIP:
How to Serve and Store Chinese New Year's Cake:

I've never met anyone who served the entire cake at once. During the first ten days of the New Year's celebration a few slices of all the different New Year's cakes are fried every morning for breakfast or when friends or family stop by. The cake will keep nicely in the refrigerator for ten days if wrapped in plastic wrap.

Source: Wisdom of the Chinese Kitchen by Grace Young
Simon & Schuster

Click here to view recipe and photo of New Year's Cake (Neen Gow) on Diana's Desserts Website


---
Sweet Red Bean Soup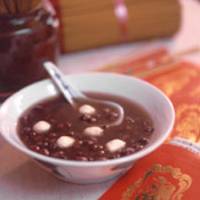 Servings: 8

Comments:
A "sweet" dessert soup for Chinese New Year.

The vibrant color of red signifies happiness and luck. For this reason, it is always present at special celebrations such as weddings, birthdays, and most of all the Chinese New Year. The dessert soup is made of red azuki beans, which are small, dried sweet-flavored beans. The dried lotus seeds, with a slight nutty flavor, are added to create a dramatic contrast in color and texture. The soup may be served hot, at room temperature, or chilled.

Ingredients:
1 cup dried red azuki beans, soaked 4 hours or overnight, drained
1/4 cup dried lotus seeds, soaked for 12 hours, or overnight, drained
1/3 cup to 1/2 cup sugar

Instructions:
Combine beans and 7 cups water in large pot. Bring to boil. Reduce heat to medium-low. Cook uncovered until beans are tender and the liquid has reduced by 3 cups, about 2 hours. Add the lotus seeds and cook until almost tender, about 20 minutes longer. Divide soup among 8 soup bowls and serve.

Makes 8 servings.

Tips:
1) Adding a piece of dried orange peel (half an orange) gives the soup a lovely tangy flavour. You can make this peel by saving all those peels from the abundant mandarin oranges eaten during the period. Scrape off all the white piths with a knife and sun for several days. Then keep them in the freezer and it will last indefinitely.

2) Also one may add a handful of sago pearls towards the last 10 minutes of boiling. It gives an interesting texture (slightly chewy).

Source for Tips: Choo Teck Poh, Guest to Diana's Desserts Website.

Recipe for Sweet Red Bean Soup by: Corinne Trang.

Nutrition Facts
Serves 8
Facts per Serving
Calories: 119
Fat: 0g
Carbohydrates: 24g
Cholesterol: 0mg
Sodium: 3mg
Protein: 6g
Fiber: 4g
% Cal. from Fat: 0%
% Cal. from Carbs: 81%

Source: Cooking.com

Click here to view recipe and photo of Sweet Red Bean Soup on Diana's Desserts Website



---
Valentine's Day-Monday February 14, 2005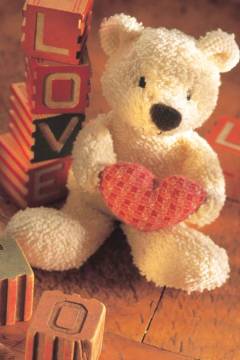 The Story of Valentine's Day
The holiday of Valentine's Day probably derives its origins from the ancient Roman feast of Lupercalia. In the early days of Rome, fierce wolves roamed the woods nearby. The Romans called upon one of their gods, Lupercus, to keep the wolves away. A festival held in honor of Lupercus was celebrated February 15th. The festival was celebrated as a spring festival. Their calendar was different at that time, with February falling in early springtime.

One of the customs of the young people was name-drawing. On the eve of the festival of Lupercalia the names of Roman girls were written on slips of paper and placed into jars. Each young man drew a slip. The girl whose name was chosen was to be his sweetheart for the year.

Legend has it that the holiday became Valentine's Day after a priest named Valentine. Valentine was a priest in Rome at the time Christianity was a new religion. The Emperor at that time, Claudius II, ordered the Roman soldiers NOT to marry or become engaged. Claudius believed that as married men, his soldiers would want to stay home with their families rather than fight his wars. Valentine defied the Emperor's decree and secretly married the young couples. He was eventually arrested, imprisoned, and put to death.

Valentine was beheaded on February 14th, the eve of the Roman holiday Lupercalia. After his death, Valentine was named a saint. As Rome became more Christian, the priests moved the spring holiday from the 15th of February to the 14th - Valentine's Day. Now the holiday honored Saint Valentine instead of Lupercus.

Source: Holidays on the Net: http://www.holidays.net/amore/story.html


---
Valentine's Day Recipes
Molten Chocolate-Cherry Cakes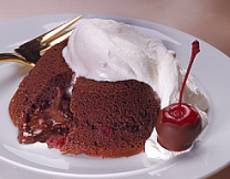 Servings: Makes 6 molten cakes

Comments:
These little molten chocolate-cherry cakes are perfect to serve on Valentine's Day for a very special dessert. When you cut into them, chocolate comes "oozing" out, so good! Remember, it is very important to serve these cakes warm from the oven.

Ingredients:
CHOCOLATE DIPPED CHERRIES (see recipe below)
1 tablespoon plus 2/3 cup granulated sugar, divided
3/4 cup (1 1/2 sticks/6 oz/170g) butter or margarine
1/2 cup unsweetened Dutch process cocoa
1/4 cup whipping cream
1-1/2 teaspoons vanilla extract
1/4 cup all-purpose flour
2 eggs
2 egg yolks
1/3 cup maraschino cherries, finely chopped

Serve with:
Sweetened Whipped Cream

Instructions:
1. Prepare Chocolate Dipped Cherries (see instructions below).

2. Heat oven to 400 degrees F (200 degrees C). Grease six 3/4-cup soufflé dishes or 6-ounce custard cups. Sprinkle inside of each with some of the 1 tablespoon sugar. Place dishes in a 9 x 13-inch baking pan or a jelly-roll pan.

3. Melt butter in medium saucepan. Remove from heat. Whisk in cocoa, 1/3 cup sugar, whipping cream and vanilla. Whisk in flour just until combined. Set aside.

4. Beat eggs, egg yolks and remaining 1/3 cup sugar in large bowl on high speed of mixer about 5 minutes or until slightly thickened and lemon-colored. Beat in chocolate mixture on medium speed. Pour about 1/4 cup into each prepared dish. Sprinkle chopped cherries evenly over each. Carefully pour remaining chocolate mixture into each dish.

5. Bake 13 to 15 minutes or just until top of each cake looks dry. (Do not over bake.) Let stand in dishes 3 minutes. Loosen sides of each. Invert onto serving plates. Serve warm topped with whipped cream and a Chocolate Dipped Cherry.

Makes 6 servings.

Chocolate Dipped Cherries:
Drain 6 maraschino cherries with stems. Pat dry with paper towels. Place 1/4 cup semi-sweet chocolate chips and 1/2 teaspoon shortening (do not use butter, margarine, spread or oil) in small microwave-safe bowl. Microwave at HIGH (100%) 45 seconds. Stir until chips are melted. Dip cherries into chocolate mixture. Place on wax paper-lined tray. Refrigerate until serving time.

Tip:
For make-ahead convenience, prepare the cakes but do not bake. Cover with plastic wrap and refrigerate for up to 3 hours. Let stand at room temperature 30 minutes, then bake as directed.

Click here to view recipe and photo of Molten Chocolate-Cherry Cakes on Diana's Desserts Website


---
Chocolate Mousse Filled Tulip Cookies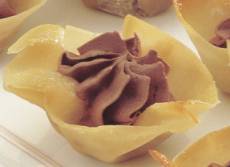 Servings: Makes 24 cookies

If you're having a Valentine's Day party or get-together, these little chocolate mousse filled cookies are a perfect treat to serve. Only a few ingredients, and using wonton wrappers for the tulip cookie shells makes them a fun and easy little dessert to make. Kids will certainly enjoy these too.

Ingredients:
24 wonton wrappers (usually found in the refrigerated section of the produce section of your supermarket)
2 tablespoons butter or margarine, melted
3 tablespoons sugar, divided

Easy Chocolate Mousse (see recipe below)

Instructions:
1. Preheat oven to 300 degrees F (150 degrees C).

2. Place individual wonton wrappers on wax paper; brush one side with butter. Sprinkle each wrapper evenly with scant 1/2 teaspoonful sugar; press each wrapper, sugared side up, into ungreased small muffin cups (1-3/4 inches in diameter) to form flower shape.

3. Bake 15 to 20 minutes or just until crisp and golden brown. Cool completely in pan on wire rack. Pipe or spoon Easy Chocolate Mousse into center of each "tulip" cup. Cover and refrigerate. Refrigerate any leftover cookies.

Easy Chocolate Mousse

Beat 1 cup (1/2 pt.) cold whipping cream, 1/2 cup confectioners' sugar, 1/4 cup cocoa or Dutch processed cocoa and 1 teaspoon vanilla extract in medium bowl until stiff. Use immediately.

Makes 2 dozen cookies.

Source: Hershey's

Click here to view recipe and photo of Chocolate Mousse Filled Tulip Cookies on Diana's Desserts Website


---
Strawberry Heart Tart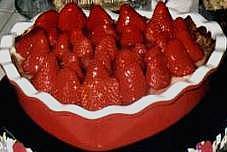 Servings: 8

Comments:
"This was the first Valentine's Day dessert that I made for my husband Kenny, in 2001. We had only been married for about 3 years and during those years, we were living in Denmark where we were very busy getting our lives arranged so that we could move back to my home in the United States. I didn't have a lot of time to concentrate on baking back then, but I must say I made up for it when we got settled in our new home here in the beautiful Wine Country in Sonoma County, California".....Diana

I hope that some of you will make this delicious tart for Valentine's Day for YOUR "Sweetheart" too.

Ingredients:
For The Pastry:
1 cup all-purpose flour
1 tbsp. granulated sugar
1/4 tsp. salt
1/2 cup (4oz/1 stick/113g) unsalted butter, at room temperature, cut into small pieces
1 to 2 tbsp. water

For The Filling:
1 1/4 cups milk
3 1/2 tbsp. all-purpose flour
1/4 cup granulated sugar
4 egg yolks
1 tbsp. unsalted butter
2 tsp. kirsch (clear cherry liqueur) OR 1/2 tsp. vanilla extract

For The Strawberry Topping:
4 cups whole strawberries, washed, dried and hulled
1/4 cup red currant jelly, melted

Instructions:
To Make the Pastry:
Preheat oven to 375 degrees F (190 degrees C).

In a food processor fitted with the metal blade, combine the flour, sugar and salt. Pulse briefly to mix. Add the butter and process until the consistency of coarse meal. With the motor running, add just enough of the water to form a ball that cleans the sides of the bowl. Remove from the processor, wrap the dough in plastic wrap and refrigerate for 30 minutes.

Place the pastry in a 9 or 10-inch heart shaped tart pan with a removable bottom, OR a 9 or 10-inch heart shaped ceramic baking dish, OR a 9 or 10-inch heart shaped springform pan. Press the pastry gently onto the bottom and sides of the pan, forming an even layer. Place in the freezer for 30 minutes.

Remove pan from the freezer and line the pastry shell with parchment paper and fill with pie weights, rice or beans. Bake in preheated 375 degree F (190 degree C) oven until lightly golden around the edges, 15 to 20 minutes. Remove from the oven and remove the weights and parchment paper. Continue to bake until pale gold, 5 to 7 minutes longer. Let cool completely on wire rack.

To Make the Pastry Cream Filling:
Pour the milk into a saucepan over medium heat and heat until small bubbles appear along the edges of the pan. Remove from the heat. In another saucepan, stir together the flour and sugar. In a bowl, whisk the egg yolks until light colored. Whisk the hot milk into the flour mixture and place over medium heat. Cook, stirring constantly, until the mixture boils, 1 to 2 minutes.

Remove from the heat and whisk one-fourth of the hot milk/flour mixture into the egg yolks; then whisk the egg yolks into the remaining hot milk-flour mixture and cook over medium heat, stirring constantly, until thickened slightly and an Instant Read Thermometer inserted into the liquid registers 165 degrees F (74 degrees C), 2 to 3 minutes. Remove from the heat, stir in the butter and strain through a fine-mesh sieve into a clean bowl.

Stir in the kirsch (or vanilla extract, if using) and cover with plastic wrap, pressing the plastic wrap directly onto the surface of the pastry cream. Let cool in the refrigerator.

Melting the Red Currant Jelly:
In a small saucepan on medium heat, heat the red currant jelly. Remove from heat, and let jelly cool a little before lightly brushing strawberries once they have been put on top of the pastry cream.

Assembling the Tart:
Pour the cooled pastry cream into the cooled pastry shell. Arrange the strawberries, hulled side down attractively on top of the pastry cream and brush the strawberries with a thin coating of the cooled currant jelly. Release the springform pan sides (or remove the sides of tart pan with removable bottom, OR if making tart in pan without removable bottom, leave tart in pan and serve from pan). Otherwise, using a spatula, slide the tart from the pan bottom onto a serving plate.

Makes 1 (9-inch) tart, serves 8.

Source: DianasDesserts.com

Click here to view recipe and photo of Strawberry Heart Tart on Diana's Desserts Website


---
Chocolate Mousse for Two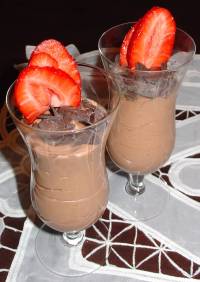 Servings: 2

Comments:
Serve this luscious chocolate mousse to your "sweetheart" on Valentine's Day. Just enough for the "two" of you.

Ingredients:
2 tablespoons granulated sugar
1/2 teaspoon unflavored gelatin
1/4 cup whole milk
1/2 cup semi-sweet or bittersweet chocolate chips
1 tablespoon orange liqueur, such as Grand Marnier, OR 1/4 teaspoon orange extract
3/4 teaspoon vanilla extract
1/2 cup whipping cream, chilled

Garnish: (optional)
Sweetened Whipped Cream (see instructions below)
Semi-sweet or bittersweet chocolate, grated
Fresh Strawberries

Instructions:
1. Stir together sugar and gelatin in small saucepan; stir in milk. Let stand 2 minutes to soften gelatin. Cook over medium heat, stirring constantly, until mixture just begins to boil.

2. Remove from heat. Immediately add chocolate chips; stir until melted. Stir in liqueur (or orange extract, if using); cool to room temperature.

3. Beat whipping cream in small bowl until stiff; gradually add chocolate mixture, folding gently just until blended. Spoon into two dessert glasses. Refrigerate for at least 2 hours. Serve chilled.

4. Garnish with sweetened whipped cream, grated chocolate and strawberries, if desired.

Makes 2 servings.

How To Make Sweetened Whipped Cream

In a chilled mixing bowl with chilled beaters, whip 1/2 cup whipping cream with 1 tablespoon confectioners' sugar and 1/4 teaspoon vanilla extract, untill stiff peaks form. Chill until ready to use. When ready to serve, top each mousse with whipped cream.

Makes 1 cup sweetened whipped cream.

Source: DianasDesserts.com

Click here to view recipe and photo of Chocolate Mousse for Two on Diana's Desserts Website


---
Food Tips and Information Section
Oranges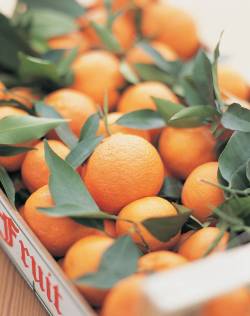 Why Eat Oranges?
More than any other fruit, the orange is associated with--and valued for--its vitamin C content. It is, in fact, the primary source of vitamin C for the majority of Americans. But oranges have more to offer nutritionally than just this one nutrient. A small orange (about five ounces) contains generous levels of folate (folic acid), potassium, and thiamin, as well as some calcium and magnesium. And compared to other citrus fruits, oranges have a broader range of uses: They can be added to various cooked or cold dishes, eaten as snacks, or squeezed for their delicious juice.

Americans consume most of their oranges in the form of juice, which provides 140% of the current suggested daily intake of vitamin C. However, if you choose to eat a whole orange instead of drinking a glass of juice, you'll get about the same amount of vitamin C with the added benefit of more than 3 grams of dietary fiber.

Orange trees are semitropical non-deciduous trees and, like other citrus fruits, they probably originated in Southeast Asia. We take oranges for granted now (they are the third most popular fruit in the U.S., right behind bananas and apples), but at one time they were expensive and only rarely available in cooler climates. Columbus brought orange seeds and seedlings with him to the New World, and by the 1820s, when Florida became a U.S. territory, there were thriving orange groves in St. Augustine. By 1910, Florida was on its way to its current status as the number-one citrus-growing state.

In the Forties, scientists developed frozen orange-juice concentrate which led to oranges becoming the main fruit crop in the United States. Today, Florida produces about 70% of the country's oranges, and about 90% of the crop is processed into juice. California and Arizona are the other two states where oranges are extensively cultivated. Their oranges, however, have thicker skins than Florida fruits, a characteristic that helps to protect them against the drier climates of the West. They are also more prized as eating oranges.

Varieties
There are two types of oranges, sweet and sour. Only sweet oranges are grown commercially in the United States, and those you are most likely to find include:

Hamlin:
One of the earliest-maturing oranges, Hamlins are grown primarily in Florida. Although they are practically seedless, their flesh is rather pulpy so they are better for juicing than for eating. Small in size, Hamlins have a very thin skin. Season: October through December.

Jaffa:
These oranges are imported from Israel. They are similar to Valencias, but have a sweeter flavor. Season: Mid-December through Mid-February.

Navel:
These large, thick-skinned oranges are easily identified by the "belly-button" found at their blossom end. Navels are seedless, almost effortlessly peeled, and easily segmented--qualities that, along with their sweet flavor, make them excellent eating oranges. California navels are somewhat more flavorful than those grown in Florida. They can be used for juice, but should be squeezed as needed because the juice turns bitter over time, even when refrigerated. Season: November through April

Pineapple:
Similar to Hamlins in appearance, these oranges--named for their aromatic quality--are seedy but very flavorful and juicy; though best for juicing, they are good for eating if you don't mind the seeds. Season: December through February.

Valencia:
These are the most widely grown oranges; they account for about half the crop produced each year. Medium- to large-sized, Valencias have a smooth, thin skin and an oval or round shape. They are dual purpose oranges, because they can either be eaten whole or squeezed for juice. Florida Valencias, which are available in the middle of the orange season, are considered the best juice oranges. Season: March through June.

Blood Orange:
The blood orange is a less common variety, usually found in gourmet shops. The ruby-red color of their flesh and juice (not their skin, which is orange) gives these sweet, juicy oranges their name. Imported from Mediterranean countries and grown in California, blood oranges are small- to medium-sized fruits. Season: March through May.

Availability
Oranges are available year round, though the bulk of the domestic crop appears in the colder months, starting in October and running through late March or early April.

Shopping for Oranges
The different varieties of oranges will be at their best during the midpoint of their growing seasons. Choose oranges that are firm, heavy for their size (they will be juiciest), and evenly shaped. The skin should be smooth rather than deeply pitted, although juice oranges are generally smoother than navels. Thin-skinned oranges are juicier than thick-skinned varieties, and small- to medium-sized fruits are sweeter than the largest oranges. There is no need to worry about ripeness--oranges are always picked when they are ripe.

Skin color is not a good guide to quality: Some oranges are artificially colored with a harmless vegetable dye (this is permitted in Florida, but not in California or Arizona), while others may show traces of green although they are ripe. Florida oranges are likely to be slightly greenish, while California oranges are usually a true orange color. Through a natural process called "regreening," the skins of ripe oranges sometimes revert to green if there are blossoms on the tree at the same time as the fruit. This is because the tree produces chlorophyll to nourish the blossoms, and some of the pigment may be taken up by the mature fruit. Oranges that have "regreened" may actually be sweeter because they are extra-ripe.

Superficial brown streaks will not affect the flavor or texture of the fruit, but oranges that have serious bruises or soft spots, or feel spongy, should be avoided.

Storage
Oranges keep for up to two weeks in the refrigerator. But they keep almost as well at room temperature, retaining nearly all of their vitamin content even after two weeks. (They will also yield more juice at room temperature.) Their sturdy peel protects them and they require no further wrapping. In fact, if oranges are placed in unperforated plastic bags the moisture trapped inside may encourage mold growth. If you like to eat oranges chilled, by all means refrigerate them.

Preparation
Halve unpeeled oranges crosswise for juicing, or halve them either crosswise or lengthwise and then cut each half into thirds, for a juicy snack to be eaten from the peel. For garnishing, halve an orange lengthwise, then cut each half crosswise into slices.

Navel oranges peel easily if you insert your finger into the opening and pull back the peel. To peel other types of oranges, cut a disk of peel from the top, then cut slices of peel longitudinally from top to bottom. Finally, cut the remaining peel from the bottom. Or, peel spiral-fashion (as you would an apple) after removing a slice from the top. Separate the orange segments by cutting between the membrane and flesh with a sharp knife. Work over a bowl to catch the juices. For orange "cartwheels," just slice the peeled fruit crosswise.

If you need orange zest--the flavorful orange part of the peel--use the fine side of a hand grater, a special zesting tool, a sharp paring knife, or a vegetable peeler to remove the zest from a scrubbed orange. Try not to scrape any of the bitter white pith from the fruit along with the colored part of the peel. Check that the oranges you use for zest are not artificially colored or waxed.

Two to four medium-sized oranges will yield about 1 cup of juice; one medium-sized orange will yield about 4 teaspoons of grated zest.

Nutrition Chart

Orange/1 Medium
Calories: 64
Total fat (g): 0.1
Saturated fat (g): 0
Monounsaturated fat (g): 0
Polyunsaturated fat (g): 0
Dietary fiber (g): 3.4
Protein (g): 1
Carbohydrate (g): 16
Cholesterol (mg): 0
Sodium (mg): 1
Vitamin C (mg): 80
Folate (mcg): 47

Orange Juice/1 cup
Calories: 110
Total fat (g): 0.7
Saturated fat (g): 0.1
Monounsaturated fat (g): 0.1
Polyunsaturated fat (g): 0.2
Dietary fiber (g): 0.5
Protein (g): 2
Carbohydrate (g): 25
Cholesterol (mg): 0
Sodium (mg): 3
Vitamin C (mg): 82
Folate (mcg): 45
Potassium (mg): 473

Source: WholeHealthMD.com


---
Recipe
Chocolate Soufflé Cake with Orange Caramel Sauce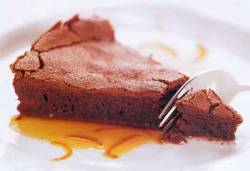 Servings: 10-12

Comments:
This very rich "flourless" cake is moist, light and chocolaty. It will melt in your mouth. Serve it with a dollop of whipped cream and an orange slice for garnish. A definite comfort food and makes a delightful Valentine's Day dessert or even a special cake for Chinese New Year's.

Ingredients:
1 cup (2 sticks/8 oz/226g) unsalted butter, cut into pieces
9 oz. best quality bittersweet chocolate (not unsweetened), chopped
6 large eggs, separated
2/3 cup PLUS 1/2 cup superfine granulated sugar
3 Navel or Valencia oranges

Instructions:
To Make Cake:
Put a small roasting pan filled halfway with hot water in bottom third of oven (to provide moisture during baking), then preheat oven to 325 degrees F (160 C). Butter a 10-inch (25 cm) springform pan and line bottom with a round of parchment or wax paper. Butter paper also.

Melt butter and chocolate together in a heavy saucepan over low heat, stirring, then remove from heat. Beat together yolks, 1/3 cup sugar, and 1/2 teaspoon salt in a large bowl with an electric mixer until thick and pale, and ribbons form when beater is lifted, about 6 minutes. Beat whites at medium speed with cleaned beaters in another large bowl until they just hold soft peaks. Gradually add 1/3 cup sugar, beating until whites just hold stiff peaks. Stir warm chocolate mixture into yolk mixture until combined well. Stir one fourth of egg whites into chocolate mixture to lighten, then fold in remaining egg whites gently but thoroughly.

Pour batter into springform pan and bake in middle of oven (Do Not Place Springform Pan In Pan Of Hot Water) until a tester inserted in center comes out with crumbs adhering, about 50-60 minutes (a crust will form and crack on top of cake as it bakes). Transfer to a rack and cool 10 minutes (cake will "deflate" as it cools). Run a thin knife carefully around edge of cake, then remove side of pan. Cool cake on bottom of pan 30 minutes, then invert onto another rack or plate. Remove bottom of pan, then carefully peel off parchment. Invert cake onto a serving plate. Serve cake with Orange Caramel Sauce (recipe follows).

To Make Orange Caramel Sauce (while cake bakes):
Remove zest from 2 oranges and trim any white pith from zest. Cut zest into enough very thin strips to measure 1/4 cup. Squeeze juice from 3 oranges and strain through a fine sieve. Measure out 1 cup juice.

Cook remaining 1/2 cup sugar in a dry heavy saucepan over moderate heat, undisturbed, until it begins to melt. Continue to cook, stirring occasionally with a fork, until sugar is melted into a deep golden caramel. Add zest and cook, stirring, until fragrant, about 15 seconds. Tilt pan and carefully pour in juice (caramel will harden and steam vigorously). Cook over moderately low heat, stirring, until caramel is dissolved, then cool sauce.

Notes:
Making this cake 1 day ahead is recommended, to allow flavors to develop. Keep chilled, covered with plastic wrap. Bring to room temperature before serving.

Makes 8 to 10 servings.

Source: Adapted from Gourmet Magazine, February 2001.

Click here to view recipe and photo of Chocolate Soufflé Cake with Orange Caramel Sauce on Diana's Desserts Website


---
Until Next Month
I hope you've enjoyed reading a little history about Valentine's Day and Chinese New Year and that you'll try some of the recipes for these special holidays.

Also, I hope the information on Oranges is helpful to you and remember what a good source of Vitamin C they are.

I will be back next month with recipes and information on St. Patrick's Day, the Jewish holiday of Purim, and Easter.

Until then, have a great month and please enjoy Valentine's Day and if you celebrate Chinese New Year, "Gung Hey Fat Choy", Prosper, Be
Healthy, Happy and Much Good Luck!!

If you'd like to submit one of your favorite recipes to Diana's Desserts, click on the link below to bring you to the Submit a Recipe Page on Diana's Desserts Website:

Submit a Recipe

Sincerely, Diana