Diana's Desserts - www.dianasdesserts.com
See more recipes in
Valentine's Day
Strawberry Heart Tart
in Diana's Recipe Book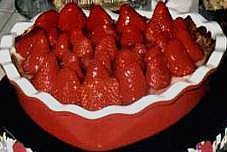 Average Rating:
(total ratings: 3)
[Read reviews]
[Post a review]
Servings: 8
Comments:
"This was the first Valentine's Day dessert that I made for my husband Kenny, in 2001. We had only been married for about 3 years and during those years, we were living in Denmark where we were very busy getting our lives arranged so that we could move back to my home in the United States. I didn't have alot of time to concentrate on baking back then, but I must say I made up for it when we got settled in our new home here in the beautiful Wine Country in Sonoma County, California.

This ones for My Sweetheart, my husband Kenny, Happy Valentine's Day My Love!

I hope that some of you will make this delicious tart for Valentine's Day for YOUR "Sweetheart" too".....Diana
Ingredients:

For The Pastry:
1 cup all-purpose flour
1 tbsp. granulated sugar
1/4 tsp. salt
1/2 cup (4oz/1 stick/113g) unsalted butter, at room temperature, cut into small pieces
1 to 2 tbsp. water

For The Filling:
1 1/4 cups milk
3 1/2 tbsp. all-purpose flour
1/4 cup granulated sugar
4 egg yolks
1 tbsp. unsalted butter
2 tsp. kirsch (clear cherry liqueur) OR 1/2 tsp. vanilla extract

For The Strawberry Topping:
4 cups whole strawberries, washed, dried and hulled
1/4 cup red currant jelly, melted

Serving suggestion:
If desired, serve each slice with a little whipped cream or non-diary whipped topping.
Instructions:
To Make the Pastry:
Preheat oven to 375°F (190°C).

In a food processor fitted with the metal blade, combine the flour, sugar and salt. Pulse briefly to mix. Add the butter and process until the consistency of coarse meal. With the motor running, add just enough of the water to form a ball that cleans the sides of the bowl. Remove from the processor, wrap the dough in plastic wrap and refrigerate for 30 minutes.

Place the pastry in a 9 or 10-inch heart shaped tart pan with a removable bottom, OR a 9 or 10-inch heart shaped ceramic baking dish, OR a 9 or 10-inch heart shaped springform pan. Press the pastry gently onto the bottom and sides of the pan, forming an even layer. Place in the freezer for 30 minutes.

Line the pastry shell with parchment paper and fill with pie weights, rice or beans. Bake in preheated 375 degree F (190 C) oven until lightly golden around the edges, 15 to 20 minutes. Remove from the oven and remove the weights and parchment paper. Continue to bake until pale gold, 5 to 7 minutes longer. Let cool completely on wire rack.

To Make the Pastry Cream Filling:
Pour the milk into a saucepan over medium heat and heat until small bubbles appear along the edges of the pan. Remove from the heat. In another saucepan, stir together the flour and sugar. In a bowl, whisk the egg yolks until light colored. Whisk the hot milk into the flour mixture and place over medium heat. Cook, stirring constantly, until the mixture boils, 1 to 2 minutes.

Remove from the heat and whisk one-fourth of the hot milk/flour mixture into the egg yolks; then whisk the egg yolks into the remaining hot milk-flour mixture and cook over medium heat, stirring constantly, until thickened slightly and an Instant Read Thermometer inserted into the liquid registers 165ºF (74°C), 2 to 3 minutes. Remove from the heat, stir in the butter and strain through a fine-mesh sieve into a clean bowl.

Stir in the kirsch (or vanilla extract, if using) and cover with plastic wrap, pressing the plastic wrap directly onto the surface of the pastry cream. Let cool in the refrigerator.

Melting the Red Currant Jelly:
In a small saucepan on medium heat, heat the red currant jelly. Remove from heat, and let jelly cool a little before lightly brushing strawberries once they have been put on top of the pastry cream.

Assembling the Tart:
Pour the cooled pastry cream into the cooled pastry shell. Arrange the strawberries, hulled side down attractively on top of the pastry cream and brush the strawberries with a thin coating of the cooled currant jelly. Release the springform pan sides (or remove the sides of tart pan with removable bottom, OR if making tart in pan without removable bottom, leave tart in pan and serve from pan). Otherwise, using a spatula, slide the tart from the pan bottom onto a serving plate. If desired, serve each slice with a little whipped cream or non-dairy whipped topping.

Makes 1 (9-inch) tart, serves 8.

Photograph taken by Diana Baker Woodall© 2001
Source: DianasDesserts.com
Date: February 14, 2001
Reviews
Reviewer:
Emily Greene
Rating:
Reviewer:
Kimberly
Rating:
Reviewer:
Kimberly
Rating: