Diana's Desserts - www.dianasdesserts.com
See more recipes in
Valentine's Day
Molten Chocolate-Cherry Cakes
in Diana's Recipe Book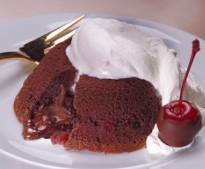 [Be the first to post a review!]
Servings: Makes 6 molten cakes
Comments:
These little molten chocolate-cherry cakes are perfect to serve on Valentine's Day for a very special dessert. When you cut into them, chocolate comes "oozing" out, so good! Remember, it is very important to serve these cakes warm from the oven.
Ingredients:

CHOCOLATE DIPPED CHERRIES (see recipe below)
1 tablespoon plus 2/3 cup sugar, divided
3/4 cup (1-1/2 sticks) butter or margarine
1/2 cup unsweetened Dutch process cocoa
1/4 cup whipping cream
1-1/2 teaspoons vanilla extract
1/4 cup all-purpose flour
2 eggs
2 egg yolks
1/3 cup maraschino cherries, finely chopped

Serve with:
Sweetened Whipped Cream
Instructions:
1. Prepare Chocolate Dipped Cherries (see instructions below).

2. Heat oven to 400°F (200°C). Grease six 3/4-cup soufflé dishes or 6-ounce custard cups. Sprinkle inside of each with some of the 1 tablespoon sugar. Place dishes in a 9 x 13-inch baking pan or a jelly-roll pan.

3. Melt butter in medium saucepan. Remove from heat. Whisk in cocoa, 1/3 cup sugar, whipping cream and vanilla. Whisk in flour just until combined. Set aside.

4. Beat eggs, egg yolks and remaining 1/3 cup sugar in large bowl on high speed of mixer about 5 minutes or until slightly thickened and lemon-colored. Beat in chocolate mixture on medium speed. Pour about 1/4 cup into each prepared dish. Sprinkle chopped cherries evenly over each. Carefully pour remaining chocolate mixture into each dish.

5. Bake 13 to 15 minutes or just until top of each cake looks dry. (Do not over bake.) Let stand in dishes 3 minutes. Loosen sides of each. Invert onto serving plates. Serve warm topped with whipped cream and a Chocolate Dipped Cherry.

Makes 6 servings.

Chocolate Dipped Cherries:
Drain 6 maraschino cherries with stems. Pat dry with paper towels. Place 1/4 cup semi-sweet chocolate chips and 1/2 teaspoon shortening (do not use butter, margarine, spread or oil) in small microwave-safe bowl. Microwave at HIGH (100%) 45 seconds. Stir until chips are melted. Dip cherries into chocolate mixture. Place on wax paper-lined tray. Refrigerate until serving time.

Tip:
For make-ahead convenience, prepare the cakes but do not bake. Cover with plastic wrap and refrigerate for up to 3 hours. Let stand at room temperature 30 minutes, then bake as directed.
Date: January 8, 2003