EDITION NUMBER 36
VALENTINE'S DAY AND OTHER FESTIVE HOLIDAYS EDITION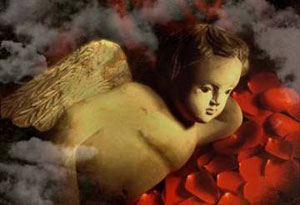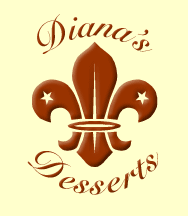 February 5, 2006

Welcome Home Baker's and Friends,

Happy New Year to all of you and I hope you had a wonderful holiday season. I also hope 2006 is treating you well and that you're having a nice winter (although some of you live in parts of the world where it is summer or where the weather is warm all year round).


How We Spent the Holidays
We spent a somewhat quiet Christmas and Hanukkah at home. We did go out for a really nice Christmas Eve dinner with my cousin and her husband. There's this great little restaurant in the town next to us (Sebastopol) called Bistro V, owned by a young couple and they serve French inspired food. We had drinks at the bar which was decorated with a small Christmas Tree and a Menorah for Hanukkah since Hanukkah began on the same day as Christmas in 2005, then we sat down for an early dinner, around 7pm in the evening and enjoyed a very lovely meal. My husband and my cousin's husband both had petrale sole stuffed with spinach and ricotta cheese. They both said it was delicious. My cousin had pork medallions in a cream sauce and I had the strip steak with an herb-butter horseradish sauce, served with a crispy potato pancake and fresh vegetables. So good! Oh, I forgot, we all started out with salads and fresh homemade bread, my cousin's husband had a ceasar salad and the rest of us had the restaurant's signature salad of mixed baby spring greens, sliced apples, caramelized walnuts and small pieces of creamy goat's cheese served with a wonderful vinaigrette dressing. Since we were all quite full after the meal, we decided not to have individual desserts but instead we shared a sampling of their desserts which was comprised of alfajores (a Latin American sandwich cookie filled with dulce de leche), little bites of apple strudel, oozy chocolate-filled cookies covered in powdered sugar and Russian tea cookies. It was just a perfect amount for the four of us, not too much. The owner's wife is the pastry chef and she does a wonderful job of creating home-style desserts, something you don't see in many restaurants these days. I must say it was like having dinner at someone's home, very personal service. We then left for home and got a good night's sleep. On Christmas day, my husband made a tasty pork roast and I made a Danish Christmas Rice Pudding called Ris ala mande for dessert. I think we ate enough food to last us a few days. Oh, the holidays and all that food. Well, it will all come again at the end of this year, more holidays and more good food and time spent with family and friends. Good memories!!


What's in this Newsletter?
This edition of Diana's Desserts Newsletter will focus on goodies for Valentine's Day which is celebrated on Tuesday February 14th. Also included in this edition is a recipe for Tang Yuan (or sometimes called Yuanxiao), a dish that is made at the end of Chinese New Years for the Lantern Festival. Since Chinese New Years has already begun (January 29th was the first day of the New Year), I thought it would be nice to have a special recipe for some of you to try for the Lantern Festival, celebrated on the last day of the New Year, February 12, 2006. The recipe was given to me by Evelyn Chng aka "Tazz in the Kitchen". Evelyn lives in Singapore and is happy to share her recipe for Tang Yuan.

Also see below for an EXTRA SPECIAL Mardi Gras Cupcake recipe for the kids. Mardi Gras is celebrated on Tuesday February 28th this year!

A Guest Submitted recipe for Molten Chocolate Cakes submitted by Joanne is also included in this edition. Makes just 2 small cakes, perfect for you and your very special Valentine!

In the Foods Tips and Information Section below, see All about Chocolate, always a favorite for Valentine's Day.

Hope you enjoy the recipes below for Valentine's Day, the sweet dessert of Tang Yuan for the Chinese Lantern Festival and the Cupcakes for Mardi Gras.

---
Guest Submitted Recipe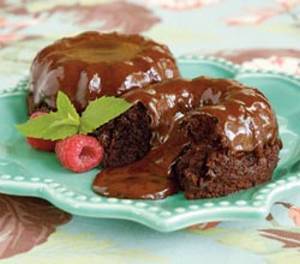 Molten Chocolate Cakes
Servings: 2

Comments:
What a lovely and very intimate (serves only two) dessert to make for you and your "sweetheart" on Valentine's Day.

Important Note:
There are two "sauce" options with this recipe (choose Cherry OR Raspberry). If you're making the cherry sauce, 1/4 cup of the cooked cherries will go into the cake batter. If making the raspberry sauce, use only to serve alongside the cakes, none of the raspberries go into the batter.

Try any leftover sauce served over ice cream.

Ingredients:
For Cherry Sauce: (if using)
1 (16-ounce) bag frozen pitted dark sweet cherries (halved), thawed and undrained
3/4 cup granulated sugar
1/4 cup kirsch (clear cherry brandy) or 1/4 cup regular brandy

For Raspberry Sauce: (if using)
8 ounces fresh or frozen raspberries
2 tbsp. lemon juice
1/4 cup granulated sugar
1/3 cup Framboise liqueur (raspberry liqueur) or you may use regular brandy

For Cake:
2 tablespoons unsweetened cocoa powder
2 ounces bittersweet (not unsweetened) or semisweet chocolate, chopped
1/4 cup (1/2 stick/2 oz./56g) unsalted butter, cut into small pieces
2 large egg yolks
1 large egg
2 teaspoons all-purpose flour

Garnish:
Confectioners' sugar
Fresh mint sprigs
Extra cherries or raspberries

Instructions:
Cherry Sauce (if using)
Combine cherries with juices, 1/2 cup sugar and kirsch in a heavy medium saucepan. Stir over medium heat until sugar dissolves. Simmer until sauce thickens and is slightly reduced, about 10 minutes. Using slotted spoon, remove 1/4 cup cherries from sauce; drain well. Transfer to work surface and chop coarsely; reserve chopped cherries for cakes. Set sauce aside.

Raspberry Sauce (if using)
In a saucepan, add raspberries, lemon juice, sugar and Framboise and bring slowly to a boil. Simmer for a few minutes. Run through a seive to remove seeds. Set sauce aside to serve alongside cakes.

Cake:
Butter two 3/4-cup ramekins or custard cups. Whisk cocoa and remaining 1/4 cup sugar in small bowl to blend. Stir chocolate and butter in heavy small saucepan over low heat until chocolate melts and mixture is smooth. Remove from heat; whisk in cocoa mixture. Whisk in egg yolks, then whole egg and flour. Fold in reserved 1/4 cup chopped cherries (if making the cherry sauce). Divide batter between prepared ramekins. (either of the sauces and the cake batter can be made 1 day ahead. Cover separately and chill).

Preheat oven to 350 degrees F/180 degrees C. Bake cakes uncovered until edges are set but center is still shiny and tester inserted into center comes out with some wet batter attached, about 22 minutes.

To Assemble and Serve:
Warm sauce (either cherry or raspberry) over low heat. Cut around cakes to loosen; turn out onto plates. Spoon sauce alongside. Sift confectioners' sugar over tops of cakes and garnish each cake with a mint sprig and a few cherries or raspberries.

Makes 2 servings.

Submitted By: Joanne

Click here to view recipe and photo of Molten Chocolate Cakes on Diana's Desserts Website

---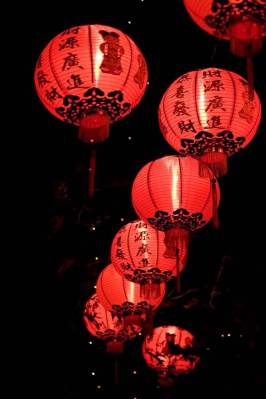 Chinese New Year Lantern Festival
(Yuanxiao)
Celebrated on February 12, 2006

This year Chinese New Year is the Year of the Dog.

Lantern Festival or Yuanxiao (yuan is the name of the first month and xiao was the word for night in ancient times) is a traditional festival, which falls on the 15th day of the first month of the Chinese New Year. It is the last day of the two week long Chinese New Year celebrations and the first full moon of the year. Families gather in the marketplace to enjoy the spectacle of beautiful lanterns under the full moon, displayed by individuals or community groups. Children usually make and carry their own lanterns. There is music and lion or dragon dancing, playing of riddles and games, and lighting off firecrackers. There are many different theories about the origin of the Lantern Festival; one legend is that it began with Qinshihuang, the first emperor to unite the country, and all subsequent emperors ordered splendid ceremonies each year. The emperor would ask Taiyi, the God of Heaven, to bring favorable weather and good health to him and his people. Taiyi controlled the destiny of the human world and he decided when to inflict drought, storms, famine, or pestilence upon the earth. Another tale associates the Lantern Festival with Taoism. Tianguan is the Taoist god responsible for good fortune and his birthday falls on the 15th day of the first lunar month. It is said that Tianguan likes all types of entertainment so followers prepare various kinds of activities during which they pray for good fortune. A third story about the origin of the festival is Buddhist. During the first century (when Buddhism spread to China but was not yet popular), Emperor Mingdi of the Eastern Han Dynasty had a dream about a golden man in his palace. He was about to ask the mysterious figure who he was, but the gold man suddenly rose to the sky and disappeared in the west. The next day, Emperor Mingdi sent a scholar to India on a pilgrimage to locate Buddhist scriptures. When the scholar finally returned with the scriptures Emperor Mingdi ordered that a temple be built to house a statue of Buddha and serve as a repository for the scriptures. Followers believed that the power of Buddha could dispel darkness. So Emperor Mingdi ordered his subjects to display lighted lanterns during what was to become the Lantern Festival.

Note:
Go to this site to try your hand at making your own lanterns:
http://www.enchantedlearning.com/crafts/chinesenewyear/lantern/

Besides entertainment and beautiful lanterns, another important part of the Lantern Festival or Yuanxiao Festival is eating small dumpling balls made of glutinous rice flour called Yuanxiao or Tangyuan. The dumplings are sticky, sweet and round in shape symbolizing family unity, completeness, and happiness. Obviously, they get their name from the festival itself and it is said that the custom of eating Yuanxiao originated during the Eastern Jin Dynasty in the fourth century, then became popular during the Tang and Song periods. The fillings inside the dumplings are either sweet or salty. Sweet fillings are made of sugar, walnuts, sesame, osmanthus flowers, rose petals, sweetened tangerine peel, bean paste, or jujube paste; a single ingredient or any combination can be used as the filling. The salty variety is filled with minced meat, vegetables or a mixture. The way to make Yuanxiao also varies between northern and southern China. The usual method followed in the south is to shape the dough of rice flour into balls, make a hole, insert the filling, then close the hole and smooth out the dumpling by rolling it between your hands. In northern China, sweet or non-meat stuffing is the usual ingredient. The fillings are pressed into hardened cores, dipped lightly in water and rolled in a flat basket containing dry glutinous rice flour. A layer of the flour sticks to the filling, which is then again dipped in water and rolled a second time in the rice flour. This is continued, like rolling a snowball, until the dumpling is the desired size. The custom of eating Yuanxiao or Tangyuan dumplings remains.

---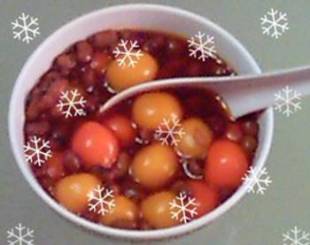 Tang Yuan
(Extremely sinful version)
Recipe is credited to Evelyn Chng of "Tazz in the Kitchen".
Click here for "Tazz in the Kitchen":
http://tazzinthekitchen.blogspot.com/2005/12/winter-solstice.html

Serves 4 - 5

Ingredients for Glutinous Rice Balls:
250g (8 to 9 ounces) glutinous rice flour
Water
15-20g (1/2 to 3/4 ounce) brown sugar
Food colouring (usually pink)

Method for Glutinous Rice Balls:
Add sufficient water to flour and knead into dough. Divide dough into 2 parts. Add food colouring to one part. Knead each dough well. Make balls from the dough. Bring water to boil in a big pot and drop in dough balls to cook. When cooked, balls will rise to the surface. Drain balls and put in a big bowl. Add about 15-20g of sugar to mix with the balls. Set aside.

Ingredients for Syrup:
300ml (10 ounces) water
4-5 pandan leaves, washed and tied into a knot* (see note from Diana's Desserts below)
2-inch knob ginger, crushed (more if desired to give a strong ginger taste)
About 100g (3 1/2 ounces) brown sugar

Method for Syrup:
Bring water to boil in a pot with the pandan leaves* (see Note from Diana's Desserts) and ginger. Add sugar and cook until sugar dissolves. Discard pandan leaves (if using) and ginger.

*Note from Diana's Desserts:
If you cannot find pandan leaves where you live, you may substitute with pandan extract or essence to flavor the syrup. Pandan extract or essence may be found in Asian food stores in the United States.

Ingredients for Red Beans (the lighter colour type: Chia Dao in Hokkien)
200g adzuki or lighter colour pinkish type beans (Tazz says these beans are called "brown beans" in Singapore)
600ml (approximately 20 ounces) hot water
100g (3 1/2 ounces) brown sugar
A few pieces of chen pi (pieces of dried mandarin orange skin)

Method for Cooking Beans:
Simmer beans and chen pi in hot water in the slow cooker for 2-3 hours. Add sugar when beans are cooked. Keep warm until served. These pinkish colour beans won't break into bits when cooked, that's the reason for choosing these type of beans instead of the normal red beans.

To Serve:
Put cooked glutinous rice balls into individual bowls. Add cooked beans and hot syrup as desired. As this is extremely sweet, we only eat the chewy glutinous rice balls and the cooked beans. The strong ginger taste in the syrup makes this special.

Makes 4 to 5 servings.

From Diana:
Thank you Tazz (Evelyn) for sharing your "extremely sinful version" for Tang Yuan. I know that so many people, both Asian and non-asian will want to try this recipe for the Lantern Festival. Have a Happy New Year.

Where to Buy Ingredients
Some of the ingredients used in this recipe for Tang Yuan, such as the glutinous rice flour, pandan leaves or pandan essence or extract, chen pi (dried mandarin orange skin) may be difficult to find in the United States or in countries other then in Southeast Asia. I recommend looking for some of the these more unusual ingredients in your town or city's Asian food stores or markets, or a search on the web may bring you some results on where to purchase these ingredients. I have found some of the ingredients on Amazon.com such as sweet rice flour (glutinous rice flour) and dried mandarin orange peel). I have also found pandan leaves and extract at: http://www.asianmerchant.com, and pandan leaves extract and pandan flavoring at: http://www.grocerythai.com.

Click here to view Tazz' recipe and photo of Tang Yuan on Diana's Desserts Website

Click here if you are interested in more of Tazz in the Kitchen recipes and blogs:http://www.tazzinthekitchenindex.blogspot.com/

---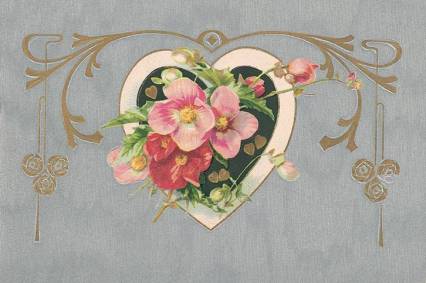 Valentine's Day
Tuesday February 14th


The Story of Valentine's Day
The holiday of Valentine's Day probably derives its origins from the ancient Roman feast of Lupercalia. In the early days of Rome, fierce wolves roamed the woods nearby. The Romans called upon one of their gods, Lupercus, to keep the wolves away. A festival held in honor of Lupercus was celebrated February 15th. The festival was celebrated as a spring festival. Their calendar was different at that time, with February falling in early springtime.

One of the customs of the young people was name-drawing. On the eve of the festival of Lupercalia the names of Roman girls were written on slips of paper and placed into jars. Each young man drew a slip. The girl whose name was chosen was to be his sweetheart for the year.

Legend has it that the holiday became Valentine's Day after a priest named Valentine. Valentine was a priest in Rome at the time Christianity was a new religion. The Emperor at that time, Claudius II, ordered the Roman soldiers NOT to marry or become engaged. Claudius believed that as married men, his soldiers would want to stay home with their families rather than fight his wars. Valentine defied the Emperor's decree and secretly married the young couples. He was eventually arrested, imprisoned, and put to death.

Valentine was beheaded on February 14th, the eve of the Roman holiday Lupercalia. After his death, Valentine was named a saint. As Rome became more Christian, the priests moved the spring holiday from the 15th of February to the 14th - Valentine's Day. Now the holiday honored Saint Valentine instead of Lupercus.

Source: Holidays on the Net: http://www.holidays.net/amore/story.html

---
Valentines Day Recipes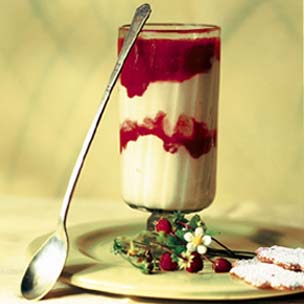 White Chocolate Mousse with Strawberries
Servings: 6

Comments:
In the United States sweet juicy strawberries are at their peak from April through June, but you will find big beautiful strawberries also around Valentine's Day in the supermarkets as strawberries are cultivated all year round and farmers always make them available for consumers during this very romantic time. If for some reason you can't find fresh strawberries in your local supermarket, frozen strawberries may be used in this recipes. You may substitute two (10-ounce) cans frozen strawberries for the 2 cups fresh strawberries.

Ingredients:
2 cups fresh strawberries, stems removed
1/4 cup granulated sugar
1 tbsp. kirsch (clear cherry brandy) or framboise (raspberry liqueur)
6 oz. white chocolate, finely chopped
1/4 cup milk, warmed
1 cup heavy cream
2 egg whites, at room temperature
Pinch of cream of tartar
3/4 tsp. vanilla extract

Instructions:
In a blender or in a food processor fitted with the metal blade, combine 1 1/2 cups of the strawberries with the sugar. Puree until smooth. Strain through a fine-mesh sieve into a bowl. Add the kirsch and stir to mix. Cut the remaining 1/2 cup strawberries lengthwise into thin slices and stir into the puree. Set aside.

Place the chocolate in a heatproof bowl set over a pan of gently simmering water; do not allow the bowl to touch the water. Heat the chocolate, stirring occasionally, until it is melted and smooth and registers 140°F on an instant-read thermometer. Gradually add the warm milk to the chocolate, stirring constantly until smooth. Remove the bowl from the pan of water and let the mixture cool until it is almost at room temperature.

In a bowl, using an electric mixer on high speed, beat the cream just until soft peaks form. In another bowl, using clean beaters, beat together the egg whites and cream of tartar on high speed until stiff peaks form. Using a rubber spatula, fold half of the whites into the chocolate mixture to lighten it. Fold the remaining whites, whipped cream and vanilla into the chocolate mixture just until combined and no white drifts remain. Do not overmix. (At this point, you may cover and refrigerate the mousse for up to 1 day).

To serve, spoon about half of the mousse into 6 parfait glasses, half filling each glass. Top with the strawberry sauce, again using about half and dividing it equally. Repeat with the remaining mousse and strawberry sauce.

Makes 6 servings.

Click here to view recipe and photo of White Chocolate Mousse with Strawberries on Diana's Desserts Website

---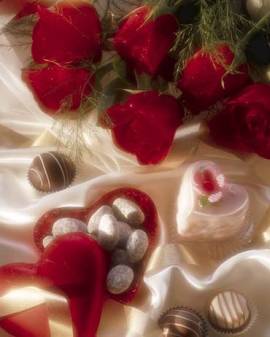 Valentine Champagne Truffles
Servings: Makes 25-30 truffles

Comments:
These truffles are a wonderful confection for Valentine's Day. They are rich and smooth and are sinfully delicious. A very romantic "Sweet" for your honey.

Ingredients:
6 ounces semisweet chocolate, chopped into small pieces
1/4 cup (1/2 stick/2 oz/56g) butter, cut into small pieces
3 tablespoons whipping cream
1 beaten egg yolk
3 tablespoons champagne or whipping cream
1/4 cup unsweetened cocoa powder, sifted powdered sugar or small white decorative candies (for rolling truffles in) and/or melted white or dark chocolate for drizzling over truffles

For White or Dark Chocolate Coating: (optional)* (see note below)
8-16 ounces best quality bittersweet or white chocolate, chopped into small pieces, melted

Instructions:
1. Combine semisweet chocolate, butter, and the 3 tablespoons whipping cream in a heavy, medium saucepan. Cook and stir over low heat until chocolate is melted, stirring constantly. Gradually stir about half of the hot mixture into the egg yolk, Return entire mixture to the saucepan. Cook and stir over medium heat for 2 minutes.

2. Remove from heat. Stir in champagne or 3 tablespoons whipping cream. Transfer truffle mixture to a medium mixing bowl; chill about 1 hour or until mixture is completely cool and smooth, stirring occasionally.

3. Beat cooled truffle mixture with an electric mixer on medium speed about 1 minute or until color lightens and mixture is slightly fluffy. Chill about 30 minutes more or until mixture holds its shape. Scrape a small ice cream scoop, melon baller, or spoon across the surface of the cold truffle mixture, forming 1-inch balls. Place balls on a baking sheet lined with waxed paper. Refrigerate until very firm.

4. Gently dip balls in melted white or dark chocolate*, or roll in unsweetened cocoa powder, sifted powdered sugar, or small white decorative candies until evenly coated, reshaping as necessary. Place truffles on wax paper lined cookie sheet, and if desired, drizzle with melted white or dark chocolate. Store in airtight container in refrigerator until ready to serve. Serve in decorative foil candy cups, if desired.

Makes 25 to 30 truffles.

*Note: Depending on how many of the truffles you are going to coat in chocolate, you will need anywhere from 8-16 ounces of chocolate, melted. If NOT coating truffles in chocolate at all but rolling them in cocoa, powdered sugar, or white decorative candies, you will NOT need this extra chocolate for this recipe.

Make-Ahead Tip
Prepare truffles as directed and store tightly covered in the refrigerator up to 2 weeks.

Click here to view recipe and photo of Valentines Champagne Truffles on Diana's Desserts Website

---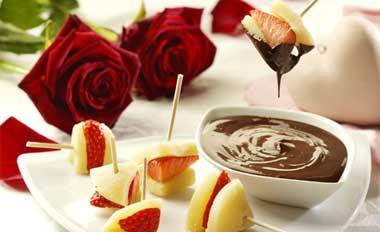 Bittersweet But Romantic Chocolate Fondue
Servings: Makes 2 cups chocolate fondue for dipping

Comments:
Almost anything tastes better dipped in chocolate. Use your imagination and offer cubes of your favorite cake and sliced fruit for dipping. You could even include small chocolate chip, shortbread, peanut butter or Oreo cookies which can be dipped directly into the fondue without using a fondue fork.

A fun and romantic idea for two on Valentines Day.

Ingredients:
1/2 cup whipping cream
5 tablespoons (about) water
12 ounces bittersweet (not unsweetened) or semisweet chocolate, chopped

Instructions:
Bring cream and 2 tablespoons water to simmer in heavy medium saucepan over medium-high heat. Reduce heat to low. Add chocolate; whisk until melted and smooth. Whisk in remaining 3 tablespoons water (or substitute with 3 tablespoons liqueur of choice; see variations listed below). Transfer to fondue pot and keep warm over fondue burner. If fondue becomes too thick at any time, mix in more water by tablespoonfuls as needed.

What to use for Dipping:
1-inch pieces gingerbread, pound cake or angel food cake, large marshmallows, fresh strawberries, 1-inch pieces of banana, orange or tangerine segments, kiwi wedges, pear wedges, assorted dried fruit such as apricots, figs, apple rings, pineapple rings. Use your imagination!

Variations:
Chocolate-Orange Fondue: Replace 3 tablespoons water with 3 tablespoons Grand Marnier liqueur and mix in 1 1/2 teaspoons grated orange peel.

Chocolate-Lemon Fondue: Replace 3 tablespoons water with 2 tablespoons frozen lemonade concentrate and mix in 1 1/2 teaspoons grated lemon peel.

Mocha Fondue: Replace 3 tablespoons water with 3 tablespoons Kahlua liqueur and mix in 1 tablespoon instant coffee crystals.

Makes 2 cups chocolate fondue for dipping.

Click here to view recipe and photo of Bittersweet but Romantic Chocolate Fondue on Diana's Desserts Website

---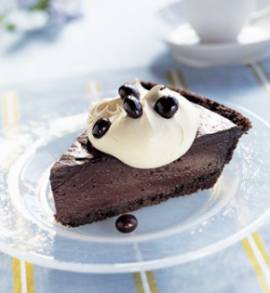 Triple-Chocolate Pudding Pie with Cappuccino Cream
Servings: 8

Comments: This is a pie for the "chocoholic" sweetie" in your life. A triple dose of chocolate, a definite aphrodisiac!

Tip
Chill the pie for at least six hours before serving or make it up to two days ahead.

Ingredients:
Crust:
9 whole chocolate graham crackers
1 tablespoon sugar
Pinch of salt
6 tablespoons (3/4 stick/3 oz/85g) unsalted butter, melted

Filling:
1 1/4 cups granulated sugar
1/2 cup unsweetened cocoa powder
1/4 cup cornstarch
3 1/2 cups half and half
4 large egg yolks
3 1/2 ounces bittersweet (not unsweetened) or semisweet chocolate, chopped
3 ounces unsweetened chocolate, chopped
2 tablespoons (1/4 stick/1 oz/28g) unsalted butter
1 teaspoon vanilla extract

Topping:
1 cup chilled whipping cream
2 tablespoons powdered sugar
1 1/2 teaspoons instant espresso powder
1/2 teaspoon vanilla extract

Garnish: (optional)
Chocolate-covered espresso beans

Instructions:
Preheat oven to 350 degrees F/180 degrees C. Finely grind graham crackers, sugar, and salt in processor. Add butter and blend to moisten crumbs. Firmly press mixture into 9-inch-diameter glass pie dish. Bake until crust sets, about 8 minutes. Cool.

For Filling:
Whisk sugar, cocoa, and cornstarch in heavy medium saucepan. Gradually whisk in 1 cup half and half. Whisk in remaining 2 1/2 cups half and half and yolks. Whisk over medium-high heat until mixture thickens and boils, whisking constantly, about 12 minutes. Remove from heat. Add both chocolates and butter; whisk until melted and smooth. Mix in vanilla. Transfer filling to crust. Press plastic wrap directly onto surface of filling and chill until filling sets, at least 6 hours. (Can be made 2 days ahead. Keep chilled.)

For Topping:
Beat all ingredients in large bowl until peaks form. (Can be made 1 day ahead. Cover and refrigerate. Rewhisk to thicken before serving, if necessary.)

Peel plastic off pie. Cut pie into wedges. Spoon dollop of cream atop each slice. Garnish with chocolate-covered espresso beans (optional) and serve.

Makes 8 servings.

Market Tip:
Chocolate-covered espresso beans are sold at specialty foods stores, cookware stores, and coffee bars.

Source: Bon Appétit June 2003

Click here to view recipe and photo of Triple-Chocolate Pudding Pie with Cappuccino Cream on Diana's Desserts Website

---
Chocolate Raspberry Icebox Cake
Servings: 1

Active time: 15 min Start to finish: 4 1/4 hr (includes chilling)

Comments: You can either make just one of these little cakes for your Valentine, or make several for a Valentine's party. Either way, it's a very sweet little dessert and easy to make.

Ingredients:
1/3 cup chilled heavy cream
1/2 teaspoon granulated sugar
1/8 teaspoon vanilla extract
5 chocolate wafers such as Nabisco Famous
1/3 cup fresh raspberries

Garnish:
Grated bittersweet chocolate (not unsweetened)

Instructions:
Beat cream with sugar and vanilla in a small deep bowl with an electric mixer until it just holds stiff peaks.

Spread 1 heaping teaspoon cream onto each of 4 wafers. Arrange enough raspberries side by side (as close together as possible) on 1 cream-topped wafer to form an even layer. Stack 2 cream-topped wafers on a plate (cream sides up) and top with berry wafer, then carefully spread another teaspoon cream over berries. Top with last cream wafer and cover cream with remaining plain wafer. Frost top and sides of cake with remaining cream. Cover with an inverted bowl and chill at least 4 hours.

Serve cake with remaining berries.

Note:
Cake can chill up to 1 day.

Makes 1 serving.

Gourmet
August 2002

Click here to view recipe and photo of Chocolate Raspberry Icebox Cake on Diana's Desserts Website

---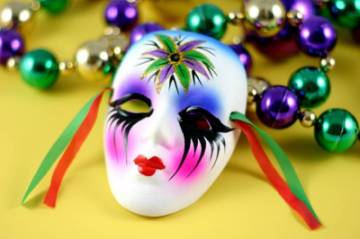 Mardi Gras
Mardi Gras is celebrated on Tuesday February 28th this year.

The Mardi Gras season begins on January 6 and continues until Fat Tuesday, the day before Ash Wednesday. During this time of year, one of the most beloved traditions in New Orleans is that of the King Cake.

On the Christian calendar, the twelfth day after Christmas is known as "Epiphany", "Twelfth Night", or "Kings Day." It is the day the gift-bearing Magi visited the baby Jesus, and is celebrated with its own unique rituals.

The New Orleans tradition, begun in the 1870s, borrows heavily from European customs. As part of the celebration of Mardi Gras, it is traditional to bake an oval cake in honor of the three kings - the King Cake. The shape of a King Cake symbolizes the unity of faiths. Each cake is decorated in the traditional Mardi Gras colors: purple represents justice, green represents faith and gold represents power. A small plastic baby (the baby used to be made of porcelain), symbolizing the baby Jesus, is baked into each cake.

In New Orleans, King Cake parties are held throughout the Mardi Gras season. In offices, classrooms, and homes throughout the city, King Cakes are sliced and enjoyed by all. Like the biblical story, the "search for the baby" adds excitement, as each person waits to see in whose slice of cake the baby will be discovered. While custom holds that the person who finds the baby in their slice will be rewarded with good luck, that person is also traditionally responsible for bringing the King Cake to the next party or gathering.

The traditional King Cake is made from twisted strands of cinnamon dough, topped with icing, and sprinkled with purple, green, and gold colored sugar. Today, many additional varieties of King Cake are also available, with fillings such as cream cheese, strawberry, apple, and lemon. In the recipe that follows, a little bit different twist on the King Cake, instead a perfect treat for children during Mardi Gras, King Cupcakes.

Source: Holidays on the Net: http://www.holidays.net/mardigras/cake.htm

---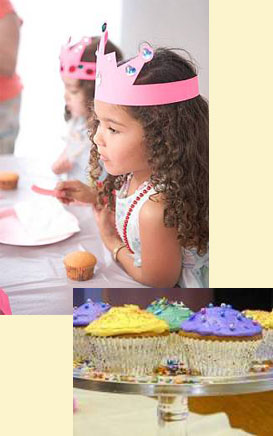 Mardi Gras King Cupcakes
Although King Cakes are a part of Mardi Gras tradition, these Mardi Gras King cupcakes are a great treat anytime of year and the kids will really enjoy helping you decorate these tasty little goodies.

Serves: Makes 24 cupcakes

Ingredients

2 1/3 cups all-purpose flour
1 1/2 teaspoons baking powder
1/2 teaspoon baking soda
1/4 teaspoon salt
3/4 cup (1 1/2 sticks/6 oz/170g) unsalted butter, softened
1 1/3 cups granulated sugar
3 large eggs
1 teaspoon vanilla extract
1 cup buttermilk, or 1 cup milk mixed with 1 tablespoon distilled white vinegar
24 pieces candy, such as gum drops, Swedish Fish, Gummy Bears, etc.

Confectioners' Sugar Frosting (see recipe below)

Instructions:
Preheat the oven to 350 degrees F/180 degrees C. Insert fluted paper liners into 24 cupcake cups (two 12-cup muffin tins).

Whisk together the flour, baking powder, baking soda, and salt.

In the bowl of an electric mixer set at medium-high speed, beat the butter and sugar for 3 to 4 minutes until light and creamy. With the mixer running, add the eggs, one at a time. Add the vanilla and beat just until mixed.

With the mixer on low speed, add the dry ingredients in three parts, alternating with the milk. Beat just until the flour is incorporated.

Spoon a few tablespoons of batter into the cupcake pans, filling each cup about a quarter full. Drop a candy into each cup. Spoon more batter into the pan, filling each cup about three-quarters full.

Bake for about 20 minutes or until the cakes spring back when pressed gently.

Remove the cupcake tins from the oven and let the cupcakes cool in the pans for about 5 minutes. Remove them from the tins and let the cakes cool, still in their paper liners, set on metal racks.

When completely cool, frost with Confectioners' Sugar Frosting.

Makes 24 cupcakes.

Confectioners' Sugar Frosting

Makes 1 cup frosting

Ingredients
2 cups confectioners' sugar, sifted if necessary
4 tablespoons (1/2 stick/2 oz./56g) unsalted butter, softened
3 to 4 tablespoons milk
1 teaspoon vanilla extract
pinch salt
Food coloring (green, purple and gold are the colors for Mardi Gras)

Instructions
In the bowl of an electric mixer set on medium speed, beat together the confectioners' sugar and butter until smooth.

With the mixer running, add 3 tablespoons of milk, the vanilla and pinch of salt. Beat until smooth. Adjust the consistency with more milk or sugar.

If the frosting seems thin, let it sit for a few minutes. It may thicken up. Or set it over a bowl of ice water and whisk to thicken. If still too thin, add more sugar.

Use immediately or tint with food coloring. For intense colors, use paste colors.

For cupcakes, divide the frosting among small bowls. Tint with food coloring and use to frost the cupcakes.

Click here to view recipe and photo of Mardi Gras King Cupcakes on Diana's Desserts Website

---
Food Tips and Information Section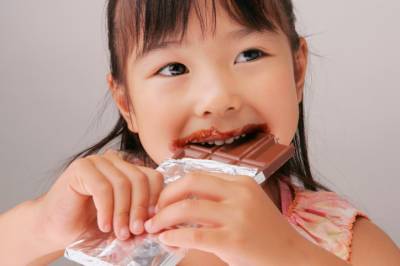 This pretty much says is all, doesn't it?
All about Chocolate
Originally from Mexico, chocolate is one of the world's most appreciated food items, with more than one billion people worldwide consuming some form of it every day. Americans eat a healthy amount of chocolate, averaging about 12 pounds of chocolate a year, but the Swiss consume about twice that amount.

Thomas Jefferson praised "the superiority of chocolate for both health and nourishment"--a prescient statement considering that recent evidence suggests that chocolate is actually good for you. Chocolate is believed to contain more than 600 chemicals that may have important health benefits. A significant health benefit attributed to chocolate is cardiovascular protection. Flavonoids in chocolate function as antioxidants that prevent the build-up of coronary arterial plaque, which is known to contribute to the development of heart disease. One of the flavonoids in chocolate, catechin, is found in tea and is believed to protect your heart as well as your immune system. Catechins may also have anti-cancer enzymes; and they also contain heart-healthy benefits from the suppression of platelet aggregation and the reduction of oxidized LDL (the "bad" cholesterol) blood levels.

Chocolate also contains magnesium, potassium, manganese, and small amounts of protein, vitamin A, phosphorus, calcium, and trace amounts of iron.

A note of caution, however: Chocolate also contains stearic acid, a saturated fatty acid (also found in beef and some dairy foods) that has been implicated as a risk factor in heart disease. The jury is still out on this, because the stearic acid in chocolate comes along with numerous cardioprotective compounds. Chocolate also contains a naturally occurring compound called phenylethylamine whose effects are similar to amphetamines. Although this may account for chocolate "addiction," it may also trigger migraines in susceptible people.

Varieties
Chocolate comes in all shapes and forms including powder, bars, chips, and chunks. They also come in a variety of sweetnesses (depending on the amount of sugar added), creaminess (depending on the amount of cocoa butter added), and chocolatiness (depending on the proportion of chocolate liquor--see below--to other ingredients such as milk or sugar). There are also variations in quality that come from the manufacturing process itself: Naturally enough, the more time and effort spent in making chocolate, the better the quality (and the higher the price).

Chocolate is derived from "chocolate liquor," which is made from cocoa beans that have been treated to remove bitterness: The beans are fermented, dried, roasted, and cracked. This last step in the process separates the beans from their shells by grinding them between steel rollers at a very high temperature. The end result of this process is a sticky, yellow paste (chocolate liquor) that consists of 53% cocoa butter.

Cocoa Powder:
General term for the portion of chocolate liquor that remains after most of the cocoa butter has been removed by a process that presses the chocolate liquor to extract the butter. The paste that results from this pressing is then cooled, ground, and sifted.

Dutch Process Cocoa:
This cocoa powder is made from chocolate liquor that is treated with alkaline compounds to neutralize the natural acids. It is slightly darker in color and milder in flavor than natural cocoa.

Dark Chocolate (bittersweet, semisweet, and sweet):
This is made from cocoa, cocoa butter, and varying amounts of sugar. Dark chocolates can be eaten on their own or used in cooking and baking. Depending upon the manufacturer, sweet chocolate is generally molded into bars. Semisweet and bittersweet chocolates are available in bar form, but the bulk of commercially available semisweet chocolate is in the form of chips.

Milk Chocolate:
This type of chocolate contains cocoa, varying amounts of sugar, milk powder, and flavorings such as vanilla, that are blended with cocoa butter to give it its creamy texture and its sweetness.

Unsweetened Chocolate:
Primarily used in baking, unsweetened chocolate is a bitter mixture of cocoa powder and refined cocoa butter. No milk solids or sugar is added to unsweetened chocolate.

White Chocolate:
Contains no chocolate liquor and is made from cocoa butter, sugar, milk, and added flavorings.

Organic Chocolate:
Becoming increasingly more popular, organic chocolate is made from cocoa from trees that have been harvested without the use of pesticides.

Availability

Supermarkets and specialty shops sell various types of chocolate year-round.

Shopping

Always look at the ingredient list of any bar chocolate or cocoa to make sure that you are buying real chocolate. Bar chocolate that breaks cleanly and is shiny, dark and smells fresh indicates that it is of good or superior quality. The chocolate should smell rich and melt evenly on your tongue. Avoid chocolate that appears grayish, dull, or crystallized, which could signify that the chocolate is old, improperly stored or contains a fat that is something other than cocoa butter. Don't worry about slight traces of white on the surface of chocolate. These slight white areas on the surface indicate that the chocolate has undergone temperature variation that will not influence taste or quality.

Storage

Room temperature is preferable (about 65°F), although you can store chocolate in the refrigerator. Chocolate will keep for several months at room temperature if it is well wrapped and kept away from heat or moisture. Do not freeze chocolate as this interferes with the composition of the cocoa butter and causes the chocolate to crumble.

Preparation

Melting: The safest way to melt chocolate is to finely chop it, place it in a bowl over a pan of warm water and stir until melted. Be especially careful not to get any water in the bowl as this will cause the chocolate to seize and become granular. You may melt chocolate in the microwave, but be aware that chocolate holds it shape even though it is melted. Since you can't tell by looking at it, stir the chocolate several times when melting to prevent burning. Once melted, if you want to keep the chocolate fluid, hold it in a bowl over a pan of warm water.

Nutrition Chart

Unsweetened Cocoa Powder/1 tablespoon
Calories: 21
Total fat (g) 0.5
Saturated fat (g) 0.3
Monounsaturated fat (g) 0.1
Polyunsaturated fat (g) 0.1
Dietary fiber (g) 1.4
Protein (g) 1
Carbohydrate (g) 3
Cholesterol (mg) 0
Sodium (mg) 1

Unsweetened Chocolate/1 ounce
Calories: 148
Total fat (g) 16
Saturated fat (g) 9.2
Monounsaturated fat (g) 5.2
Polyunsaturated fat (g) 0.5
Dietary fiber (g) 4.4
Protein (g) 3
Carbohydrate (g) 8
Cholesterol (mg) 0
Sodium (mg) 4
Copper (mg) 0.6
Magnesium (mg) 88
Manganese (mg) 0.5
Phosphorus (mg) 118

Source: WholeHealthMD: http://www.wholehealthmd.com/refshelf/foods_view/1,1523,179,00.html

---
Until Next Time
I hope you enjoyed reading about February's special holidays and that I gave you some interesting ideas and flavorful recipes to choose from for celebrating them with.

Experimenting with new dishes is always fun even if they don't always turn out the way you want, but trying new flavors and types of foods always is an adventure and ones you'll look back to and say, "well that was an interesting experience, i'm glad I tried that". For example, the Tang Yuan for the Chinese New Year's Lantern Festival. This is a very different type of dessert for so many of us who are not Asian but just the experience of making it will give you an appreciation of another cultures kind of cooking and the type of ingredients that they use.

The next edition of Diana's Desserts Newsletter will be in March or April, depending on when I can get the time to do some new research for recipes for several holidays and special occasions that will be coming up in the spring time. I hope to have an edition out no later then sometime in April, just in time for new recipes to celebrate Passover and Easter with.

For those of you who celebrate Chinese New Year, enjoy the remainder of it with Peace, Prosperity, Good Health and Happiness. Gong hei fat choy!

Have a Happy Valentine's Day and a Fun Mardi Gras.

I always look forward to receiving your recipes, so if you're interested in sharing one or more of your favorite dessert, bread or beverage recipes to Diana's Desserts website, please click on the link below to submit your recipe.

Submit a Recipe

Sincerely, Diana

Diana's Desserts