Diana's Desserts - www.dianasdesserts.com
See more recipes in
Valentine's Day
Triple-Chocolate Pudding Pie with Cappuccino Cream
in Diana's Recipe Book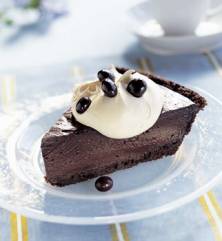 [Be the first to post a review!]
Servings: 8
Comments:
Chill the pie for at least six hours before serving or make it up to two days ahead.

Ingredients:

Crust:
9 whole chocolate graham crackers
1 tablespoon sugar
Pinch of salt
6 tablespoons unsalted butter, melted

Filling:
1 1/4 cups sugar
1/2 cup unsweetened cocoa powder
1/4 cup cornstarch
3 1/2 cups half and half
4 large egg yolks
3 1/2 ounces bittersweet (not unsweetened) or semisweet chocolate, chopped
3 ounces unsweetened chocolate, chopped
2 tablespoons unsalted butter
1 teaspoon vanilla extract

Topping:
1 cup chilled whipping cream
2 tablespoons powdered sugar
1 1/2 teaspoons instant espresso powder
1/2 teaspoon vanilla extract

Garnish: (optional)
Chocolate-covered espresso beans

Instructions:
Preheat oven to 350 degrees F/180 degrees C. Finely grind graham crackers, sugar, and salt in processor. Add butter and blend to moisten crumbs. Firmly press mixture into 9-inch-diameter glass pie dish. Bake until crust sets, about 8 minutes. Cool.

For Filling:
Whisk sugar, cocoa, and cornstarch in heavy medium saucepan. Gradually whisk in 1 cup half and half. Whisk in remaining 2 1/2 cups half and half and yolks. Whisk over medium-high heat until mixture thickens and boils, whisking constantly, about 12 minutes. Remove from heat. Add both chocolates and butter; whisk until melted and smooth. Mix in vanilla. Transfer filling to crust. Press plastic wrap directly onto surface of filling and chill until filling sets, at least 6 hours. (Can be made 2 days ahead. Keep chilled.)

For Topping:
Beat all ingredients in large bowl until peaks form. (Can be made 1 day ahead. Cover and refrigerate. Rewhisk to thicken before serving, if necessary.)

Peel plastic off pie. Cut pie into wedges. Spoon dollop of cream atop each slice. Garnish with chocolate-covered espresso beans (optional) and serve.

Makes 8 servings.

Market Tip:
Chocolate-covered espresso beans are sold at specialty foods stores, cookware stores, and coffee bars.

Source: Bon Appétit June 2003
Date: January 20, 2006