EDITION NUMBER 48

Late Summer Into Autumn Desserts and Desserts for the Jewish High Holidays and for the Muslim observance of Ramadan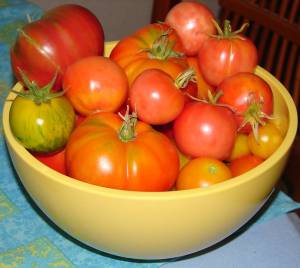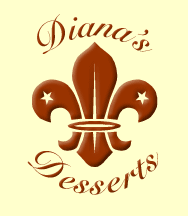 September 9, 2007

Welcome Home Bakers and Friends,

It's been a while since my last newsletter and now summer is quickly coming to a close, so here are some late-summer-early fall desserts and goodies for your pleasure. Enjoy!

P.S: Above is a photo I took of the Heirloom Tomatoes we have been growing this summer. They are so delicious and quite unusual looking too. Another good tomato harvest this year!

---
Guest Submitted Recipe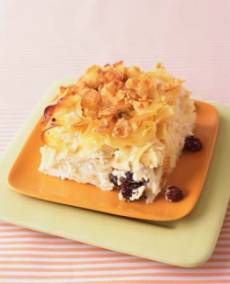 Sweet Noodle Kugel
Servings: Makes approximately 18 servings

Comments:
"I was originally given the first form of this recipe by a friend, and accidentally doubled the amount of cottage cheese and sour cream. It turned out even better! I always increase the amount of vanilla, so I did that too. This is one of my signature dishes during the Jewish holidays. It's sweet enough for dessert, but I always serve it with the main meal as a side dish. For Passover, I substitute the noodles with 10 broken-up and softened matzoh. I actually like that version better because it comes out like a pudding and always gets rave reviews, just as the noodle one"......C
.


Ingredients:
1 (12 ounce) package medium egg noodles
4 eggs
3/4 cup granulated sugar
1 tablespoon vanilla extract

2
(16 ounce) container cottage cheese

2
(8 ounce) container sour cream
1 cup milk
1/2 stick (1/4 cup/2 oz./56g) butter, melted and cooled
1 cup chopped apple (optional)
1 cup raisins (optional)
Ground cinnamon, for sprinkling

Instructions:
Cook the egg noodles until done and drain.

Beat the eggs and mix well with sugar. Add vanilla and mix well, then the cottage cheese, sour cream, milk, and the butter. Add the cooked noodles (and apples or raisins, if you choose to use them), and stir until well combined.

Pour mixture into a 9 x 13-inch baking dish and sprinkle with cinnamon. Bake at 350 degrees F/180 degrees C for one hour. Cool for about 10 minutes, then slice into desired portions.

Makes approximately 18 servings.

Source: Adapted from a friend's recipe
Submitted By: C
.

Date: September 20, 2006

Click here to view recipe and photo of Sweet Noodle Kugel on Diana's Desserts Website

---
Late Summer-Early Autumn Desserts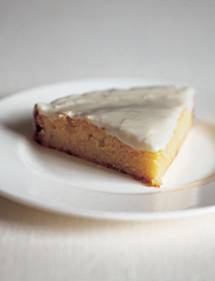 Simple Orange Cake with Orange Frosting
Servings: 6

Comments:
A quick and easy cake to make, especially during the warmer months when you want to get in and out of the hot kitchen fast and still have a lovely little cake to serve your guests.

Ingredients:
1/2 cup (1 stick/4 oz./113g) unsalted butter, cut into small pieces, plus extra for greasing pan
2 eggs
1/2 cup superfine or caster sugar
1 3/4 cups confectioners' sugar
Scant 1 cup all-purpose flour
3/4 teaspoon baking powder
Juice of 2 oranges, strained

Instructions:
Preheat oven to 350 degrees F/180 degrees C. Grease an 8 or 9-inch round cake pan with butter.

Melt the butter in a heatproof bowl set over a pan of barely simmering water. Whisk together the eggs, superfine sugar and half the confectioner's sugar in a large bowl until light and fluffy. Stir in the melted butter. Sift the flour and baking powder into the mixture, mix well and gently stir in half the orange juice.

Pour the mixture into the prepared cake pan and bake in preheated oven for 20-25 minutes.

Meanwhile, combine the remaining orange juice and the remaining confectioner's sugar in a bowl. Remove the cake from the oven and let cool, then turn out onto a serving plate. Spread the orange frosting evenly over the cake and let set in a cool place.

Makes 6 servings.

Click here to view recipe and photo of Simple Orange Cake with Orange Frosting on Diana's Desserts Website

---
For Jewish New Year
(Rosh Hashanah)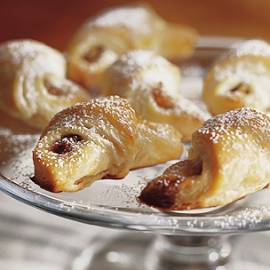 Apricot and Pistachio Rugelach
Rosh Hashanah, the Jewish New Year, is celebrated the first and second days of Tishri. It is a time of family gatherings, special meals and sweet tasting foods.

This year the Jewish holiday of Rosh Hashanah (Jewish New Year) begins at sundown on September 12th.

Servings: Makes 2 1/2 dozen rugelach

Comments:
What is Rugelach?

Definition: [RUHG-uh-luhkh] A Hanukkah tradition, rugalach are bite-size crescent-shaped cookies that can have any of several fillings including raisins (or other fruit) and nuts, poppy-seed paste or jam. They're generally made with a rich cream-cheese dough.

What a wonderful and delicious cookie for Rosh Hashanah or Hanukkah. Usually rugelach is filled with chopped walnuts but this recipe uses dried apricots and chopped pistachios for a lovely change.

Tip:
Roll out dough between 2 sheets of waxed paper which prevents sticking and tearing.

Ingredients:
1/4 lb. cream cheese, cut into small pieces, at room temperature
8 tbsp. (1 stick/4 oz./113g) unsalted butter, cut into small pieces, at room temperature
1 cup plus 2 tbsp. unbleached all-purpose flour
2 tbsp. granulated sugar
1/4 tsp. salt

For the Filling:
3/4 cup dried apricots, halved
1/2 cup water
1 tbsp. granulated sugar
1/4 tsp. ground cinnamon
2 tbsp. finely chopped unsalted pistachios

Confectioners' sugar for dusting

Instructions:
In a food processor, combine the cream cheese, butter, flour, granulated sugar and salt. Pulse just until the dough begins to clump together. Turn the dough out onto a floured work surface and gather into a ball. Divide into 4 equal portions. Place each portion on a piece of plastic wrap, flatten slightly into a disk, wrap and refrigerate for 2 to 6 hours.

Meanwhile, make the filling: In a small saucepan over low heat, combine the apricots and water. Cover and cook, stirring occasionally, until the fruit absorbs the water, 10 to 15 minutes. Let cool slightly, then transfer to the food processor and process to a fairly smooth puree. Pour into a bowl and stir in the granulated sugar, cinnamon and pistachios. Set aside.

Preheat an oven to 350 degrees F/180 degrees C. Line 2 baking sheets with parchment paper.

Lightly flour a work surface. Remove 1 disk of dough from the refrigerator and roll into a 7-inch circle. Spread one-fourth of the filling evenly over the top. Using a large knife, cut the dough into 6 wedges. Starting at the outside edge, gently roll up each wedge toward the point. (If needed, use a thin metal spatula to loosen the wedges from the work surface.) If the dough becomes too soft to roll, refrigerate for about 5 minutes to firm up.

As each piece is formed, place it at least 1 inch apart on one of the prepared baking sheets; bend the ends of the dough toward the center to form a crescent shape. Repeat with the remaining dough and filling, flouring the work surface as needed.

Bake the rugelach until golden brown, about 20 minutes. Transfer the baking sheets to wire racks and let cool for 5 minutes, then transfer the rugelach to the racks to cool completely. While still warm, use a fine-mesh sieve to dust the rugelach with confectioners' sugar.

Makes about 2 1/2 dozen rugelach.

Click here to view recipe and photo of Apricot and Pistachio Rugelach on Diana's Desserts Website

---
For Ramadan
The Muslim month long observance of Ramadan begins this year on September 13th.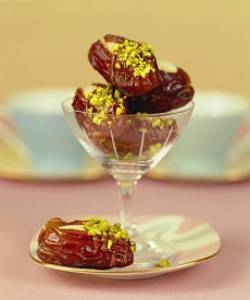 Stuffed Dates topped with Pistachios
Servings: Makes 20 stuffed dates

Comments:
If desired, combine the almond paste and rose water with a few drops of red food coloring in the food processor to give the almond filling a pretty pink color. Enjoy for Ramadan.

Ingredients:
20 large dates, such as Medjools or Black Sphinx
1 roll (7 oz.) almond paste
1 tsp. rose water
Finely chopped pistachios for garnish

Red food coloring, (optional)

Instructions:
Slit the dates open lengthwise and remove the pits.

In a food processor, pulse the almond paste with the rose water (add a few drops of red food coloring, if desired, to give the almond filling a pretty pink color).

Transfer the almond paste to a work surface and roll into a 10-inch log. Cut into 20 equal pieces. Roll each piece into an oval shape and slip into a date; slice in half so that the ingredients are visible.

To serve, place a 4 to 5 stuffed dates in small individual dessert glasses or cups and sprinkle with chopped pistachios.

Makes 20 stuffed dates, 4 to 5 servings.

Click here to view recipe and photo of Stuffed Dates topped with Pistachios on Diana's Desserts Website

---
For Yom Kippur
Yom Kippur, the Day of Atonement, is the most solemn day of the Jewish year and is observed on the tenth day of Tishri. It is a day of fasting, reflection and prayers. This year Yom Kippur begins at sundown September 21st.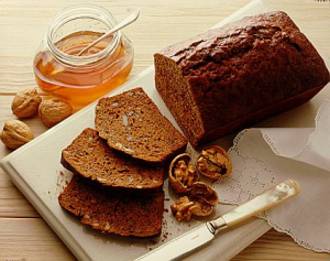 Light Honey Cake for Yom Kippur
(For before or after fasting)
Servings: 8-10

Comments:
For "breaking the fast" for Yom Kippur.

This honey cake has less oil and sugar than many versions and therefore fewer calories, but the cinnamon, nuts and coffee give it plenty of flavor.

Ingredients:
1 1/2 teaspoons instant coffee granules
6 tablespoons hot water
1 1/2 cups all-purpose flour
1 teaspoon baking powder
1/2 teaspoon baking soda
1/2 teaspoon ground cinnamon
1/4 teaspoon ground ginger
Small pinch of ground cloves
2 large eggs
1/2 cup sugar
1/2 cup honey
1/3 cup vegetable oil
1/2 cup walnuts, coarsely chopped

Instructions:
Preheat oven to 325 degrees F/160 degrees C. Lightly grease an 8 x 4-inch loaf pan. Line the pan with parchment paper or wax paper, and grease the paper.

In a cup, dissolve the coffee granules in the hot water. Let cool.

Sift flour with baking powder, baking soda, cinnamon, ginger and cloves. Beat eggs lightly.Add sugar and honey and beat until mixture is very smooth and light in color. Gradually add oil and beat until blended. Stir in flour mixture alternately in two batches with coffee. Stir in walnuts.

Pour batter into prepared pan and bake in preheated oven for 50 to 55 minutes, or until a cake tester inserted in cake comes out clean. Cool in pan for about 15 minutes. Turn out onto rack and carefully peel off paper. Wrap in foil when completely cool. (If tightly wrapped, cake keeps one week at room temperature.) Serve in thin slices.

Makes 8 to 10 servings.

Click here to view recipe and photo of Light Honey Cake for Yom Kippur on Diana's Desserts Website

---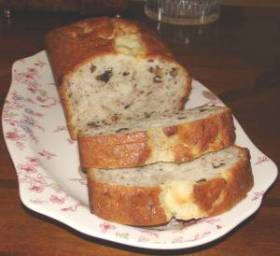 Cream Cheese Banana-Nut Bread
Servings: Makes 2 (8 x 4-inch) loaves

Comments:
I make quite a few different types of banana bread but this one is my favorite. The cream cheese in it makes it so very moist and tender. Enjoy a slice with a nice hot cup of coffee or tea or a big glass of milk on a chilly autumn or winter's evening and savour every bite of this wonderful and easy to make quick-bread.

Ingredients:
3/4 cup (1 1/2 sticks/6 oz/170g) unsalted butter, softened
1 (8-ounce) package cream cheese, softened
2 cups granulated sugar
2 eggs, beaten
3 cups all-purpose flour
1/2 teaspoon baking powder
1/2 teaspoon baking soda
1/2 teaspoon salt
1 1/2 cups mashed bananas (about 4 medium bananas)
1 cup chopped pecans, toasted (See "Toasting Pecans" below)
1 teaspoon vanilla extract

Instructions:
Preheat oven to 350 degrees F (180 degrees C). Grease and flour two 8 x 4-inch loaf pans, or line bottoms of pans with parchment paper and spray paper with nonstick cooking spray.

In a large bowl, beat butter and cream cheese at medium speed with an electric mixer until creamy. Gradually add sugar, beating until light and fluffy. Add eggs, one at a time, beating just until combined.

Combine flour, baking powder, baking soda and salt; gradually add to butter mixture, beating at low speed just until blended. Stir in bananas, pecans and vanilla. Spoon batter into prepared loaf pans.

Bake in preheated oven for 60 to 70 minutes, or until a toothpick or wooden skewer inserted in the center comes out clean and sides pull away from the pan. If necessary, place aluminum foil over breads the last 15 minutes of baking to prevent over-browning.

Cool bread in pans on wire racks for 20 minutes. Remove from pans (and if you used parchment paper to line pans, remove paper) and cool breads completely on wire racks before slicing.

Storing
Store bread in an airtight container or wrap well in plastic wrap or aluminum foil. Well wraped bread keeps at room temperature for up to 5 days. You may also keep bread refrigerated, if desired.

Freezing
Bread freezes well. To freeze one or both loaves, tightly wrap in plastic wrap, then wrap tightly in aluminum foil, place in freezer bag and freeze for up to 3 months.

Makes 2 loaves.

Toasting Pecans

Many chefs believe that toasting nuts before they are used will intensify their flavor. Spread shelled nuts on a baking sheet. Place in preheated 325 degree F (160 C) oven, for about 5 minutes, stirring at least once. Don't overcook or the nuts will burn. If you can smell them cooking, it's time to get them out of the oven. The nuts also may be placed in a dry skillet on your stove-top over medium heat. Stir frequently and cook for about 4 minutes. Remove toasted pecans from the oven (or stove-top) and let cool to room temperature before adding to your recipe.

Photograph taken by Diana Baker Woodall© 2005

Click here to view recipe and photo of Cream Cheese Banana-Nut Bread on Diana's Desserts Website

---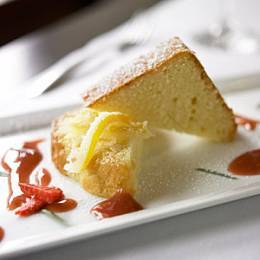 Fresh Meyer Lemon Pound Cake
Servings: Makes 2 (9 x 5-inch) loaves

Comments:
What is a Meyer Lemon?

Sweeter and more fragrant than regular lemons, the Meyer lemon was named for Frank Meyer, who introduced the fruit in the United States from China in 1908. Many believe it is a cross between a lemon and a mandarin orange. It's skin is a yellow to orange color.

Serve the pound cake with whipped cream and fresh strawberry sauce (see recipe below for sauce).

Ingredients:
2 cups granulated sugar
1 cup (2 sticks/8 oz/226g) unsalted butter, softened
4 eggs
3 cups all-purpose flour
1/2 teaspoon baking powder
1/2 teaspoon baking soda
1/2 teaspoon salt
3/4 cup buttermilk* (see note below)
Grated zest of 1 Meyer lemon* (grated zest of a regular lemon may be substituted)
1 tablespoon Meyer lemon juice* (bottled Meyer lemon juice may be substituted for fresh Meyer lemon juice)

Confectioners' sugar, for dusting top of cake

Serve with whipped cream and strawberry sauce (optional).

Instructions:
Preheat oven to 325 degrees F/160 degrees C. Grease and flour two 9 x 5-inch loaf pans.

Beat sugar and butter in large bowl at medium speed, scraping bowl often, until creamy. Continue beating, adding eggs one at a time, until well mixed.

Reduce speed to low. Beat, gradually adding flour, baking powder, baking soda and salt alternately with buttermilk and scraping bowl often, until well mixed. Add lemon zest and 1 tablespoon lemon juice. Continue beating until well mixed.

Spread batter into prepared loaf pans. Bake for 55 to 65 minutes or until toothpick inserted in center comes out clean. Cool 10 minutes; remove from pan. Cool completely. Dust top of cake with confectioners' sugar. If desired, serve with whipped cream and strawberry sauce.

*Note: If needed, substitute 2 teaspoons vinegar or lemon juice plus enough milk to equal 3/4 cup for buttermilk. Let stand 10 minutes.

Makes 2 (9 x 5-inch) loaves.

Fresh Strawberry Sauce

Ingredients:
2 pounds fresh strawberries, coarsely chopped
3 tablespoons dark brown sugar
Juice from 2 lemons (approximately 4 tablespoons)

Instructions:
Combine the strawberries, brown sugar and lemon juice in a large saucepan and bring to a simmer over medium-low heat, stirring, until the sugar dissolves. Partially cover with a lid and simmer, stirring occasionally, until the strawberries are softened and release their juices, about 10 minutes. Let cool.

Pour the strawberries into a blender and blend until smooth.

Press the sauce through a fine-mesh strainer into a storage container. The sauce will keep for up to 10 days in the refrigerator or up to 6 months in the freezer.

Makes approximately 3 1/4 cups.

Source: DianasDesserts.com

Click here to view recipe and photo of Fresh Meyer Lemon Pound Cake on Diana's Desserts Website

---
Food Tips and Information Section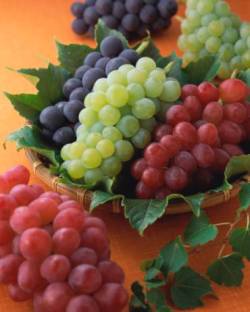 All About Grapes
Grapes can grow in almost every type of climate, and while they do particularly well in regions such as the Mediterranean (where they have long been established), they are now cultivated on six continents. They are served as a fresh fruit, preserved or canned in jellies and jams, dried into raisins, and crushed for making juice or wine.

Grapes are not notable for their nutrient content--the table grapes that we eat fresh have only low to moderate amounts of vitamins and minerals. But some varieties are good sources of Vitamin C. Their juiciness and natural sweetness, combined with a low Calorie count, make them an excellent snack and dessert food.

The grape is one of the oldest cultivated fruits: Fossils indicate that the cultivation, or at least the consumption, of grapes goes back to early times, perhaps to the Neolithic era. Hieroglyphics show that Egyptians were involved in grape and wine production, and the early Romans were known to have developed new varieties. And, of course, the grape is mentioned in the Old Testament as the "fruit of the vine."

Today, although modern equipment is employed in certain aspects of grape growing, much of viticulture (as grape-growing is called) is still done by hand. Grapes grow on woody vines that are not raised from seeds, but are propagated from cuttings or grafted onto existing rootstocks. The vines must be staked or trellised as they grow, to support the heavy bunches of fruit. Leaves and shoots are pruned from the vines and, depending on the variety, the flower clusters or the berries themselves must be thinned by hand to improve the quality of the fruit. Grapes develop sugar as they ripen, but will become no sweeter once picked, so timing the harvest is of the utmost importance. And to ensure that they reach the consumer in full, handsome clusters, table grapes are harvested by hand. Grapes intended for processing can be removed from the vines with mechanical pickers.

Varieties
There are two basic types of grapes, American and European. Today, both are grown in the United States, but the European grapes are certainly more popular and versatile. Seeded varieties are thought to have better flavor than seedless, but Americans--who tend to eat grapes as a snack rather than as a proper dessert--seem to prefer the convenience of seedless grapes. The list that follows covers the major (and a few minor) varieties of grapes, both seeded and seedless, grown in this country.

EUROPEAN VARIETIES
Our familiar table grapes are derived from a single European species, Vitis vinifera. Varieties of vinifera grapes were grown by the ancients, and now are made into the world's wines and dried to produce raisins. They have relatively thin skins that adhere closely to their flesh; when seeds are present, they can be slipped out of the pulp quite easily (some varieties are seedless). Spanish missionaries moving north from Mexico established vineyards in California in the late 18th century, and by 1860 commercial cultivation of several varieties was established there.

Today, California produces about 97% of all European varieties of grapes in the United States. Although a large proportion of the California crop is used for winemaking and raisins, the remainder is sufficient to provide a bountiful supply of fresh fruit for American tables during most of the year. The major varieties are harvested in different seasons, and the period of market availability for some types is extended by imported grapes from Chile and Mexico.

Black Beauty (Beauty Seedless): These are the only seedless black grapes. They are spicy and sweet, resembling Concords in flavor. Season: late May to early July

Calmeria: These are pale green oval fruits. They have a mildly sweet flavor, comparatively thick skin, and a few small seeds. The grapes are so elongated that they are sometimes called Lady Finger grapes. Season: January and February

Cardinal: A cross between the Flame Tokay and the Ribier, these large, dark red grapes have a pearly gray finish, a full, fruity flavor, and few seeds. Season: mid-May through mid-August

Champagne (Black Corinth): These grapes are tiny, purple and seedless with a deliciously winy sweetness. Some are dried to produce currants. They are called champagne grapes because the grape clusters resemble champagne bubbles. They are available primarily at gourmet produce markets. Season: September and October

Emperor: Second only to Thompson Seedless in quantity grown, these small-seeded red grapes may vary in color from red-violet to deep purple. Their flavor is mild and somewhat cherrylike (they have a lower sugar content than many table grapes). Thick-skinned Emperors are good shippers and stand up well to consumer handling; their large size and full, round shape make them popular for holiday tables. They also store well, lengthening their period of availability. Season: California-grown Emperors are on the market from August through March; Chilean imports are available in March and April.

Exotic: These blue-black grapes are seeded and firm-fleshed, and resemble the Ribiers. Season: June through August

Flame Seedless: Round, deep red, and seedless, these grapes, a relatively new variety, are sweet-tart and crunchy. Season: mid-June through September; Chilean imports are available from December through April.

Italia (Italia Muscat): This variety has taken the place of the older Muscat varieties, which today are mainly used for making wine. Muscats are large, greenish gold seeded grapes with a winelike sweetness and fragrance; the Italias have a milder flavor than the older varieties. Season: August to November

Perlette Seedless: These round, crisp green grapes, which have a frosty white "bloom" on their surface, are the first arrivals from California each year. They are also imported from Mexico in the early summer. Season: May into early July

Queen: These large, firm grapes are rusty red in color and have a mildly sweet flavor. Season: August and September

Red Globe: These very large red grapes have a crisp texture and large seeds. The flavor is quite delicate. Season: September through January

Red Malaga: Ranging in color from pinkish red to purple, these grapes are crisp and mildly sweet. Their rather thick skins make them good shippers. Season: July through September

Ribier: These large, blue-black grapes, which grow in generous bunches, have tender skins. They are sweeter than the look-alike Exotic, and arrive at market later in the summer. Chilean imports augment the supply during the winter. Season: August through February

Ruby Seedless: These deep red oval grapes are sweet and juicy. Season: late August through January; Chilean imports are available from January through May.

Thompson Seedless: These oval, amber green grapes are the most popular fresh variety grown in the United States (and also the foremost variety used for processing into raisins). Season: June through November; Chilean imports are available from December through April.

Tokay (Flame Tokay): A sweeter version of the Flame Seedless, these grapes have large, elon-gated, crunchy orange-red berries. Season: August through December

AMERICAN VARIETIES
Two species native to the United States are Vitis labrusca and Vitis rotundita. Labrusca grapes are the ones that Viking explorer Leif Ericson found growing so abundantly on the east coast of North America, which resulted in his naming the newfound territory "Vinland." Later settlers tried and failed to establish European grapes (for winemaking) in the eastern United States; in the late 18th century Easterners started to domesticate native varieties, which were obviously well suited to the local climate. Today, labrusca are the primary type of American grapes grown.

American varieties are sometimes called slipskin grapes, as their skins separate readily from the flesh; their seeds are tightly embedded in the pulp. The most familiar American variety is the Concord, a typical labrusca grape, with a thick skin and a heady, sweet aroma that surpasses its bland-to-sour flavor. This variety originated in the 1840s near the Massachusetts town whose name it bears. Another fairly well-known American variety is the Catawba, discovered in the 1820s in Maryland and used for making wine.

Although they can be grown in many parts of the country, commercial production of American varieties is still concentrated in the East: New York State is the major grower. Pennsylvania, Michigan, Arkansas, and the state of Washington also produce some American grapes. Nearly all of the crop is processed into jam, jelly, juice, wine, and other food products; cream of tartar, an ingredient in some types of baking powder, is made from Concord grapes. A small quantity of these grapes reach the market as table grapes, but since they do not ship well, they are generally sold locally.

All American grape varieties ripen in the fall and are available only in September and October.

Concord: The major variety of American grape, large, round Concord grapes are blue-black with a powdery bloom, sweet-tart flavor, and perfumed fragrance. They are most commonly used in grape preserves and juice.

Delaware: These small, pinkish-red grapes have a more tender skin than other American varieties. They are sweet and juicy.

Niagara: These large, amber-colored grapes have a grayish bloom. Niagaras may be either round or egg-shaped. They are somewhat coarse-fleshed, and are less sweet than most other American varieties.

Steuben: These blue-black grapes are similar to the Concord, but have less of a wine-like flavor.

Availability
Red and green grapes are available year round.

Shopping
Grapes are thin-skinned and easily damaged. They should be displayed no more than two bunches deep, and under refrigeration. The bunches may be wrapped in tissue paper, or enclosed in perforated plastic bags. Loose bunches are easiest to evaluate, but the wrapped grapes are better protected from damage caused by customer handling.

Grapes are not picked and shipped until ripe, so unripe grapes are not usually a problem for the consumer. You can, however, use color as a guide to the sweetest fruit. Green grapes should tend toward a translucent yellow-green rather than an opaque grass green; all fruit on a bunch of red grapes should be predominantly crimson; and blue grapes should be darkly hued, almost black. Once they have been picked, grapes will not ripen further: If you spot a bunch with many underdeveloped, very green fruits, leave it in the store.

A bunch of grapes in the market should look as inviting as those in a still-life painting: plump fruit with a silvery white "bloom," tightly attached to moist, flexible stems (except Emperor grapes, which should have brown, woody stems). The powdery bloom, more visible on dark-colored grapes than on pale ones, is an important sign of freshness; it fades with time and handling. Avoid wrinkled, sticky, or discolored grapes on withered, brown, limp, or brittle stems.

Storage
Before storing grapes at home, remove any spoiled fruit. Place unwashed grapes in a plastic bag and store them in the refrigerator. They should keep for about a week.

Preparation
Wash grapes under cold water just before serving and remove any damaged fruit. Leave the bunch whole, or divide it into smaller branches for serving. (This is easily done with a pair of shears).

If your recipe requires peeled grapes, you'll find that American (slipskin) varieties readily slip out of their skins. European grapes are easier to peel if you drop them into boiling water for a few seconds; immediately drain and cool them in ice water. However, unless you find grape skins objectionable, most recipes that call for peeled grapes can be done with unpeeled grapes. If seeding is required, halve each grape and pick out the seeds with the tip of the knife, or for ease of preparation, choose seedless grapes.

Nutrition Chart
Seedless Grapes/1 cup
Calories: 114
Total Fat (g) 0.9
Saturated fat (g) 0.3
Monounsaturated fat (g) 0
Polyunsaturated fat (g) 0.3
Dietary fiber (g) 1.6
Protein (g) 1.1
Carbohydrate (g) 29
Cholesterol (mg) 0
Sodium (mg) 3
Vitamin C (mg) 17

Source: WholeHealthMD.com

---
Recipe Using Grapes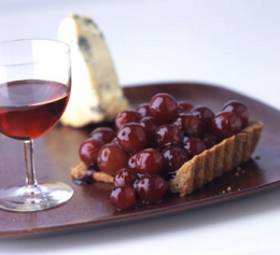 Port-Glazed Grape Tarts with Pecan Crust
Servings: Makes 2 (11 x 8-inch) tarts

Source: Gourmet Magazine, November 2002

Comments:
Our food editors loved shavings of Stilton cheese on these tarts. We understand that nobody has much room for dessert after a big meal, much less one with cheese, but these tarts are actually quite light and refreshing: The Stilton lends depth and provides a savory counterpoint to the sweet grapes and crust.

Ingredients:
For Tart Shells:
1/2 cup pecans (2 oz), lightly toasted
1/2 cup packed light brown sugar
2 cups all-purpose flour
1 cup (2 sticks/8 oz./226g) cold unsalted butter, cut into tablespoon pieces
1 teaspoon ground cinnamon
1 teaspoon ground ginger
3/4 teaspoon salt

For Grape Filling:
2 cups Ruby Port
1 1/2 cups Concord grape jelly
3/4 teaspoon fresh lemon juice, or to taste
5 pounds small red seedless grapes, stems discarded (12 1/2 cups)

Special equipment: 2 (11 1/4- by 8- by 1-inch) rectangular tart pans with removable bottoms, or 2 (10-inch) round fluted tart pans with removable bottoms

Instructions:
Preheat oven to 350 degrees F/180 degrees C.

Make Tart Shells:
Pulse pecans with brown sugar in a food processor until finely ground (do not allow to become a paste). Add flour, butter, cinnamon, ginger, and salt and pulse until mixture begins to form large lumps. Divide mixture between tart pans and press evenly over bottom and up sides with floured fingers. Chill until firm, about 30 minutes.

Bake tart shells in lower third of oven until golden brown, about 25 minutes. Transfer shells in pans to racks to cool completely. Carefully remove sides of pans, keeping shells on pan base.

Make Filling while Shells cool:
Simmer Port and jelly, stirring occasionally, until reduced to about 1 1/2 cups, about 30 minutes, then stir in lemon juice. Immediately toss grapes with 1 cup glaze in a large bowl until well coated, then mound in tart shells.

Just before serving, drizzle tarts with more glaze and serve remainder on the side.

Makes 2 (8 x 11-inch) tarts.
Notes:
Tart shells can be made 2 days ahead and kept in pans, loosely covered, at room temperature. Remove sides of tart pans before filling.Port glaze can be made 2 days ahead and chilled, covered. Reheat before proceeding.
Tarts can be assembled 4 hours ahead.
---
Until Next Time
Well that's it for my late summer-early autumn newsletter. I hope you've enjoyed the recipes and the information about Grapes. As for grapes, they can also be used so beautifully during the holiday season, included with other fruits of the season as a centerpiece for your dinner table.

I plan to be back with another edition of Diana's Desserts Newsletter probably in mid to late November. I wish all of you a happy ending to your summer and a great beginning to autumn.

If you'd like to submit one of your favorite dessert, beverage or bread recipes, click on the link below:

Submit a Recipe

Sincerely, Diana

Diana's Desserts


---