Diana's Desserts - www.dianasdesserts.com
See more recipes in
Autumn - Winter
Cream Cheese Banana-Nut Bread
in Diana's Recipe Book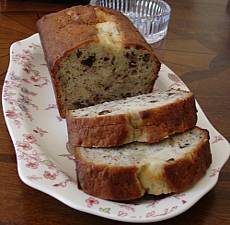 Average Rating:
(total ratings: 25)
[Read reviews]
[Post a review]
Servings: Makes 2 (8 x 4-inch) loaves
Comments:
I make quite a few different types of banana bread but this one is my favorite. The cream cheese in it makes it so very moist and tender. Enjoy a slice with a nice hot cup of coffee or tea or a big glass of milk on a chilly autumn or winter's evening and savour every bite of this wonderful and easy to make quick-bread.
Ingredients:

3/4 cup (1 1/2 sticks/6 oz/170g) unsalted butter, softened
1 (8-ounce) package cream cheese, softened
2 cups granulated sugar
2 eggs, beaten
3 cups all-purpose flour
1/2 teaspoon baking powder
1/2 teaspoon baking soda
1/2 teaspoon salt
1 1/2 cups mashed bananas (about 4 medium bananas)
1 cup chopped pecans, toasted (See "Toasting Pecans" below)
1 teaspoon vanilla extract

Instructions:
Preheat oven to 350 degrees F (180 C). Grease and flour two 8 x 4-inch loaf pans, or line bottoms of pans with parchment paper and spray paper with nonstick cooking spray.

In a large bowl, beat butter and cream cheese at medium speed with an electric mixer until creamy. Gradually add sugar, beating until light and fluffy. Add eggs, one at a time, beating just until combined.

Combine flour, baking powder, baking soda and salt; gradually add to butter mixture, beating at low speed just until blended. Stir in bananas, pecans and vanilla. Spoon batter into prepared loaf pans.

Bake in preheated oven for 60 to 70 minutes, or until a toothpick or wooden skewer inserted in the center comes out clean and sides pull away from the pan. If necessary, place aluminum foil over breads the last 15 minutes of baking to prevent over-browning.

Cool bread in pans on wire racks for 20 minutes. Remove from pans (and if you used parchment paper to line pans, remove paper) and cool breads completely on wire racks before slicing.

Storing
Store bread in an airtight container or wrap well in plastic wrap or aluminum foil. Well wraped bread keeps at room temperature for up to 5 days. You may also keep bread refrigerated, if desired.

Freezing
Bread freezes well. To freeze one or both loaves, tightly wrap in plastic wrap, then wrap tightly in aluminum foil, place in freezer bag and freeze for up to 3 months.

Makes 2 loaves.

Toasting Pecans

Many chefs believe that toasting nuts before they are used will intensify their flavor. Spread shelled nuts on a baking sheet. Place in preheated 325 degree F (160 C) oven, for about 5 minutes, stirring at least once. Don't overcook or the nuts will burn. If you can smell them cooking, it's time to get them out of the oven. The nuts also may be placed in a dry skillet on your stove-top over medium heat. Stir frequently and cook for about 4 minutes. Remove toasted pecans from the oven (or stove-top) and let cool to room temperature before adding to your recipe.

Photograph taken by Diana Baker Woodall© 2005
Date: September 18, 2005
Reviews
Reviewer:
Jackie
Rating:
Review:
Best banana bread I've ever eaten. Just the right amount of bananas, just the right amount of sweetness. Perfect.
Reviewer:
Susanne
Rating:
Review:
I'm not a big fan of banana bread but this I just have to devour. The cream cheese definitely is a plus.
Reviewer:
Duke Burnett
Rating:
Review:
Best Ever. I found this recipe in another source and began making it several months ago. It is the very best recipe I have found, hands down.
Reviewer:
Jenny Fairwaters
Rating:
Review:
it was delicious. the best i've ever tasted.
Reviewer:
Cynthia
Rating:
Review:
This bread is wonderful! I took one to work and the girls were asking for the recipe so they could make it for the holidays coming up.
Reviewer:
Sandi
Rating:
Review:
By far the best Banana Bread I've ever had and/or made. Thanks!
Reviewer:
Tammy Moore
Rating:
Review:
It is great! The cream cheese makes it taste like more of a cake than a bread.
Reviewer:
mary quinby
Rating:
Review:
I have been making banana nut bread for years for my nieces and this is, hands down, the very best. The cream cheese adds a light creamy texture to it.
Reviewer:
Wanda Jeffcoat
Rating:
Review:
I added a topping of: 1 cup confectioner's sugar, 3 tablespoons orange juice and 1 tsp. orange zest. Drizzle over top. Absolutely wonderful!!!
Reviewer:
Lisa
Rating:
Review:
GREAT! BEST I'VE EVER EATEN!
Reviewer:
Bunnee Price
Rating:
Review:
This is soooooo good, Thanks!
Reviewer:
lisa
Rating:
Review:
This is the best banana bread I have ever made.
Reviewer:
Dina
Rating:
Review:
Excellent just the way it is! I have also made this as muffin tops with a sprinkle of crumb topping. The edges crisp up beautifully.
Reviewer:
janet
Rating:
Review:
The is a fabulous banana bread! I took it to work and received many complements on it. This recipe has replaced my other banana bread recipes.
Reviewer:
Ramen
Rating:
Review:
AWESOME! I made some last week roasting the almonds and everything... and my room mates and I ate both loaves that night. It was delicious, thanks so much.
Reviewer:
Jody
Rating:
Review:
Wonderful! So rich and flavorful and moist. It made 4 nice loaves in Pampered Chef 4-loaf baking stone. Would have given it a 5 if it rose a bit more (kind of flattened a little toward end of baking, but could be something I did).
Reviewer:
WENDY KARRAS
Rating:
Review:
Excellent! Wonderfully moist and full of flavor. Gorgeous texture. Topped loafs with raw sugar to give it a nice crunch on top. Made four mini loafs and baked at 325 degrees for about 50 minutes. Exact same recipe can be found in "Southern Living 40 Years of Our Best Recipes".
Reviewer:
Jaclyn
Rating:
Review:
Absolutely wonderful, so moist and delicious! This recipe made 4 perfectly even loaves in a Pampered Chef 4 loaf baking stone. My kids can't get enough of it! Thanks!
Reviewer:
BabyCakes
Rating:
Review:
I have made various banana bread recipes and I have to say that this is the best one I have made. This is my Boyfriend's favorite and he asks me to make it on a weekly basis. Thank you so much.
Reviewer:
Macayla
Rating:
Review:
Ive made a bunch of different types of banana bread and they are all very good but this one is the best by far!! A very delicious banana bread. I can't say any negative things about it!
Reviewer:
Melis
Rating:
Review:
BEST banana bread EVER!!
Reviewer:
Sheila
Rating:
Review:
Awesome! I baked this to serve at Church and it is now my go-to banana bread. I left the nuts out because of allergies, but I prefer nuts in my banana bread. De-lish!
Reviewer:
your mom :)
Rating:
Review:
Looks very good!!In the oven right now!
Reviewer:
jen
Rating:
Review:
I made this banana bread w/o the nuts and 1/2 cup sugar less than recipe. My kids and husband LOVE it. Thanks for sharing your recipe!!!
Reviewer:
Vicki
Rating:
Review:
This is my family's favorite banana bread. I added a banana glaze of 1 cup confectioner's sugar/ 2 Tbls Milk/ 1 Tsp vanilla. Drizzled it on top... Yummmm