EDITION NUMBER 40
ENJOYING THE SUMMER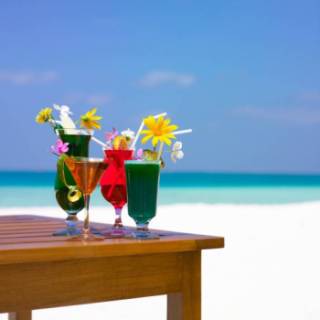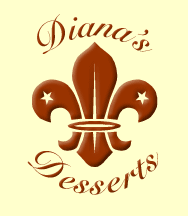 July 1, 2006

Welcome Home Baker's and Friends,

Well, it's been awhile but I'm back with a brand new edition of Diana's Desserts Newsletter for July, a shorter newsletter this month but I will have more for you in late August or early September, just in time for some back to school treat ideas for the kids and some pre-autumn recipes to get you started on your Fall dessert making.

I hope you have been enjoying the summer, doing whatever you like to do, whether it is just lazing around or off to another country for a vacation, or staying closer to home and enjoying the warm weather by the beach or in your own back yard. Some of you may have your own swimming pools (as we do) and it's so refreshing to take a dip when the weather is so scorching hot, isn't it? I have to say, when summer comes, thank goodness for air conditioning and swimming pools.

In the Food Tips and Information section below, it's all about Melons. Melons actually belong to the same botanical family as squashes and cucumbers (the Cucurbitaceae, or gourd family). They all grow on vines. Except for watermelons, all melons resemble winter squashes in structure--they have a thick flesh with a central seed-filled cavity. Watermelon bears more resemblance to a cucumber, with its seeds dispersed in a radial pattern throughout its flesh. The principal difference between melons and squashes is the way they are used. While squashes are treated as vegetables, melons are considered fruits--sweet and juicy (read more below).

Below are some ideas for desserts for celebrating the 4th of July (Independence Day in the United States) and a few other recipes for summertime treats. Enjoy!

---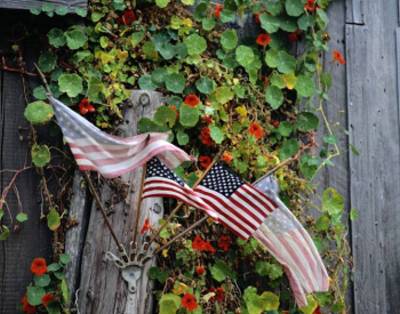 Fourth of July
Desserts
Grandma's Fresh Cherry Pie
Servings: Makes 1 (9-inch) pie, 8 servings

Comments:
This delicious fresh cherry pie definitely comes in a close second to the All-American Apple Pie to serve on the 4TH of July. So tasty, and great to serve at picnics or barbeques. Serve with a scoop of vanilla ice cream or a dollop of whipped cream.

Ingredients:
For the Crust:
2 1/2 cups all-purpose flour
1/2 teaspoon salt
1 1/2 sticks (3/4 cup) cold unsalted butter
1/4 cup cold vegetable shortening
5 to 7 tablespoons ice water

For Cherry Filling:
1 cup plus 2 tablespoons granulated sugar
2 tablespoons quick-cooking tapioca
2 tablespoons cornstarch
1/4 teaspoon salt
1/2 teaspoon ground cinnamon
6 cups (approximately 2 1/2 - 3 pounds) fresh or frozen pitted tart cherries, rinsed and pitted
2 tablespoons vanilla extract
1 1/2 tablespoons unsalted butter, cut into small pieces

For Topping Pie:
1-2 teaspoons granulated sugar

Serve with: (optional)
Vanilla ice cream, Whipped Cream or Non-dairy whipped topping (thawed)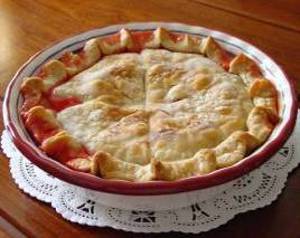 Instructions:
For the Crust:
Cut butter into pieces. In a bowl with a pastry blender or in a food processor blend or pulse together flour, salt, butter, and shortening until mixture resembles coarse meal. Add 5 tablespoons ice water and toss or pulse just until mixture forms a dough, adding additional ice water, a little at a time, if dough is too dry. Divide dough in half and flatten each piece into a disk. Chill dough in refrigerator, wrapped in plastic wrap, at least 30 minutes and up to 3 days.

For the Filling:
In a small bowl stir together sugar, tapioca, cornstarch, salt, and ground cinnamon. In a large heavy skillet cook fresh or frozen cherries over moderately high heat, stirring, until slightly softened, about 2 minutes. With a slotted spoon transfer cherries to a heatproof bowl. Add sugar mixture to cherry juices in skillet and simmer, stirring, until thickened, about 3 minutes. Stir cherry sauce and vanilla extract into cherries and let cool.

Preheat oven to 400 degrees F/200 degrees C. Remove chilled dough discs from refrigerator. On a lightly floured work surface, roll each disc into an 11-inch round circle and 1/8 of an inch thick. Line a 9-inch (23cm) pie plate with one crust and prick all over with a fork. Spoon the cherry filling evenly into the crust. Dot all over with the cut-up pieces of butter. Cover with the top crust. With water, moisten the top and bottom crusts where they meet, then turn the top crust under the bottom crust and flute the edges. Cut 5 - 6 slits in the top to allow steam to escape. Sprinkle 1 - 2 teaspoons sugar over top of pie. If desired, decorate top of pie by rolling out the remaining scraps of dough, and cutting several cherry, leaf or stem shapes.

Place pie on a baking sheet (to catch drippings) and bake pie on middle rack of preheated 400 degrees F/200 degrees C oven for 15 minutes. Place pie shield or pieces of aluminum foil around edges of pie to prevent over browning of crust. Reduce oven temperature to 350 degrees F/180 degrees C, and continue to bake for 45 -50 minutes, or until pastry is golden and filling just begins to bubble. Transfer pie to a rack to cool completely (at least 3 - 5 hours). If desired, serve pie with ice cream, whipped cream or non-dairy whipped topping (thawed).

Note: If pressed for time, you may use store-bought ready made pie crusts instead of making pie crusts from scratch.

Makes 1 (9-inch) pie, 8 servings.

Photograph taken by Diana Baker Woodall

Source: DianasDesserts.com

Click here to view recipe and photo of Grandma's Fresh Cherry Pie on Diana's Desserts Website

---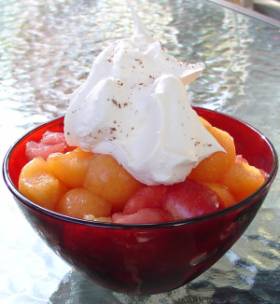 Fresh Fruit Salad with Nutmeg-Cream Topping
Servings: 4-6

Comments:
"I served this light and refreshing fresh fruit salad to go along with our 4th of July barbeque a couple of years back and it just "hit the spot" after a long warm day. It makes a delicious addition to any holiday barbeque or picnic. Adding freshly grated nutmeg to the whipped cream topping gives this very simple dessert a lovely and distinctive flavor.

If you like, use any other combination of fresh fruits for the salad that are available to you during the summer".......Diana

Ingredients:
1 whole cantaloupe melon
1/4 of a whole watermelon
2 white nectarines or white peaches
2 dozen fresh cherries

Nutmeg-Cream Topping:
2 cups whipped cream or frozen non-dairy whipped topping, thawed
Freshly grated nutmeg
Sugar

Instructions:
1. Set aside a large mixing bowl.

2. Cut cantaloupe in half and scoop out seeds with a spoon. With a melon baller, scoop out balls of cantaloupe. Place in mixing bowl.

3. With a melon baller, scoop out balls of watermelon, removing any seeds and place balls in mixing bowl.

4. Peel nectarines (or peaches), slice in half and remove pits. Slice fruit into small cubes (about 1/2-inch in size). Place in mixing bowl.

5. Rinse and dry cherries; cut in half and remove pits. Place in mixing bowl.

6. Toss fruits gently; cover bowl and place in refrigerator until ready to serve.

7. Right before you are ready to serve the fruit salad, make the whipped cream topping. Add grated nutmeg and sugar (to taste) to whipped cream (if using non-dairy whipped topping, only add grated nutmeg).

8. Spoon fruit into pretty dessert bowls or glasses and top each serving with a dollop of Nutmeg-Cream Topping.

Makes 4-6 servings.

Photograph taken by Diana Baker Woodall© 2004

Source: DianasDesserts.com

Click here to view recipe and photo of Fresh Fruit Salad with Nutmegg-Cream Topping on Diana's Desserts Website

---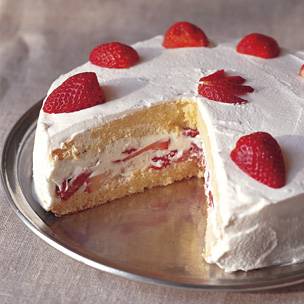 Strawberry Genoise with Whipped Cream
Servings: 8-10

Comments:
The genoise, a light, elegant sponge cake, is one of the building blocks of French baking, used as a base for both layer cakes and jelly rolls. The successful leavening of the cake depends solely on how much air is whipped into the eggs. Heating the sugar and whole eggs before whipping helps the eggs attain the maximum volume possible, although a slightly denser, still satisfying, version of the cake can be made without this step. Some genoises, such as this recipe, contain a little butter, which tenderizes the crumb.

Ingredients:
For the Genoise:
4 eggs
1/2 cup granulated sugar
3/4 cup cake flour, sifted
3 tbsp. (1.5 oz./42g) unsalted butter, melted

For the Filling and Finish:
1/4 cup granulated sugar
1/4 cup water
1 tsp. kirsch (clear cherry liqueur)
2 cups heavy cream
2 tsp. confectioners' sugar
3 cups strawberries, hulled and cut into 1/2-inch slices, plus 6 strawberries, halved lengthwise, for garnish

Instructions:
To Make the Genoise:
Preheat oven to 375 degrees F/180 degrees C. Line the bottom of a 9 x 3-inch round cake pan with parchment paper.

In the bowl of an electric mixer, whisk together the eggs and granulated sugar by hand until combined. Place the bowl over but not touching simmering water in a saucepan. Gently whisk until the mixture registers 140 degrees F/60 degrees C on an instant-read thermometer, about 3 minutes. Put the bowl on the mixer and beat with the whisk on high speed until the mixture is pale and almost tripled in volume, 5 to 8 minutes.

Remove the bowl from the mixer. Sift the flour over the egg mixture in 2 additions and carefully fold in with a large rubber spatula. Fold a large dollop into the melted butter, then fold back into the egg mixture.

Pour the batter into the prepared pan and smooth the top. Bake until the top of the cake is browned, about 20 minutes. Transfer the pan to a wire rack and let cool completely.

Run a table knife around the edge of the pan and invert the cake onto a work surface. Turn the cake right side up, leaving the parchment paper in place. Cut the cake into 2 equal layers. Put the top layer, cut side up, on a serving plate.

To Make the Filling and Finish:
In a small saucepan over medium heat, combine the granulated sugar and water. Bring to a boil, stirring occasionally until the sugar dissolves. Remove from the heat and let the sugar syrup cool to room temperature.

In a small bowl, stir together the kirsch and sugar syrup. Brush the cake with about half of the syrup. Whip the cream and confectioners' sugar to soft peaks. Place the sliced strawberries in a bowl. Fold about one-fourth of the cream into the berries. Spread the mixture evenly on top of the cake. Position the remaining cake layer, cut side down, on top. Peel off the paper. Brush with the remaining syrup. Spread the top and sides of the cake with the remaining whipped cream.

Thinly slice 1 strawberry half and place it in the center of the cake. Arrange the remaining halves around the edge of the cake. Refrigerate until ready to serve.

Makes 8-10 servings.

Source: Adapted from Williams-Sonoma Collection Series, Cake, by Fran Gage (Simon & Schuster, 2003).

Click here to view recipe and photo of Strawberry Genoise with Whipped Cream on Diana's Desserts Website

---
Summertime Desserts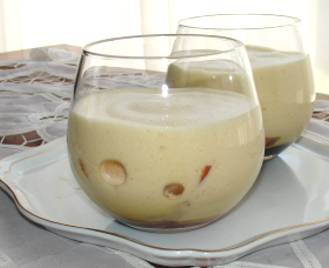 Zabaglione with Fresh Peaches in Balsamic Vinegar
Servings: 4

Comments:
What is Zabaglione?

Definition: (zah-bahl-YOH-nay). One of Italy's great gifts to the rest of the world, zabaglione is an ethereal dessert made by whisking together egg yolks, wine (traditionally marsala) and sugar. This beating is done over simmering water so that the egg yolks cook as they thicken into a light, foamy custard. Traditional zabaglione must be made just before serving. (There is also a frozen version.) The warm froth can be served either as a dessert by itself or as a sauce over cake, fruit, ice cream or pastry. In France it's called sabayon or sabayon sauce.

Copyright (c) 1995 by Barron's Educational Series, from The New Food Lover's Companion, Second Edition, by Sharon Tyler Herbst

Ingredients:
3 medium peaches (1 pound total), unpeeled, cut in halves, pitted, and each peach half cut into six wedges
1 tablespoon granulated sugar
2 teaspoons balsamic vinegar
1/3 cup granulated sugar
4 large egg yolks
1/3 cup sweet marsala wine

Special equipment: An instant-read thermometer

Instructions:
In a medium size mixing bowl gently toss peach slices with balsamic vinegar and the 1 tablespoon sugar, then let macerate 30 minutes for flavors to come together.

When peaches have macerated for 15 minutes, combine egg yolks, marsala wine, and the remaining 1/3 cup sugar in a large metal bowl (or top of double-boiler) set over a saucepan (or bottom of double-boiler) of 2 cups barely simmering water and beat with a handheld electric mixer at medium-high speed until zabaglione registers 140 degrees F/60 degrees C on instant-read thermometer, about 7 minutes. Continue beating over simmering water until zabaglione has tripled in volume and forms a thick ribbon when beaters are lifted, about 4 minutes more. Remove bowl from saucepan (or bottom of double-boiler).

Divide peaches and their juice among 4 dessert bowls or glasses and top with zabaglione. Serve immediately while still warm as after 20 to 30 minutes the zabaglione will deflate.

Makes 4 servings.

Photograph taken by Diana Baker Woodall© 2005

Source: DianasDesserts.com

Click here to view recipe and photo of Zabaglione with Fresh Peaches and Balsamic Vinegar

---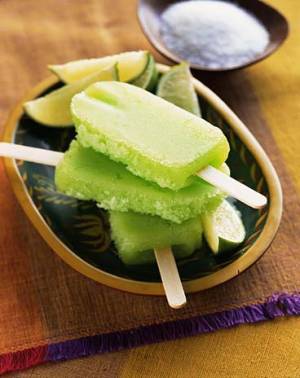 Lime Flavored Honeydew Popsicles
Servings: Makes 6-10 popsicles

Comments:
When your kids are craving a "cool" treat on a warm summer's day, give them these tasty and refreshing melon popsicles flavored with lime. They will love you for it!

Note:
Popsicles can be made substituting cantaloupe, watermelon or other sweet melon of your choice instead of the honeydew, if desired.

Ingredients:
1/4 cup superfine or regular granulated sugar
1/4 cup water
1 (3 1/2-lb) ripe honeydew melon, peeled, seeded, and cut into 1/2-inch pieces (4 cups)
2/3 cup fresh lime juice

Special equipment: 6 to 10 Popsicle molds and sticks

Instructions:
Dissolve sugar in water by stirring if using superfine or by heating in a small heavy saucepan if using regular granulated (then cool).

Blend half of melon and half of lime juice in a blender until smooth. Add syrup and remaining melon and lime juice and purée until smooth. Force purée through a fine-mesh sieve into a 2-quart glass measure or bowl, pressing on solids and then discarding them.

Pour mixture into molds and freeze until slushy, about 2 hours.

Insert sticks, then freeze Popsicles until completely hardened, at least 6 hours.

Note:
Popsicles can be made 2 days ahead (flavor diminishes if made any earlier).

Makes 6 to 10 popsicles.

Click here to view recipe and photo of Lime Flavored Honeydew Popsicles on Diana's Desserts Website

---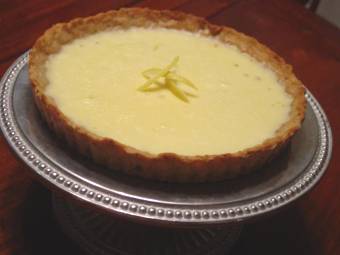 Lemon Tart with a Lemon Pecan Crust
Servings: 6

Comments:
This is one of my favorites. A lemon tart with a cream cheese-lemon filling, and the most scrumptious buttery crust made with ground pecans, flour and lemon zest.

I highly recommend making this lemon tart. It's very easy, and you'll have a delicious dessert to serve to your family or guests. A real winner!!......Diana

Ingredients:
For the Crust:
1 cup all-purpose flour
1/3 cup confectioners' sugar
1/2 cup finely ground pecans (optional)
1 tablespoon finely grated lemon peel, OR 1/8 tsp. lemon oil
1/2 cup (1 stick/4 oz/113g) chilled unsalted butter, cut into pieces

For the Filling:
5 oz. cream cheese, at room temperature
1/2 cup granulated sugar
2 large eggs
7 tablespoons (3 ounces) fresh lemon juice (approximately 4 average size lemons)
4 teaspoons grated lemon peel OR 1/8 tsp. lemon oil

For the Topping: (optional)
1/2 cup chilled whipping cream
2 teaspoons confectioners' sugar

Garnish (optional)
Fresh raspberries, fresh blueberries, or any type of berries of your choice
Lemon Peel, cut into 3-4 thin strips

Instructions:
To Make Crust:
Preheat oven to 425 degrees F/220 degrees C . Prepare a 9-inch tart pan with removable bottom by lightly spraying with cooking oil spray.

Mix flour, sugar, ground pecans, and lemon peel (or lemon oil, if using) in food processor. Add butter. Cut in using on/off turns until mixture forms moist clumps.

Press dough onto bottom and up sides of prepared tart pan. Pierce crust all over with fork. Freeze 15 minutes. Bake crust at 425 degrees F/220 degrees C (400 degrees F/200 degrees C if using dark colored or non-stick pan) until golden brown, about 15 minutes. Transfer crust to rack and let cool.

Turn oven down to 350 degrees F/180 C (325 degrees F/160 degrees C if using dark colored or non-stick pan).

To Make Lemon Filling:
Beat cream cheese in food processor or electric mixer until smooth. Add sugar and beat until incorporated. Add eggs, one at a time, beating well after each addition. Add lemon juice, and grated lemon peel (or lemon oil, if using) and beat until well blended. Pour filling into crust and bake at 350 degrees F/180 degrees C, for about 30 minutes. Transfer tart to rack and cool. Refrigerate until well chilled, about 1 hour.

To Make Topping: (topping is optional)
Put bowl and beaters in freezer for 15 minutes. Beat cream and powdered sugar until stiff peaks form. Transfer whipped cream to pastry bag fitted with star tip. Pipe cream around edge of tart. Refrigerate.

Before serving, decoratively garnish with berries (optional) or dust top with confectioners' sugar. Store in refrigerator.

Tip:
Slice 3 or 4 thin strips of lemon peel (about 1/8 inch wide and about 1 1/2 to 2 inches long), and use as a simple garnish for the center of tart.

Makes: 6 servings

Photograph taken by Diana Baker Woodall© 2002

Source: DianasDesserts.com

Click here to view recipe and photo of Lemon Tart with a Lemon Pecan Crust on Diana's Desserts Website

---
Food Tips and Information Section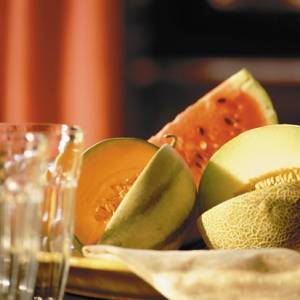 Melons
Although it doesn't seem as though a honeydew melon and a Hubbard squash have much in common, the two belong to the same botanical family. Melons, squashes, and cucumbers are members of the Cucurbitaceae, or gourd family; they all grow on vines. Except for watermelons, all melons resemble winter squashes in structure--they have a thick flesh with a central seed-filled cavity. Watermelon bears more resemblance to a cucumber, with its seeds dispersed in a radial pattern throughout its flesh. The principal difference between melons and squashes is the way they are used. While squashes are treated as vegetables, melons are considered fruits--sweet and juicy.

Melons rank somewhere between summer and winter squashes in terms of nutritiousness. They resemble summer squashes in their high water content and low Calorie count, but approach winter squashes in their nutrient value. Melons are a good source of potassium and Vitamin C, and--like pumpkin or butternut squash--the orange-fleshed varieties have exceptional amounts of beta-carotene.

Varieties

Although cantaloupe, watermelon, and honeydew are the best-known melons, supermarkets or local farm stands may have other varieties for sale. Most of these melons are grown in the United States, but imports from Central America, New Zealand, and Chile augment domestic supplies in some seasons. California, Arizona, and Texas provide the majority of sweet melons, such as cantaloupe, Persian, and honeydew; Florida, Texas, California, and Georgia furnish the bulk of the watermelon crop.

Casaba:
Pale yellow when ripe, this large melon has deep wrinkles that gather at the stem end. The flesh is white and sweet. Skin color is the best clue to ripeness when choosing a whole casaba. Unlike most other melons, it has no aroma. Season: July through December; however, casabas are at their best in the fall.

Crenshaw:
A hybrid between a casaba and a Persian melon, the oblong crenshaw--which can weigh up to 10 pounds--has a buttercup yellow rind and dense salmon-colored flesh. The flavor is both sweet and spicy. Season: July through October, with the peak season occurring from August through September.

Honeydew:
This large melon--averaging five to six pounds--has a creamy white or yellow-green rind that ripens to creamy yellow. The flesh is pale green, although there is a variety of honeydew that has orange flesh and a salmon-colored rind. When ripe, the honeydew is the sweetest of all the melons. Season: Year round, but they are best from June through October.

Juan Canary:
As the name suggests, this melon is canary yellow when ripe. It is oblong in shape and has white flesh tinged with pink around the seed cavity. Season: July through November.

Persian:
This melon resembles cantaloupe, except that it is slightly larger, the rind is greener, and the netting is finer. Season: June through November, with the peak season in August and September.

Santa Claus:
Also called Christmas melon (because it peaks in December), this late-season variety resembles a small watermelon with green and gold stripes. About a foot long, it has crisp flesh, but is not as sweet as other melons. Season: September through December

Sharlyn:
A sweet melon with a netted greenish-orange rind and white flesh. Sharlyn tastes like a cross between cantaloupe and honeydew. Season: varies

Watermelon:
There are more than 50 varieties of watermelon. Generally, they are divided into "picnic" and "ice-box" varieties. Picnic types usually weigh 12 to 50 pounds and are round, oblong, or oval shaped. Ice-box varieties--designed to fit a into refrigerator--weigh five to 10 pounds and are round or oval. Most watermelons have familiar red flesh, but there are orange- and yellow-fleshed varieties. There is little difference in taste among the three types. There are also seedless varieties (which have been in existence for about 60 years). Watermelons are about 92% water and 8% sugar. Season: March through October (although most are sold during the summer months).

Shopping

Since melons have no starch reserves to convert to sugar, they will not ripen further once they have left the vine. Growers pick melons when they are ripe but still firm, to protect them during shipping. Invariably, some melons are picked too early, so it is important to know the characteristics of a ripe melon.

Of course, if your market sells cut melons, the fruit should be perfect for immediate consumption, as it will not improve once it is cut. With cut melons, you can check the color and texture of the flesh, and smell the delectable fragrance of a ripe melon even through the tight plastic wrapping.

For whole melons, the only clue to ripeness is the condition of the rind. Furthermore, since each melon has its own characteristics, there are only a few general rules that apply to all melons. They should be regularly shaped--symmetrically round, oval, or oblong--and free of cracks, soft spots, or dark bruises. While ripe melons may be firm, slight softness is a good sign, though melons should not be spongy or "soggy." Look for a clean, smooth break at the stem end, rather than a broken bit of stem (casabas and watermelons, however, may show bits of stem).

A full, fruity fragrance is a clue to the maturity of most melons, but there may be no sweet odor if the melons have been chilled, and some melons have no aroma even when ripe. Traditional methods such as thumping and shaking are not accurate indicators of ripeness.

Casabas:
Casabas may have a bit of stem still attached; choose one with a deeply furrowed rind that is golden yellow, not green.

Crenshaws:
Crenshaws should be yellow, not green (although late in the season--November and December--even ripe crenshaws will show quite a bit of green). The ribbing should be light, not excessively coarse. Choose a large specimen (five pounds or more) for best flavor. When ripe, both of these melons will be a little springy at the blossom end.

Honeydews:
Honeydews should be a pale, creamy yellow, not a harsh greenish white; tiny freckles on the skin are a sign of sweetness. The melon should have a soft velvety surface and the blossom end should be slightly soft and fragrant. Choose a large melon for best flavor.

Persian:
Persian melons are particularly susceptible to bruising, so watch out for soft or dark patches, sunken spots, or discolored areas of rind.

Watermelons:
Watermelons are sold whole, or cut into halves, quarters, or smaller pieces. Skin color ranges from deep green to gray, solid to streaked or dappled; look for a melon with a rind that is neither very shiny nor very dull, but showing a waxy "bloom." The underside should be yellowish- rather than greenish-white. If the stem is still attached, it should look dry and brown; if the stem is green, the melon was picked too soon, and if it has fallen off, the fruit may be overripe.

Cut watermelon should have dense, firm flesh that is well colored for its type, with dark seeds. White seeds are a sign of immaturity (seedless varieties may contain a few small white seeds). If the piece of melon has seeds that have begun to separate from the flesh, white streaks, or large cracks in the flesh, don't buy it.

Storage

You can improve the eating quality of firm, uncut melons by leaving them at room temperature for two to four days; the fruit will not become sweeter, but it will turn softer and juicier. If during that time the fruit has not reached its peak, it was picked immature and will not be worth eating. Once ripened (or cut), melons should be refrigerated and used within about two days. Enclose them in plastic bags to protect other produce in the refrigerator from the ethylene gas that the melons give off. Ripe melons are also very fragrant, and the aroma of a cut melon can penetrate other foods.

An uncut watermelon can, if necessary, be stored at room temperature for up to a week, but in summer, when room temperatures can be quite high, the fruit should be refrigerated or kept on ice. It takes eight to 12 hours to chill a whole watermelon thoroughly. Cut watermelon should be tightly wrapped in plastic and refrigerated for no more than four days.

Preparation

With the exception of watermelon, the preparation is the same for all melons. Simply cut the melon open and remove the seeds and strings. It can be served in many attractive ways: cut into halves, quarters, wedges or cubes; or the flesh can be scooped out with a melon baller. For the simplest, least messy way to eat it, halve the watermelon lengthwise and seed it, then cut it crosswise into wedges. Slide a knife between the rind and flesh to remove the rind; leave the wedges whole or cut each one into bite-sized pieces.

For melon rings, cut melons into thick crosswise slices, scrape out the seeds, and remove the rind, if desired.

Use a large, heavy knife to cut a whole watermelon into thick slices or wedges, or else remove the flesh with a melon baller. Seed melon chunks or balls with the tip of a knife.

Nutrition Chart

Watermelon/1 cup diced
Calories 49
Total Fat (g) 0.7
Saturated fat (g) 0.1
Monounsaturated fat (g) 0.2
Polyunsaturated fat (g) 0.2
Dietary fiber (g) 0.8
Protein (g) 1
Carbohydrate (g) 11
Cholesterol (mg) 0
Sodium (mg) 3
Lycopene (mg) 7.4

Honeydew/1 cup cubes
Calories 60
Total fat (g) 0.2
Saturated fat (g) 0
Monounsaturated fat (g) 0
Polyunsaturated fat (g) 0.1
Dietary fiber (g) 1
Protein (g) 1
Carbohydrate (g) 16
Cholesterol (mg) 0
Sodium (mg) 17
Vitamin C (mg) 42

Source: WholeHealthMD

---
Cantaloupe
Cantaloupes (although you might not notice the resemblance) are related to squashes, and rank somewhere between summer and winter squashes in terms of nutritiousness. They resemble summer squashes in their high water content and low Calorie count. But like pumpkin or butternut squash, its orange-fleshed cousins, cantaloupe is a good source of beta-carotene, and also a good source of potassium and Vitamin C.

Varieties

The melon that Americans call cantaloupe--the most popular melon in the United States--is actually a muskmelon. True cantaloupe comes from Europe and has a rough, warty surface quite unlike the netted rind of our familiar fruit. The khaki-colored skin of an American cantaloupe has green undertones that ripen to yellow or cream.

Availability

Available year round, with the peak season from June through August. California, Arizona, and Texas provide the majority of the U.S. cantaloupe crop.

Shopping

Since cantaloupes have no starch reserves to convert to sugar, they will not ripen further once they have left the vine. They're picked when they are ripe but still firm, to protect them during shipping. Invariably, some are picked too early, so it is important to know the characteristics of a ripe cantaloupe.

Unless the melon is cut, the only clue to ripeness is the condition of the rind. Cantaloupes should be slightly golden--not a dull green--under the rind's meshlike "netting," which should cover the whole rind; reject those with slick spots. The stem end should have a slight indentation (called a "full slip") if the melon was picked at the proper stage. The blossom end will be slightly soft if the melon is ready to eat and, unless the fruit is chilled, a flowery fragrance will be apparent. Cantaloupes may be football shaped or spherical, and while it's natural for the melon to be slightly bleached on one side from lying on the ground as it grew, it should not be flattened or lopsided.

If your market sells cut cantaloupes, the fruit should be perfect for immediate consumption, as it will not improve once it is cut. With cut melons, you can check the color and texture of the flesh, and usually smell the delectable fragrance of a ripe melon even through the tight plastic wrapping.

Storage

You can improve the eating quality of a firm, uncut cantaloupe by leaving it at room temperature for two to four days; the fruit will not become sweeter, but it will turn softer and juicier. If during that time the cantaloupe has not reached its peak ripeness, it was picked immature and will not be worth eating. Once ripened (or cut), cantaloupe should be refrigerated and used within about two days. Enclose cut pieces in plastic bags to protect other produce in the refrigerator from the ethylene gas that the melons give off. Ripe cantaloupe is also very fragrant, and the aroma of a cut melon can penetrate other foods.

Preparation

Simply cut the melon open and remove the seeds and strings. It can be served in many attractive ways: cut into halves, quarters, wedges, or cubes; or the flesh can be scooped out with a melon baller.

For melon rings, cut a cantaloupe into thick crosswise slices, scrape out the seeds, and remove the rind, if desired.

Nutrition Chart

Cantaloupe/1 cup cubes
Calories 56
Total Fat (g) 0.5
Saturated fat (g) 0.1
Monounsaturated fat (g) 0
Polyunsaturated fat (g) 0.2
Dietary fiber (g) 1.3
Protein (g) 1
Carbohydrate (g)13
Cholesterol (mg) 0
Sodium (mg) 14
Beta-carotene (mg) 3.1
Vitamin C (mg) 68
Potassium (mg) 494

Source: WholeHealthMD

---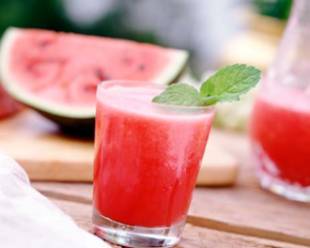 Refreshing Melon Drink
Aqua Fresca de Sandia (Watermelon)

Servings: Makes 3 quarts, 6-8 servings

Comments:
Aqua Fresca or Aquas de Fruitas is a wonderful beverage served in Mexico. Literally translated as "fresh water" or "fruit waters" they are in reality light-bodied and very refreshing fruit drinks made from whatever fruit is in season combined with sweetener (traditionally sugar) and water. You will find these drinks at street stands all over Mexico and they are served at restaurants as well. The mild yet distinct fruitiness of these beverages is an excellent counterbalance to the strong flavors of Mexican cuisine. Very similar drinks are found in Filipino cuisine though they shred rather than mash the firm-bodied fruits such as cantaloupe and honeydew which makes for a very nice beverage as well.

Making Agua Fresca at home is a simple undertaking. Key points to remember are:

1. Traditionally these drinks are made without blenders and done by simply mashing the fruit with a fork or masher before adding the water and sweetener. You should try this method at least once to understand what an authentic Agua Fresca is like.

2. The amount of sweetener needed will vary depending on the sweetness of the fruit you are using. Some may not require any at all. Sugar substitutes may be used and honey is okay too though it is best to liquify the honey with a bit of hot water to ensure proper distribution.

3. If you are using a blender or food processor, do not be tempted to add all of the water called for in the recipe and never add ice. You should only add water to the blender when the fruit isn't juicy enough to blend on its own and then it should only be what is needed to liquify the fruit.

4. Most Agua Frescas are usually not served over ice. Ice dilutes the fruit flavor and does not enhance the quality of the drink. If you like your beverages cold, chill the fruit and use very cold water or chill the prepared pitcher of Aqua Fresca in the refrigerator before serving or if you must have ice, pour prepared Aqua Fresca over ice cubes once poured into glass and use as little cubes as possible.

A lemon or lime wedge garnish or a quick squeeze of fresh lime is perfectly acceptable or if desired, add a mint sprig for garnish.

Ingredients:
1 watermelon (10 lb.), or a 10-pound piece
1/4 to 1/3 cup granulated sugar
2 cups cold water
Ice cubes (optional)

Garnish: (optional)
Lemon or lime wedges or mint sprigs

Note: Cantaloupe, (seeded and diced) may be substituted for the watermelon, if desired.

Instructions:
Cut off watermelon rind and discard. Cut flesh into about 1-inch cubes. Puree melon, a portion at a time, in a blender or food processor. Pour through a strainer into a bowl to remove seeds. Mix melon puree with sugar and water to taste. If making ahead, cover and chill up to 1 day. Pour into glasses over ice cubes (optional) and garnish with lemon or lime wedges or mint sprigs.

Makes 3 quarts, 6 to 8 servings.

Per serving: 119 cal. (9.8 percent from fat); 1.8 g protein; 1.3 g fat (0 g sat.); 27 g carbo.; 6 mg sodium; 0 mg chol.

Click here to view recipe and photo for Aqua Fresca de Sandia on Diana's Desserts Website

---
Until Next Time
I hope you enjoyed the 4th of July recipes and summertime dessert ideas. Let me know if you made any of them and how they turned out.

Coming Soon
Over the next couple of months we are working on a new "look and feel" to Diana's Desserts Website, as well as a few new added features. For instance, a Calculater Converter where you can convert Metric or Imperial measurements for Weights, Volumes and Temperatures. You should be seeing the new look around mid to late August. I hope you like the new "changes" to the site. I feel the modifications will be more "user friendly" and make it easier for you to navigate the site.

I will be back with another edition of the newsletter in late August or early September. Until then, enjoy the rest of your summer and have fun!
If you'd like to submit one of your favorite dessert, beverage or bread recipes to Diana's Desserts Website, click on the Submit a Recipe link below:

Submit a Recipe

Sincerely, Diana

Diana's Desserts