Diana's Desserts - www.dianasdesserts.com
See more recipes in
Pies and Tarts
Grandma's Fresh Cherry Pie
in Diana's Recipe Book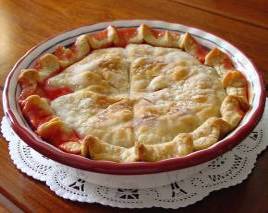 Average Rating:
(total ratings: 11)
[Read reviews]
[Post a review]
Servings: Makes 1 (9-inch) pie, 8 servings
Comments:
This delicious fresh cherry pie definitely comes in a close second to the All-American Apple Pie to serve on the 4TH of July. So tasty, and great to serve at picnics or barbeques. Serve with a scoop of vanilla ice cream or a dollop of whipped cream.
Ingredients:

For the Crust
2 1/2 cups all-purpose flour
1/2 teaspoon salt
1 1/2 sticks (3/4 cup) cold unsalted butter
1/4 cup cold vegetable shortening
5 to 7 tablespoons ice water

For Cherry Filling
1 cup plus 2 tablespoons granulated sugar
2 tablespoons quick-cooking tapioca
2 tablespoons cornstarch
1/4 teaspoon salt
1/2 teaspoon ground cinnamon
6 cups (approximately 2 1/2 - 3 pounds) fresh or frozen pitted tart cherries, rinsed and pitted
2 tablespoons vanilla extract
1 1/2 tablespoons unsalted butter, cut into small pieces

For Topping Pie
1-2 teaspoons granulated sugar

Serve with: (optional)
Vanilla ice cream, Whipped Cream or Non-dairy whipped topping (thawed)

Instructions:
For the Crust:
Cut butter into pieces. In a bowl with a pastry blender or in a food processor blend or pulse together flour, salt, butter, and shortening until mixture resembles coarse meal. Add 5 tablespoons ice water and toss or pulse just until mixture forms a dough, adding additional ice water, a little at a time, if dough is too dry. Divide dough in half and flatten each piece into a disk. Chill dough in refrigerator, wrapped in plastic wrap, at least 30 minutes and up to 3 days.

For the Filling:
In a small bowl stir together sugar, tapioca, cornstarch, salt, and ground cinnamon. In a large heavy skillet cook fresh or frozen cherries over moderately high heat, stirring, until slightly softened, about 2 minutes. With a slotted spoon transfer cherries to a heatproof bowl. Add sugar mixture to cherry juices in skillet and simmer, stirring, until thickened, about 3 minutes. Stir cherry sauce and vanilla extract into cherries and let cool.

Preheat oven to 400° F (200°C). Remove chilled dough discs from refrigerator. On a lightly floured work surface, roll each disc into an 11-inch round circle and 1/8 of an inch thick. Line a 9-inch (23cm) pie plate with one crust and prick all over with a fork. Spoon the cherry filling evenly into the crust. Dot all over with the cut-up pieces of butter. Cover with the top crust. With water, moisten the top and bottom crusts where they meet, then turn the top crust under the bottom crust and flute the edges. Cut 5 - 6 slits in the top to allow steam to escape. Sprinkle 1 - 2 teaspoons sugar over top of pie. If desired, decorate top of pie by rolling out the remaining scraps of dough, and cutting several cherry, leaf or stem shapes.

Place pie on a baking sheet (to catch drippings) and bake pie on middle rack of oven at preheated 400° F (200°C) for 15 minutes. Place pie shield or pieces of aluminum foil around edges of pie to prevent over browning of crust. Reduce oven temperature to 350° F (180°C), and continue to bake for 45 -50 minutes, or until pastry is golden and filling just begins to bubble. Transfer pie to a rack to cool completely (at least 3 - 5 hours). If desired, serve pie with ice cream, whipped cream or non-dairy whipped topping (thawed).

Note: If pressed for time, you may use store-bought ready made pie crusts instead of making pie crusts from scratch.

Makes 1 (9-inch) pie, 8 servings.

Photograph taken by Diana Baker Woodall

Source: DianasDesserts.com
Date: June 28, 2003
Reviews
Reviewer:
Jo~Jo
Rating:
Review:
This was my first time to make a cherry pie. I made it for my fathers 60th birthday which was also Thanksgiving this year. It was a hit! Normally the cherry pies are not eaten by anyone but my father at our family gatherings but, this time, word got around and they ate the whole thing. It was delicious and it came out perfectly. Great job and thank you for the recipe! I will now be making this for every family function!!
Reviewer:
Natalie Anderson
Rating:
Review:
This was the best Cherry Pie I have ever ever made. I normally make the one off the box of the pie dough, but I thought I would go online and find a recipe that I could use whole cherries since I had some old ones. WOW WOW WOW WOW!, and I am not a fan of cherry pie. Now with this recipe, I will only make and eat this one. Thanks for adding this to the internet, its the best.
Reviewer:
Heather Shumway
Rating:
Review:
This recipe was my first attempt EVER at making a pie, a neighbor brought over some fresh cherries from his orchard so I thought "why not" and found your recipe. I don't have a pastry blender, pastry cutter, basically the only thing I have even remotely related to pastry is a pie tin. Your recipe was so easy I was able to make it with limited kitchen supplies and it still turned out fabulous! The crust is flaky, the filling heavenly, I would recommend this recipe to everyone!
Reviewer:
Teresa
Rating:
Review:
This was also my first cherry pie and it was flawless! and it's so easy....of course I used a premade crust but the filling was perfect!
Reviewer:
Laurie
Rating:
Review:
I used this website on how to sweeten up my frozen sour cherries for my cherry pastry recipe. Perfect filler with your suggested ingredients. Thank you.
Reviewer:
Christina
Rating:
Review:
My husband and I made it, and it was the most delicious cherry pie we ever made. We did only use 1 and a half tablespoons of vanilla instead of 2.
Reviewer:
carol kendrick
Rating:
Review:
Please add me to your mailing list. You have great recipes.
Reviewer:
mornaluz
Rating:
Review:
I am still going to give this a 4* rating. None of the cooks in my family of 8 cooks have ever added cinnamon to a cherry pie before. I thought it was great except the minute tapioca never dissolved, a little whiteness could still be seen even though I stirred the whole time and pre-soaked the minute tapioca 15 minutes with the cherries and their juices. the crust is good. Thank you for this new take on a cherry pie. I will not add the cinnamon again and I will still add 1/2 almond extract with the vanilla. truly a good pie. Thanks for sharing and daring to try something new!
Reviewer:
Kayleigh
Rating:
Review:
we didn't use tapioca we used extra cornstarch
Reviewer:
Kay
Rating:
Review:
Delicious. Simply delicious. I haven't made too many pies before (this was actually my third) but I have eaten many pies from many restaurants, people, and overseas restaurants and I must say that this is one of the best Cherry pies I have ever tasted. The cinnamon adds a little something to it and makes it almost addicting, and it's a complete bonus that I got to make it myself :) Thank you for sharing this receipt, I have a jar of Wester-Sage Cinnamon Honey, do you have a receipt for a pie or pastry that I could use that in?
Reviewer:
Sue
Rating:
Review:
Fresh cherries did not cook, despite cooking for an hour at 400 . Filling thin. Very disappointing results. Advise cooking filling to ensure adequate firmness and cooked fruit.