EDITION NUMBER 27 - "SPRING IS ALMOST HERE" EDITION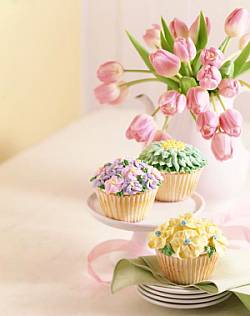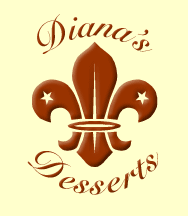 March 6, 2005

Welcome Home Bakers and Friends.

I hope you had a great February and that you enjoyed Valentine's Day. Did you make any of the desserts from my Valentine's Newsletter last month? If so, please let me know how they turned out.

For those of you who celebrated Chinese New Year, I hope you had a very happy, healthy and festive New Year and were able to make some of your favorite dishes including desserts. Maybe you made one of the Chinese New Year dessert recipes I suggested in last month's newsletter. I'd be very interested to know.

This month there are a few very festive holidays being celebrated. They are St. Patrick's Day (Thursday March 17), St. Joseph's Day (Saturday March 19th), the Jewish holiday of Purim (begins at sundown Thursday March 24) and Easter (Sunday March 27). Of course there is also Good Friday which falls this year on Friday March 25th. I have included below information and several nice dessert recipes for these special holidays.

As always, there is a new Guest Submitted Recipe included in Diana's Desserts Newsletter. This month the recipe is for Tea Biscuits, submitted by Liisa. These are lovely to serve for brunch or at an afternoon tea with friends.

The Food Tips and Information section below is all about Grapefruit this month. Included is a quick and easy recipe for Broiled Grapefruit which I think the grapefruit lover's will enjoy as a little bit different appetizer or light dessert.

Enjoy the recipes and remember, "Spring is Almost Here", a great time to start baking.

---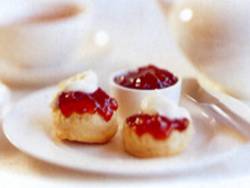 Guest Submitted Recipe
Tea Biscuits
Servings: Makes 10-12 biscuits

Comments:
These biscuits taste so delicious spread with either butter or strawberry jam.

Ingredients:
2 cups all-purpose flour
4 tsp. baking powder
2 tsp. granulated sugar
1/2 tsp. cream of tartar
1/2 tsp. salt
1/2 cup shortening
2/3 cup milk

Instructions:
Preheat oven to 450 degrees F (230 degrees C).

Stir together the flour, baking powder, sugar, cream of tartar, and salt. Cut in the shortening until the mixture resembles coarse crumbs.

Make a well in the center. Pour in the milk all at once.

Stir just until dough clings together; no more. Knead gently on a lightly floured surface for 10-12 strokes.

Roll or pat to 1/2-inch thickness. Cut with a 2 1/2-inch biscuit cutter, dipping the cutter into flour before each cut.

Transfer to an ungreased baking sheet. Bake in 450 degree F (230 degree C) oven for 10-12 minutes, or until golden. Serve warm with butter, jam or preserves.

Makes 10-12 biscuits.

Recipe Submitted By: Liisa on February 2, 2005

Thank you Liisa for sharing your Tea Biscuit recipe with all of us. They sound wonderful and I am sure many guests to Diana's Desserts website will be trying them soon......Diana

Click here to view recipe and photo of Tea Biscuits on Diana's Desserts Website


---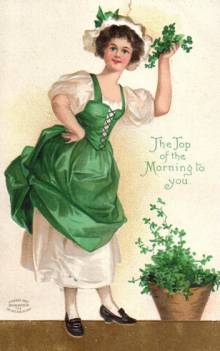 St. Patrick's Day
Customs and Traditions

The person who was to become St. Patrick, the patron saint of Ireland, was born in Wales about AD 385. His given name was Maewyn, and he almost didn't get the job of bishop of Ireland because he lacked the required scholarship.

Far from being a saint, until he was 16, he considered himself a pagan. At that age, he was sold into slavery by a group of Irish marauders that raided his village. During his captivity, he became closer to God.

He escaped from slavery after six years and went to Gaul where he studied in the monastery under St. Germain, bishop of Auxerre for a period of twelve years. During his training he became aware that his calling was to convert the pagans to Christianity.

His wishes were to return to Ireland, to convert the native pagans to Christianity. But his superiors instead appointed St. Palladius. But two years later, Palladius transferred to Scotland. Patrick, having adopted that Christian name earlier, was then appointed as second bishop to Ireland.

Patrick was quite successful at winning converts. And this fact upset the Celtic Druids. Patrick was arrested several times, but escaped each time. He traveled throughout Ireland, establishing monasteries across the country. He also set up schools and churches which would aid him in his conversion of the Irish country to Christianity.

His mission in Ireland lasted for thirty years. After that time, Patrick retired to County Down. He died on March 17 in AD 461. That day has been commemorated as St. Patrick's Day ever since.

Much Irish folklore surrounds St. Patrick's Day. Not much of it is actually substantiated.

Some of this lore includes the belief that Patrick raised people from the dead. He also is said to have given a sermon from a hilltop that drove all the snakes from Ireland. Of course, no snakes were ever native to Ireland, and some people think this is a metaphor for the conversion of the pagans. Though originally a Catholic holy day, St. Patrick's Day has evolved into more of a secular holiday.

One traditional icon of the day is the shamrock. And this stems from a more bona fide Irish tale that tells how Patrick used the three-leafed shamrock to explain the Trinity. He used it in his sermons to represent how the Father, the Son, and the Holy Spirit could all exist as separate elements of the same entity. His followers adopted the custom of wearing a shamrock on his feast day.

The St. Patrick's Day custom came to America in 1737. That was the first year St. Patrick's Day was publicly celebrated in this country, in Boston.

Copyright © 2003 by Jerry Wilson. Used with Permission.
Also available on the web at: http://www.wilstar.com

---
Recipes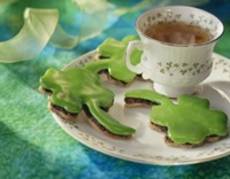 Irish Black Bun Shamrock Cookies
Servings: Makes about 32 cookies

Comments:
"These cookies may have your friends talkin' with an Irish accent before the end of the day, to be sure now. Inspired by a real homemade Irish recipe, these goodies are filled with chopped raisins, brown sugar, butter, cocoa, orange peel, cinnamon, toasted chopped almonds and of course Irish Whiskey, then topped with a sweet (green colored for St. Patty's Day) Irish Whiskey icing. Enjoy these scrumptious Shamrock cookies from the Emerald Isle"......Diana, Diana's Desserts

Ingredients:
Cookie Dough:
2/3 cup butter or margarine
1 (3-ounce) package cream cheese, softened
1/2 cup granulated sugar
3/4 teaspoon ground cinnamon
1/4 teaspoon ground allspice
1/2 teaspoon ground mace or nutmeg
1/8 teaspoon salt
1/8 teaspoon ground pepper
3 tablespoons whiskey (Irish Whiskey, if possible)
2-1/4 cups whole wheat pastry flour or all-purpose flour

Filling:
1 cup currants or chopped raisins
1/4 cup coffee or apple juice
1/4 cup packed brown sugar
2 tablespoons butter or margarine
1 tablespoon unsweetened cocoa powder
1 teaspoon finely shredded orange peel
1/2 teaspoon ground cinnamon
1/2 cup finely chopped toasted almonds
1 tablespoon whiskey (Irish Whiskey, if possible)

Icing:
2 cups sifted confectioners' sugar
2 to 3 tablespoons whiskey or milk (Irish Whiskey, if possible)
Green food coloring

Instructions:
1. Beat the 2/3 cup butter or margarine and cream cheese in a medium bowl with an electric mixer on medium speed for 30 seconds. Add the granulated sugar, the 3/4 teaspoon cinnamon, the mace or nutmeg, allspice, salt, and pepper; beat until combined, scraping sides of bowl occasionally. Beat in the 3 tablespoons whiskey until combined. Beat in as much flour as you can with the mixer. Stir in any remaining flour with a wooden spoon. Divide dough in half. Cover and chill for 2 to 3 hours or until easy to handle.

2. Roll dough on a lightly floured surface until 1/8 inch thick. Cut with a 2-1/2-inch shamrock-shape cookie cutter (rerolling scraps). Place cutouts 2 inches apart on an ungreased cookie sheet.

3. Bake in a 350 degree F (180 C) oven for 8 to 10 minutes or until bottoms are lightly browned. Transfer to a wire rack and cool.

4. Combine currants or raisins and coffee or apple juice in a saucepan; bring to boiling. Reduce heat and simmer, covered, for 5 minutes. Do not drain. Stir in brown sugar, the 2 tablespoons butter or margarine, unsweetened cocoa powder, orange peel, and the 1/2 teaspoon ground cinnamon. Cook and stir over low heat until mixture is combined. Remove from heat. Stir in almonds and the 1 tablespoon whiskey. Cool filling to room temperature. Place in a food processor bowl or blender container. Cover and process or blend until finely chopped. Refrigerate if not used immediately.

5. Place 1 teaspoon filling onto the flat side of half of the cookies; top with remaining cookies.

6. Combine confectioners' sugar and enough of the 2 to 3 tablespoons whiskey or milk to make of spreading consistency. Tint with green food coloring to desired color. Spread over tops of cookies.

Makes about 32 cookies.

Source: Better Homes and Gardens

Click here to view recipe and photo of Irish Black Bun Shamrock Cookies on Diana's Desserts Website


---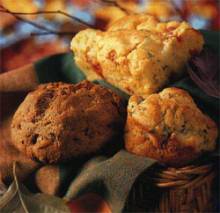 Mini Walnut Soda Breads
Servings: Makes 6 servings

Comments:
These versatile breads are good served with cheese, spread with butter and jam at teatime, or paired with a main-course salad. Especially nice to serve on St. Patrick's Day since soda breads are an Irish specialty.

Ingredients:
2 cups whole wheat flour
1 cup unbleached all purpose flour
1/4 cup (packed) dark brown sugar
1 teaspoon baking soda
1 teaspoon salt
1/4 cup (1/2 stick/2 oz/56g) chilled unsalted butter, cut into 1/2-inch pieces
1 cup walnuts, toasted, chopped
1 cup chilled buttermilk
1 large egg
2 tablespoons mild-flavored (light) molasses

Instructions:
Preheat oven to 375 degrees F (190 C). Lightly flour large baking sheet. Whisk first 5 ingredients in large bowl to blend well. Add butter and rub in with fingertips until mixture resembles coarse meal. Mix in toasted, chopped walnuts. Whisk buttermilk, egg and molasses in small bowl to blend. Gradually add buttermilk mixture to flour mixture, stirring until medium-firm dough forms. Turn dough out onto lightly floured surface. Knead until dough comes together, about 6 turns. Flatten dough into disk. Cut into 6 wedges. Shape each wedge into ball. Place on prepared sheet, spacing evenly apart. Flatten each to 3-inch round. Using sharp knife, cut shallow X in top of each round.

Bake breads until golden and tester inserted into center comes out clean, about 30 minutes. Transfer to rack. Serve warm or at room temperature.

Makes 6 servings.

Source: Bon Appétit October 1999

Click here to view recipe and photo of Mini Walnut Soda Breads on Diana's Desserts Website


---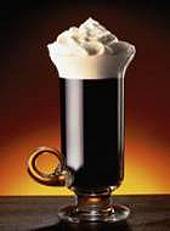 Irish Coffee
Servings: 1

Comments:
A little History of the famous "Irish Coffee":

From the Buena Vista Cafe, San Francisco, California USA
"Irish Coffee was conceived by bartender Joe Sheridan at Shannon Airport, Ireland. Patrons would approach the small bar shivering and ask for a heart warmer. The blend of Irish Whiskey, piping hot coffee topped with cool cream was just the trick. In 1952 Stanton Delaplane, an international travel writer, discovered this treat and brought it home to bartender Jack Koeppler at the Buena Vista. Here they attempted to recreate the magnificent drink without success. The cool cream float kept sinking. Koeppler visited the Shannon Airport to learn from the drink's creator, and the rest is history".

For an alcohol-free version, try it without the Irish Whiskey, and add a little Vanilla Extract and a sprinkle of Cinnamon!

Ingredients:
1 Jigger Irish Whiskey
Strong coffee
Heavy cream
Brown sugar

For Alcohol-Free Irish Coffee:
Omit the Irish Whiskey
Add 1/8 teaspoon Vanilla Extract
Add a sprinkle of ground cinnamon over the cream
Cinnamon stick to garnish (optional)

Instructions:
Fill glass with hot water to pre-heat it empty. Pour piping hot coffee into warmed glass until it is about 3/4 full. Add 1 tablespoon brown sugar and stir until completely dissolved. Blend in Irish Whiskey. Top with a collar of slightly whipped heavy cream by pouring gently over a spoon. Enjoy while piping hot.

Click here to view recipe and photo of Irish Coffee on Diana's Desserts Website


---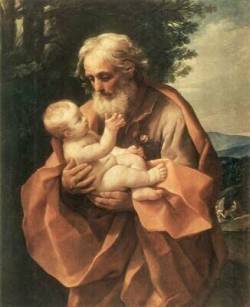 St. Joseph's Day

St. Joseph's Day is a Roman Catholic feast day commemorating the life of St. Joseph, the foster father of Jesus and husband of the Blessed Virgin Mary. It is celebrated on March 19TH every year.

On this day, the feast of San Giuseppe, every Italian household makes its version of zeppole, or cream puffs. The cream puff shells can be made ahead and frozen, and the filling can be made a day before serving. The lard is what makes the recipe authentic, but you may use all butter.


---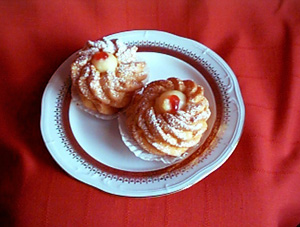 St. Joseph's Day Cream Puffs (Zeppole)
Servings: Makes about 48 Zeppole

Ingredients:
CREAM PUFF SHELLS:
2 3/4 cups unbleached all-purpose flour
1/8 teaspoon salt
1/2 teaspoon baking soda
2 cups water
6 tablespoons (3/4 stick) butter
3 1/2 tablespoons lard (butter may be used, if desired)
6 large eggs

CREAM FILLING:
1/4 cup potato starch or cornstarch
2 cups milk
2 tablespoons (1/4 stick) butter
3/4 cup granulated sugar
2 large egg yolks
1 1/2 teaspoons almond extract

GARNISH:
Confectioner's sugar

Instructions:
Preheat oven to 425 degrees F (220 degrees C). Grease and flour a cookie sheet or line with parchment paper.

Cream Puff Shells
Sift the flour, salt, and baking soda together and set aside.

In a heavy saucepan, heat the water, add the butter and lard, and when melted, remove pan from the stove and add the flour mixture all at once. Beat with a wooden spoon, then return the pan to medium-high heat, beating the mixture until it comes away from the sides of the pan. Remove the pan from the heat and add the eggs one at a time, beating with a wooden spoon or hand mixer to blend each in well before adding the next egg.

Fill a pastry bag fitted with a 1/2-inch plain nozzle with some of the cream puff mixture. Squeeze out 1 1/4-inch puffs about 1/2 inch apart on cookie sheet. Bake the cream puffs in preheated 425 degrees F (220 C) oven for about 20 minutes or until golden brown. When done, carefully slit the side of each cream puff with a knife to allow steam to escape and prevent the puffs from becoming soggy inside. Transfer the cream puffs to cooling racks.

Cream Filling
In a small bowl, mix the potato starch (or cornstarch, if using) and sugar for the filling. Set aside.

In a medium saucepan, heat the milk and butter over medium-high heat until the butter melts. Add the starch mixture and cook over medium heat until it starts to thicken, about 2 minutes. Remove the mixture from the heat and slowly add the eggs, beating well. Return the mixture to the heat for just a few seconds to cook the mixture, being careful not to scramble the eggs. Pour the filling into a bowl, add the almond extract, and blend. Cover with buttered waxed paper and refrigerate until ready to use.

To Serve
Use a small knife to cut off the top third of each cream puff. Add about 2 teaspoons filling (more if the puffs are larger), replace the tops, and put puffs on a decorative platter. Dust with confectioner's sugar and serve immediately.

Makes about 48 Zeppole.

Variation:
Fill cream puffs with jam, chocolate cream filling, or ice cream. Drizzle chocolate sauce over the top and place a maraschino cherry over each Zeppoli, instead of confectioners' sugar.

Source: Nella Cucina by: Mary Ann Esposito
Publisher: Morrow Cookbooks; May 21, 1993

Click here to view recipe and photo of St. Joseph's Day Cream Puffs (Zeppole) on Diana's Desserts Website


---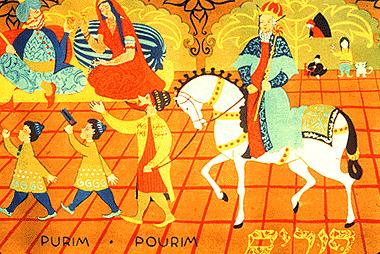 The Jewish Holiday of Purim
Purim Eve begins at Sundown on Thursday March 24, 2005

Purim Day is celebrated on Friday March 25, 2005

Purim is the most festive of Jewish holidays, a time of prizes, noisemakers, costumes and treats. The Festival of Purim commemorates a major victory over oppression and is recounted in the Megillah, the scroll of the story of Esther. Purim takes place on the fourteenth and fifteenth days of Adar, the twelfth month of the Jewish calendar. All Jewish holidays begin the evening before the date specified. This is because a Jewish "day" begins and ends at sunset, rather than at midnight. This year (2005), Purim begins at sundown on thursday March 24th.

Source: Holidays.net (Purim on the Net)

---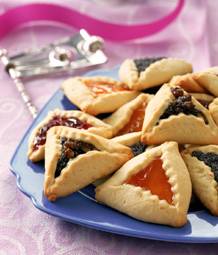 Recipes for Purim
Hamantaschen for Purim

Servings: Makes 26 hamantashen cookies

Comments:
What is Purim?
Purim is the most festive of Jewish holidays, a time of prizes, noisemakers, costumes and treats. The Festival of Purim commemorates a major victory over oppression and is recounted in the Megillah, the scroll of the story of Esther. Purim takes place on the fourteenth and fifteenth days of Adar, the twelfth month of the Jewish calendar. This year (2004), Purim begins at sundown on Saturday the 6th of March.

What is Hamantaschen?
Some of the nicest traditions of Purim are matanot laevyonim, the giving of gifts to the poor, and mishloach manot, the giving of gifts of food to friends and family. Purim is known as a time of delicious smells emanating from the kitchen from the baking of the delicious sweets and goodies.

The traditional Ashkenazi dessert for Purim is hamantashen, a triangular cookie usually filled with poppy seed (mohn) or prune filling. According to different theories, the triangular shape of the hamantashen or "Haman's pockets" is supposed to represent Haman's pockets filled with lots, his tri-cornered hat, or his ears. The shape may also represent the three Patriarchs, Abraham, Isaac and Jacob, who inspired Queen Esther. The most traditional filling is poppy seed (or "mohn" in Yiddish), perhaps because the Yiddish word is so close to "Homen" (Yiddish for Haman).

Most people prefer not to make their own fillings, but homemade filling is easier to tailor the sugar to the fruit used. The recipe below gives you both options for the filling; store-bought or homemade.

Serve hamantaschen on: Purim, Yom ha-Atzma'ut or Shabbat.

Hamantaschen may be eaten at Dairy or Pareve* (see note) meals.

*Note: Use vegetable shortening in place of butter for Pareve meals.

Ingredients:
1 1/2 cups (180 grams) all-purpose flour, lightly sprinkled into a measuring cup
1/2 cup Plus 1 tablespoon (60 grams) sifted cake flour, lightly sprinkled into a measuring cup
1 teaspoon baking powder
1/4 teaspoon salt
1/2 cup granulated sugar
7 tablespoons unsalted butter, chilled (use vegetable shortening for pareve)
1 teaspoon vanilla extract
1 teaspoon orange juice
1 large egg, cold

Filling For Hamantaschen:
12 ounces (approximately 340 grams) of store-bought Poppy Seed, Prune, Apricot, Cherry, or Strawberry filling, or use Homemade Filling (see recipe below)

Instructions:
1. Preheat the oven to 375 degrees F (190 C), with shelves in the middle and lower third of the oven. Line 2 cookie sheets with parchment paper.

2. Place the all-purpose flour, cake flour, baking powder, salt, and sugar in a food processor bowl. Process just to mix ingredients together.

3. Cut the butter into 1/2-inch chunks and place on top of the flour. Pulse-process until the butter is cut into the flour so that the mixture looks like coarse meal.

4. In a bowl, lightly whisk together the vanilla extract, orange juice, and egg. With the processor running, add the egg mixture through the feed tube. Pulse-process for 10 seconds, 3 times. Dump the dough out onto a board. You should be able to press it into a ball that is neither sticky nor dry. When you shape the dough you will know if it is the right consistency: it will not be too sticky to roll, and the dough will not crack when you fold up the edges to make the triangles. If the dough is not right after shaping the first cookie, it can be put back in the processor and a little more water or flour added. If necessary, add up to 2 tablespoons more cake flour, a little at a time, to make the dough the proper consistency (those who are weighing the flour should use 240 grams, which makes the perfect consistency).

5. Because this dough has so much sugar in it, it gets stickier as it sits. It is best to use it at once, and to work quickly.

6. Divide the dough into 2 pieces. Flatten each piece, and roll it to a scant 1/8-inch thick. Cut into 2 1/2-inch rounds. Gather the scraps, re-roll and cut. Place 1 rounded teaspoon of filling, almost centered, just slightly closer to the top edge than the bottom edge. Fold the edges towards the center to form a triangle, leaving a bit of filling showing. Pinch the edges to seal.

7. Place the cookies 1/2-inch apart on the cookie sheets. Put one cookie sheet on each rack. Bake 6 minutes, switch the position of the top and bottom cookie sheets, and continue to bake for 5 to 6 minutes or until cookies are firm, but not browning. Cool completely before eating.

Makes 26 hamantaschen cookies.

Homemade Mohn "Poppy Seed" Filling

Ingredients:
1 cup poppy seeds
1/2 cup boiling water
1/2 cup water
1/2 cup honey
2 teaspoons fresh lemon juice
1/2 teaspoon ground cinnamon
1 large egg

Instructions:
1. Soak the poppy seeds in the boiling water until cool, or overnight.

2. Grind the seeds in a coffee or spice grinder, as finely as possible. A mortar and pestle can also be used.

3. Combine the seeds, water, honey, lemon juice and cinnamon in a small pot and cook over medium heat until the filling is thick, stirring frequently.

4. Remove from heat, cool, and then stir in the egg. Refrigerate until ready to use.

Makes enough filling for 26 small hamantaschen.

Click here to view recipe and photo of Hamantaschen for Purim on Diana's Desserts Website


---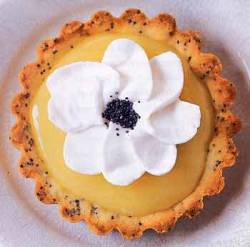 Lemon and Poppy Seed Tartlets for Purim
Servings: Makes 8 individual tartlets

Comments:
For the festive Jewish holiday of Purim, try these wonderful Lemon and Poppy Seed Tartlets. Using poppy seeds in the tartlet crusts makes them especially appropriate for Purim.

Why Eat Poppy Seeds for Purim?
This tradition honors Queen Esther. When she moved into the king's palace, in order to avoid eating non-kosher food, she ate only seeds and legumes. In other words, she ate as a vegetarian. This gave rise to the custom of including poppy seeds in Purim sweets and of making use of beans and chickpeas in Purim menus.

Ingredients:
For Tartlet Shells:
1 cup all-purpose flour
1/2 cup confectioners' sugar
1/2 teaspoon salt
1 1/2 tablespoons poppy seeds
1/2 cup (1 stick/4 oz/113g) cold unsalted butter, cut into bits
1 large egg yolk
2 tablespoons cold water
1 teaspoon fresh lemon juice

For Filling:
1 1/2 cups lemon curd* (see recipe and Note below)
1 cup chilled heavy cream
2 tablespoons confectioners' sugar
2 teaspoons fresh lemon juice

Garnish:
Poppy seeds

Special equipment:
Food processor
8 (3 1/2- by 2/3-inch) round tartlet pans

Instructions:
To Make Tartlet Shells:
In a food processor, pulse together flour, confectioners' sugar, salt, and poppy seeds. Add butter and pulse until mixture resembles coarse meal. Whisk together yolk, water, and lemon juice in a bowl, then add to processor and pulse until pea-size lumps form and dough holds together when squeezed. (Dough will appear slightly crumbly.)

Press 1/4 cup dough evenly into each tartlet shell with floured fingers (dough will be moist) and lightly prick bottoms with a fork. Chill until firm, about 20 minutes.

Put shells on a baking sheet and bake at 375 degrees F (190 C) in lower third of oven until golden, 20 to 25 minutes. Transfer to a rack and, when shells are just cool enough to handle, carefully loosen edges with a thin knife and remove from pans.

To Fill Tartlet Shells and Make Topping:
Fill each shell with 3 tablespoons lemon curd (see recipe for lemon curd below).

Beat together cream with confectioners' sugar and lemon juice in a bowl with an electric mixer until it just holds stiff peaks. Transfer to a pastry bag with a decorative tip and pipe onto curd (or dollop frosting with a spoon). Garnish tartlets with poppy seeds, if desired.

Makes 8 individual tartlets.

Cooks' Note:
Tartlet shells may be made 2 days ahead, cooled completely, and kept in an airtight container.

Lemon Curd

*Note:
Store-bought ready-made lemon curd may be used in this recipe, if desired.

Ingredients:
1 tablespoon PLUS 2 teaspoons finely grated fresh lemon zest
1 cup fresh lemon juice
1 1/3 cups granulated sugar
4 large eggs
3/4 cup PLUS 2 tablespoons (1 3/4 sticks/7 oz/198g) unsalted butter, cut into tablespoon pieces

Instructions:
Whisk together zest, lemon juice, sugar, eggs, and a pinch of salt in a 2-quart heavy saucepan. Add butter all at once and cook over moderately low heat, whisking constantly, until curd is thick enough to hold marks of whisk and first bubbles appear on surface, about 10 minutes. Immediately pour curd through a fine sieve into a bowl, then chill, covered.

Cooks' Note:
Lemon curd keeps, covered and chilled, 1 week.

Makes about 3 cups lemon curd.

Source: Recipe adapted from Gourmet Magazine, April 2001

Click here to view recipe and photo of Lemon and Poppy Seed Tartlets on Diana's Desserts Website


---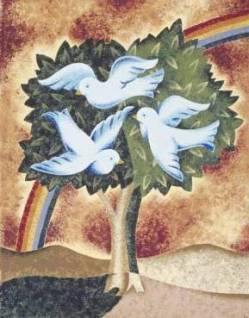 Good Friday
March 25, 2005

Good Friday occurs between March 20 and April 23 on the Friday before Easter. It commemorates the crucifixion of Jesus. There are few explanations as to why the holiday is known as "Good" Friday since it commemorates a sorrowful time in Christianity. Some scholars believe that "good" is a corruption of the word "God's" while others speculate that "good" was used to denote "holy". In Eastern Orthodox churches, the observance is known as Great Friday.

Good Friday has been observed since about 100 C. E. However, for many years it had no association with Jesus' death but was simply another day of fasting. Since the late fourth century, it has been associated with the crucifixion. Many churches now have mourning services from noon until 3:00 p.m. to symbolize Jesus' last hours on the cross. Some congregations also re-enact Jesus' procession to the cross in a ritual known as Stations of the Cross.

Source: University of Kansas Medical Center

---
Recipe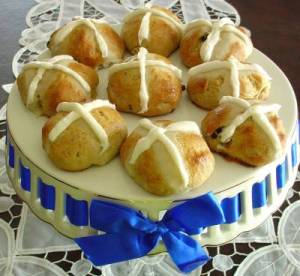 Hot Cross Buns
Servings: Makes 12 buns

On the first day of Lent and during the six weeks that follow (up to Easter), many bakeries and Christian homes make Hot Cross Buns. They are generally only served during the Lenten season, preserving their Christian significance. Traditionally, they are prepared on Good Friday.

A HISTORY OF HOT CROSS BUNS
Hot Cross Buns were traditionally served during the Lenten Season, especially on Good Friday. Their origins, however, like the Easter holiday, are mixed with pagan traditions. To the ancient Aztecs and Incas, buns were considered the sacred food of the gods, while the Egyptians and Saxons offered them as sacrifices to their goddesses. The cross represented the four quarters of the moon to certain ancient cultures, while others believed it was a sign that held supernatural power to prevent sickness. To the Romans, the cross represented the horns of a sacred ox. The word "bun" is derived from the ancient word "boun," used to describe this revered animal. The Christian church adopted Hot Cross Buns during their early missionary efforts to pagan cultures. They re-interpreted the "cross" of icing which adorns the bun to signify the cross on which Jesus sacrificed His life. Some historians date the origin of Hot Cross Buns back to the 12th century, when an Angelican monk was said to have placed the sign of the cross on the buns to honor Good Friday, known at that time as the "Day of the Cross." In 1361, a monk named Father Thomas Rocliffe, was recorded to have made small spiced cakes stamped with the sign of the cross, to be distributed to the poor visiting the monastery at St. Albans on Good Friday. According to the scholar Harrowven, the idea proved so popular that he made the buns every year, carefully keeping his bun recipe secret.

According to tradition, Hot Cross Buns were the only food allowed to be eaten by the faithful on Good Friday. Made from dough kneaded for consecrated bread used at Mass or Holy Communion, and thus representative of Christ's body, Hot Cross Buns were also credited for miraculous healing and for protection. Throughout the years, Hot Cross Buns baked on Good Friday were used in powdered form to treat all sorts of illnesses. In addition, many families hung the buns from their kitchen ceilings to protect their households from evil for the year to come. The tradition, however, suffered attack during the 16th century. During Queen Elizabeth I's reign, when Roman Catholicism was banned, 'backward - lookers' were reportedly tried for Popery for signing the cross on their Good Friday buns. The accused often claimed that it was necessary to mark a cross on the dough, to ensure that the buns would rise. However, the popularity of the buns prevailed, and the Queen resorted to passing a law which limited the bun's consumption to proper religious ceremonies, such as Christmas, Easter or funerals. So go ahead and try your hand at making these traditional Hot Cross Buns for your Good Friday or Easter meal! This recipe makes one dozen buns. The buns can be served with lemon curd or candied lemon peel.

Ingredients:
For the Buns:
1/2 cup warm milk (105 degrees F - 115 degrees F/40 degrees C - 46 degrees C)
1 package (2 1/4 tsp./1/4 oz./7 grams) active dry yeast
1/2 tsp. PLUS 1/4 cup granulated sugar
2 cups all-purpose flour (and 1/4 cup extra flour as needed for kneading)
1/2 tsp. ground allspice
1/4 tsp. ground cinnamon
1/2 tsp. salt
5 tbsp. unsalted butter, softened and cut into small pieces
1 egg
2 tbsp. raisins or currants
2 tbsp. grated orange or lemon zest

For the Egg Wash:
1 egg white or yolk, beaten
3 tbsp. granulated sugar

Icing for the Crosses:
1 cup confectioners' sugar
2 tbsp. unsalted butter, softened
1 tsp. vanilla extract
1 tbsp. milk or cream

Instructions:
For the Buns:
In the bowl of a stand mixer, stir together the milk, yeast and the 1/2 tsp. granulated sugar. Set aside until foamy, about 5-10 minutes.

In a medium bowl, mix together the 2 cups flour, the allspice, cinnamon, salt and the 1/4 cup granulated sugar. Add half of the flour mixture to the milk mixture. Using the flat beater, beat until combined. Add the butter and egg and mix to combine. Add the remaining flour mixture and beat until a soft dough forms.

Fit the mixer with the dough hook and knead until the dough is smooth and elastic, about 10 minutes. If needed, add extra flour 1 tbsp. at a time (up to 1/4 cup) to keep the dough from being too sticky. Transfer the dough to a lightly oiled large bowl and turn to coat with the oil. Cover with plastic wrap and let rise in a warm, draft-free place until almost doubled in size, about 1 1/2 - 2 hours.

Line a baking sheet with parchment paper.

On a lightly floured work surface, punch down the dough and knead in the raisins and grated orange zest. Shape the dough into a 12-inch log and cut into 12 equal pieces. Cover with clean plastic wrap and let dough rest for 10 minutes. Shape each piece into a ball and place on the prepared baking sheet, spacing the buns 1 1/2 inches apart. Cover and let rise in a warm place until almost doubled in size, about 45 minutes.

Preheat oven to 400 degrees F (200 C).

For the Egg Wash:
In a small bowl, mix together the beaten egg white (or yolk) with the 3 tbsp. of sugar to make a glaze. Brush the buns with the glaze.

Bake buns in preheated 400 degree F (200 C) oven for 12 minutes. Remove buns from oven and transfer to wire rack. Cool buns for 5 to 10 minutes while you make the icing for the crosses.

Icing for the Crosses:
Combine all the icing ingredients in a small bowl and beat until thick. Use a pastry bag and tip to pipe thick crosses onto the buns. (If you don't have a pastry bag, fill a sturdy plastic ziploc bag with the icing, squeezing it down into one corner. Snip the tip of the bag off, and squeeze the icing onto the buns making a cross design over the tops).

Serving suggestion:
Hot Cross Buns can be spread with lemon curd for a delicious Good Friday or Easter morning or brunch treat.

Makes 12 buns.

Click here to view recipe and photo of Hot Cross Buns on Diana's Desserts Website


---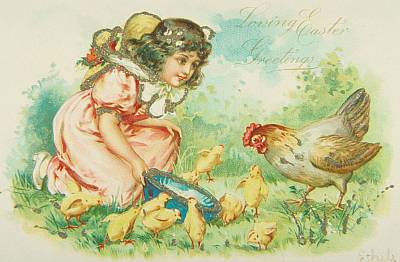 Easter
Sunday March 27, 2005

Note: (Orthodox Easter falls on May 1, 2005)

Easter is the time of springtime festivals, a time to welcome back the Tulips, the Crocuses and the Daffodils. Its a time of new suits, new dresses and patent leather shoes. A time for Christians to celebrate the life and resurrection of Christ. And a time of chocolate bunnies, marshmallow chicks, and colored eggs!

In Christian countries Easter is celebrated as the religious holiday commemorating the resurrection of Jesus Christ, the son of God. But the celebrations of Easter have many customs and legends that are pagan in origin and have nothing to do with Christianity.

Scholars, accepting the derivation proposed by the 8th-century English scholar St. Bede, believe the name Easter is thought to come from the Scandinavian "Ostra" and the Teutonic "Ostern" or "Eastre," both Goddesses of mythology signifying spring and fertility whose festival was celebrated on the day of the vernal equinox.

Traditions associated with the festival survive in the Easter rabbit, a symbol of fertility, and in colored Easter eggs, originally painted with bright colors to represent the sunlight of spring, and used in Easter-egg rolling contests or given as gifts.

The Christian celebration of Easter embodies a number of converging traditions with emphasis on the relation of Easter to the Jewish festival of Passover, or Pesach, from which is derived Pasch, another name used by Europeans for Easter. Passover is an important feast in the Jewish calendar which is celebrated for 8 days and commemorates the flight and freedom of the Israelites from slavery in Egypt.

The early Christians, many of whom were of Jewish origin, were brought up in the Hebrew tradition and regarded Easter as a new feature of the Passover festival, a commemoration of the advent of the Messiah as foretold by the prophets.

Easter is observed by the churches of the West on the first Sunday following the full moon that occurs on or following the spring equinox (March 2I). So Easter became a "movable" feast which can occur as early as March 22nd or as late as April 25th.

Christian churches in the East which were closer to the birthplace of the new religion and in which old traditions were strong, observe Easter according to the date of the Passover festival.

Easter is at the end of the Lenten season, which covers a forty-six-day period that begins on Ash Wednesday and ends with Easter. The Lenten season itself comprises forty days, as the six Sundays in Lent are not actually a part of Lent. Sundays are considered a commemoration of Easter Sunday and have always been excluded from the Lenten fast. The Lenten season is a period of penitence in preparation for the highest festival of the church year, Easter.

Holy Week, the last week of Lent, begins with the observance of Palm Sunday. Palm Sunday takes its name from Jesus' triumphal entry into Jerusalem where the crowds laid palms at his feet. Holy Thursday commemorates the Last Supper, which was held the evening before the Crucifixion. Friday in Holy Week is the anniversary of the Crufixion, the day that Christ was crucified and died on the cross

Holy week and the Lenten season end with Easter Sunday, the day of resurrection of Jesus Christ.

---
Recipes for Easter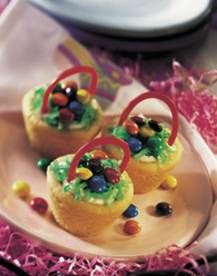 Edible Easter Baskets

Servings: Makes 3 dozen cookies

Comments:
"NoBunny" can resist these cute baskets. The kids will really enjoy these colorful little treats as a special Easter goodie!!

Ingredients:
1 package (about 18 ounces) refrigerated sugar cookie dough
1 cup milk chocolate mini baking bits, divided
1 teaspoon water
1 to 2 drops green food coloring
3/4 cup sweetened shredded coconut
3/4 cup any flavor frosting
Red licorice whips, cut into 3-inch lengths

Instructions:
Lightly grease 36 (1-3/4-inch) mini muffin cups.

Cut dough into 36 equal pieces; roll into balls. Place 1 ball in each muffin cup.

Press dough onto bottom and up side of each muffin cup; chill 15 minutes.

Press 1/3 cup milk chocolate mini baking bits into bottoms and sides of dough cups.

Preheat oven to 350 degrees F (180 C). Bake cookies 8 to 9 minutes. Cookies will be puffy. Remove from oven; gently press down center of each cookie. Return to oven 1 minute. Cool cookies in muffin cups 5 minutes. Remove to wire racks; cool completely.

In medium bowl combine water and food coloring. Add coconut; stir until evenly tinted.

In each cookie cup, layer 1 teaspoon frosting, 1 teaspoon tinted coconut and 1 teaspoon milk chocolate mini baking bits. Push both licorice ends into frosting to make basket handle. Store in tightly covered container.

Makes 3 dozen cookies.

Click here to view recipe and photo of Edible Easter Baskets on Diana's Desserts Website


---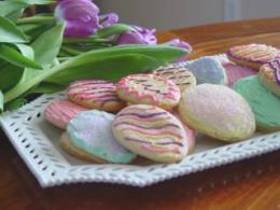 Pretty Pastel Easter Cookies

Servings: Makes 24-30 cookies

Comments:
It's fun to decorate these delicious sugar cookies. Use oval or egg shaped cookie cutters for making Easter Egg shaped cookies, and decorate with pastel colored sugars. Using decorating pens, make soft spring- colored designs. Also, royal icing may be used for decorating cookies.

Ingredients:
2 sticks (1 cup/8 oz/226g) unsalted butter, softened, at room temperature
3/4 cup granulated sugar
3 egg yolks
1 piece vanilla bean, about 2 inches long*(see note)
2 1/2 cups all-purpose flour
1 tsp. baking powder
1/2 tsp. salt

For Decoration and Icing:
Pastel colored sugars and decorating pens
Royal Icing (optional-see Tip below)

Instructions:
In a bowl, using an electric mixer set on medium speed, beat together the butter and sugar until light and fluffy, about 4 minutes. Beat in the egg yolks one at a time, beating well after each addition.

Cut the vanilla bean in half lengthwise and, using a small, sharp knife, scrap the seeds into the butter mixture. Mix well.

In a sifter, combine the flour, baking powder and salt. Sift the flour mixture directly onto the butter mixture. Reduce the speed to low and beat until well mixed.

Divide the dough into 4 equal portions. Shape each portion into a ball, then flatten the balls into disks. Wrap in plastic wrap and refrigerate overnight (The dough can be prepared up to 3 days ahead.) Let it soften slightly at room temperature before continuing.

Position a rack in the upper third of an oven and preheat to 350 degrees F (180 C). Butter 2 large baking sheets.

On a lightly floured work surface, roll out a dough disk 1/4 inch thick. Using cookie cutters, cut out desired shapes. Transfer the cutouts to the prepared baking sheets. Gather up and reroll the scraps and cut out more cookies. Repeat with the remaining dough disks.

Bake until the cookies are golden on the edges, about 8 minutes. Transfer the cookies to wire racks and let cool completely. Decorate the cookies as desired with colored sugars and decorating pens. Store in an airtight container at room temperature for up to 1 week.

Makes 24 to 30 cookies, depending on cookie cutter size.

*Note: If you don't have a vanilla bean on hand, you may substitute it with 1 tsp. vanilla extract or vanilla essence.

Tip: If desired, cookies may be iced or decorated with Royal Icing. Recipe for Royal Icing can be found in "My Recipe Book", under the Frostings category on Diana's Desserts Website.

Royal Icing Recipe on Diana's Desserts Website

Source: DianasDesserts.com

Click here to view recipe and photo of Pretty Pastel Easter Cookies on Diana's Desserts Website


---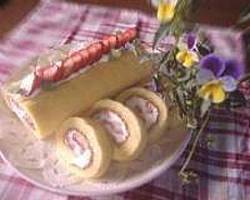 Light Strawberry Cake Roll
Servings: 10

Comments:
If you're trying to reduce the fat ( just a little bit ) in your family's diet, then this luscious strawberry cake roll filled with sliced strawberries and frozen yogurt is just the right choice for a "light" Easter dessert.

Ingredients:
1 cup sifted cake flour or sifted all-purpose flour
1 teaspoon baking powder
3/4 cup granulated sugar
2 eggs
1 teaspoon vanilla extract
1/4 cup water
1 tablespoon sifted confectioners' sugar
1 quart strawberry frozen yogurt, softened (fat-free, reduced fat or regular frozen yogurt)
1-2 cups fresh strawberries, sliced into small pieces

For Garnishes: (optional)
Confectioners' sugar, sifted
Reduced Fat or Fat-Free Non-Dairy Whipped Topping, thawed
Fresh strawberries
Orange peel strips
Mint sprigs

Instructions:
1. Line a 15 x 10 x 1-inch jelly roll pan with waxed paper; set pan aside.

2. In a small mixing bowl combine flour and baking powder; set aside.

3. In a medium mixing bowl beat granulated sugar, whole egg product or eggs, and vanilla with an electric mixer on high speed for 5 minutes or until slightly thick and lemon-colored. Add water and beat on low speed. Sprinkle flour mixture over egg mixture; fold in gently until just combined. Spread batter evenly in prepared jelly-roll pan. Bake in a 375 degree F (190 C) oven for 12 to 15 minutes or until top is golden and springs back when lightly touched.

4. Immediately loosen edges of cake from pan and turn cake out onto a towel sprinkled with the 1 tablespoon confectioners' sugar. Roll up towel and cake, jelly-roll style, starting from one of the cake's short sides. Cool on a wire rack. Unroll cake; remove towel. Spread cake with frozen yogurt and sliced strawberries to within 1/2 inch of edges. Roll up cake. Wrap and freeze at least 4 hours. Sprinkle with additional confectioners' sugar before serving and garnish with non-dairy whipped topping, strawberries, orange peel strips and mint, if desired.

Makes 10 servings.

Source: DianasDesserts.com

Click here to view recipe and photo of Light Strawberry Cake Roll on Diana's Desserts Website


---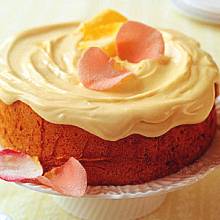 Lemon Angel Food Cake
Servings: 8

Comments:
This light, spring-like cake is the perfect way to end a special Easter meal. If you are pressed for time, you could always make the cake a couple of days in advance, freeze it and simply add the frosting as it thaws.

Ingredients:
1/2 cup all-purpose flour
Finely grated zest of 1/2 lemon
6 egg whites
Pinch of salt
3/4 tsp. cream of tartar
1 cup superfine sugar

For the Frosting:
1/2 cup store-bought ready-made or homemade lemon curd
1/2 cup sour cream

Optional Garnish:
Crystallized rose petals or flowers for decorating
(See Note Below)

Instructions:
Preheat an oven to 375 degrees F (190 C).

Sift the flour onto a plate, then stir in the lemon zest and set aside.

Put the egg whites, salt and cream of tartar into a large bowl and whisk until stiff but moist-looking peaks form. Gradually whisk in the superfine sugar, a tablespoon at a time, and continue whisking for 1 to 2 minutes.

Gently fold in the flour mixture using a metal spoon and a swirling figure-of-eight motion. Pour into an 8-inch deep or 9-inch shallow nonstick angel food cake pan (there is no need to grease it first). Bake until the cake is well risen and golden and the top springs back when pressed with a fingertip, 25 to 30 minutes.

Turn the cake, still in its pan, upside down onto a cooling rack and let cool. As it cools, it will fall out of the pan.

To Make the Frosting:
In a bowl, stir together the lemon curd and sour cream and spread over the top of the cooled cake. Sprinkle with crystallized rose petals or flowers.

Makes 8 servings.

Note: To crystallize flowers, buy a sachet of dried egg white and mix it as instructed. Let it cool, then brush the mixture over rose petals or viola, pansy or herb flowers. Dust lightly with a little superfine sugar, let dry for 30 minutes, then use to decorate the cake just before serving.

Source: Recipe adapted from Easter: Food and Entertaining (Hamlyn, 2003).

Click here to view recipe for Lemon Angel Food Cake on Diana's Desserts Website


---
Food Tips and Information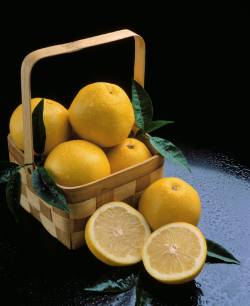 Grapefruit

General Information
Grapefruit provides a variety of important nutrients in one convenient package. It has an ample supply of pectin, the soluble fiber that is effective in lowering cholesterol levels, and of potassium, which is important in controlling blood pressure. This familiar member of the citrus family is even more highly valued as a source of vitamin C: These attributes, along with its refreshing tart flavor, juicy texture, and low calorie count, have made grapefruit a popular breakfast food and salad ingredient.

Grapefruit probably developed from a cross between an orange and a shaddock, a citrus fruit with thick skin, many seeds, almost no juice, and a very sour taste. But skillful growers dramatically improved the flavor and texture of grapefruit, beginning with the development of seedless varieties nearly a century ago. The result is a citrus fruit that combines tanginess and sweetness.

Indigenous to the West Indies, grapefruit became well established in Florida in the early 1800s: Today, 80% of the domestic crop and half of the world's production is shipped from that state.

Varieties
White grapefruit is so-called because of the color of its flesh, not its skin, which is yellow. (Other grapefruit varieties are also named for their flesh colors, such as red, pink, or ruby.) The varieties of white grapefruit that have seeds are often used for making grapefruit juice. The most popular variety for eating is a grapefruit called Marsh Seedless. Florida, Texas, California, and Arizona are the principal grapefruit-growing states.

Pink grapefruit comes pink, and red varieties--colors that refer to the flesh. All three types are similar in taste and texture. The varieties that have seeds are often used for making grapefruit juice. The most popular pink varieties for eating are the Pink Seedless and Ruby Red Seedless. A number of newer red and pink varieties, such as Star Ruby (a seedless grapefruit with a blush three times redder than Ruby Red) are grown in Texas, California, and Arizona--the other grapefruit-growing states--as well as Florida.

Availability
Grapefruit is available year round, with the peak season extending from January through June.

Shopping
Since grapefruit is not picked until fully ripe, you never have to worry about getting a "green" one. Under certain growing conditions, the lemon yellow skin may revert to green after it is ripe, but the fruit will lose none of its tangy sweetness.

Look for round, smooth fruits that are heavy for their size (they will be juicy). Coarse-skinned grapefruits or those that are puffy, soft, or pointed at one end are inferior; glossy fruits with slightly flattened ends are preferable. Gray-brown "russeting" or other skin defects are superficial and do not affect quality. At room temperature, you may be able to detect a mildly sweet fragrance, but it will not be apparent if the fruit is chilled.

Storage
Grapefruits can be left at room temperature for a week, and are juiciest when slightly warm rather than chilled. For longer storage, they should be held in the refrigerator crisper, where they will keep for six to eight weeks. Leave them at room temperature for a while before you juice them or eat them.

Preparation
Rinse grapefruits before cutting them. For serving from the "shell," halve grapefruit crosswise. Use a grapefruit spoon with a serrated tip to scoop out the sections, or prepare the fruit using a sharp paring knife or a curved-blade grapefruit knife, running it between each segment of flesh and the membrane "dividers." (Grapefruits, like other citrus fruits, may be called "seedless" if they contain no more than five seeds, so don't be surprised if you have to remove a few seeds.

You can also peel a grapefruit as you would an orange; use your hands or pare the skin with a sharp knife: Slice a disk of peel from the top, then pare slices downward around the fruit; or, pare the skin in a spiral, as you would an apple. Then pull apart the segments with your hands and, if desired, remove the membranes from each segment.

Nutritional Information

White or Pink Grapefruit
Serving size: one half grapefruit
Calories 37 to 39
Total fat (g) 0.1
Saturated fat (g) 0
Monounsaturated fat (g) 0
Polyunsaturated fat (g) 0
Dietary fiber (g) 1.3 to 1.4
Protein (g) 0.8 to 1
Carbohydrate (g) 9 to 10
Cholesterol (mg) 0
Sodium (mg) 0
Vitamin C (mg) 39 to 46

Source: Wholehealthmd.com

---
Recipe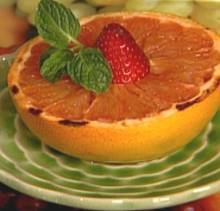 Broiled Grapefruit

Servings: 4

Comments:
The pleasures of broiled grapefruit are akin to those of a classic crème brûlée, only here the hot caramelized topping gives way to cool, tart-sweet segments of citrus fruit instead of chilled custard. Any grapefruit will work in this recipe; just be sure the fruits are well chilled to produce the best results.

A wonderful starter or appetizer for a weekend brunch or serve as a light dessert after a warm spring or summer day. Great served at a barbeque as a light dessert also.

Ingredients:
2 large grapefruits, well chilled
1/2 cup firmly packed light brown sugar
2 tablespoons unsalted butter, melted
1 teaspoon ground cinnamon
4 small fresh mint sprigs

Instructions:
Preheat a broiler.

Cut each grapefruit in half crosswise. Cut a thin slice off the bottom of each half, if necessary, so that it will stand upright.

Using a serrated grapefruit knife or a small, sharp knife, loosen the grapefruit segments in each half by first carefully cutting between the fruit and the peel and then by cutting along either side of each segment to free it from the membrane. Leave all the segments in their shells. Place the halves upright in a baking dish.

In a small bowl, stir together the brown sugar, butter and cinnamon. Using your fingers, sprinkle the sugar mixture evenly over the grapefruit halves. Slip under the broiler about 4 inches from the heat source and broil until the sugar is uniformly bubbly, 2 to 3 minutes.

Transfer each grapefruit half to an individual dish and garnish with a mint sprig. Serve immediately.

Makes 4 servings.

Adapted from Williams-Sonoma Kitchen Library Series, Breakfasts & Brunches, by Norman Kolpas (Time-Life Books, 1997).

Click here to view recipe and photo of Broiled Grapefruit on Diana's Desserts Website


---
Until Next Month
Well, that's it for this month; a very busy month for so many interesting and special holidays. I sincerely hope you enjoyed the information, history and the recipes for these special holidays and the information about Grapefruit.

Next month's newsletter will include recipes for the 8 day Jewish observance of Passover, which begins at sundown on April 23rd. I will also be including some new dessert recipes for the beginning of Spring and also information on early Spring fruits.

As always, I hope you have a great month and if you'd like to submit one of your favorite dessert (or bread or beverage) recipes to Diana's Desserts Website, please click on the link below. I am always looking forward to receiving your great recipes that you want to share with the other guests of Diana's Desserts.

Submit a Recipe

Have a fun St. Patty's Day, a joyful St. Joseph's Day, and a very Happy Purim and Easter.

Sincerely, Diana