Diana's Desserts - www.dianasdesserts.com
See more recipes in
Holidays and Celebrations
Lemon and Poppy Seed Tartlets for Purim
in Diana's Recipe Book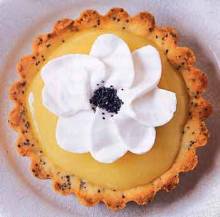 [Be the first to post a review!]
Servings: Makes 8 individual tartlets
Comments:
For the festive Jewish holiday of Purim, try these wonderful Lemon and Poppy Seed Tartlets. Using poppy seeds in the tartlet crusts makes them especially appropriate for Purim.

Why eat Poppy Seeds for Purim?
This tradition honors Queen Esther. When she moved into the king's palace, in order to avoid eating non-kosher food, she ate only seeds and legumes. In other words, she ate as a vegetarian. This gave rise to the custom of including poppy seeds in Purim sweets and of making use of beans and chickpeas in Purim menus.

Ingredients:

For Tartlet Shells:
1 cup all-purpose flour
1/2 cup confectioners' sugar
1/2 teaspoon salt
1 1/2 tablespoons poppy seeds
1/2 cup (1 stick/4 oz/113g) cold unsalted butter, cut into bits
1 large egg yolk
2 tablespoons cold water
1 teaspoon fresh lemon juice

For Filling:
1 1/2 cups lemon curd* (see recipe and note below)
1 cup chilled heavy cream
2 tablespoons confectioners' sugar
2 teaspoons fresh lemon juice

Garnish:
Poppy seeds

Special equipment:
Food processor
8 (3 1/2- by 2/3-inch) round tartlet pans

Instructions:
To Make Tartlet Shells:
In a food processor, pulse together flour, confectioners' sugar, salt, and poppy seeds. Add butter and pulse until mixture resembles coarse meal. Whisk together yolk, water, and lemon juice in a bowl, then add to processor and pulse until pea-size lumps form and dough holds together when squeezed. (Dough will appear slightly crumbly.)

Press 1/4 cup dough evenly into each tartlet shell with floured fingers (dough will be moist) and lightly prick bottoms with a fork. Chill until firm, about 20 minutes.

Put shells on a baking sheet and bake at 375 degrees F (190 C) in lower third of oven until golden, 20 to 25 minutes. Transfer to a rack and, when shells are just cool enough to handle, carefully loosen edges with a thin knife and remove from pans.

To Fill Tartlet Shells and Make Topping:
Fill each shell with 3 tablespoons lemon curd (see recipe for lemon curd below).

Beat together cream with confectioners' sugar and lemon juice in a bowl with an electric mixer until it just holds stiff peaks. Transfer to a pastry bag with a decorative tip and pipe onto curd (or dollop frosting with a spoon). Garnish tartlets with poppy seeds, if desired.

Makes 8 individual tartlets.

Cooks' Note:

Tartlet shells may be made 2 days ahead, cooled completely, and kept in an airtight container.

Lemon Curd

Note: Store-bought ready-made lemon curd may be used in this recipe, if desired.

Ingredients:
1 tablespoon PLUS 2 teaspoons finely grated fresh lemon zest
1 cup fresh lemon juice
1 1/3 cups granulated sugar
4 large eggs
3/4 cup PLUS 2 tablespoons (1 3/4 sticks/7 oz/198g) unsalted butter, cut into tablespoon pieces

Instructions:
Whisk together zest, lemon juice, sugar, eggs, and a pinch of salt in a 2-quart heavy saucepan. Add butter all at once and cook over moderately low heat, whisking constantly, until curd is thick enough to hold marks of whisk and first bubbles appear on surface, about 10 minutes. Immediately pour curd through a fine sieve into a bowl, then chill, covered.

Cooks' Note:
Lemon curd keeps, covered and chilled, 1 week.

Makes about 3 cups.
Source: Gourmet Magazine April 2001
Date: February 9, 2005