EDITION NUMBER 24 - CELEBRATING THANKSGIVING 2004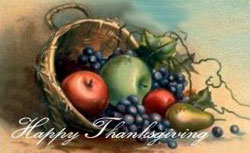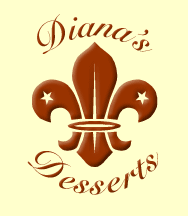 NOVEMBER 7, 2004

Welcome Home Bakers and Friends,

I hope you had a fun Halloween and that the kids enjoyed their "trick or treating". It's a great time, isn't it, getting out the pumpkins and such for this delightful celebration? Also, I am very curious if some of you were able to make one or two of the Halloween recipes from last month's edition of Diana's Desserts Newsletter. If you did, please let me know how they turned out.

I also hope some of you were able to try the Tiramisu recipe from last month's newsletter. It is definitely a deliciously decadent dessert and was especially appropriate for Columbus Day.

Some of you who celebrate Ramadan must be into the "fasting" right now, so I wish you all well, and hope you have a very festive Eid-ul-Fitar, the Feast of the Fast-breaking when Ramadan ends later in the month.

Preparing for the Holidays
Can you believe it's really that time of year already, the holidays are upon us and you know what that means? Yes, it's time for the "serious" baking to begin. Thanksgiving, Christmas, Kwanza, and New Year's are all just around the corner. I know we're all looking forward to a joyous and peaceful holiday season and also to the smell of all of those delicious goodies coming from our kitchens.

As I said in my holiday newsletter last year about preparing for the holidays:

"Actually, I shouldn't make "preparing for the holidays" sound so nerve-racking, as this should be one of the most happy and festive times of the year, but often we get "frazzled" when we have so much on our minds and so much to do. So let's take a look at what we can do to make the holidays a more organized, relaxing, and peaceful and fun time.

First of all, don't feel alone, we're all in this together.

In my experience, I have found that the best and the easiest way to have a pleasant and "not so stressful" holiday season is to plan in advance what you are going to prepare. Make a list and keep to it, if you can. I find that keeping a list of all the things I need to do, the things I need to buy, and especially a list of foods I will need to shop for when the holiday nears is a good course of action. Check your fridge, your pantry (if you have one) and your kitchen cabinets. Make sure you have all the "staples" you are going to need, and if not, put them on your list.

It isn't always easy deciding on what you're going to cook and bake for a particular holiday. Planning your menu in advance, at least 2 weeks, will make things much easier on yourself. Another good idea is to get out some of your cookbooks and recipes that you have had hidden away and explore the many choices you have for appetizers, soups and salads, breads and rolls, main courses, side dishes, beverages and desserts. These days it is easy to find delicious and festive recipes from many sources such as magazines, television cooking shows, the internet, and from friends and family, but why not start with the resources you already have on hand, your own personal cookbook library and recipe box. This is where you'll probably find your best and most requested recipes.

Hopefully, after you have decided upon what you want to prepare, you will be ready to make a delicious holiday meal for your family and guests that will be a joy to create and will become a favorite holiday time memory."

Thanksgiving
Thanksgiving is celebrated every year on the 4th Thursday of November. This year Thanksgiving falls on Thursday November 25th. I hope that you enjoy the recipes below and maybe some of you will try one or two of them this year for your holiday desserts.

In this edition of Diana's Desserts Newsletter, the focus will mainly be on Thanksgiving desserts. Besides the dessert recipes I am including below, I have also added a warm beverage recipe, a great appetizer recipe and also a dinner roll recipe to serve at this special holiday meal.

Guest Submitted Recipe
As always, there is a Guest Submitted Recipe for you to try, and this month, the recipe comes from Janine Balzer of Michigan. This wonderful recipe is for Cranberry Ribbon Apple Pie, a bit of a twist on an all time Thanksgiving favorite. I think you'll like this holiday pie; a favorite of mine.

Food Tips and Information
The Food Tips and Information Section this month, appropriately, is about Persimmons. This tasty fruit is used in making several types of desserts during this time of year, such as Persimmon Pudding and Persimmon Cookies, etc. See below for a delightful recipe for Spiced Persimmon Bread. Great to give as a holiday gift or just to enjoy at home with your family and friends.

---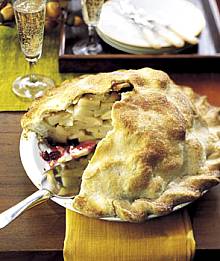 Guest Submitted Recipe
Cranberry Ribbon Apple Pie
Submitted by Janine Balzer

Makes 8 servings

Comments:
This simple recipe is now a family favorite! No Thanksgiving would be complete without this fresh twist on an old favorite! Helpful note, I didn't have 100% cranberry juice so I used orange juice instead and it turned out fabulous. I know this scrumptious pie will becomes one of your favorites too!

Ingredients:
For the Filling:
1 1/2 cups granulated sugar, divided in half
1/2 cup 100% cranberry juice
2 cups fresh cranberries (about 8 ounces)
2 pounds Granny Smith apples, peeled, cored and thinly sliced
1 3/4 pounds Golden Delicious apples, peeled, cored and thinly sliced
2 tablespoons all-purpose flour
1 teaspoon fresh lemon juice
1/2 teaspoon ground cinnamon

For the Crust:
Butter Pie Crust Dough (see recipe below)
2 tablespoons (1/4 stick/1 oz/28g) unsalted butter, cut into 1/2-inch cubes
1 teaspoon milk
1 tablespoon granulated sugar
Pinch of ground cinnamon

Serve with:
Vanilla ice cream

Instructions:
Stir 3/4 cup sugar and juice in saucepan over medium-high heat. Add cranberries; bring to simmer. Reduce heat; simmer until almost all liquid is absorbed, stirring often, about 25 minutes. Cool. (Can be made 2 days ahead. Cover and chill.)

Toss all apples, flour, lemon juice, 1/2 teaspoon cinnamon, and 3/4 cup sugar in large bowl to blend.

Preheat oven to 400 degrees F (200 C). Roll out 1 dough disk on floured surface to 13-inch round. Transfer to 9-inch deep-dish glass pie dish. Trim overhang to 1 inch. Spread cranberry mixture over crust bottom. Top with apple mixture; dot with butter. Roll out second dough disk on floured surface to 13-inch round; drape over apples. Trim overhang to 1 inch. Press crust edges together to seal; crimp. Cut 1-inch hole in center. Brush crust with milk. Mix the 1 tablespoon sugar and a pinch of cinnamon in small bowl; sprinkle over crust.

Bake pie 15 minutes; reduce oven temperature to 375 degrees F (190 degrees C) and bake until crust is golden, about 50 minutes. Transfer to rack; cool at least 2 hours. (Can be made 6 hours ahead. Let stand at room temperature.) Serve warm or at room temperature with vanilla ice cream.

Makes 1 (9-inch) pie, 8 servings.

Butter Pie Crust Dough
(Makes enough for a double-crust pie)

Ingredients:
2 1/2 cups all-purpose flour
1 tablespoon granulated sugar
1 teaspoon salt
1 cup (2 sticks/8 oz/226g) chilled unsalted butter, cut into 1/2-inch cubes
6 tablespoons (or more) ice water

Instructions:
Blend flour, sugar, and salt in processor. Add butter and cut in, using on/off turns, until coarse meal forms. Add 6 tablespoons water. Using on/off turns, blend just until moist clumps form, adding more water by 1/2 tablespoonfuls if dough is dry. Divide the dough in half, form dough into two balls; flatten balls into disks. Wrap both disks in plastic; refrigerate for 1 hour. (Can be made 2 days ahead. Keep chilled. Soften slightly at room temperature before rolling out.)

Makes enough dough for a double-crust pie.

Source: Bon Apptit Magazine, November 2003

Submitted by: Janine Balzer

Click here to view recipe and photo of Cranberry Ribbon Apple Pie on Diana's Desserts Website

Thank you Janine for sharing your Thanksgiving "family favorite" with us. I know this pie will be well liked by all who try it this year....Diana, Diana's Desserts

---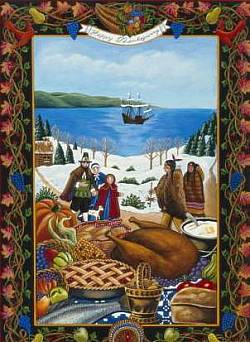 Thanksgiving
Celebrated this year on Thursday November 25th.

Thanksgiving Day in America is a time to offer thanks, of family gatherings and holiday meals. A time of turkeys, stuffing, and pumpkin pie. A time for Indian corn, holiday parades and giant balloons.


History of Thanksgiving
The Pilgrims and America's First Thanksgiving

The Pilgrims, who celebrated the first thanksgiving in America, were fleeing religious prosecution in their native England. In 1609 a group of Pilgrims left England for the religious freedom in Holland where they lived and prospered. After a few years their children were speaking Dutch and had become attached to the Dutch way of life. This worried the Pilgrims. They considered the Dutch frivolous and their ideas a threat to their children's education and morality.

So they decided to leave Holland and travel to the New World. Their trip was financed by a group of English investors, the Merchant Adventurers. It was agreed that the Pilgrims would be given passage and supplies in exchange for their working for their backers for 7 years.

On Sept. 6, 1620 the Pilgrims set sail for the New World on a ship called the Mayflower. They sailed from Plymouth, England and aboard were 44 Pilgrims, who called themselves the "Saints", and 66 others ,whom the Pilgrims called the "Strangers."

The long trip was cold and damp and took 65 days. Since there was the danger of fire on the wooden ship, the food had to be eaten cold. Many passengers became sick and one person died by the time land was sighted on November 10th.

The long trip led to many disagreements between the "Saints" and the "Strangers". After land was sighted a meeting was held and an agreement was worked out, called the Mayflower Compact, which guaranteed equality and unified the two groups. They joined together and named themselves the "Pilgrims."

Although they had first sighted land off Cape Cod they did not settle until they arrived at Plymouth, which had been named by Captain John Smith in 1614. It was there that the Pilgrims decide to settle. Plymouth offered an excellent harbor. A large brook offered a resource for fish. The Pilgrims biggest concern was attack by the local Native American Indians. But the Patuxets were a peaceful group and did not prove to be a threat.

The first winter was devastating to the Pilgrims. The cold, snow and sleet was exceptionally heavy, interfering with the workers as they tried to construct their settlement. March brought warmer weather and the health of the Pilgrims improved, but many had died during the long winter. Of the 110 Pilgrims and crew who left England, less that 50 survived the first winter.

On March 16, 1621 , what was to become an important event took place, an Indian brave walked into the Plymouth settlement. The Pilgrims were frightened until the Indian called out "Welcome" (in English!).

His name was Samoset and he was an Abnaki Indian. He had learned English from the captains of fishing boats that had sailed off the coast. After staying the night Samoset left the next day. He soon returned with another Indian named Squanto who spoke better English than Samoset. Squanto told the Pilgrims of his voyages across the ocean and his visits to England and Spain. It was in England where he had learned English.

Squanto's importance to the Pilgrims was enormous and it can be said that they would not have survived without his help. It was Squanto who taught the Pilgrims how to tap the maple trees for sap. He taught them which plants were poisonous and which had medicinal powers. He taught them how to plant the Indian corn by heaping the earth into low mounds with several seeds and fish in each mound. The decaying fish fertilized the corn. He also taught them to plant other crops with the corn.

The harvest in October was very successful and the Pilgrims found themselves with enough food to put away for the winter. There was corn, fruits and vegetables, fish to be packed in salt, and meat to be cured over smoky fires.

The Pilgrims had much to celebrate, they had built homes in the wilderness, they had raised enough crops to keep them alive during the long coming winter, they were at peace with their Indian neighbors. They had beaten the odds and it was time to celebrate.

The Pilgrim Governor William Bradford proclaimed a day of thanksgiving to be shared by all the colonists and the neighboring Native Americans. They invited Squanto and the other Indians to join them in their celebration. Their chief, Massasoit, and 90 braves came to the celebration which lasted for 3 days. They played games, ran races, marched and played drums. The Indians demonstrated their skills with the bow and arrow and the Pilgrims demonstrated their musket skills. Exactly when the festival took place is uncertain, but it is believed the celebration took place in mid-October.

The following year the Pilgrims harvest was not as bountiful, as they were still unused to growing the corn. During the year they had also shared their stored food with newcomers and the Pilgrims ran short of food.

The 3rd year brought a spring and summer that was hot and dry with the crops dying in the fields. Governor Bradford ordered a day of fasting and prayer, and it was soon thereafter that the rain came. To celebrate - November 29th of that year was proclaimed a day of thanksgiving. This date is believed to be the real true beginning of the present day Thanksgiving Day.

The custom of an annually celebrated thanksgiving, held after the harvest, continued through the years. During the American Revolution (late 1770's) a day of national thanksgiving was suggested by the Continental Congress.

In 1817 New York State had adopted Thanksgiving Day as an annual custom. By the middle of the 19th century many other states also celebrated a Thanksgiving Day. In 1863 President Abraham Lincoln appointed a national day of thanksgiving. Since then each president has issued a Thanksgiving Day proclamation, usually designating the fourth Thursday of each November as the holiday.

Source: Holidays on the Net - http://www.holidays.net/thanksgiving/pilgrims.htm

---
Thanksgiving Recipes
Let's start with a warm drink,

Apple Toddy
Servings: 1

Comments:
This French take on the Hot Toddy uses Calvados or applejack and apple syrup, giving the drink a much sweeter scent and flavor. When buying apple syrup, look for the Austrian brand D'Arbo. This company produces some of the best, most intense fruit syrups on the market. The Apple Toddy makes a wonderful and warm drink to serve to your guest's at Thanksgiving, Christmas, or any other festive occasion during the cooler late fall and winter months.

Note: For the children or for guest's that don't drink alcohol, serve a nice sparkling apple or pear cider over ice.

Ingredients:
1/4 cup Calvados Apple brandy or Applejack brandy
1/4 cup apple syrup
1/4 to 1/2 cup hot water
4 or 5 thin apple slices
1 whole nutmeg for grating

Instructions:
In an 8 oz. glass, combine the Calvados and apple syrup. Top with the hot water and stir.

Add the apple slices and grate nutmeg to taste over the top. Serve immediately.

Makes 1 serving.

Source: Adapted from Williams-Sonoma TASTE Magazine, "Winter Warmers," by Andy Harris (Holiday 2001)

Click here to view recipe and photo of Apple Toddy on Diana's Desserts Website

---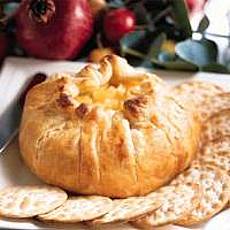 And now for the Appetizer,


Baked Brie en Crote with Apple Compote

Servings: An appetizer that serves 6 to 8

Comments:
Serve this tasty savory and sweet appetizer for an extra-special treat at Thanksgiving.

This dish can be made up to 2 weeks in advance. Assemble the pastry, cheese and apple compote, but don't brush the dough with the egg wash. Instead, wrap the pastry tightly with plastic wrap and freeze until ready to bake. Then brush the frozen pastry with the egg wash and bake in a 350 degrees F (180 C) oven for 45 to 50 minutes.

Ingredients:
1 tbsp. unsalted butter
2 Golden Delicious apples, cored, peeled and cut into 1/2-inch dice
1/4 cup granulated sugar
1/8 tsp. ground cardamom
1 round Brie cheese, 6 to 8 oz. and about 4 1/2 inches wide, slightly chilled
10-inch round of puff pastry dough, rolled out to 1/4-inch thickness
1 egg, beaten with 1 tbsp. water
Plain water crackers for serving

Instructions:
In a 2-quart saut pan over medium heat, melt the butter. Add the apples and saut, stirring occasionally, until the apples are tender and have released most of their liquid, 5 to 7 minutes. Add the sugar and cardamom, stir to dissolve and cook, stirring occasionally, until most of the liquid has evaporated, 12 to 15 minutes more. Remove from the heat and let the apple compote cool to room temperature.

Position a rack in the center of an oven and preheat to 375 degrees F (190 C). Line a baking sheet with parchment paper.

With a sharp knife, cut the cheese in half horizontally. On a clean work surface, place one half of the cheese, sliced side up, and evenly spread 1/2 cup of the apple compote over it. Set the other half, sliced side down, over the compote and spread an additional 1/2 cup compote over the top.

Place the dough on a lightly floured surface and set the cheese in the center of the dough. Fold the dough up over the sides of the cheese, pleating the upper edges to fit snugly around the cheese. Pinch the dough together in the center to seal. Brush the dough evenly with the egg wash and place on the prepared baking sheet.

Bake until the pastry is golden all over and crisp, 40 to 45 minutes. Let it rest for 5 minutes, then transfer to a platter along with a sharp knife and the crackers. Serve any remaining compote alongside.

Serves 6 to 8 as an appetizer before the meal.

Click here to view recipe and photo of Baked Brie en Crote with Apple Compote on Diana's Desserts Website

---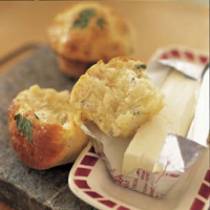 The Dinner Rolls,

Sally Lunn Rolls
Servings: 18 rolls

Comments:
Sally Lunn Bread or Rolls

Serve these delicate buttery rolls with your Thanksgiving meal. Something a little different and very very tasty.....Diana

This rich, slightly sweet yeast bread was brought to the Colonies from England and subsequently became a favorite in the South. There are several tales as to its origin, the most popular being that Sally Lunn, an 18th-century woman from Bath, England, created this delicate cake-like bread in her tiny bakery for her prominent patrons' tea parties. Those original Sally Lunns were baked as large buns, split horizontally and slathered with butter or clotted cream.

Ingredients:
5 tsp. (2 packages) active dry yeast
1/3 cup granulated sugar
1 cup warm milk (110 degrees F/43 degrees Celcius)
4 large eggs
2 tsp. salt
4 cups bread flour
8 tbsp. (1 stick) unsalted butter, melted
1 egg, beaten with 1 tbsp. milk

Instructions:
In a small bowl, combine the yeast, sugar and milk. Let stand until frothy, about 10 minutes.

In the bowl of a stand mixer fitted with the flat beater, beat together the eggs and salt until fluffy and pale lemon yellow, about 5 minutes. Add the yeast mixture and beat until smooth, about 1 minute. Add the flour to the egg mixture in three additions, alternating with the melted butter and beginning and ending with the flour. Cover with plastic wrap and let rise in a warm place until doubled in volume, about 2 hours.

Preheat an oven to 350 degrees F (180 C). Lightly butter 18 standard muffin cups.

Punch down the dough with a wooden spoon. Scoop out and divide the batter among the prepared muffin cups. Lightly butter a sheet of plastic wrap and place, buttered side down, over the rolls. Let rise again until doubled in volume, about 45 minutes.

Uncover the rolls and lightly brush the tops with the egg-milk mixture. Bake until a toothpick inserted into the center of a roll comes out clean, about 25 minutes. Transfer to a wire rack and let cool for 5 minutes. Turn the rolls out of the pan onto the rack and let cool completely before serving.

Makes 18 rolls.

Variations:
For Sally Lunn Herbed Rolls

Add 1/2 cup chopped mixed herbs, such as parsley, sage, rosemary and thyme to the dough. Before placing rolls into oven to bake, top each roll with a flat parsley or sage leaf.

Click here to view recipe and photo for Sally Lunn Rolls on Diana's Desserts Website

---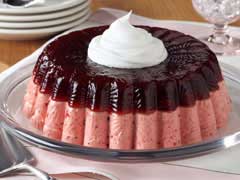 The Thanksgiving Desserts
Cranberry Mousse Mold
Servings: 12

Comments:
What a lovely and pretty dessert to serve at Thanksgiving. Place the dessert on the center of your dining table making a beautiful centerpiece for this special occasion. Placing fresh cranberries around the edges of the serving plate would make a very attractive presentation. Serve approximately 1/2 cup for each serving.

Ingredients:
1 1/2 cups boiling water
1 pkg. (8-serving size) Cranberry Flavor Gelatin, or any red flavor gelatin
1 can (16 oz.) whole berry cranberry sauce
1 cup cold water
1 (8 oz.) container frozen non-dairy whipped topping, thawed, divided

Instructions:
Stir boiling water into dry gelatin in large bowl at least 2 minutes until completely dissolved. Add cranberry sauce; stir until melted. Stir in cold water. Pour 2 cups of the gelatin mixture into 6-cup mold sprayed with cooking spray. Refrigerate 45 minutes or until set but not firm. (Gelatin should stick to finger and should mound.)

Meanwhile, refrigerate remaining gelatin mixture 30 minutes or until slightly thickened (consistency of unbeaten egg whites). Add 2 cups of the whipped topping; stir with wire whisk until well blended. Pour over gelatin in mold.

Refrigerate 4 hours or until firm. Unmold (See Tip on How to Unmold Gelatin below). Top with remaining whipped topping just before serving. Store leftover gelatin mold in refrigerator.

Makes 12 servings, about 12 cup each.

Tip:
How To Unmold Gelatin

Dip mold in warm water for about 15 seconds. Gently pull gelatin from around edges with moist fingers. Place moistened serving plate on top of mold. Invert mold and plate; holding mold and plate together, shake slightly to loosen. Gently remove mold and center gelatin on plate.

Click here to view recipe and photo of Cranberry Mousse Mold on Diana's Desserts Website

---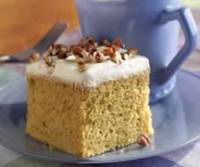 Pumpkin Spice Cake
Servings: 12

Comments:
What's so great about this delicious pumpkin spice cake is that you use a boxed mix, saving yourself alot of time in the kitchen, but still ending up with a very scrumptious dessert for your Thanksgiving meal.

Ingredients:
Cake:
1 pkg. (2-layer size) yellow cake mix
1 pkg. (4-serving size) vanilla flavor instant pudding & pie filling mix
1 cup canned 100% pumpkin puree
1/2 cup vegetable oil
3 eggs
1 tbsp. pumpkin pie spice

Frosting and Garnish:
Cream Cheese Frosting (recipe follows)
1/2 cup chopped toasted pecans

Instructions:
Preheat oven to 350 degrees F (180 C). Place cake mix, dry pudding mix, pumpkin, oil, 1/2 cup water, eggs and spice in large bowl. Beat with electric mixer on low speed just until moistened. Beat on medium speed 4 minutes. Pour into greased and floured 13 x 9-inch baking pan.

Bake 32 to 35 minutes or until toothpick inserted in center comes out clean. Cool cake in pan on wire rack. Spread with Cream Cheese Frosting (recipe follows); sprinkle with pecans. Store in refrigerator.

Cream Cheese Frosting
Makes: About 2 1/2 cups

Ingredients:
8 oz. cream cheese, softened
1/4 cup (1/2 stick/2 oz/56g) butter or margarine, softened
1 tsp. vanilla extract
4 cups confectioners' sugar (16 oz/1 lb/453g), sifted

Beat cream cheese, butter and vanilla in large bowl with electric mixer on medium speed until well blended. Add sugar gradually, beating until well blended after each addition. Spread over cooled cake.

Makes about 2 1/2 cups frosting.

Source: Recipe Adapted From Kraft Foods

Click here to view recipe and photo of Pumpkin Spice Cake on Diana's Desserts Website

---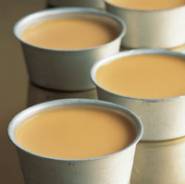 A Low-Fat Low-Carb Dessert

Persimmon Latte Cotta
Servings: 6

Comments:
Prepare this delightful dessert for everyone at Thanksgiving because it is so tasty and so good. It is especially appropriate for those who are watching their carbohydrate and fat intake. This is a great dessert for diabetics also (See Nutritional Information below). A luscious dessert that comes highly recommended. Enjoy!

Note:
Choose dead-ripe persimmons for this take-off on the Italian dessert, panna cotta. This lighter version is made with latte (milk) instead of panna (heavy cream). The hachiya variety of persimmon is oblong rather than round with a slightly pointy top and must be used when it's very ripe and soft otherwise the unripe persimmon would be much too tart for anyone's taste buds.

Ingredients:
2 cups low-fat (1%) milk
1/3 cup granulated sugar
1 cinnamon stick or 1/4 teaspoon ground cinnamon
3 strips (2- x 1/2-inch each) lemon zest
1/8 teaspoon salt
1 envelope plain unflavored gelatin
4 VERY RIPE Hachiya persimmons (1-3/4 pounds), peeled

Instructions:
1. In medium saucepan, combine 1 1/2 cups of milk, sugar, cinnamon stick, lemon zest, and salt. Bring to a boil over low heat. Remove from heat, cover, and let steep 20 minutes. Discard cinnamon and lemon zest. Set out 6 (6-ounce) custard cups.

2. In small bowl, sprinkle gelatin over remaining 1/2 cup milk. Let stand 5 minutes until softened. Meanwhile, in food processor, process persimmons until pureed.

3. Return milk-sugar mixture to a simmer. Stir in gelatin and cook 1 minute, stirring, until melted. Remove from heat; stir in persimmon puree. Pour into custard cups. Cover and refrigerate until set, at least 4 hours or up to overnight.

4. To serve: Run a knife around the edge of each cup and unmold custards onto serving plates.

Makes 6 servings.

Nutritional Information
Per serving: 103 calories, 1g total fat, 0.5g saturated fat, 0.3g monounsaturated fat, 0g polyunsaturated fat, 0.4g dietary fiber, 4g protein, 21g carbohydrate, 3mg cholesterol, 92mg sodium.
Good source of: calcium and vitamin C.

Source: WholeHealthMD - http://www.wholehealthmd.com/hk/recipes/details/0,1465,640,00.html

Click here to view recipe and photo of Persimmon Latte Cotta on Diana's Desserts Website

---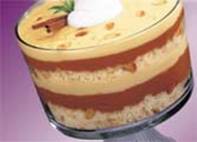 Pumpkin Pie Trifle
Servings: 8-12

Comments:
This Pumpkin Pie Trifle is so delicious. A favorite among guest's to Diana's Desserts website. Your family and guests will definitely ask for a second helping of this luscious dessert. It will become a Thanksgiving favorite, and the recipe is one you will want to pass down to your children and grandchildren.

Ingredients:
1 package (4-serving size) instant vanilla pudding mix
1 tsp. ground cinnamon
1/2 tsp. ground ginger
1/4 tsp. ground cloves
dash of ground nutmeg
1 3/4 cups milk
1 (15 oz.) can 100% pumpkin (Not pumpkin pie filling)
8 oz. whipped cream cheese, at room temperature
8 oz. container frozen non-dairy dessert topping, thawed
1 1/2 tsp. grated orange rind
1 (3 oz.) package ladyfingers (24 ladyfingers)
1/3 cup sliced almonds, or coarsely chopped pecans, toasted* (See To Toast Pecans below)
Frozen non-dairy dessert topping (thawed) or whipped cream

You will need:
One large glass trifle bowl, or other large clear deep glass bowl.

Instructions:
Whisk pudding mix, spices and milk until smooth and thickened; whisk in pumpkin. Set aside.

In another bowl, stir cream cheese, half the whipped topping and orange rind until blended, then fold in remaining whipped topping; set aside.

Arrange 12 split ladyfingers in bottom of 3-quart bowl or trifle bowl. Carefully spread with half the pumpkin mixture, then half the whipped mixture. Repeat all layers, using the remaining 12 split ladyfingers.

Scatter toasted pecans or sliced almonds over top, and spoon or pipe whipped topping or whipped cream on top of trifle. Cover and chill at least 3 hours. Serve cold, in dessert cups or bowls.

*To Toast Pecans:
Spread pecans on baking sheet; bake at 350 F (180 C) for 8-10 minutes just until cut edges are tinged with brown.

Makes 8-12 servings.

Note:
Trifle bowls may be purchased online at Cooking.com, or Amazon.com. Click on either of their banners on Diana's Desserts website to search their online stores for trifle bowls.

Tip:
If desired, 1 3/4 to 2 teaspoons Pumpkin Pie Spice may be substituted for the ground cinnamon, ground ginger, ground cloves, and the ground nutmeg in this recipe.

Source: DianasDesserts.com

Click here to view recipe and photo of Pumpkin Pie Trifle on Diana's Desserts Website

---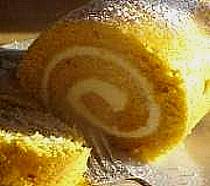 Cream Cheese Filled Pumpkin Roll
Servings: 12

Comments:
This scrumptious dessert is one that everyone really seems to enjoy on a special holiday such as Thanksgiving, a wonderful pumpkin flavored cake, filled with cream cheese, then rolled up and topped with a light dusting of confectioners' sugar.

Ingredients:
1 1/2 cups granulated sugar
4 large eggs
1 cup canned 100% pumpkin
1 cup PLUS 2 tbsp. all-purpose flour
1 1/2 tsp. baking soda
1/2 tsp. salt

Confectioners' sugar, for garnish

Instructions:
Beat the first three ingredients together for three minutes, add the next three ingredients. Mix well, spread in a jelly roll pan or cookie sheet with sides greased and pan lined with wax paper. Bake at 375 degrees F (190 C) for 13-15 minutes. Let cool for 1 minute.

Sprinkle dampened tea towel (smooth cotton or linen tea towel, not terrycloth) with confectioners' sugar, invert cake onto top of sugar sprinkled tea towel and peel off wax or parchment paper and roll up. Let cool in refrigerator.

For Filling:
1 cup confectioners' sugar
1 tsp. vanilla extract
2 tbsp. unsalted butter or margarine, softened at room temperature
1 (8 oz.) package cream cheese, softened

Garnish:
Confectioners' sugar

Beat all filling ingredients together and mix well. Unroll cooled cake. Spread with filling. Roll back up and refrigerate.

Before serving, bring pumpkin roll to room temperature and dust lightly with confectioners' sugar. Cut into 1 to 1 1/2-inch slices for serving.

Makes 12 servings.

Source: DianasDesserts.com

Click here to view recipe and photo of Cream Cheese Filled Pumpkin Roll on Diana's Desserts Website

---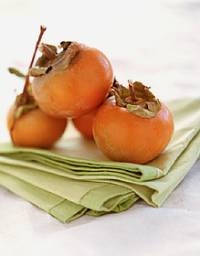 Food Tips and Information Section
Persimmons
The persimmon, with its beautiful, brilliant orange-red glossy skin, arrives in markets just as summer is ending. Nevertheless, it hasn't become as popular in the United States as it has in Japan, where the fruit is widely cultivated and as eagerly consumed as oranges are in the West. Though there are native persimmon trees in the United States, the varieties that Americans eat were brought here from Japan in the late 19th century (and are now grown mainly in California). Persimmons are well worth trying not only for their exceptional flavor but also for their beta-carotene; they also have some vitamin C and potassium.

There are two types of persimmons: astringent and nonastringent. As novice persimmon eaters often belatedly discover, the astringent persimmon has two personalities. When ripe, it possesses a rich, sweet, spicy flavor. The unripened fruit, however, tastes so bitter that biting into it causes the mouth to pucker. The astringency is due to the presence of tannins, a group of chemicals that occur in tea, red wine, and in a few other fruits, such as peaches and dates, before they ripen--though the quantity in a persimmon is much greater. As the fruit ripens and softens, the tannins become inert and the astringency disappears.

Varieties

Of the hundreds of varieties cultivated in the United States, there are only two of commercial importance.

Hachiya Persimmons
Hachiya, which makes up about 90% of the commercial crop, is an acorn-shaped persimmon that is astringent until it's soft-ripe.

Fuyu Persimmons
Fuyu, which is popular in Japan and becoming increasingly available in the United States, is a smaller, flatter, nonastringent variety that can be eaten while still firm. It has the same bright orange color as the hachiya, but it is squatter and rounder, and does not have the hachiya's distinctive acorn point on the blossom end.

Availability

Persimmons are available in September and peak during November and December. Some markets also carry dried persimmons year round.

Shopping

Persimmons are usually tucked into individual egg "nests," rather like egg cartons, for shipping and store display; the fruits are very susceptible to bruising and won't survive careless handling. Persimmons reach their full color while still hard, and they are harvested and shipped in this hard, pre-ripe state. Look for deeply colored fruits, which should be reddish rather than yellowish. Choose persimmons that are glossy, well-rounded, and free of cracks or bruises, with their leaf-like sepals still green and firmly attached.

Though persimmons are shipped unripe, your grocer may have some ripe ones to offer. Buy ripe fruits, if you can find them, to eat immediately, and plan to ripen firmer ones at home for later use. Ripe Hachiya persimmons should be completely soft--their thin skins virtually bursting with jellylike, juicy flesh. (In this state of ripeness, they have been compared to water balloons.) Fuyu persimmons, by contrast, are crisp.

Storage

For good eating, a very firm Fuyu persimmon may need to be put aside for just a day or two. An unripe Hachiya, packed with mouth-puckering tannins, will probably need more time to soften and lose its astringency. There is still some controversy as to the best way to ripen these fruits. You can leave persimmons at room temperature in a paper bag along with an apple, which will produce additional ethylene gas (to hasten the ripening), and turn the fruit occasionally for even ripening. For Hachiya persimmons, however, the process may take a number of weeks.

Another approach for Hachiya persimmons--a modified version of a technique Japanese shippers use--incorporates two ripening principles: When the oxygen supply is diminished, it causes the persimmons to produce aldehydes (which counteract the astringency of the tannins). And, when persimmons are exposed to alcohol, it encourages the fruits to produce their own ethylene gas. The kitchen adaptation of this technique is quite simple: Stand the fruits in a plastic food-storage container, place a few drops of liquor (brandy or rum, for instance) on each of the leaflike sepals, then cover the container tightly. Fruit treated in this manner may ripen in less than a week. (Note: As the fruits lose their astringency, they will also soften considerably, so don't expect to be able to slice them.)

Freezing is sometimes recommended as an overnight ripening method for persimmons, but this method merely softens the fruit and does not diminish the astringency of an unripe Hachiya persimmon.

Ripe persimmons should be placed in a plastic bag, stored in the refrigerator, and used quickly.

If you'd like to cook with persimmons year round, pack the pureed fruit (mixed with a little lemon juice) into small containers and freeze for up to six months.

Preparation

You can wash a Fuyu persimmon and eat it like an apple, either whole or cut into slices or wedges. They are easy to peel with a paring knife. Pull off the sepals before serving, or cut off the stem end with a cone-shaped "core" of flesh. The thicker-skinned Hachiya can be messy to bite into, and is easier to handle if halved lengthwise and eaten from the skin with a spoon. Some Hachiya persimmons contain a few seeds, which are easily removed.

To scoop out Hachiya persimmons for mashing or pureeing, halve the fruit and scoop out the pulp with a spoon, discarding the stem, skin, and seeds, if any.

Source: WholeHealthMD at: http://www.wholehealthmd.com/refshelf/foods_view/0,1523,63,00.html

---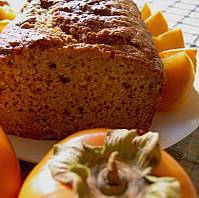 Recipe
Spiced Persimmon Bread
Makes 1 (9 x 5-inch) loaf

Comments:
Persimmons are no different from any other fruit in the sense that before their peak of ripeness, they can be bitter and astringent. However, once ripe and soft to the touch, they explode with a sweet, sugary flavor. They are perfect for jams, jellies, cookies, cakes, puddings and breads.

Ingredients:
2 cups all-purpose flour
1/2 teaspoon ground cinnamon
1/8 teaspoon ground cloves
1/8 teaspoon ground nutmeg
1/8 teaspoon ground ginger
1 1/2 teaspoons baking powder
1/2 teaspoon baking soda
2 eggs
6 tablespoons (3/4 stick/3 oz/85g) unsalted butter
1/4 cup buttermilk
1 teaspoon lemon juice
1 1/2 cups mashed Hachiya persimmons
1/2 cup granulated sugar
1/4 teaspoon salt
1 cup chopped pecans or walnuts (optional)
Confectioner's sugar, for dusting top (optional)

Instructions:
Preheat oven to 350 degrees F (180 C). Grease and flour a 9 x 5-inch loaf pan. Line pan with parchment paper if desired and grease parchment paper also.

In a mixing bowl, sift together the flour, ground cinnamon, ground cloves, ground nutmeg, ground ginger, baking poder and baking soda. Set aside.

In the bowl of an electric mixer, food processor or blender add eggs, butter, buttermilk, lemon juice, mashed persimmons, sugar and salt. Mix or blend until smooth. Slowly add reserved flour mixture and mix until well incorporated. By hand, fold in nuts (if using).

Pour batter into prepared loaf pan and bake in preheated oven for 75 to 85 minutes, or until toothpick inserted into the center of bread comes out clean.

Transfer to wire rack and let cool in pan for 10 minutes before turning out onto rack to cool completely. Once cooled, dust top with confectioners' sugar if desired.

Makes 1 (9 x 5-inch) loaf, 8 to 10 servings.

Source: DianasDesserts.com

Click here to view recipe and photo of Spiced Persimmon Bread on Diana's Desserts Website

---
Until Next Month
Well, that's it for this Thanksgiving edition of Diana's Desserts Newsletter. I wish all of you who celebrate Thanksgiving, a wonderful and happy time. Enjoy spending time with your family and friends and please let me know how your desserts turned out.

December is a very special month for joyous holidays. This year three very important holidays are celebrated in December, Hanukkah, Christmas and Kwanza. I will focus my December's Diana's Desserts Newsletter on desserts and other goodies for these very happy and festive holidays.

If you would like to submit one or more of your favorite holiday dessert recipes to Diana's Desserts Website, please go to the Submit a Recipe page on my website, otherwise you can click on the link below to bring you to the Submit a Recipe page:

Click here to Submit a Recipe

Happy Thanksgiving and have a wonderful month.

Sincerely, Diana