Diana's Desserts - www.dianasdesserts.com
Homemade Marshmallows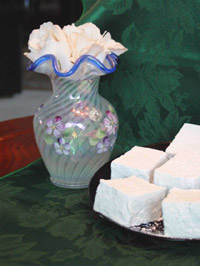 Photo by Diana Baker Woodall
by Sally Bernstein
This article first appeared in Sally's Place at http://www.sallys-place.com.
I think it all started when my Mother gave me Hostess Snoballs in my lunch box in elementary school. Those white fluffy treats were so appealing to me. For those of you who were deprived, Snoballs are round coconut and marshmallow covered chocolate cakes with a creamy filling. And what fun to find that gooey center inside! Or was it the marshmallows that made up S'Mores that we ate as we sat around the campfire after dark at my Girl Scout campouts? The combination of graham crackers, pieces of Hershey's milk chocolate and marshmallows melted together made for a gooey and yummy mess.
Whatever the reason, I became a marshmallow fan early on and continue so to this day. For years I have purchased marshmallows in the grocery store, either the regular size (about 1 inches in diameter) or the miniatures (1/2 inch in diameter). I used them in salads, cakes, hot chocolate, atop sweet potatoes at Thanksgiving and, of course, to roast over an open fire.
What a revelation I had when I walked into a Whole Foods Market about a year ago to find store made marshmallows. They were not of uniform shape and were sold by the pound at about $5.50 per pound. They smelled sweet and were fluffier than the "Kraft" variety I had bought for so many years. I was hooked!
Think upscale as Michael Recchiuti Confections is now selling packages of homemade Vanilla Bean Marshmallows. Six marshmallows sell for $4.00 at the Ferry Plaza Farmers' Market or online his 8.5 oz. bag of 20-24 count is $16.00.
So I decided to make my own. If they can do it, why can't I? But first I had a bit of research to do. The Oxford Companion to Food told me that marshmallow is the name of both a plant and a confection. This common plant of both Europe and Asia has edible leaves but the chief use of the plant lies in its roots. The roots yield a mucilaginous substance which is the traditional basis for the sweet confection known as marshmallow but has now been almost entirely replaced by Gum Arabic.
My next step was to seek out a pastry chef who actually made marshmallows. She used sheets of gelatin as the thickener (in lieu of Gum Arabic) and the whole process took about 3 hours.
I then went to the Internet and found this recipe online. It is from the French Laundry in Yountville so I knew it had to be good:
3 envelopes of Knox gelatin
1/2 cup cold water
2 cups granulated sugar
2/3 cups corn syrup
1/4 cup water
1/4 teaspoon salt
1 tablespoon vanilla extract

In the bowl of an electric mixer, sprinkle gelatin over 1/2 cup cold water. Soak for 10 minutes. Combine sugar, corn syrup, and 1/4 cup water in a small saucepan. Bring to a boil and boil hard for 1 minute. Pour boiling syrup into gelatin and mix at high speed. Add the salt and beat for 12 minutes. Add vanilla and incorporate into mixture. Scrape into a 9 x 9-inch pan lined with oiled plastic wrap and spread evenly. (Note: Lightly oil hands and spatula or bowl scraper). After pouring marshmallow mixture into the pan, take another piece of plastic wrap and press mixture into the pan.
Let mixture sit for a few hours. Remove from pan, dredge the marshmallow slab with confectioners' sugar and cut into 12 equal pieces with scissors (the best tool for the job) or a chef's knife. Dredge each piece of marshmallow in confectioners' sugar.
This holiday season, save some time to make your own marshmallows. It will be a good gift to give yourself!
This article first appeared in Sally's Place at http://www.sallys-place.com.