Diana's Desserts - www.dianasdesserts.com
See more recipes in
Cupcakes
Mini Brownie Cupcakes
in Diana's Recipe Book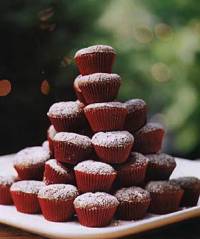 Average Rating:
(total ratings: 13)
[Read reviews]
[Post a review]
Servings: Makes 72 miniature cupcakes
Ingredients:

Vegetable-oil cooking spray
2 cups (4 sticks/16 oz/453g) unsalted butter, cut into pieces
8 oz. unsweetened chocolate, chopped
1 3/4 cups all-purpose flour
1/2 cup unsweetened cocoa powder (preferably Dutch-process)
1/2 teaspoon salt
3 3/4 cups granulated sugar
8 large eggs
Confectioners' sugar (optional)

Special equipment:
Mini-muffin tins and about 72 (1-inch by 1-inch) waxed mini cupcake or mini muffin liners


Instructions:
Preheat oven to 350°F (180° C) and line mini-muffin tins with cupcake liners. Spray liners with cooking spray.

Melt butter and chocolate in a 4-quart heavy pot over moderately low heat, stirring until smooth. Whisk together flour, cocoa, and salt. Remove pan from heat and whisk in granulated sugar. Add eggs, 1 at a time, whisking after each addition until incorporated, and stir in flour mixture just until blended.

Spoon batter into muffin liners, filling cups to top, and bake in middle of oven 25 to 30 minutes, or until a tester comes out with crumbs adhering. Cool 5 minutes in tins and turn out onto racks. Repeat with remaining batter.

Dust with confectioners' sugar if desired.

Note:
Cupcakes may be made 2 days ahead and kept in an airtight container at room temperature.

Makes about 72 mini-cupcakes.
Source: Gourmet Magazine-December 1999
Date: Februaruy 21, 2003
Reviews
Reviewer:
Amy
Rating:
Review:
My whole family loved them!
Reviewer:
Rozlyn
Rating:
Review:
My kids love them so much, thanks!
Reviewer:
Heidi
Rating:
Review:
These were fantastic! Very rich and very dense but just the right amount of chocolate.
Reviewer:
Ditta
Rating:
Review:
Great!!! We all loved them! I made them in a normal size, but they were just amazing! Thanks!
Reviewer:
Susan
Rating:
Review:
they were extreamly yummifull !
Reviewer:
Asma Amin
Rating:
Review:
Hmmm, they were yummy but mine just rose and then settled down. can you tell me why this is, and they were very sweet to my taste. i'll definetely make them again but will use less sugar, but i can say that they were hmmm yummy.
Reviewer:
Heather Peskin
Rating:
Review:
I made these for a fairly large group at a coffee hour. They went down very well indeed - easy to handle on small paper plates and absolutely delicious. The quantity of 72 is just right too - it took four 15 min. baking sessions but was well worth it.
Reviewer:
jasmine
Rating:
Review:
these are scrumpdiddlyumptious!!
Reviewer:
Kathryn
Rating:
Review:
I halved the recipe and got 36, I baked 24 in mini muffin cases and the rest in greased pans. Some of the ones in the plain tin stuck. Would def make again they are gorgeous!
Reviewer:
Cindy
Rating:
Review:
This was just such an amazing treat for my family!!! it was so tasty... i used the 85% lindt dark chocolate and WOW!!! They tasted like they came straight out of an expensive resturant... this is a keeper.
Reviewer:
Tara
Rating:
Review:
Has anyone tried this recipe with a peanut butter cup inserted? If so, how much batter did you use and how long did you bake?
Reviewer:
Cathy Schnugg
Rating:
Review:
I made these before for a party of 50 and promised 150 for my nephew's engagement party. Make sure the toothpick comes out completely clean from the very bottom, especially if baking several at a time.
Reviewer:
sylnie koh
Rating: