EDITION NUMBER 55

The Holidays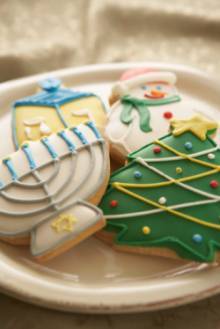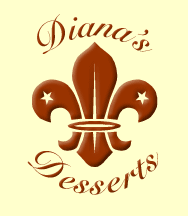 December 6, 2009

Welcome Home Bakers and Friends,

Happy Holidays to all of you from myself, my husband Kenny and our 4 sweet doggies Clancy, Rosie, Buster and Tinkerbell. We want to wish you a joyous and peaceful holiday season with many fond memories and happy times and also great foods to enjoy.

We are coming up on Hanukkah, Christmas, Kwanzaa and New Year's and it's certainly the time of year for making some of your favorite sweets. I am including some of my favorite recipes in this holiday newsletter for all of you to enjoy. Hope you like them and that maybe you'll try one or two of them with your festive holiday meals.

Thanksgiving was spent enjoying the company of my cousin Robert and his wife Teri, and my other close relatives including my sister Barbara, my Aunt Lois (my mother's sister), and her children, grand children great grand children. We had a really nice time, and luckily we didn't have to drive far, just to the town of Petaluma, California which is only about a 15 minute drive from our house. The company was great and the food was delicious.

On December 13, we will be having a family Hanukkah and Christmas get-together at our home serving a buffet style meal, appetizers, and scrumptious desserts. This will be the first time my brother's (he passed away 2 1/2 years ago) family will visit with us at our home, and we are really looking forward to it. We'll also be having my aunt (my mother's sister), my cousins, their husbands, wives, their children and even some grand children of my aunt's over too. We are anxiously awaiting this day as it's something we've never done before, but it should be fun and very festive. Wish us luck with the food and all.

We will be spending a quiet Hanukkah and Christmas at home, sitting by the fire, watching holiday movies on TV, enjoying our Christmas Tree, and just relaxing. The same for New Year's Eve and New Year's Day. We like to spend these holidays at home where it's warm and cozy, and QUIET!

By the way, for those of you who have kept up on my weight loss and health issues, all is going well in that area of my life. I have maintained my weight loss for over a year now (it's tough, but I realize it's a lifetime commitment), and also I just celebrated my 1 year Weight Watcher's Lifetime Membership. Very exciting! Thank you for your kind words of support. It's meant the world to me.

Again, Happy Holidays to you and your families. Enjoy the recipes!

---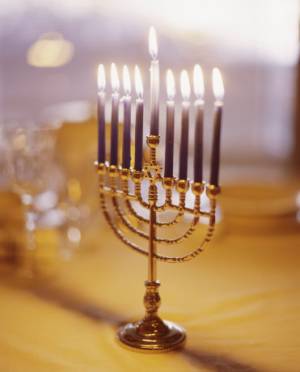 Hanukkah
This year Hanukkah begins at sundown on December 11th. It will last for 8 days.

Every year, usually in mid- to late-December on the Western calendar, Kislev 25 on the Hebrew calendar, Jews around the world celebrate the holiday of Hanukkah. Also known as the Festival of Lights, the holiday remembers one particular instance of triumph over religious persecution, when the Jews were able to escape oppression at the hands of Antiochus, a Syrian king.

To people who aren't Jewish, Hanukkah is often the most well-known of the Jewish holidays. Hanukkah does not have as much religious importance as the Jewish High Holidays -- Rosh Hashanah and Yom Kippur -- but it is one of the most entertaining holidays on the Jewish calendar for adults and children alike. Below, you'll learn the basics of the Hanukkah celebration.

What is Hanukkah?
Hanukkah is an eight-night celebration. The Hanukkah celebration includes lighting the candles of the Hanukiyah (in English-speaking countries this is often called a Menorah, which is the Hebrew word for a candelabra) on each day of the holiday, playing with the dreidel, eating latkes and exchanging Hanukkah gelt.

The holiday of Hanukkah is spelled several different ways in English, including "Hanukah," "Hanukkah," "Chanukkah," and "Chanukah."

Like another famous winter-time holiday, Christmas, Hanukkah is about history. The celebration of Hanukkah is a commemoration of an event that happened more than 2,000 years ago.

In 167 B.C., the Syrian king Antiochus IV began to outlaw Jewish religious practices and forced Jews to adopt Greek rituals. His men took control of the Jews' Holy Temple in Jerusalem, looted it and erected an idol of a Greek god there. One Jewish family, the Hasmoneans (led by Mattityahu and his five sons), decided to take a stand against the persecution. The Greek forces arrived in the town of Modiin, near Jerusalem. It was here that after refusing to violate his own religion by praying to the Greek god Zeus, Mattityahu attacked the Greek soldiers.

This action began the Jewish rebellion. Mattityahu and his sons became known as the Maccabees, which means "men who are as strong as hammers" in Hebrew. The small army, led by Mattityahu's most famous son, Judah Maccabee, fought sizeable Greek forces. In 165 B.C., the Maccabees were triumphant. On the 25th of the Hebrew month Kislev, the Maccabees reclaimed the Holy Temple.

They decided to rededicate the temple -- the word "Hanukkah" means dedication. The Jewish army was unable to find enough oil to light the Menorah, or candle holder, to be used in the service. The Maccabees found only one bottle of oil, enough for only a single night. Miraculously, the oil lasted eight nights, giving the Jews time to produce more oil.

The holiday of Hanukkah commemorates this miracle. By lighting candles for eight nights, beginning every year on the 25th of Kislev (usually in December on the Western calendar, but not always), Jews celebrate the triumph of the Maccabees, the rededication of the Holy Temple and the miracle of the oil lasting for eight days. This year (2009), Hanukkah begins at Sundown on December 11.

The Hanukiyah (or the Menorah)
There are a variety of traditions and practices surrounding the celebration of Hanukkah.

The most important, and most recognized, Hanukkah tradition is the lighting of the candelabra, known as the Hanukiyah (or the Menorah). The Hanukiyah holds nine candles, eight representing the eight nights of the holiday plus the Shamash -- this candle is used to light the other candles. The first candle is lit on Erev Hanukkah, the night before the holiday starts.

One inserts the candles into the Hanukiyah from right to left, one candle for each day of the Hanukkah miracle (for instance, on the second day of Hanukkah, there are two regular candles and a Shamash candle in the Hanukiyah). Blessings are said while someone lights the candles from left to right. According to tradition, the left-most candle represents the most recent day of the miracle, and one lights this candle first because he is most thankful that the oil lasted yet another day. As each day passes, the Hanukiyah becomes brighter and brighter.

These are the blessings for the lighting of the Hanukiyah:


Blessing for the candles:

Ba-ruch ata, A-do-nai E-lo-hei-nu, me-lech ha-o-lam, a-sher ki-de-sha-nu be-mits-vo tav, ve-tsi-va-nu le-had-lik neir shel Chan-nu-kah.
Blessed are you, Lord, our God, king of the universe, who has sanctified us with His commandments and commanded us to light the candles of Hanukkah.
Blessing for Hanukkah:

Ba-ruch ata, A-do-nai E-lo-hei-nu, me-lech ha-o-lam, she-a-sa ni-sim la-vo-tei-nu ba-ya-mim ha-heim ba-ze-man ha-zeh.
Blessed are you, Lord, our God, king of the universe, who performed miracles for our ancestors in those days at this time.
The Shehechyanu (This is only said the first night.)

Ba-ruch ata, A-do-nai E-lo-hei-nu, me-lech ha-o-lam, she-he-chya-nu ve-ki-ya-ma-nu ve-hi-gi-a-nu laz-man-ha-zeh.
Blessed are you, Lord, our God, king of the universe, who has kept us alive, sustained us, and enabled us to reach this season.
The Dreidel
The dreidel is a four-sided spinning top with a Hebrew letter on each side. The dreidel game was played during time of Antiochus, before the Jewish revolt. Because Jews could be killed for practicing their religion, when they gathered to study the Torah, or holy scripture, they would have a dreidel handy. If they were discovered by Greek soldiers, they could pretend to be playing with it.

The game is usually played with each player receiving a number of coins or candy. Before spinning the dreidel, each player puts money in the pot, or kupah. On each side of the dreidel is a Hebrew letter: nun, gimmel, hey or shin. Each player spins the dreidel and sees what letter is facing up when it falls. Each letter represents a different outcome, from winning nothing to taking the whole kupah.

Hanukkah Gelt
The word gelt means "money" in Yiddish. On Hanukkah, there is a tradition of giving real or chocolate coins as presents to children. Most likely because Hanukkah falls near Christmas, giving gelt has evolved into giving and receiving other presents on each of the eight nights of Hanukkah.

Hanukkah Facts
In ancient times, olive oil was used in Hanukkah menorahs. The menorah we see today resembles the one from the Holy Temple and began to appear during the Middle Ages. Menorahs can come in many shapes and sizes. The only requirement is that the flames are separate from each other. In Israel, a dreidel is called a sivivon. The Yiddish word dreidel comes from the German word drehen, which means "turn."

Hanukkah Foods
Latkes
Commemorating the miracle of the oil that lasted for eight nights, Hanukkah foods are usually fried in oil. Latkes are the most notable example of these fried foods. Latkes are potato pancakes found in many Jewish homes during Hanukkah. They are made by frying small pancakes of grated potatoes held together by eggs and/or milk. They are usually eaten with apple sauce or sour cream.

Sufganiyot
In Israel, the custom is to serve sufganiyot, jelly doughnuts fried in oil, on Hanukkah. There, you can buy them on almost any street corner. They are very similar to the jelly doughnuts we know in America. They are filled with jam and covered with powdered sugar. Sufganiyot are a reminder of the cakes hurriedly prepared for the Maccabees as they went into battle.

In our day and age, Hanukkah has taken on some additional meaning because it is so near to Christmas. Nowadays, people often shop for Hanukkah gifts like they do for Christmas gifts, and the Hanukiyah (Menora) has become a recognized symbol of the holiday season.

The Festival of Lights is a time for Jewish families to rejoice, play games, give gifts and light the candles. It commemorates a triumph over religious persecution and the importance of a 2,000-year-old miracle.

Source: www.howstuffworks.com

---
Miniature Jam-Filled Sufganiyot
Servings: Makes 42 mini sufganyiots

Comments:
During Hanukkah in some Israeli communities, vendors sell sufganiyot by the basketful. This is recipe for mini sufganiyots. Try this recipe for yourself, I think you'll like them, and the kids will love the miniature size.

Ingredients:
3 1/4 to 3 1/2 cups all-purpose flour
2 packages active dry yeast
1/2 teaspoon ground cinnamon
1 cup water
1/3 cup granulated sugar
2 tablespoons cooking oil
1/2 teaspoon salt
1 egg
1/2 teaspoon vanilla extract
1/4 cup strawberry jam (or any other type of jam or preserves)
Cooking oil, for deep frying
Sifted confectioners' sugar

Instructions:
1. In a large mixing bowl stir together 1 1/4 cups of the flour, the yeast, and cinnamon; set aside.

2. In a medium saucepan heat and stir water, sugar, cooking oil, and salt just until warm (120 degrees F to 130 degrees F). Add oil mixture to flour mixture; add egg and vanilla. Beat with an electric mixer on low to medium speed for 30 seconds, scraping the sides of the bowl constantly. Beat on high speed for 3 minutes. Using a wooden spoon, stir in as much of the remaining flour as you can.

3. Turn dough out onto a lightly floured surface. Knead in enough of the remaining flour to make a moderately soft dough that is smooth and elastic (3 to 5 minutes total). Shape dough into a ball. Place in a lightly greased bowl, turning once to grease the surface of the dough. Cover and let rise in a warm place until double in size (about 1 hour).

4. Punch dough down. Turn dough out onto a lightly floured surface. Divide in half. Cover and let rise for 10 minutes.

5. Roll dough, 1 portion at a time, to 1/4-inch thickness. Cut dough with a floured 1 1/2-inch biscuit cutter, dipping cutter into flour between cuts. Place about 1/4 teaspoon jam onto the centers of half of the circles. Lightly moisten edges of circles; top with remaining circles. Press edges together to seal. Repeat with remaining dough and fillings. Re-roll and cut trimmings.

6. Fry filled doughnuts, 3 or 4 at a time, in deep hot oil (365 degrees F) about 1 minute on each side or until golden, turning once with a slotted spoon. Remove from oil; drain on paper towels. Sprinkle with confectioners' sugar. Cool on wire racks.

Makes about 42 mini-sufganyiot.

Source: DianasDesserts.com

---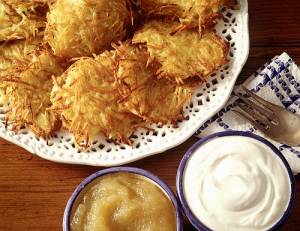 Potato Latkes with Applesauce and Sour Cream
Servings: Makes 16 latkes

Ingredients:
2 pounds Idaho potatoes (or similar type potatoes)
1/2 cup matzo meal
4 eggs, lightly beaten
Salt and freshly ground pepper, to taste
Vegetable oil, for frying
Applesauce and Sour Cream, for serving

Instructions:
1). Fit work bowl of food processor with grating disk. Cut potatoes into pieces to fit feed tube; grate potatoes, using medium pressure. Remove to colander, squeeze dry, and place in mixing bowl.

2). Add matzo meal and eggs, and stir to combine. Add salt and pepper. Mixture should be firm but moist.

3). Heat 1/4 inch vegetable oil in skillet until very hot. Form some potato mixture into patties and add to hot oil. The size of the patties really doesn't matter. Cook as many as will fit in the pan in one layer at a time.

4). When latkes are golden on bottom, turn them over and brown other side. Remove to paper towels and keep warm in a 200 degree F oven (set at lowest temperature in a Celsius oven) while you cook the rest. Serve hot with applesauce or sour cream.

Makes approximately 16 latkes.

Source: Recipe adapted from The Hadassah Jewish Holiday Cookbook
Recipe by Florence Barkan and Susan Grodnick, Roslyn Heights Hadassah, New York

---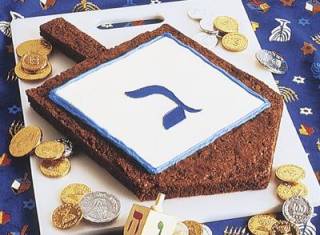 Dreidel Brownies
Servings: Makes 3 dozen brownies

Ingredients:
1 cup (2 sticks/4 oz./113g) butter or margarine
2 cups granulated sugar
2 teaspoons vanilla extract
4 eggs
3/4 cup Dutch process chocolate cocoa
1 cup all-purpose flour
1/2 teaspoon baking powder
1/4 teaspoon salt
1-2/3 cups white chocolate chips, divided
1 tablespoon shortening (not butter, margarine, spread or oil)
1 tube (4.25 oz.) royal blue decorating icing (optional)

Instructions:
1. Preheat oven to 350°F (180°C). Line a 13 x 9 x 2-inch baking pan completely with foil, leaving extra on sides for handles.

2. Place butter in large microwave-safe bowl. Microwave at HIGH (100%) 2 to 2-1/2 minutes or until melted. Stir in sugar and vanilla. Add eggs, one at a time, beating well with spoon after each addition. Add cocoa; beat until well blended. Add flour, baking powder and salt; beat well. Pour batter into prepared pan.

3. Bake in preheated oven for 30 to 35 minutes or just until brownies begins to pull away from sides of pan. Cool completely in pan on wire rack. Invert brownie onto serving tray; peel off foil.

4. Shape into Dreidel:
About 3-inches from bottom of each long side, cut triangular pieces to bottom center, forming point of dreidel. Cut about 1-inch from top edge; cut in half and attach 1 piece as handle.

5. Place 1 cup white chips and shortening in small microwave-safe bowl. Microwave at HIGH 1 minute; stir until mixture is melted and smooth when stirred. Spread on dreidel, about 1-inch from top and 2 sides, forming 7-inch square. Decorate with remaining white chips and decorating icing, if desired. Cut into bars.

Makes about 3 dozen brownies.

Source: Hershey's Chocolate

---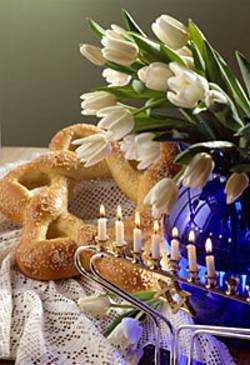 Star Braided Challah for Hanukkah
Servings: Makes 1 loaf, 20 servings

Comments:
What a fun challah to make for Hanukkah; the star shape is very attractive, and your kids will love to help you shape the bread.

This recipe gives you the option of using either margarine or butter. If serving a kosher meal, use kosher margarine instead of butter.

Ingredients:
2 packages (1/2 oz./4 1/2 tsp./14g total) active dry yeast
2 tablespoons brown sugar
Pinch ground saffron
6 to 7 cups all-purpose flour
2 eggs
1/3 cup kosher margarine, softened (butter may be substituted, if not serving a kosher meal)
1 1/2 teaspoons salt
1 egg yolk
1 teaspoon sesame seeds
1 1/2 cups warm water (105 degrees F to 115 degrees F)
2 egg whites

Instructions:
1. Dissolve yeast and sugar in 1/2 cup of the warm water. Let stand until bubbly. Combine saffron and remaining 1 cup water; add to yeast. Stir in 2 1/2 cups of the flour, 2 whole eggs, 2 egg whites, margarine (or butter, if using), and salt. Beat with an electric mixer on low speed for 30 seconds; beat on high speed 3 minutes. Stir in as much of the remaining flour as you can. Turn dough out onto lightly floured surface. Knead in enough of the remaining flour to make moderately soft dough (3 to 5 minutes). Place in greased bowl. Cover; let rise in a warm place until nearly double (about 1 hour). Punch dough down. Cover; let rest 10 minutes.

2. Divide dough in half. Shape half of the dough into three 18-inch long ropes. On a greased baking sheet, loosely braid (begin in center and work toward ends). Moisten and seal ends.

3. Set aside one-third of remaining dough. Shape the two-thirds portion of dough into three 14-inch long ropes. Braid and seal ends. Moisten top of 18-inch braid. Place 14-inch braid on top. Shape remaining one-third portion of dough into three 12-inch long ropes. Braid and seal ends. Moisten top of 14-inch braid. Place 12-inch braid on top. Cover loosely; let rise until double (about 30 minutes).

4. Combine egg yolk and 1 tablespoon water. Brush on loaf; sprinkle with seeds. Bake in a 375 degree F/190 degree C oven 35 to 40 minutes or until bread sounds hollow when lightly tapped. Cover loosely with foil the last 10 minutes, if necessary, to prevent overbrowning. Cool on rack.

Makes 1 loaf of challah (approximately 20 servings).

Make-Ahead Tip:
Bake and cool bread. Wrap in foil and place in a freezer container or large freezer bag; seal, label and freeze up to 1 month. Thaw 1 hour at room temperature before slicing.

Nutritional Information
Nutritional facts per serving
calories: 171 , total fat: 4g , saturated fat: 1g , cholesterol: 32mg , sodium: 223mg , carbohydrate: 28g , fiber: 1g , protein: 5g , vitamin A: 0% , vitamin C: 0% , calcium: 1% , iron: 10%

Source: Better Homes and Gardens

---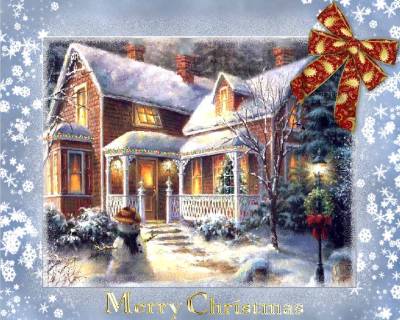 CHRISTMAS
The History of Christmas
Christmas dates back over 4000 years. Many of our Christmas traditions were celebrated centuries before the Christ child was born. The 12 days of Christmas, the bright fires, the yule log, the giving of gifts, carnivals (parades) with floats, carolers who sing while going from house to house, the holiday feasts, and the church processions can all be traced back to the early Mesopotamians.

Many of these traditions began with the Mesopotamian celebration of New Years. The Mesopotamians believed in many gods, and as their chief god - Marduk. Each year as winter arrived it was believed that Marduk would do battle with the monsters of chaos. To assist Marduk in his struggle the Mesopotamians held a festival for the New Year. This was Zagmuk, the New Year's festival that lasted for 12 days.

The Mesopotamian king would return to the temple of Marduk and swear his faithfulness to the god. The traditions called for the king to die at the end of the year and to return with Marduk to battle at his side.

To spare their king, the Mesopotamians used the idea of a "mock" king. A criminal was chosen and dressed in royal clothes. He was given all the respect and privileges of a real king. At the end of the celebration the "mock" king was stripped of the royal clothes and slain, sparing the life of the real king.

The Persians and the Babylonians celebrated a similar festival called the Sacaea. Part of that celebration included the exchanging of places, the slaves would become the masters and the masters were to obey.

Early Europeans believed in evil spirits, witches, ghosts and trolls. As the Winter Solstice approached, with its long cold nights and short days, many people feared the sun would not return. Special rituals and celebrations were held to welcome back the sun.

In Scandinavia during the winter months the sun would disappear for many days. After thirty-five days scouts would be sent to the mountain tops to look for the return of the sun. When the first light was seen the scouts would return with the good news. A great festival would be held, called the Yuletide, and a special feast would be served around a fire burning with the Yule log. Great bonfires would also be lit to celebrate the return of the sun. In some areas people would tie apples to branches of trees to remind themselves that spring and summer would return.

The ancient Greeks held a festival similar to that of the Zagmuk/Sacaea festivals to assist their god Kronos who would battle the god Zeus and his Titans.

The Roman's celebrated their god Saturn. Their festival was called Saturnalia which began the middle of December and ended January 1st. With cries of "Jo Saturnalia!" the celebration would include masquerades in the streets, big festive meals, visiting friends, and the exchange of good-luck gifts called Strenae (lucky fruits).

The Romans decked their halls with garlands of laurel and green trees lit with candles. Again the masters and slaves would exchange places

"Jo Saturnalia!" was a fun and festive time for the Romans, but the Christians though it an abomination to honor the pagan god. The early Christians wanted to keep the birthday of their Christ child a solemn and religious holiday, not one of cheer and merriment as was the pagan Saturnalia.

But as Christianity spread they were alarmed by the continuing celebration of pagan customs and Saturnalia among their converts. At first the Church forbid this kind of celebration. But it was to no avail. Eventually it was decided that the celebration would be tamed and made into a celebration fit for the Christian Son of God.

Some legends claim that the Christian "Christmas" celebration was invented to compete against the pagan celebrations of December. The 25th was not only sacred to the Romans but also the Persians whose religion Mithraism was one of Christianity's main rivals at that time. The Church eventually was successful in taking the merriment, lights, and gifts from the Saturanilia festival and bringing them to the celebration of Christmas.

The exact day of the Christ child's birth has never been pinpointed. Traditions say that it has been celebrated since the year 98 AD. In 137 AD the Bishop of Rome ordered the birthday of the Christ Child celebrated as a solemn feast. In 350 AD another Bishop of Rome, Julius I, choose December 25th as the observance of Christmas.

SOURCE: HOLIDAYS ON THE NET

---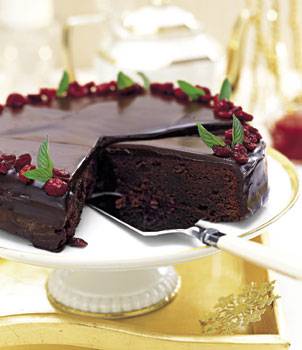 Chocolate Cranberry Torte
Servings: 8-10

Ingredients:
Sauce:
1 cup fresh or frozen cranberries
3/4 cup water
1/3 cup granulated sugar
2 tablespoons Chambord (black raspberry liqueur)

Torte:
1 cup dried sweetened cranberries
1/3 cup Chambord (black raspberry liqueur)

1 cup (2 sticks/8 oz/226g) unsalted butter, cut into pieces
12 ounces bittersweet (not unsweetened) or semisweet chocolate, chopped
1 1/2 cups granulated sugar
6 large eggs, at room temperature
2/3 cup all-purpose flour
1/2 teaspoon salt

Glaze:
1 cup whipping cream
10 ounces bittersweet (not unsweetened) or semisweet chocolate, chopped
1/4 cup Chambord (black raspberry liqueur)

Garnish:
Fresh mint leaves

Instructions:
For Sauce:
Bring first 3 ingredients to boil in saucepan over high heat, stirring until sugar dissolves. Reduce heat to medium; cook until cranberries burst, about 5 minutes. Transfer to processor; puree. Strain puree into bowl; discard seeds. Mix in Chambord. Cover; chill at least 2 hours or overnight (sauce will thicken).

For Torte:
Position rack in center of oven and preheat to 350°F (180 C). Butter and flour 9-inch-diameter springform pan. Line bottom with parchment paper. Stir 3/4 cup cranberries and Chambord in small saucepan over medium heat until liqueur simmers, about 1 minute. Cool to room temperature. Drain cranberries; reserve liqueur and cranberries separately.

Melt butter in heavy large saucepan over medium heat, stirring until beginning to bubble at edges. Remove from heat. Add chocolate; let stand 1 minute. Whisk until chocolate is melted and smooth. Whisk in sugar, then eggs 1 at a time (batter will look grainy). Whisk in reserved liqueur. Add flour and salt; whisk gently until blended. Stir in reserved cranberries; transfer to prepared pan.

Bake torte until top is puffed and cracked and tester inserted into center comes out with moist (not wet) batter attached, about 1 hour. Cool completely in pan on rack. (Can be made 1 day ahead. Cover; store at room temperature.)

For Glaze:
Bring cream to simmer in medium saucepan. Remove from heat. Add chocolate; whisk until melted and smooth. Whisk in Chambord. Let stand until glaze is thick but still pourable, whisking occasionally, about 2 hours.

Line rimmed baking sheet with foil; place cake rack in center. Cut around torte to loosen; remove pan sides. Place 8-inch-diameter cardboard round or 8-inch tart pan bottom on top of torte. Holding cardboard and springform pan bottom, turn torte over and place on rack. Remove pan bottom; peel off paper. Pour 1 1/2 cups glaze over torte. Using icing spatula, smooth glaze over top and sides (re-apply any glaze from foil if necessary). Freeze torte until glaze is set, about 10 minutes. Pour remaining 1 cup glaze over torte and smooth evenly. Sprinkle remaining 1/4 cup dried cranberries around top edge. Freeze until glaze is firm, about 15 minutes. (Can be made 1 day ahead. Transfer to platter. Cover with cake dome and chill. Let stand at room temperature 1 hour before serving.)

Arrange fresh mint leaves between cranberries at top edge of torte. Cut into wedges and serve with sauce.

Makes 8 to 10 servings.

Source: Bon Appétit, December 2003

---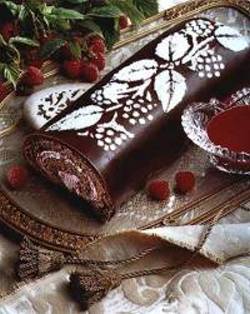 Chocolate Rum Raspberry Cake Roll
Servings: 8-10

Ingredients:
For The Simple Raspberry Sauce:
1 (12) oz. pkg. whole frozen raspberries (about 2 1/2 cups), thawed
4 tablespoons Chambord or other berry liqueur
1/3 cup granulated sugar

For The Cake:
1/2 cup all-purpose flour
1/4 cup cocoa, unsweetened
1 teaspoon baking powder
1/4 teaspoon salt
4 large eggs, separated
1 teaspoon rum flavoring
1 1/2 teaspoons dry instant coffee
3/4 cup granulated sugar, divided

For The Raspberry Mousse Filling:
3 ounces whole frozen raspberries, about 1/2 cup
1 tablespoon granulated sugar
1 teaspoon unflavored gelatin
1 tablespoon water
1 tablespoon raspberry liqueur
3/4 cup whipping cream
2 tablespoons granulated sugar
1/2 teaspoon vanilla extract
1/2 cup seedless raspberry jam
1 tablespoon raspberry liqueur
Fresh raspberries, if available

Easy Chocolate Rum Glaze:
8 oz. semi-sweet chocolate, about 1 1/4 cups
1/4 cup unsalted butter
2 tablespoons light corn syrup
2 1/2 teaspoons rum flavoring


Special Pan:
You will need a 15 x 10 x 1" jelly roll (or swiss roll) pan

Optional:
Oblong Holiday Cake Stencil, to dust top with a holiday decorated confectioners' sugar design.

Instructions:
For Simple Raspberry Sauce:
Puree thawed raspberries in food processor or blender until smooth. Strain to remove seeds. At this point (before liqueur is added), remove 1/4 cup (60 mL) of the puree and reserve for filling. Stir liqueur into remaining puree. Refrigerate until ready to serve. (Best if made 24 hours ahead.)

For Cake Roll:
Preheat oven to 375º F. Prepare baking pan by greasing sides and placing parchment or wax paper in bottom of pan. Stir together dry ingredients except coffee and sugar. Set aside.

Place eggs in a bowl of hot tap water for 3 minutes to bring to room temperature. Separate eggs.

In small narrow bowl, blend together yolks, rum flavoring and coffee granules. Gradually add 1/4 cup sugar and beat on high speed until thick, about 5 minutes. Set aside. Clean beaters well in preparation for next step.

In larger bowl, beat egg whites on medium speed until foamy. Gradually add remaining 1/2 cup sugar and beat on high speed until stiff peaks form. Briefly fold yolks into whites without being too thorough. Sift dry ingredients over egg mixture in three parts, and gently fold in until barely incorporated. Turn into prepared pan, and smooth to edges with as few strokes as possible. Bake for 12 to 15 minutes, until top springs back when gently pressed with finger. Do not overbake.

As cake is baking, lay out a linen cloth larger than the baking pan, and sprinkle with sifted confectioners sugar. As cake is removed from oven, immediately turn cake out onto prepared cloth. Gently remove parchment or wax paper from bottom. Grasping cake from the shortest side, (the 10" side), roll cake and towel together, so that towel remains inside the cakeroll. Set aside to cool, seam side down.

For Filling:
Combine cold water and 1 tablespoon liqueur. Sprinkle gelatin over and allow to soften for 2-3 minutes. Microwave on high for 20 seconds and allow to stand for 2 minutes or until granules are completely dissolved. Combine reserved puree with gelatin mixture. Refrigerate until syrupy. (If gels too quickly, simply warm again.)

Whip cream with sugar and vanilla until stiff. Fold puree/gelatin mixture into sweetened whipped cream. Refrigerate until ready to use.

Stir remaining 1 tablespoon liqueur into jam. Carefully unroll cake, remove towel and spread jam over unrolled cake. Top with mousse, sprinkle with fresh raspberries, if available. Roll up again, seam side down.

For Glaze:
Warm glaze ingredients together in heavy saucepan over low heat, just until melted and smooth. Brush all crumbs from surface of cakeroll. Pour approximately 1/4 of the glaze over the cake surface, using spatula to smooth a thin glaze, just barely sealing the surface. Refrigerate cake for 10 minutes. Reheat glaze so that it pours easily. (A small amount of half and half or light cream may be used if necessary to thin glaze.) Pour over entire cakeroll (except ends) and allow to drip over and down sides, keeping use of spatula to a minimum. Refrigerate until ready to serve.

To Serve:
Remove from refrigerator 15-20 minutes before serving. Place 2-3 tablespoons raspberry sauce on each dessert plate. Slice with a clean knife dipped in warm water and place a slice on each plate. Pass raspberry sauce around the table.

Makes 8-10 servings.

TIP:
If desired, use a festive cake stencil on top of cake, and sprinkle with confectioners' sugar, then remove stencil.

Nutritional Analysis per serving:
495 Calories
6 g Protein
19 g Fat
78 g Carbohydrate
140 mg Sodium
117 mg Cholesterol
2 g alcohol

Source: Oregon Raspberry and Blackberry Commission

---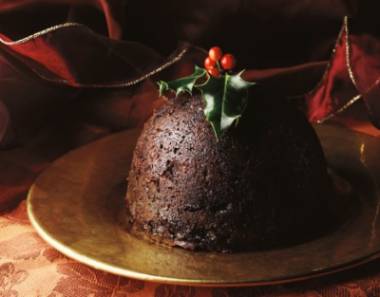 Christmas Plum Pudding-The Easy Way
Servings: 12

Comments:
Here's a quick and easy Christmas Plum Pudding if you're busy, but still want a nice traditional Christmas pudding for your holiday dessert.

Ingredients:
1 lb. can (2 cups) purple plums
1 pkg. gingerbread mix
1/2 tsp. salt
1 cup light raisins or currants
1/2 cup chopped walnuts or pecans

Instructions:
Drain canned plums, reserving syrup for sauce. Cut pitted plums into pieces. Prepare gingerbread according to package directions adding salt, plum pieces, raisins and nuts. Transfer to well greased 8 cup pudding mold. Bake at 375 degrees F for 1 hour. Loosen edges and immediately un-mold on serving plate. Meanwhile prepare the Plum Sauce.

Plum Sauce:
1/4 cup sugar
2 tbsp. cornstarch
1 tbsp. lemon juice

Instructions:
Add water to reserved plum syrup to make 1 1/2 cups. Combine sugar and cornstarch in small sauce pan. Gradually add syrup. Cook over medium heat stirring constantly until thick and boiling. Cook 1 minute. Add lemon juice. Serve warm over plum pudding. Flame with brandy if desired.

Makes 12 servings

Source: DianasDesserts.com

---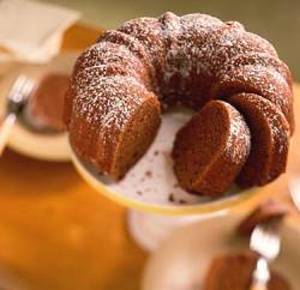 Gingerbread Bundt Cake
Servings: 8-10

Comments:
Gingerbread, always a holiday favorite. This cake is best made a day ahead. It will keep up to 3 days, covered, at room temperature.

Ingredients:
1 cup oatmeal stout or Guinness Stout
1 cup dark molasses (not blackstrap molasses)
1/2 teaspoon baking soda
2 cups all-purpose flour
1 1/2 teaspoons baking powder
2 tablespoons ground ginger
1 teaspoon ground cinnamon
1/4 teaspoon ground cloves
1/4 teaspoon freshly grated nutmeg
Pinch of ground cardamom
3 large eggs
1 cup packed dark brown sugar
1 cup granulated sugar
3/4 cup vegetable oil

Confectioners' sugar, for dusting cake

Serve with:
Whipped cream or frozen non-dairy whipped topping, thawed

Instructions:
Preheat oven to 350°F/180°C. Generously butter a 10-inch (10 to 12 cup) bundt pan and dust with flour, knocking out any excess flour.

Bring stout and molasses to a boil in a large saucepan and remove from heat. Whisk in baking soda, then cool to room temperature.

Sift together flour, baking powder, and spices in a large bowl. Whisk together eggs and sugars. Whisk in oil, then molasses mixture. Add to flour mixture and whisk until just combined.

Pour batter into prepared bundt pan and rap pan sharply on counter to eliminate air bubbles. Bake in middle of preheated oven until a cake tester comes out with just a few moist crumbs attached, about 50 minutes. Cool cake in pan on a rack for 5 minutes. Turn out onto wire rack and cool completely.

Serve cake, dusted with confectioners' sugar, and with whipped cream or non-dairy whipped topping.

Makes 8-10 servings.

Source: Gourmet Magazine, February 2000

---
Holiday Mulled Cider
Servings: 6

Comments:
Serve this to your family and friends for a festive drink during the holiday season. It's a lovely and soothing warm drink for a chilly day or evening and very festive for Christmas or Hanukkah.

Ingredients:
1 large lemon, cut in half
1 medium orange, cut in half
16 whole cloves
4 cups clear apple juice
1/2 to 3/4 cup honey
4 (2-inch) cinnamon sticks
1/4 tsp. ground ginger

Instructions:
Cut two slices (1/4-inch thick) from each lemon and orange half. Insert whole cloves into slices; set aside. Squeeze juice from remainder of fruit halves into a medium non-reactive saucepan. Stir in apple juice and honey; mix well. Add cinnamon sticks, ginger and reserved fruit slices. Bring just to a boil over medium-high heat. Strain cider if desired and place one or two cinnamon sticks in each glass or cup. Serve immediately in a heatproof serving bowl.

Makes 6 servings.

Note: If desired, a little brandy can be added to the cider to give it that extra "zip", or leave it alcohol-free so the kids can enjoy it also.

Source: DianasDesserts.com

---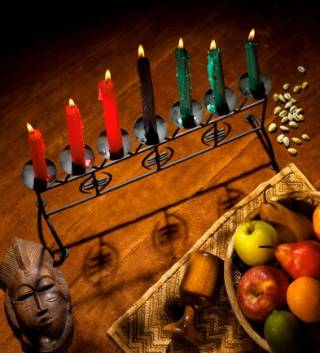 Kwanzaa
Kwanzaa is celebrated from December 26, 2009 until January 1, 2010

The Festival of Kwanzaa
Kwanzaa is a 7 day festival celebrating the African American people, their culture and their history. It is a time of celebration, community gathering, and reflection. A time of endings and beginnings. Kwanzaa begins on December 26th, the day after Christmas, and continues until New Years Day, January 1st.

Each evening a family member, usually the youngest child, lights candles in a special candleholder (kinara) and discusses one of the seven principles of Kwanzaa. On the sixth day, which falls on New Years Eve, family and friends get together to enjoy a large feast and to celebrate their history, culture, and the upcoming new year.

The holiday of Kwanzaa was created by Dr. Maulana Karenga in 1966, during the period of US history in which African Americans were involved in struggles for their civil rights. This was the period of Martin Luther King, the Civil Rights movement, and Black Power.

Dr. Karenga wanted to create a holiday that would bring African Americans together in celebration of their black culture. He was inspired by the "first fruit" or harvest festivals that were celebrated throughout Africa.

In fact the name he gave to the holiday, "Kwanzaa," comes from the Kiswahili phrase for "first fruit" - matunda ya kwanza. (Kiswahili, or Swahili, is the largest spoken language on the African continent and thus the language of Kwanzaa). When Dr. Karenga chose the word "kwanza" for the name of his festival he added the extra "a" at the end to give the word greater significance.

Dr. Karenga used these first fruit festivals as his model for Kwanzaa because they shared characteristics which he felt were important. These characteristics were:

1. The people gathered together to celebrate their crops and harvest

2. The people would give thanks to their Creator for a good harvest and life.

3. They would remember and celebrate their ancestors and the past.

4. They allowed the people to recommit themselves to their community.

5. They celebrated their history, culture, Creator, and the promise of the next year.

It was these characteristics that inspired Dr. Karenga when he developed the Nguzo Saba, or Seven Principles, of Kwanzaa. (Nguzo Saba is Kiswahili for "Seven Principles") These principles are unity, self-determination, collective work and responsibility, cooperative economics, purpose, creativity, and faith. These are the foundation of Kwanzaa.

The dates of the celebration, December 26 - January 1, were chosen to correspond to the end of the year celebrations in America. Kwanzaa begins the day after Christmas. This to bypass the commercial buying period but to take advantage of the seasonal holiday spirit.

---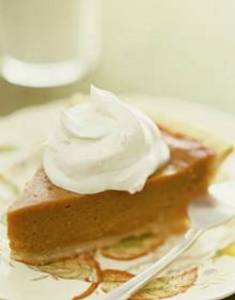 Garvin's Delectable Sweet Potato Pie
(Guest Submitted Recipe)

Servings: 6-8

Comments:
This southern comfort food has a smooth texture that is infused with the scrumptious flavors of the holidays.

Note from Diana at Diana's Desserts:
This scrumptious sweet potato pie makes a very appropriate dessert for a festive Kwanzaa celebration.

Ingredients:
1 1/4 cups (approximately 1 to 1 1/4 pounds-or 3-4 medium) cooked sweet potatoes
4 oz. (1 stick/1/2 cup/113g) butter
2 cups granulated sugar
3 large eggs, beaten
1/4 cup light brown sugar
1/2 cup buttermilk
1 tablespoon all-purpose flour
1/2 teaspoon salt
2-3 tsp. pumpkin pie spice
1 tsp. vanilla extract
1 (9-inch) deep dish pastry pie shell (may be homemade, store-bought frozen or refrigerated, roll-out pie crust works equally well)

Instructions:
1. Preheat oven to 425 degrees F.

2. Boil sweet potatoes in a big pan of water. When tender, peel the sweet
potatoes, then place in a large bowl and mash well (if you beat them
with a hand mixer, the strings will wrap around the beaters and you can
discard them).

3. Add butter, sugars, pumpkin pie spice and salt to mashed sweet potatoes. Mix well with a mixer.

4. Add eggs, buttermilk, flour, and vanilla, and mix well.

5. Pour sweet potato mixture into prepared 9-inch deep dish pie shell.

6. Bake for 10 minutes in preheated oven, then lower temperture to 375 degrees F and bake for 25-35 minutes. The center of pie should be firm. Insert a knife into the very center of pie. If it comes out clean, the pie is done.

TIP:
I place foil around the edges of pie crust so it won't become overly browned.

Makes 6-8 servings.

Source: Grandpa Garvin's Sister (Grace)

Submitted By: Laura Speck

---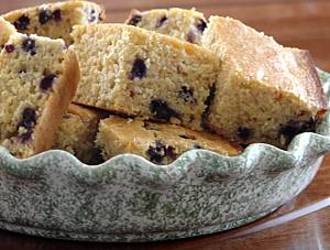 Blueberry Maple Cornbread
Servings: 9-12

Comments:
My husband Kenny says this is by far the best cornbread I've made yet. The maple syrup gives it it's unique flavor and the juicy blueberries add a very special taste that you will love from your very first bite. I highly recommend making the Maple Butter (see recipe below) to spread over each slice of cornbread. It is so good and definitely worth making for your Kwanzaa celebration. Your friends and family will love this "oh so good" comfort food.

Ingredients:
For the Cornbread:
1 1/4 cups all-purpose flour
3/4 cup yellow cornmeal (stone-ground cornmeal recommended)
2 tablespoons granulated sugar
2 teaspoons baking powder
1/2 teaspoon salt
3/4 cup milk
1/4 cup (1/2 stick/2oz/56g) unsalted butter, melted
1/4 cup real maple syrup or maple-flavored syrup
1 egg, slightly beaten
1 cup fresh or frozen blueberries

Maple Butter: (optional)
1/4 cup (1/2 stick/2oz/56g) butter, softened to room temperature
1 tablespoon real maple syrup or maple-flavored syrup

Instructions:
Preheat oven to 375°F/190°C. Line a 8 or 9-inch square baking pan with parchment paper and spray paper with nonstick cooking spray, or if you don't have parchment paper, generously grease pan with butter or shortening. Set aside.

In a large mixing bowl combine flour, cornmeal, sugar, baking powder and salt. Add milk, 1/4 cup melted butter, 1/4 cup maple syrup and slightly beaten egg; stir just until flour mixture is moistened. With a rubber spatula or wooden spoon gently fold in blueberries.

Pour batter into prepared baking pan. Bake for 25 to 35 minutes or until lightly browned. Let cornbread cool in pan on wire rack for 15 minutes, then cut into squares and serve warm or at room temperature. Cornbread can be stored covered in an airtight container or wrapped in plastic wrap for 2-3 days.

Maple Butter: (optional)
Meanwhile, combine 1/4 cup softened butter and 1 tablespoon maple syrup in a small bowl until creamy. If desired, serve warm cornbread with Maple Butter.

Makes 9-12 servings.

Source: DianasDesserts.com

Photograph taken by Diana Baker Woodall © 2006

---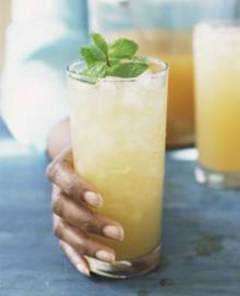 Ginger Beer
Servings: Makes approximately 1 gallon

Comments:
Home-made non-alcoholic ginger drinks are common throughout Africa, often sold in shops run by West Africans. This ginger drink should be much stronger than any ginger ale soda. It can be enjoyed chilled over ice, or diluted with cold water. Ginger Beer is an appropriate beverage for serving to family and friends during Kwanzaa. Great for the kids too, as it is alcohol-free.

Ingredients:
3 or 4 large fresh ginger roots (not ground ginger)
Juice of two limes (or similar amount of lemon, pineapple, or grapefruit juice)
1 cup granulated sugar
A few whole cloves or a cinnamon stick (optional)
Water

Instructions:
1). Carefully remove and discard the ginger root's outer layer. Pound the ginger root to a pulp and place in a large ovenproof glass mixing bowl or stainless steel container.

2). In a teakettle heat six cups of water to a boil. Pour water over the ginger, cover with a lid or a clean cloth. Put the mixture in a warm place. A sunny spot on a tabletop in front of a window is a good place on a hot day; an oven that has been slightly heated then turned off is a good place on a cold day. Wait one hour.

3). Place a clean cheesecloth or a paper towel in a strainer and pour the the mixture through it into a large jar or pitcher (or two jars or pitchers as necessary). Squeeze the cloth to extract all the liquid from the ginger root. Mix in the citrus juice, sugar, and spices. Fill the jar with lukewarm water to make a gallon. Return the mixture to a warm spot and wait another hour.

4). Strain the ginger beer once more and refrigerate until chilled. Serve over ice.

Makes 1 gallon Ginger Beer, approximately

Tip:
If desired, serve with dishes from Western Africa.

Source: DianasDesserts.com

---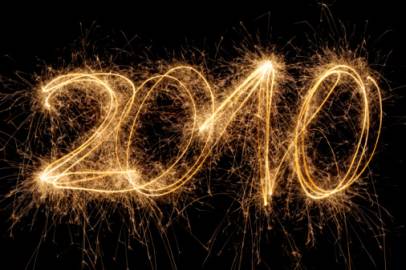 New Year's
Well I guess everyone knows what the meaning of New Year's is, so no need to give the history. Hope you like these special recipes and Have a Very Happy and Healthy 2010......Diana

---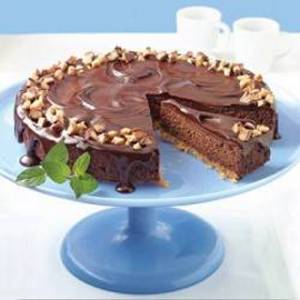 Chocolate Truffle Cheesecake with Toffee Bits
Servings: Makes 16 servings

Comments:
An elegant dessert to serve for a special occasion or in this case, New Year's Eve. You will bring in the New Year with "raves" from your guests about this yummy, creamy and delectable cheesecake.

Ingredients:
Crust:
1 1/3 cups (22 cookies) shortbread cookie crumbs
1/4 cup (1/2 stick/2 oz./56g) butter, melted
1/4 cup granulated sugar

Filling:
16 ounces cream cheese, softened
1/4 cup granulated sugar
8 ounces semi-sweet baking chocolate, melted
2 eggs
1 teaspoon vanilla extract
3/4 cup milk chocolate English toffee bits

Topping:
3/4 cup semi-sweet chocolate chips
1/2 cup heavy whipping cream
1/4 cup milk chocolate English toffee bits

Instructions:
Crust:
Preheat oven to 325 degrees F/160 degrees C. Combine all crust ingredients in small bowl. Press onto bottom of ungreased 9-inch springform pan with removable bottom. Bake in preheated oven for 4 minutes.

Filling:
Beat cream cheese and sugar in large bowl until creamy. Add melted chocolate, eggs and vanilla; beat until well mixed. Stir in 3/4 cup toffee bits. Spread cream cheese mixture over crust. Continue baking for 50 to 55 minutes or until center is set. Cool in pan 1 hour. Remove from pan; place onto serving plate.

Topping:
Meanwhile, place chocolate chips in small bowl. Place whipping cream in small saucepan; bring to a boil over medium heat (2 to 3 minutes). Pour whipping cream over chocolate chips. Let stand 5 minutes; stir until smooth. Cool until mixture falls in ribbons off spoon (about 1 hour). Spread over top of cheesecake; sprinkle outer rim of cheesecake with 1/4 cup toffee bits. Cover and refrigerate 4 hours or overnight.

Makes 16 servings.

Tip:
To melt chocolate, place in 1-quart saucepan. Cook, stirring occasionally, over very low heat until melted. Or, place chocolate in microwave-safe bowl. Microwave on MEDIUM (50% power), stirring occasionally, until melted (1 to 2 minutes).

---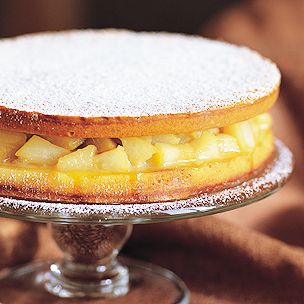 Ginger-Pear Torte
Servings: 6-8

Comments:
A wonderful and festive cake made with fresh pears and served with whipped cream on the side. A lovely dessert for serving at your New Years Eve or New Years Day celebration.....Diana, Diana's Desserts

TIPS ON WHIPPING CREAM:

Freshly whipped cream adds a delightfully rich finish to many desserts. It's easy to make if you know a few tricks. Be sure the cream is fresh (check the sell-by date) and is not ultrapasteurized; it will whip higher. Chill the cream well and beat it in a deep chilled bowl with a chilled whisk or electric mixer beaters. Beat just until soft or stiff peaks form, but do not overbeat or the cream will turn into butter. Once whipped, the cream will hold for about 30 minutes, covered and refrigerated.

Ingredients:
6 tbsp. (3/4 stick) unsalted butter
5 eggs, at room temperature
2/3 cup granulated sugar
1/2 cup sifted unbleached all-purpose flour
1 tsp. ground ginger
1/2 cup finely ground blanched almonds
1 cup heavy cream
1 tsp. freshly grated nutmeg
2 firm but ripe Bartlett pears, about 1 lb. total
1 Tbs. finely chopped crystallized ginger
3 Tbs. firmly packed light brown sugar
1 Tbs. brandy
Confectioners' sugar for dusting

Instructions:
Preheat an oven to 350°F. Grease two 8-inch round cake pans. Line the bottom of each pan with parchment paper. Butter the paper.

In a small saucepan over medium heat, melt 4 Tbs. (1/2 stick) of the butter. Set aside to cool slightly.

Meanwhile, using an electric mixer, beat the eggs until blended. Gradually beat in the granulated sugar and continue to beat until the mixture is pale yellow and a slowly dissolving ribbon forms when the beaters are lifted, 6 to 8 minutes. In a small bowl, combine the flour and ground ginger. Sift half of the flour mixture over the egg mixture and fold it in with a rubber spatula. Fold in half of the melted butter. Repeat with the remaining flour mixture and melted butter. Fold in the almonds.

Divide the batter between the prepared pans. Bake until the edges of the cakes are golden and just beginning to pull away from the sides of the pans, 15 to 20 minutes. Transfer the pans to wire racks and let cool for 10 minutes. Turn the cakes out onto the racks, peel off the paper and let cool completely.

Just before serving, in a deep bowl, beat the cream until soft peaks form. Sprinkle the nutmeg over the cream and continue to beat until stiff peaks form. Cover and refrigerate.

Place one cake layer, bottom side up, on a serving plate. Peel and core the pears and cut into 1⁄2-inch chunks. In a large fry pan over medium heat, melt the remaining 2 Tbs. butter. Add the pears and crystallized ginger and cook, stirring once or twice, for 2 minutes. Increase the heat to high, add the brown sugar and brandy, and cook, stirring often, until the liquid is reduced to a thick glaze, about 4 minutes. Spoon the pears over the cake layer on the plate. Top with the other layer. Dust the top with confectioners' sugar. Serve warm with the whipped cream.

Makes 6-8 servings.

Adapted from Williams-Sonoma Collection Series, Thanksgiving, by Michael McLaughlin (Simon & Schuster, 2001).

---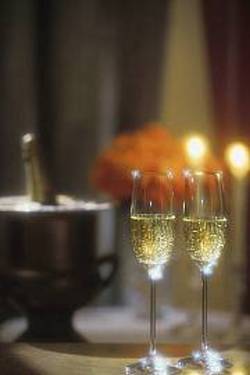 Champagne Cocktail
Makes 1 serving

Comments:
A wonderful cocktail for New Years Eve, or for anytime you want to celebrate a special occasion.

Ingredients:
1/2 teaspoon granulated sugar
1 dash Angostura bitters
1/2 cup chilled Champagne
1 sugar cube
Lemon peel

You will need:
Champagne glasses

Instructions:
Stir sugar and bitters in pre-chilled Champagne glass. Add Champagne. Drop sugar cube into glass (it should land on the bottom). If desired, twist lemon peel over top and drop into glass.

Makes 1 champagne cocktail.

---
Until Next Year
2009 is coming to an end, and it's been a year of ups and downs in the world. We pray at this special holiday season that 2010 will bring Peace, Love, Health and Happiness to all people in the world.

Please have a good holiday, whether it be celebrating Christmas, Hanukkah, Kwanzaa or a combination of some or all of these, and have a very Happy New Year 2010.

I hope you've enjoyed the information I've gathered together for you about these special holidays and that you enjoy the recipes for this festive season.

I will return in the new year (hopefully around Valentine's Day) with a new Diana's Desserts Newsletter. Until then, Peace!

Sincerely, Diana

---
This email was sent to [email]. You can instantly unsubscribe from these emails by clicking here.