EDITION NUMBER 53

Valentine's Day Recipes and More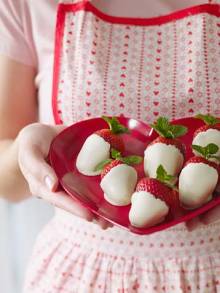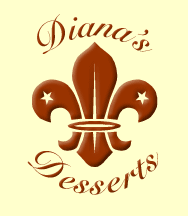 February 8, 2009

Welcome Home Bakers and Friends,

Back and hopefully rested from the busy holiday season, it's already that time to start thinking about making some romantic goodies for Valentine's Day. I have some luscious recipes for you to try for this special "Love" Day. I hope you try one or two of the recipes and please let me know about the ones you made for your "sweetie" or for the other special people in your lives.

Enjoy and have a wonderful and romantic day........Diana, Diana's Desserts

---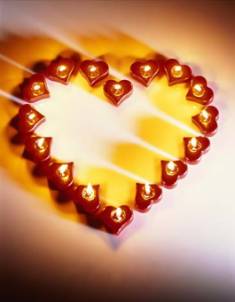 Valentine's Day
Saturday February 14, 2009

Valentine's Day or Saint Valentine's Day is a holiday celebrated on February 14 by many people throughout the world. In the West, it is the traditional day on which lovers express their love for each other by sending Valentine's cards, presenting flowers, or offering confectionery. The holiday is named after two among the numerous Early Christian martyrs named Valentine. The day became associated with romantic love in the circle of Geoffrey Chaucer in the High Middle Ages, when the tradition of courtly love flourished.

An alternative theory from Belarus states that the holiday originates from the story of Saint Valentine, who upon rejection by his mistress was so heartbroken that he took a knife to his chest and sent her his still-beating heart as a token of his undying love for her. Hence, heart-shaped cards are now sent as a tribute to his overwhelming passion and suffering.

The day is most closely associated with the mutual exchange of love notes in the form of "valentines." Modern Valentine symbols include the heart-shaped outline, doves, and the figure of the winged Cupid. Since the 19th century, handwritten notes have largely given way to mass-produced greeting cards. The sending of Valentines was a fashion in nineteenth-century Great Britain, and, in 1847, Esther Howland developed a successful business in her Worcester, Massachusetts home with hand-made Valentine cards based on British models. The popularity of Valentine cards in 19th-century America was a harbinger of the future commercialization of holidays in the United States.

The U.S. Greeting Card Association estimates that approximately one billion valentines are sent each year worldwide, making the day the second largest card-sending holiday of the year behind Christmas. The association estimates that women purchase approximately 85 percent of all valentines.

Source: Wikipedia.com

And, of course, what is more cherished to give on Valentine's Day but something sweet or a combination of something "sweet and chocolate" combined. Below are a few of these tempting goodies.

---
Valentine's Day Sweets and Chocolate Recipes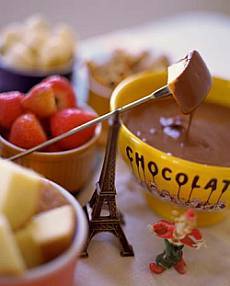 Chocolate Fondue

Servings: 4-6

Comments:
Eating fresh fruit or pound cake dipped in wonderful melted chocolate, what a sweet and delicious way to spend a romantic evening with that special someone in your life. Or when you have a small get-together with close friends, why not serve this "oh so chocolaty" fondue as a special treat. It's fun and everyone will "love" you for it...Diana, Diana's Desserts

Ingredients:
1 cup premium cocoa powder (such as Valrohna or Scharffen Berger), sifted
1 1/4 cups spring water
1 1/2 cups granulated sugar
1/4 cup corn syrup
1/2 cup plus 5 tablespoons heavy cream
5 ounces 62% Scharffen Berger semi-sweet chocolate (or other premium semi-sweet chocolate), chopped

Serve with:
Pound cake, cut into cubes
Fresh fruit, such as bananas, fresh pineapple, sliced apples, strawberries, and plums, cut into bite sized pieces

Instructions:
Sift the cocoa into mixing bowl and set aside. Place the water, sugar, and corn syrup into a pot and bring to boil. Allow to simmer for 10-15 minutes until sugar solution has reduced by about 30%. Pour the cocoa powder into the solution and blend with a whisk until smooth. Return the chocolate mixture to the stove and continue cooking over medium heat. Add heavy cream, bring to boil and allow to simmer for five minutes. Remove from the heat and stir in chopped chocolate. Pour into fondue pot and keep warm.

Makes 4-6 servings.

Source: Epicurious
December 1999
Michael Recchiuti, San Francisco, CA

---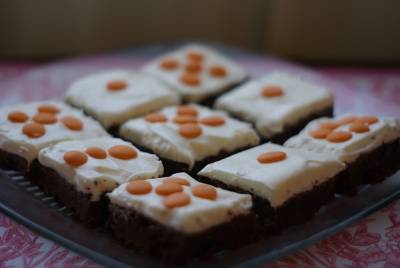 Dark Chocolate Brownies with Cream Cheese Icing

Servings: Makes 9 large brownies

Comments:
I decorated these brownies with orange flavored and colored white chocolate chips. I did an X & O ("Hugs and Kisses") decoration on a few of the brownies for this year's Valentine's Day. These brownies can be frosted with a Cream Cheese Frosting, a Chocolate Ganache, or just made plain. Either way, they're very nice.

Tips about Types of Chocolate:
Chocolate is categorized by how much chocolate liquor it contains. Unsweetened, or bitter, chocolate is 100% chocolate liquor with no sugar added. Bittersweet and semisweet chocolates have cocoa butter and sugar added to the liquor but still contain at least 35% and 15% liquor, respectively. In most cases, these 2 chocolates are interchangeable in recipes. Milk chocolate, which contains at least 10% chocolate liquor and 12% milk solids, behaves differently in recipes and should not be used in place of other types of chocolate unless specified.

Ingredients:
1/2 cup (1 stick/4 oz./113g) unsalted butter, cut into 4 pieces
3 ounces unsweetened chocolate* (See Notes Below), finely chopped
1 cup granulated sugar
Pinch of salt
2 eggs, at room temperature
1 teaspoon vanilla extract
3/4 cup cake flour, sifted
3/4 cup orange flavored dark chocolate (chopped into small pieces the size of chocolate chips - *See Notes Below), OR bittersweet chocolate chips, semisweet chocolate chips, peanut butter chips or white chocolate chips

Optional Toppings
Cream Cheese Frosting (see recipe below)
Or:
Chocolate Ganache Topping (see recipe below)

Instructions:
Preheat oven to 350 degrees F/180 degrees C. Line the bottom and sides of an 8-inch square baking pan with parchment paper or foil, leaving an overhang on two opposite sides. Lightly grease the aluminum foil or lightly spray with non-stick cooking spray. Set aside.

In a saucepan over low heat, combine the butter and unsweetened chocolate. Heat, stirring often, until melted, about 4 minutes. Remove from the heat and stir in the sugar and salt. Add the eggs and vanilla and stir until well blended. Sprinkle the flour over the mixture and stir until just blended. Stir in the chips.

Pour the batter into the prepared dish and spread evenly. Bake until a toothpick inserted into the center of the brownies comes out almost completely clean, about 30 minutes (or a bit longer if using a metal pan opposed to a glass pan). Do not overbake. Transfer the pan to a wire rack and let cool completely.

If desired, frost with Cream Cheese Frosting or Chocolate Ganache Topping when brownies have cooled completely.

Lift brownies out of pan using the overhang on the two opposite sides of the pan. Cut into 2 1/2-inch squares.

Notes:
*I used Scharffen Berger Unsweetened Pure Dark Chocolate (99% Cocoa), finely chopped.
**I used Newman's Own Organics Sweet Dark Orange Dark Chocolate Bar, chopped into "chocolate chip" size pieces for the added chips.

To decorate the brownies, I used Callebaut Orange Flavored and Colored Callets (chips or morsels).

Optional Frosting or Topping

Cream Cheese Frosting (optional)

Ingredients:
8 ounces cream cheese, at room temperature
1/4 cup (1/2 stick/2 oz/56g) unsalted butter, at room temperature
1 teaspoon grated orange zest
2 cups confectioners' sugar

Instructions:
1. Beat cream cheese and butter in mixing bowl until light and fluffy, using electric mixer at medium speed. Beat in orange zest and confectioners' sugar. Spread topping evenly over completely cooled brownies. Refrigerate for 30 minutes or until topping is slightly firm.

Chocolate Ganache Topping

Ingredients:
6 ounces semisweet chocolate, chopped
3 tablespoons unsalted butter, room temperature
2 tablespoons whipping cream

Instructions:
Whisk all ingredients in small saucepan over medium-low heat until melted and smooth. Pour evenly over cooled brownies in pan.

Chill brownies until ganache is set, about 2 hours. Cut into 9 squares. (Can be prepared 2 days ahead. Cover; chill. Serve at room temperature.)

Makes 9 large brownies.

Photograph taken by Diana Baker Woodall© 2007

Source: DianasDesserts.com

---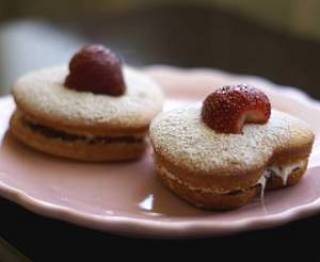 Mini Victoria Sponge Heart Cakes
Servings: Makes 12 sandwiched cakes

Comments:
These little cakes are a perfect "sweet" for a very "romantic" occasion such as Valentine's Day.

These would also make a delicious Valentine's Day dessert, or they would be lovely to serve at an afternoon tea or would make a great addition to any brunch menu.

Raspberry jam, apricot jam, or even lemon curd would also work well for a filling for these sweet little heart cakes.....Diana, Diana's Desserts

Ingredients:
For the Cakes:
1 (18.25 oz.) store-bought box yellow or white cake mix
1 cup dairy sour cream
4 eggs, beaten
1/3 cup vegetable oil
1/4 cup water

For the Strawberry Jam Filling:
1 1/2 cups strawberry jam or lemon curd (or any other jam, preserves or curd of your choice)

For the Vanilla Buttercream Filling:
1/3 cup (5 tbsp./3 oz./75g) unsalted butter, at room temperature
2/3 cup confectioners' sugar
3 to 4 tablespoons milk
1/2 teaspoon vanilla extract

For Garnish:
Confectioners' sugar
Fresh strawberries

Instructions:
1. Preheat oven to 350 degrees F/180 degrees C. Grease and flour two (6-cavity) mini heart pans (I used two 6-cavity mini heart pans made by Wilton), OR alternately spray pans with non-stick baking spray with flour.

2. Combine all cake ingredients in bowl of an electric mixer and beat for thirty seconds on low speed, then beat two minutes on medium speed. Divide batter between each mini heart cavity and bake in preheated oven for 15 to 18 minutes (you will probably have some batter left over), until a cake tester inserted in center of cakes come out clean. Place cake pans on cooling racks. Let cakes cool in pans for 10 to 15 minutes. Remove cakes from pans and let cakes cool completely.

3. To Make Vanilla Buttercream Filling:
Combine butter, confectioners' sugar, 2 tablespoons milk and vanilla in a large mixing bowl. Beat with electric mixer at low speed until blended. Beat at high speed until light and fluffy, adding more milk, 1 teaspoon at a time, as needed for good spreading consistency.

4. Once cakes have cooled completely, cut each individual heart cake in half horizantally. You will now have 24 mini heart cake halves.

5. Spread 2 tablespoons jam (or lemon curd, if using) on one side of each heart shaped mini cake, then spread 2 tablespoons of the buttercream icing on one side of another mini cake half. Sandwich the two cake halves together and repeat this procedure with remaining heart cake halves. Place cakes on serving plates and dust top of each cake heavily with confectioners' sugar. If desired, garnish each cake with a strawberry half. Serve cakes at room temperature. Store any uneaten cakes in the refrigerator, wrapped tightly in plastic wrap.

Makes 12 sandwiched mini heart cakes.

Note:
You can purchase the Wilton 6-Cavity Mini Heart Pans at Wilton.com, or at Amazon.com and at other stores online.

Photograph taken by Diana Baker Woodall ©2007

Source: DianasDesserts.com

---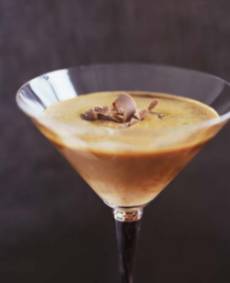 Tiramisu Martini
Servings: 2

Comments:
This little known cocktail (well, it's really not a martini cocktail as we know it!) will definitely put a little "pizzazz" in your Valentine's Day celebration. Try making this delicious "cocktail" for a very romantic rendezvous with your sweetie.

Ingredients:
4 ounces vanilla vodka
1 ounce hazelnut liqueur (Frangelico recommended)
1 1/2 ounces white chocolate liqueur (Godiva recommended)
1 ounce Bailey's Irish Crème
Splash crème de cocoa
Splash half-and-half (half whole milk/half full cream combination)
Ice

Garnish (optional):
Ground Cinnamon
Ground Nutmeg
Chocolate Curls
Fresh Strawberries, sliced
Maraschino Cherries

You will need:
Martini blender or shaker, or a cocktail blender or shaker
2 chilled martini glasses

Instructions:
Combine vodka, liqueurs, Irish Creme, creme de cocoa and half-and-half in a martini shaker half filled with ice. Shake vigorously until the cocktail is thoroughly chilled. If desired, sprinkle the 2 chilled martini glasses with ground cinnamon. Pour the cocktail into the glasses and garnish with a dash of nutmeg or a few chocolate curls, or top with a strawberry slice or 1 or 2 maraschino cherries.

Makes 2 servings.

---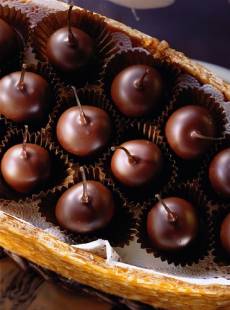 Cherry Cordials
Comments:

Cherry Cordials, the ultimate chocolate sweet for Valentine's Day!

Tip:
Brandy-soaked cherries can be left in the freezer for up to two days before you dip them into the chocolate.

Ingredients:
1 (10-ounce) jar maraschino cherries with stems
1/2 cup brandy (optional)
8 ounces semisweet chocolate, chopped

Instructions:
Drain maraschino cherries, and return to jar. Pour brandy, if desired, in jar; cover with a lid, and freeze 8 hours. Drain cherries, and pat dry, reserving brandy for another use.

Melt 6 ounces of the chocolate in a saucepan over medium heat, stirring until a candy thermometer reaches 115°F/46°C. Remove from heat; add remaining 2 ounces of chocolate, and stir until candy thermometer reaches 89°F/31°C and chocolate is smooth.

Dip cherries quickly into melted chocolate, coating well. Place cherries on wax paper, stem sides up, and cool.

Makes 2 1/2 dozen cherry cordials.

Source: DianasDesserts.com

---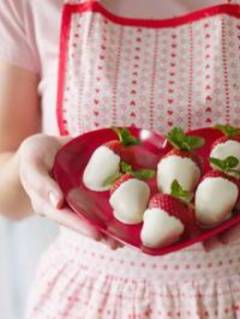 White Chocolate Dipped Strawberries

Servings: Makes 18 white chocolate dipped strawberries

Comments:
Serve these scrumptious strawberries on Valentine's Day, at your next brunch or tea, or have them as an after dinner light dessert. Buy strawberries that are just ripe, and flavorful. Purchase large and very bright red strawberries, if available.

Strawberries may be made by dipping in white chocolate only, or can be made by drizzling melted semisweet chocolate chips over the white chocolate. Either way, they are wonderful!

Ingredients:
2 cups white chocolate chips
1 tablespoon solid vegetable shortening (such as Crisco)
18 large strawberries with stems

Optional:
1/2 cup semisweet chocolate chips
1 teaspoon solid vegetable shortening (such as Crisco)

Instructions:
1. Cover a cookie sheet with waxed paper. Heat white chocolate chips and 1 tablespoon shortening in a 2-quart saucepan over low heat, stirring constantly, until chips are melted.

2. For each strawberry, poke fork or toothpick into stem end, and dip 3/4 of the way into melted chips, leaving top of strawberry and leaves uncoated. Place on waxed paper-covered cookie sheet.

Optional:
3. Heat semisweet chocolate chips and 1 teaspoon shortening in 1-quart saucepan over low heat, stirring constantly, until chocolate chips are melted (or place chocolate chips and shortening in small microwavable bowl. Microwave uncovered on Medium (50%) 1 minute; stir. Microwave 2 to 3 minutes longer, until mixture can be stirred smooth).

4. Drizzle melted semisweet chocolate over dipped strawberries, using small spoon. Refrigerate uncovered about 30 minutes or until coating is set.

Makes 18 white chocolate-dipped strawberries.

Note:
Drizzling the melted semisweet chocolate chips over the white chocolate is optional. The strawberries may just be dipped in melted white chocolate chips and left plain without drizzling with the semisweet chocolate.

Source: DianasDesserts.com

---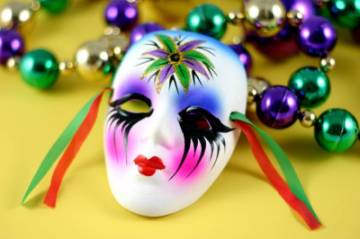 Mardi Gras
Tuesday February 24, 2009
The terms "Mardi Gras" (mär`de grä) and "Mardi Gras season", in English, refer to events of the Carnival celebrations, ending on the day before Ash Wednesday. From the French term "Mardi Gras" (literally "Fat Tuesday"), the term has come to mean the whole period of activity related to those events, beyond just the single day, often called Mardi Gras Day or Fat Tuesday.

The time period varies from city to city, as some traditions consider Mardi Gras as the Carnival period between Epiphany or Twelfth Night and Ash Wednesday. Others treat the final three-day period as being Mardi Gras. In Mobile, Alabama, Mardi Gras events begin in November, followed by mystic society balls on Thanksgiving,] then New Year's Eve, formerly with parades on New Year's Day, followed by parades and balls in January and February, celebrating up to midnight before Ash Wednesday. Other cities most famous for their Mardi Gras celebrations include Rio de Janeiro, Brazil, and New Orleans, Louisiana. Many other places have important Mardi Gras celebrations as well.
Carnival is an important celebration in most of Europe, except in Ireland and the United Kingdom where the festival is called "shrovetide" ending on Shrove Tuesday, and pancakes are the tradition, and also in many parts of Latin America and the Caribbean.

Source: Wikipedia.com

---
A Special Recipe for Mardi Gras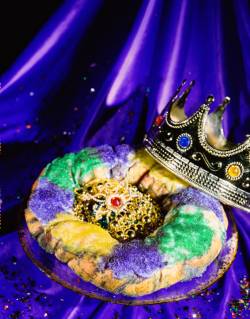 Mardi Gras King Cake
Servings: 12

Comments:

King Cake History

An observer once said that New Orleanians are either having a party, recuperating from a party, or planning a party. The biggest and best party of all and the city's most famous celebration is Mardi Gras, "the greatest free show on earth." Mardi Gras dates back to 1837 when the first street parade took place.

The carnival season begins January 6th (12 days after Christmas) on Twelfth Night with the first of nearly 100 private masked balls. The dazzling Mardi Gras parades feature marching bands and elaborate paper mache floats with maskers tossing trinkets, beads and doubloons to the crowds.

On Mardi Gras Day, the day before Ash Wednesday, the largest and longest parades are held. Rex, King of Carnival, is a prominent businessman, chosen by secret committee. His Queen is always a debutante of the current season. On Mardi Gras day, everyone joins in the costuming, young and old alike, resident and tourist.

In European countries, the coming of the wise men bearing gifts to the Christ Child is celebrated twelve days after Christmas. The celebration, called Epiphany, Little Christmas on the Twelfth Night, is a time of exchanging gifts and feasting. All over the world people gather for festive Twelfth Night celebrations. One of the most popular customs is still the baking of a special cake in honor of the three kings..."A King's Cake."

Tradition has now evolved through time to obligate the person who receives the baby (inside every King Cake!) to continue the festivities by hosting another king cake party.

King Cakes were originally a simple ring of dough with little decoration. Now they can be quite elaborate, and fun to make.

The King Cake is usually made with a rich Danish dough, baked and covered with a poured sugar topping and decorated with the traditional Mardi Gras-colored sugars. The end result is a delicious and festive cake in traditional Rex colors: Purple, representing Justice; Green, representing Faith; Gold, representing Power. Hundreds of thousands of King Cakes are consumed at parties every year, making the King Cake another fine Louisiana tradition. A Mardi Gras party just wouldn't be a Mardi Gras party without a King Cake!

Ingredients:
2 packages (4 1/2 tsp./0.5 oz./14g) active dry yeast
1/2 cup granulated sugar
8 tablespoons (1 stick/4 oz./113g) unsalted butter, melted
5 egg yolks
1 cup warm milk (110 degrees F/43 degrees C)
4 to 5 cups all-purpose flour
2 teaspoons salt
1 teaspoon ground nutmeg
1 teaspoon grated lemon zest
Vegetable oil
8 ounces cream cheese
2 1/2 cups confectioners' sugar (icing or powdered sugar)
Juice from 1 fresh lemon
2 tablespoons milk
Purple, green and gold sugar sprinkles
Plastic Baby Toy (optional)

Instructions:
Preheat oven to 350 degrees F/180 degrees C.

For The Cake:
Combine the yeast, sugar, butter, and egg yolks in the bowl of an electric mixer fitted with a dough hook. Add the milk. With the mixer on low speed, beat the mixture for about 4 minutes to dissolve the yeast. If the yeast mixture doesn't begin to foam after a few minutes, it means it's not active and will have to be replaced.

In a separate large mixing bowl, combine the flour, salt, nutmeg, and lemon zest. Add this mixture to the yeast mixture. Mix on low speed until it lightly comes together, then increase the speed to medium and beat until the mixture pulls away from the sides of the bowl, forms a ball, and climbs slightly up the dough hook.

Remove the dough from the bowl. Coat the dough with vegetable oil. Return the dough to the bowl and turn it to oil all sides. Cover the bowl with plastic wrap, set in a warm, draft-free place, and let rise until doubled in size, about 2 hours.

For The Filling:
Meanwhile, in a small bowl, combine the cream cheese and 1/2 cup powdered sugar. Mix well and set aside.

For The Sugar Glaze:
In another small bowl, combine the remaining powdered sugar, lemon juice and milk. Mix well and set aside.

After the First Dough Rising:
Turn the dough out onto a floured surface. Roll the dough out 30 inches long and 6 inches in diameter. Spread the cream cheese filling across the center of the dough. Bring the two long edges together and seal all sides completely. Using your hands shape the dough into a long cylinder and place on a greased baking sheet, seam side down. Shape the dough into a ring. Place a well-greased 2 pound coffee can or shortening can in the center of the ring to maintain the shape during baking.

The Second Dough Rising:
Press the plastic baby toy (optional) into the ring from the bottom so that it is completely hidden by the dough. Cover the ring with a towel and place in a warm, draft free place. Let the dough rise for about 45 minutes or until the dough doubles in size.

Baking the Cake:
With a sharp knife, make several slits around the top of the ring. Place in the oven and bake for 30 minutes, or until golden brown. After baking remove the coffee can immediately. Allow the cake to cool. Drizzle the cake with the sugar glaze that you have set aside. Sprinkle the cake with sprinkles, alternating colors. Cut the cake into individual pieces and serve.

Makes 12 servings

Prep Time: 2 hours 40 minutes
Bake Time: 1 hour 15 minutes

Source: Emeril Lagasse

---
Until Next Time
I do hope you've enjoyed browsing through the recipes for Valentine's Day and the special recipe for Mardi Gras, the King Cake. Please drop me an email and let me know how you liked them. I also hope you try one or two of these special treats.

I plan to be back with a new Diana's Desserts Newsletter in April or May. Until then, enjoy the remainder of the winter time and stay warm and cozy. See you in the Spring!

Sincerely, Diana

Diana's Desserts



---
This email was sent to [email]. You can instantly unsubscribe from these emails by clicking here.