EDITION NUMBER 44

VALENTINES DAY - CHINESE NEW YEAR AND MARDI GRAS DESSERTS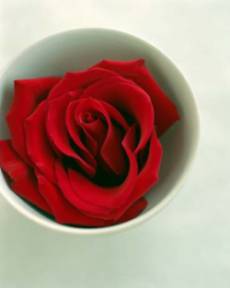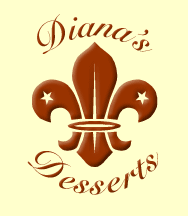 February 10, 2007

Welcome Home Bakers and Friends,

First of all, let me wish all of you a very Happy New Year. I hope 2007 is going well for everyone and that this year is proving to be a good one.

My husband Kenny and I had a very nice holiday season. We spent it quietly but did visit with some good friends and family members. Hanukkah and Christmas were very peaceful. I made rugelach and some delicious little brownies for us; dark chocolate brownies with white chocolate chips inside. So delish!

We went out for dinner to our favorite local restaurant for New Years Eve with my cousin and her husband, got home early and went to bed a little after midnight.

Now here we are already in February and it's time to share with you some treats for Valentine's Day, Chinese New Year, and for those of you who celebrate Mardi Gras, some goodies for that special time also.

Below you will also find in the Food Tips and Information Section, all the information you need about the wonderful and healthy nut, the Almond.

A recipe submitted to Diana's Desserts website by Christine Thomas for Very Red Raspberry Cheesecake is featured below. What a great dessert to serve on Valentine's Day!

Enjoy the recipes, the holiday information, and the information on Almonds.......Diana

---
Guest Submitted Recipe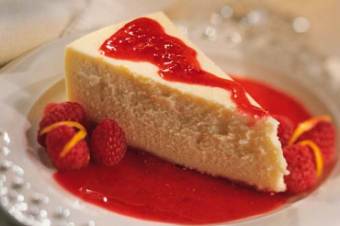 Very Red Raspberry Cheesecake
Servings: 10-12

Comments:
"I make this pretty Very Red Raspberry Cheesecake almost every Valentines Day for my family. Try making it for your family or friends. I bet they will love it, and want you to make it again soon."....Christine Thomas

Ingredients:
For the Crust:
2 cups crushed vanilla wafers
3 tbsp. chopped and toasted almonds
4 tbsp. (1/2 stick/2 oz./56g) butter or margarine, melted

For the Filling:
3 (8 oz.) packages cream cheese (24 ounces total)
2/3 cup granulated sugar
5 tbsp. cornstarch
3 whole eggs
1 egg yolk
1/2 cup whipping cream
1/2 cup amaretto (or any liqueur of your choice)
2 tsp. almond extract (vanilla, if not using amaretto)

For the Sauce:
(2) 12 oz. packages frozen raspberries, thawed
5 tbsp. amaretto (optional)
1/3 cup granulated sugar

Instructions:
For the Crust:
In a small bowl, stir together crushed cookies and chopped almonds. Add butter and stir to combine. Press mixture into the bottom of a greased 9-inch springform pan.

For the Filling:
In a large bowl combine cream cheese, sugar and cornstarch. Beat until smooth with an electric mixer. Add the whole eggs, one at a time, beating well each time. Add the one yolk and beat again. Stir in the whipping cream, amaretto and almond extract. Mix well. Pour mixture into the crust. Bake at 400 degrees F/200 degrees C for 10 minutes; lower temperature to 200 degrees F/100 degrees C and bake for 1 hour and 15 minutes or until the center no longer looks shiny. Remove the cheesecake from the oven and run a knife around the inside edge of the pan. Turn the oven off; return the cake to the oven for an additional 30 minutes. Remove from oven and chill for 3 hours or more.

For the Sauce:
Puree thawed berries in blender, food mill or food processor and strain through a fine sieve over a wide bowl to remove all seeds.

Heat puree with sugar until well mixed. Remove from heat and add liqueur (optional). To serve cheesecake, pour 1/4 cup of sauce on each plate. Place serving of cheesecake on sauce, or place serving of cheesecake on plate, and pour 1/4 cup of sauce over top of each slice.

Garnishing Ideas for Top of Cheesecake:
Use toasted almonds, fresh or frozen raspberries, or white rose petals. Place decoratively on top of cheesecake. Add thin strips of orange peel as garnish, if desired.

Makes 10-12 servings.

Submitted By: Christine Thomas

Click here to view recipe and photo of Very Red Raspberry Cheesecake on Diana's Desserts Website

---
Valentine's Day Desserts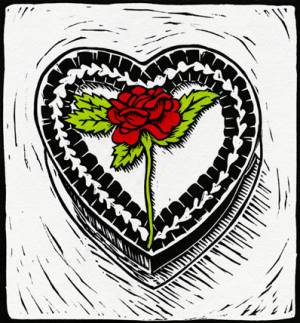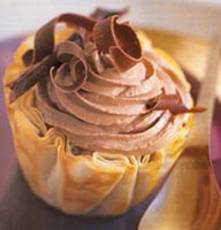 Tiramisu Cups
Servings: 4

Comments:
These individual little "tiramisu" cups would make a perfect dessert for a small dinner party, or why not serve them at brunch. They would also be lovely served at an afternoon tea party or to serve for a very sweet and chocolaty Valentine's Day dessert.

Ingredients:
6 oz. cream cheese or mascarpone cheese
1/3 cup confectioners' sugar
2 tbsp. unsweetened cocoa powder
2 tbsp. milk
1 tsp. vanilla extract* (see note below)
4 large phyllo cups *(See How to Make Phyllo Cups below), at room temperature
1/2 cup frozen non-dairy whipped topping, thawed
3/4 cup mixed berries (optional)
1/4 cup semisweet chocolate shavings or chocolate curls

Instructions:
In a medium bowl, with an electric mixer at medium speed, beat the cream cheese (or mascarpone cheese, if using), confectioners' sugar, cocoa powder, milk and vanilla; with a rubber spatula, fold in the whipped topping. Refrigerate, covered, at least 1 hour.

Fill the phyllo cups with the cocoa mixture; top with the berries (if using) and sprinkle with the chocolate shavings or chocolate curls.

Rather than dirty your pastry bag, snip a small hole in the corner of a plastic food storage bag and fit with a tip before spooning in the filling. If you don't have a tip, don't worry, you can still pipe the mixture from the hole.

Makes 4 servings.

*Note: If desired, you can substitute the vanilla extract with a little bit of brandy or rum flavoring to give these little goodies an extra bite.

How to Make Phyllo Cups

Note: You will need one package of store-bought frozen phyllo sheets, thawed.

Comments:
These versatile cups can be made ahead of time and filled with sweet fillings. They are made in muffin tins and can be made in any size depending upon what you use.

1. Preheat oven to 325 degrees F/160 degrees C. Layer 4 sheets of phyllo dough, brushing each layer with melted butter or oil. To prepare cups for the chocolate mousse filling, sprinkle each layer with granulated or confectioner's sugar after brushing with butter or oil.

2. Cut squares with scissors from the phyllo for various muffin pan sizes: (3-1/2 inch squares for mini cups; 5-1/2 inch for standard cups; 8-inch squares for jumbo cups. Spray the muffin tins with vegetable oil spray.

3. Press the layered phyllo squares gently but firmly against the bottoms and sides of the muffin cups.

4. Bake the empty shells until they are crisp and golden about 7 to 10 minutes. Remove them from the oven and let them cool completely before filling. The empty cups can also be frozen. The cups can be prepared and baked 2 to 3 days in advance and stored in a covered airtight container.

5. Avoid filling them until just before serving. Moist contents will cause the phyllo to become soggy.

Click here to view recipe and photo of Tiramisu Cups on Diana's Desserts Website

---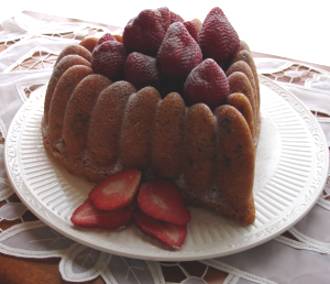 Strawberry Heart Bundt Cake
Servings: 10-12

Comments:

It's funny, every year I buy a new heart shaped pan to use to make a heart shaped cake for Valentine's Day, and every year I always end up making another type of dessert, but a couple of years ago I bought this beautiful heart shaped bundt style cake pan made by Nordic Ware and "finally" made a cake that I think looked so pretty for this very romantic day. Well, I must recommend this pan, it's a winner, and the cake is too. It goes really well with a nice cup of hot coffee or a big glass of cold milk and if you like chocolate, do what we did and dip the strawberries in chocolate fondue and also you can dip pieces of the cake in the fondue. So romantic, and "oh so decadent".....Diana, Diana's Desserts

Ingredients:
5 eggs
1 2/3 cups granulated sugar
1 1/4 cups (2 1/2 sticks/10 oz/283g) unsalted butter, at room temperature, cut into small pieces
2 tablespoons kirsch or other fruit liqueur
2 1/2 cups all-purpose flour
1 tsp. baking powder
Pinch of salt
1 1/2 cups fresh strawberries, cleaned, hulled and chopped

Garnish:
2 cups fresh whole strawberries, cleaned and hulled
Confectioners' sugar, for dusting

Instructions:
Preheat oven to 325 degrees F/160 degrees C. Butter and flour a 10 or 12 cup bundt or heart shaped cake pan with hole in the middle *(see note below)

In a large bowl, blend the eggs and granulated sugar. Using an electric mixer, beat in the butter and liqueur until fluffy. Add all but 2 tablespoons of the flour and the baking powder and salt, and beat until well incorporated and no lumps remain.

In another bowl, combine the 1 1/2 cups (chopped) strawberries with the remaining 2 tablespoons of flour. Toss to coat the strawberries evenly with the flour. Using a rubber spatula, gently fold the berries into the batter.

Pour the batter into the prepared pan and level top with a rubber spatula. Bake in preheated 325 degree F/160 degree C oven until a wooden skewer inserted into the center of the cake comes out clean, about 1 hour. Transfer the pan to a wire rack and let the cake cool in the pan for 20 to 25 minutes. Unmold the cake onto the rack and let cool completely.

Fill the center of the cake with the remaining 2 cups (whole) strawberries. Dust the cake with confectioners' sugar.

Makes 10-12 servings.

*Note:
I used the Elegant Heart Cake Pan made by Nordic Ware to make this cake in. It can be purchased online at Amazon.com, Williams-Sonoma.com, Sur La Table, and many other cookware and bakeware stores on the internet. It may also be purchased at many department stores such as JCPenney's.

Photograph taken by Diana Baker Woodall © 2005

Source: DianasDesserts.com

Click here to view recipe and photo of Strawberry Heart Bundt Cake on Diana's Desserts Website

---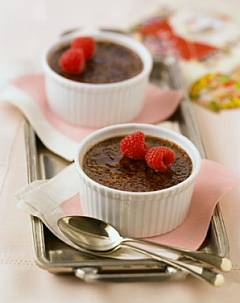 Chocolate Lover's Creme Brulee
Servings: 4

Comments:
What a "sweet" dessert for an ending to a romantic dinner for two on Valentines Day. Make this decadent chocolate creme brulee for your wife, husband, or for your special lover. They will tell you how lucky they are, that you made this wonderful dessert just for them to celebrate this special lover's day.

Ingredients:
2 cups heavy cream
3 oz. good quality bittersweet chocolate, chopped into small pieces
3 large egg yolks
6 tbsp. granulated sugar
1 tsp. vanilla extract

Instructions:
Position a rack in the center of oven and preheat to 325 degrees F/160 degrees C. Have a pot of boiling water ready.

In a saucepan over medium heat, warm the cream until small bubbles form around the edges of the pan, 2 to 3 minutes. Remove from the heat and stir in the chocolate until melted and blended. Cool slightly.

In a bowl, whisk together the egg yolks and 2 tbsp. of the sugar until the mixture is pale yellow and thick ribbons fall from the whisk, about 5 minutes. Slowly stir in the warm chocolate cream, then stir in the vanilla.

Line a 3-inch-deep baking pan with a kitchen towel and place four 6-oz. ramekins or dessert cups in the pan. Pour the chocolate mixture through a fine-mesh sieve set over a bowl. Divide the chocolate mixture among the ramekins. Add boiling water to fill the pan halfway up the sides of the ramekins and cover the pan loosely with aluminum foil.

Bake until the custards are just set around the edges, 25 to 30 minutes. Transfer the ramekins to a wire rack and cool to room temperature. Cover and refrigerate
for at least 4 hours or up to 2 days.

Just before serving, sprinkle 1 tbsp. sugar evenly over the surface of each custard. Using a kitchen torch, move the flame continuously in small circles over the surface until the sugar bubbles and just begins to turn golden, 20 to 30 seconds per custard. Serve immediately.

Makes 4 servings.

Click here to view recipe and photo of Chocolate Lover's Creme Brulee on Diana's Desserts Website

---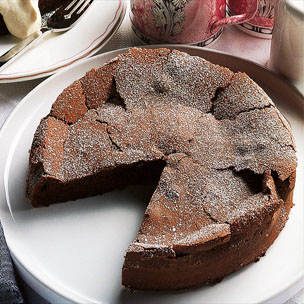 Bittersweet Chocolate Cake
Servings: 6-8

Comments:
This cake will please any "chocoholic" for Valentine's Day. Serve with fresh raspberries and whipped cream topping for a dessert "your honey" won't forget.

Ingredients:
Cake:
3 tbsp. cake flour
1 tbsp. Dutch process cocoa powder
2 tsp. instant espresso powder
5 oz. bittersweet chocolate, chopped into chunks
6 tbsp. (3/4 stick/3 oz/85g) unsalted butter, cut into small cubes, at room temperature
4 eggs, separated
1/2 cup superfine sugar
1 tsp. vanilla extract

Whipped Cream Topping:
1 cup heavy cream
2 tbsp. sour cream
2 tbsp. confectioners' sugar
1 tbsp. finely grated orange zest
1 tsp. vanilla extract

Garnish:
Confectioners' sugar for dusting
Fresh raspberries (optional)

Instructions:
Position a rack in the center of oven and preheat oven to 350 degrees F/180 degrees C. Butter and flour an 8-inch springform pan with 2-inch sides.

Cake:
In a bowl, sift together the flour, cocoa and espresso powder. Set aside.

Place the chocolate in a heatproof bowl and set over but not touching barely simmering water in a saucepan. Melt the chocolate, stirring occasionally. Remove the bowl from the heat and stir in the butter, a little at a time, until blended. Let cool slightly.

In a large bowl, combine the egg yolks and superfine sugar. Using an electric mixer set on medium speed, beat until creamy, 3 to 4 minutes. Beat in the chocolate mixture until blended. Fold in the flour mixture and then the vanilla.

In another large bowl, beat the egg whites until soft peaks form. Stir one-fourth of the whites into the batter, then fold in the remaining whites just until incorporated.

Pour the batter into the prepared pan and level the top. Bake until the top is risen and crusty and a toothpick inserted into the center comes out almost clean, 30 to 35 minutes. The center should be soft and moist. Transfer the pan to a wire rack and cool for 10 to 15 minutes. The top will fall a bit. Remove the pan sides, loosen the cake's edges with a knife, and slide the warm cake onto a serving plate.

Whipped Cream Topping:
In a bowl, whisk together the cream and sour cream until slightly thickened. Whisk in the confectioners' sugar, orange zest and vanilla until soft peaks form.

Dust the warm cake with confectioners' sugar. Cut into slices and top with whipped cream topping and serve with fresh raspberries (raspberries are optional).

Makes 6-8 servings.

Adapted from Chuck Williams Collection, Simple French Cooking, by Chuck Williams (Time-Life Books, 1996).

Source: Simple French Cooking by Chuck Williams

Click here to view recipe and photo of Bittersweet Chocolate Cake on Diana's Desserts Website

---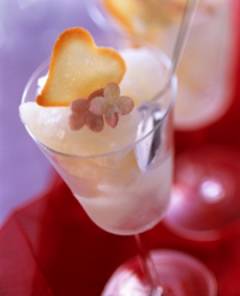 Champagne Sorbet with Rose Water
Servings: Makes 1 1/2 quarts (1.5 litres)

Comments:
Through the centuries many herbs and flowers have often been referred to as aphrodisiacs (arousing or intensifying sexual desire). Roses often made the list as one of these love-inducing aphrodisiacs and this is where the "rose water" or "rose flower water" comes into play in this very seductive champagne sorbet. There's no guarantee, but give it a try and see what happens. Happy Valentine's Day!

Ingredients:
3 cups water
1 1/4 cups superfine sugar
2 tablespoons rose water (sometimes called rose flower water)
1/4 cup lemon juice
1 cup pink champagne or blush colored sparkling wine

Instructions:
Combine water and sugar in a medium saucepan over medium heat, stirring until sugar has dissolved. Remove from heat and transfer to a medium bowl. Let cool at room temperature for 1 1/2 hours.

Stir in the rose water, lemon juice and champagne (or sparkling wine, if using). Freeze mixture in an ice cream maker according to manufacturer's instructions. Transfer sorbet to a large airtight container and place in freezer at least 2 hours or overnight before serving. Serve sorbet in pretty stemmed dessert glasses, and if desired, garnish with thin heart shaped cookies and candied edible flowers or sliced strawberries.

Makes 1 1/2 quarts/1.5 liters sorbet.

Source: DianasDesserts.com

Click here to view recipe and photo of Champagne Sorbet with Rose Water on Diana's Desserts Website

---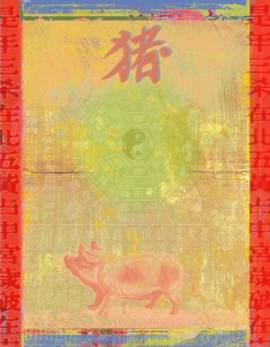 Chinese New Year
2007- The Year of the Pig (or Boar)

Chinese New Year begins on February 18, 2007.

Chinese New Year is the longest and most important celebration in the Chinese calendar. The Chinese year 4705 begins on February 18, 2007.

Chinese months are reckoned by the lunar calendar, with each month beginning on the darkest day. New Year festivities traditionally start on the first day of the month and continue until the fifteenth, when the moon is brightest. In China, people may take weeks of holiday from work to prepare for and celebrate the New Year.

A Piggy Year

Legend has it that in ancient times, Buddha asked all the animals to meet him on Chinese New Year. Twelve came, and Buddha named a year after each one. He announced that the people born in each animal's year would have some of that animal's personality. Those born in pig years tend to have excellent manners, make and keep friends, work very hard, and appreciate luxury. They are very loving and make loyal partners. Lucille Ball, Humphrey Bogart, Hillary Rodham Clinton, Wolfgang Amadeus Mozart, Ernest Hemingway, Alfred Hitchcock, Mahalia Jackson, David Letterman, and Arnold Schwarzenegger were all born in the year of the pig.

Fireworks and Family Feasts

At Chinese New Year celebrations people wear red clothes, decorate with poems on red paper, and give children "lucky money" in red envelopes. Red symbolizes fire, which according to legend can drive away bad luck. The fireworks that shower the festivities are rooted in a similar ancient custom. Long ago, people in China lit bamboo stalks, believing that the crackling flames would frighten evil spirits.

The Lantern Festival

In China, the New Year is a time of family reunion. Family members gather at each other's homes for visits and shared meals, most significantly a feast on New Year's Eve. In the United States, however, many early Chinese immigrants arrived without their families, and found a sense of community through neighborhood associations instead. Today, many Chinese-American neighborhood associations host banquets and other New Year events.

Chinese New Year ends with the lantern festival on the fifteenth day of the month (March 4, 2007). Some of the lanterns may be works of art, painted with birds, animals, flowers, zodiac signs, and scenes from legend and history. People hang glowing lanterns in temples, and carry lanterns to an evening parade under the light of the full moon.

In many areas the highlight of the lantern festival is the dragon dance. The dragon—which might stretch a hundred feet long—is typically made of silk, paper, and bamboo. Traditionally the dragon is held aloft by young men who dance as they guide the colorful beast through the streets. In the United States, where the New Year is celebrated with a shortened schedule, the dragon dance always takes place on a weekend. In addition, many Chinese-American communities have added American parade elements such as marching bands and floats.

---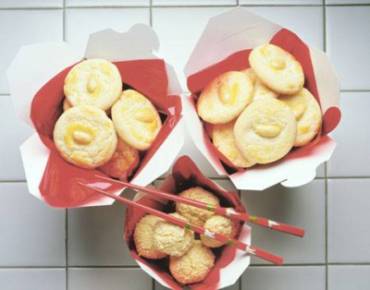 Chinese Almond Cookies
Servings: Makes approximately 4 1/2 dozen cookies

Comments:
The almond cookie is believed to have been derived from the ancient Chinese walnut cookie (a butter cookie with a walnut in the center), which was thought to bring good luck. The almond cookie originated when Chinese immigrants came to the U.S. in the mid 1800s, and the walnut was replaced with the almond.

Serve these traditional cookies with a nice hot cup of Green or Oolong tea...Diana

Ingredients:
2 3/4 cups sifted all-purpose flour
1 cup granulated sugar
1/2 teaspoon baking soda
1/2 teaspoon salt
1 cup (2 sticks/8 oz/226g) butter, margarine, or lard, softened
1 large egg, slightly beaten
1 teaspoon almond extract
1/3 cup whole almonds, blanched

Instructions:
Preheat oven to 325 degrees F/160 degrees C.

Sift flour, sugar, baking soda, and salt together in a bowl. Cut in softened butter until mixture resembles cornmeal. Add beaten egg, and almond extract, mix well.

Shape dough into 1-inch balls and place 2 inches apart on ungreased cookies sheets. Place an almond on top of each cookie and press down to flatten slightly. Bake in slow oven (325F/160C) for 15-18 minutes. Cool on rack.

Makes approximately 4 1/2 dozen cookies.

Click here to view recipe and photo of Chinese Almond Cookies on Diana's Desserts Website

---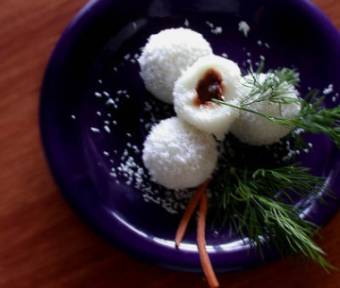 Sweet and Snowy Rice Dumplings
Servings: 4-6 servings

Comments:
For centuries, the Chinese have considered the sticky rice soup dumpling, or yuan xiao, a favorite treat during family reunions, Chinese New Year and lantern parades. But when you coat these dumplings in a fragrant and flaky layer of dried coconut powder, you transform the traditional dessert into a finger food that is both easy to make and easy to enjoy.

Ingredients:
1 bag (30 or so) of small pre-made sticky rice dumplings (they are available at most Asian markets with a variety of filling flavors such as sweet sesame, jasmine, etc.)
3-4 cup powdered coconut meat

You will need:
1 medium plate
1 large bowl
Wire strainer

Instructions:
1. Bring a small pot of water to boil over medium heat

2. Boil dumplings for 7 minutes or until they are floating in the water

3. Strain dumplings before putting them on a cool plate

4. Fill the bowl with coconut powder and quickly roll individual dumplings (before their surfaces dry and lose stickiness) in the powder until their surfaces are entirely covered

5. Refrigerate before serving.

Makes 4-6 servings.

Source: Silver Chips Online

Click here to view recipe and photo of Sweet and Snowy Rice Dumplings on Diana's Desserts Website

---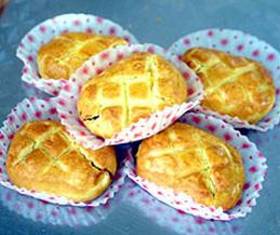 Pineapple Tarts
Servings: Makes approximately 3 dozen

Comments:
The Chinese love to pun and so when Chinese New Year comes, the food we serve are punned to our hearts' content to reflect prosperity, health and happiness.

The word "pineapple" sounds like "luck comes", so you'll be OK if you serve pineapple anything. This recipe is a favorite, it looks almost too good to eat. If you have to do the pineapple jam yourself, it could be a bit tedious, but you will be rewarded by the compliments that are bound to come your way.

Ingredients:
In Malaysia, you can buy this pineapple jam from cake specialist shops. If you can find such jam in your country, it would save you a lot of work.

Pineapple Filling:
2 medium sized pineapples (skinned and coarsely grated)
200g (3/4 cup) caster (granulated) sugar
Small piece of cinnamon stick
2 cloves* (see note below)
1 tbsp. lemon juice

Shortcrust Pastry:
500g (about 2 cups) plain (all-purpose) flour
Pinch of salt
2 tbsp. icing (confectioners') sugar
1 cup (2 sticks/8 oz./227gm) unsalted butter
3 egg yolks
1 egg white
2-3 tsp. ice-cold water

Glaze:
1 egg, slightly beaten

Garnish:
Whole Cloves (optional)

Instructions:
The Pineapple Filling:
(To be made at least a day ahead and kept in the refrigerator)

Combine all filling ingredients in a heavy-base saucepan and cook over moderate heat until the mixture becomes almost dry and sticky. You will only need to stir occasionally at the beginning, but stirring will become more vigorous towards the end to prevent burning.

The Shortcrust Pastry:
Sift flour together with salt. Add icing sugar. Rub in the butter until mixture resembles breadcrumbs. Lightly work in the egg yolks and egg white. Add in ice water a teaspoon at a time until dough is soft but not sticky. Wrap in plastic bag and chill for one hour.

Preheat oven to 180 degrees C/350 degrees F and grease a few cookie sheets.

Pinch out some dough (grape-size). Roll it into a ball. Then, flatten into a disc. Place a smaller ball of filling into the centre and gather up dough to completely cover the jam.

Press into a slightly elongated shape. Using a small pair of pointed scissors, make several rows of snips to resemble the pineapple thorns.

The Glaze:
Brush all over with beaten egg.

Stick a whole clove at one end (optional).

Place tarts on the cookie sheets and bake for 20 to 25 minutes or until golden brown. Remove from oven and cool for 10 minutes before removing to wire racks to cool completely.

Store in air-tight containers, separating each row with grease-proof paper.

*Note: Do NOT consume the cloves. They are for decorative purposes only.

Makes approximately 3 dozen.

Source: Choo Teck Poh
Submitted By: Choo Teck Poh

Click here to view recipe and photo of Pineapple Tarts on Diana's Desserts Website

---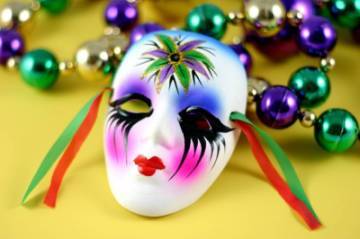 Mardi Gras
Mardi Gras and King Cake History

An observer once said that New Orleanians are either having a party, recuperating from a party, or planning a party. The biggest and best party of all and the city's most famous celebration is Mardi Gras, "the greatest free show on earth." Mardi Gras dates back to 1837 when the first street parade took place.

The carnival season begins January 6th (12 days after Christmas) on Twelfth Night with the first of nearly 100 private masked balls. The dazzling Mardi Gras parades feature marching bands and elaborate paper mache floats with maskers tossing trinkets, beads and doubloons to the crowds.

On Mardi Gras Day, the day before Ash Wednesday, the largest and longest parades are held. Rex, King of Carnival, is a prominent businessman, chosen by secret committee. His Queen is always a debutante of the current season. On Mardi Gras day, everyone joins in the costuming, young and old alike, resident and tourist.

In European countries, the coming of the wise men bearing gifts to the Christ Child is celebrated twelve days after Christmas. The celebration, called Epiphany, Little Christmas on the Twelfth Night, is a time of exchanging gifts and feasting. All over the world people gather for festive Twelfth Night celebrations. One of the most popular customs is still the baking of a special cake in honor of the three kings..."A King's Cake."

Tradition has now evolved through time to obligate the person who receives the baby (inside every King Cake!) to continue the festivities by hosting another king cake party.

King Cakes were originally a simple ring of dough with little decoration. Now they can be quite elaborate, and fun to make.

The King Cake is usually made with a rich Danish dough, baked and covered with a poured sugar topping and decorated with the traditional Mardi Gras-colored sugars. The end result is a delicious and festive cake in traditional Rex colors: Purple, representing Justice; Green, representing Faith; Gold, representing Power. Hundreds of thousands of King Cakes are consumed at parties every year, making the King Cake another fine Louisiana tradition. A Mardi Gras party just wouldn't be a Mardi Gras party without a King Cake!

---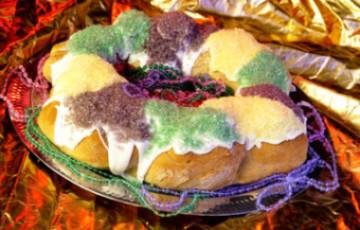 Mardi Gras King Cake
Servings: 12

Prep Time: 2 hours 40 minutes
Cook Time: 1 hour 15 minutes

Ingredients:
2 packages dry active yeast
1/2 cup sugar
8 tablespoons unsalted butter, melted
5 egg yolks
1 cup warm milk (110 degrees F/43 degrees C)
4 to 5 cups all-purpose flour
2 teaspoons salt
1 teaspoon ground nutmeg
1 teaspoon grated lemon zest
Vegetable oil
8 ounces cream cheese
2 1/2 cups powdered sugar
Juice of one lemon
2 tablespoons milk
Purple, green and gold sugar sprinkles
Plastic Baby Toy (optional)

Instructions:
Preheat oven to 350 degrees F/180 degrees C.

For The Cake:
Combine the yeast, sugar, butter, and egg yolks in the bowl of an electric mixer fitted with a dough hook. Add the milk. With the mixer on low speed, beat the mixture for about 4 minutes to dissolve the yeast. If the yeast mixture doesn't begin to foam after a few minutes, it means it's not active and will have to be replaced.

In a separate large mixing bowl, combine the flour, salt, nutmeg, and lemon zest. Add this mixture to the yeast mixture. Mix on low speed until it lightly comes together, then increase the speed to medium and beat until the mixture pulls away from the sides of the bowl, forms a ball, and climbs slightly up the dough hook.

Remove the dough from the bowl. Coat the dough with vegetable oil. Return the dough to the bowl and turn it to oil all sides. Cover the bowl with plastic wrap, set in a warm, draft-free place, and let rise until doubled in size, about 2 hours.

For The Filling:
Meanwhile, in a small bowl, combine the cream cheese and 1/2 cup powdered sugar. Mix well and set aside.

For The Sugar Glaze:
In another small bowl, combine the remaining powdered sugar, lemon juice and milk. Mix well and set aside.

After the First Dough Rising:
Turn the dough out onto a floured surface. Roll the dough out 30 inches long and 6 inches in diameter. Spread the cream cheese filling across the center of the dough. Bring the two long edges together and seal all sides completely. Using your hands shape the dough into a long cylinder and place on a greased baking sheet, seam side down. Shape the dough into a ring. Place a well-greased 2 pound coffee can or shortening can in the center of the ring to maintain the shape during baking.

The Second Dough Rising:
Press the plastic baby toy (optional) into the ring from the bottom so that it is completely hidden by the dough. Cover the ring with a towel and place in a warm, draft free place. Let the dough rise for about 45 minutes or until the dough doubles in size.

Baking the Cake:
With a sharp knife, make several slits around the top of the ring. Place in the oven and bake for 30 minutes, or until golden brown. After baking remove the coffee can immediately. Allow the cake to cool. Drizzle the cake with the sugar glaze that you have set aside. Sprinkle the cake with sprinkles, alternating colors. Cut the cake into individual pieces and serve.

Yield: 12 servings.

Source: Emeril Lagasse

Click here to view recipe and photo of Mardi Gras King Cake on Diana's Desserts Website

---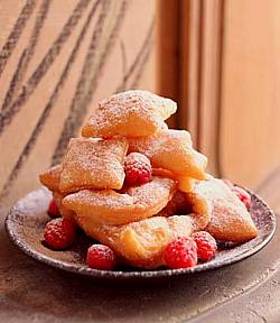 Mini Beignets for Mardi Gras
Servings: Makes approximately 24 mini beignets

Comments:
These are the mini version of those famous little French style doughnuts that they make in New Orleans. Serve them during Mardi Gras or anytime during the year with hot coffee, hot cocoa or any warm beverage of your choice.

Ingredients:
1/3 cup whole milk
1 1/2 cups buttermilk
3/4 ounce fresh compressed yeast (or .375 ounce dry yeast)
3/4 teaspoon granulated sugar
5 1/2 cups bread flour
1/2 teaspoon baking soda
3/4 teaspoon salt
Peanut or Canola oil, for frying the beignets
Confectioners' sugar, for garnish

Instructions:
In a heavy saucepan, heat milk over medium heat until small bubbles form. Remove from heat and temper in buttermilk. Add yeast and granulated sugar. Pour mixture into mixing bowl.
Add all dry ingredients and mix with electric mixer on low using dough hook until combined. Place dough in greased plastic container, covered, in a warm, dry place for 30 minutes. Turn dough onto a floured surface and form a ball. Roll out dough on a floured surface, and then cut into 1-1/2 inch squares. Place beignets on sheet pan lined with greased parchment paper. Wrap with plastic wrap and store in refrigerator until ready to cook.

In a large (10 to 12-inch pan) and deep (at least 2 inches deep) frying pan bring oil to 350 degrees F/180 degrees C. Fry beignets until puffed and golden brown. Drain on paper towels and sprinkle with confectioners' sugar. If desired, serve with fresh berries or a warm blueberry sauce.

Makes approximately 24 mini beignets.

Click here to view recipe and photo of Mini Beignets for Mardi Gras on Diana's Desserts Website

---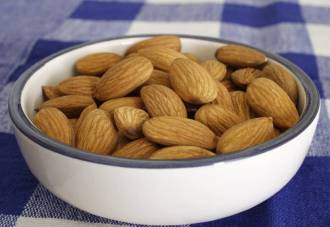 Food Tips and Information Section
All About Almonds
Almonds are a surprisingly decent source of calcium: Although you would have to consume 330 calories' worth of almonds to get a significant quantity of this bone-building Mineral, almonds contain more calcium than any other nut. Almonds are also a significant source of magnesium, which contributes to strong bones as well, and they supply a healthy amount of Vitamin E. These sweet, versatile nuts have the highest dietary fiber content of any nut or seed, supplying more than 3 grams of fiber per ounce; like all nuts, almonds are a good source of Protein, although they are lacking the essential amino acid, lysine. (However, that problem is easily solved by combining almonds with legumes that are high in lysine).

More than 65% of the Fat in almonds is monounsaturated, which can help lower LDL (bad) cholesterol levels. Almonds also contain the phytochemicals quercetin and kaempferol, both of which may be protective against cancer.

Varieties
There are two types of almonds, bitter and sweet. Sweet almonds are the kind used in cooking and baking, whereas bitter almonds (whose sale is prohibited in this country) are used primarily to make almond Extract. There are also Chinese almonds, but these are actually apricot kernels.

Sweet almonds are sold in a number of forms, in shell and out. Whole, shelled almonds are sold "natural" (with their brown skin on) and blanched (with the skin removed); almonds are also sold sliced or slivered (natural or blanched).

Almonds are sold roasted and dry-roasted. Roasted almonds (as with any "roasted" nut) are oil-roasted, which is akin to being deep-fried, and the fat used is often highly saturated coconut oil. The process adds about 10 calories per ounce of nuts, or a little more than a Gram of fat (mostly saturated fat, if coconut oil is used).

Dry-roasted almonds are not cooked in oil, so they are slightly lower in calories and fat than oil-roasted nuts. However, they may be salted or contain other ingredients, such as corn syrup, sugar, starch, MSG, and preservatives.

Almonds are also sold in the form of almond butter (a delicious alternative to peanut butter), almond paste (ground almonds combined with sugar, to use in desserts), and almond oil (for baking and flavoring).

Availability
Packaged almonds are widely available all year round. Fresh almonds in their shells are easiest to find in fall and early winter.

Shopping
For the sake of freshness, buy almonds in sealed packages when possible. When buying from a bulk source, choose a store where there's a rapid turnover and where the bulk foods are kept in covered containers. Smell the almonds to be sure that they're fresh and sweet--beware of any musty or rancid odor.

Storage
Like all nuts, almonds have a high fat content that makes them susceptible to spoilage. To keep them fresh if not using right away, freeze the nuts in their original unopened package or in a tightly covered jar or a zip-seal plastic bag. It's not necessary to thaw them before using. Almonds keep better in their shells, if you don't mind the work of shelling them.

Preparation
To enhance the flavor of natural almonds, toast them in a dry skillet over low heat, stirring frequently, until golden and fragrant, about 5 minutes. Remove the almonds from the pan immediately or they're likely to scorch.

You can also toast almonds in a shallow baking pan in a 350 degree F/180 degree C oven for 7 to 10 minutes (slivered and sliced almonds will take a shorter time than whole almonds).

To finely chop almonds, place in a food processor and pulse on and off until finely ground, being careful not to overprocess or the nuts will turn oily and pasty. If almonds are to be ground for a cake, process with a small amount of the flour called for.

Nutrition Chart
Almonds/1 ounce

Calories 167
Total fat (g) 15
Saturated fat (g) 1.4
Monounsaturated fat (g) 9.6
Polyunsaturated fat (g) 3.1
Dietary fiber (g) 3.1
Protein (g) 6
Carbohydrate (g) 6
Cholesterol (mg) 0
Sodium (mg) 3
Vitamin E (mg) 6.8
Manganese (mg) 0.6
Magnesium (mg) 84
Phosphorus (mg) 147

Source: WholehealthMD.com

---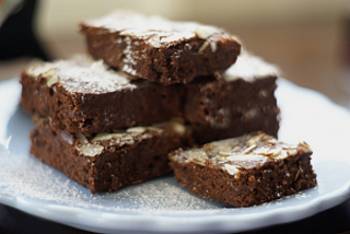 Chocolate Fudge Almond Brownies
Servings: Makes 9-12 brownies

Comments:
Here's a nice chocolaty brownie that's not too sweet and has very little fat content. Great for those of you who are watching your cholesterol. This recipe uses a small amount of butter and a little applesauce to give them the moistness that most of us want in a fudge brownie. Added to the batter are little white chocolate chips (I used the miniature ones) for that secret taste, and sliced almonds are sprinkled over the batter to give the brownies a nice little crunch and a bit of a nutty taste. I like to dust the tops with confectioners' sugar but you can eat them plain if desired.

Ingredients:
2 tablespoons (1/4 stick/1 oz./28g) butter, softened
1 cup granulated sugar
1/2 cup applesauce
1 egg
2 teaspoons vanilla extract
1/2 cup unsweetened cocoa powder
3/4 cup all-purpose flour
1/2 cup white chocolate chips (regular size or miniature chips)
1/4 cup sliced almonds

Confectioners' sugar, for dusting brownies (optional)

Instructions:
Preheat oven to 350 degrees F/180 degrees C. With nonstick cooking spray, spray bottom and sides of a 8-inch square baking pan, then line bottom and sides of pan with aluminum foil or parchment paper, leaving a 1-inch overhang on all sides of pan (for lifting brownies out of pan when done). Spray foil (or parchment paper, if using) with nonstick cooking spray also.

In a medium bowl, using an electric beater on medium speed, beat the softened butter, sugar, applesauce, egg, and vanilla. Slowly beat in the cocoa and flour. With a spoon, stir in white chocolate chips. Spoon the batter into the prepared baking pan and top with the sliced almonds.

Bake in preheated oven for 25 to 30 minutes, or until a wooden toothpick inserted in the center comes out clean. Let brownies cool in pan for 15 minutes, then lift them out of pan using the 1-inch overhang of foil (or parchment paper). Let cool completely on wire rack. Cut into squares when completely cooled. If desired, dust brownies with confectioners' sugar.

Makes 9-12 brownies.

Photograph taken by Diana Baker Woodall © 2007

Source: DianasDesserts.com

Click here to view recipe and photo of Chocolate Fudge Almond Brownies on Diana's Desserts Website

---
Until Next Time
That's it for this edition of Diana's Desserts Newsletter. I hope you liked the recipes and that you'll try one or two of them and if you do make any recipes from Diana's Desserts Website, please rate and/or review the recipe on the site.

Enjoy Valentine's Day, Chinese New Year and Mardi Gras. It's a fun time of the year with holidays that make you feel good.

If you'd like to submit one of your favorite dessert, bread or beverage recipes to Diana's Desserts Website, please click on the link below:

Submit a Recipe

I hope to be back with another edition in late March, just in time to share with you recipe ideas for the Jewish holiday of Passover and for the Christian holiday of Easter.

Until then, take good care and enjoy the remaining winter time. Stay warm and cozy and try to make your favorite "comfort foods" for those chilly days and evenings. Of course, for those of you in other parts of the world where it's summer time, you can still make your favorite "comfort foods" but they'll be ones that will help you stay "cool" instead of warm.

Sincerely, Diana

Diana's Desserts