EDITION NUMBER 37
"SPRING IS AROUND THE CORNER"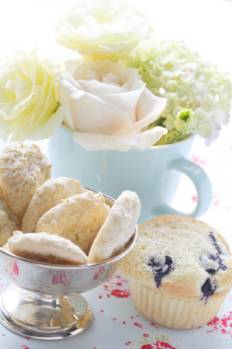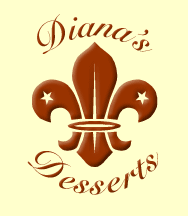 March 5, 2006

Welcome Home Bakers and Friends,

Yes, springtime is just around the corner. Just a few more weeks. The birds are starting to sing and the sun is beginning to shine just a little once again. These signs of the changing of seasons are appreciated so much, as the rain and snow and cold weather begin to pass from our daily lives and soon we can open our front doors wide to let in brighter and warmer days. A good time to start baking again, isn't it? A more cheerful time to get in the kitchen and make some goodies to celebrate "springtime" or to make some sweet treats for special holidays.

I thought it would be nice to send you a short newsletter this month with recipes for Purim and St. Patrick's Day. Purim is the very fun and festive Jewish holiday and of course, St. Patrick's Day is the Irish celebration that so many of us enjoy the world over, not only in Ireland.

Purim is celebrated this year from sundown Monday, March 13th to sundown Tuesday, March 14th. St. Patrick's Day is celebrated on Friday, March 17th.

This month the guest submitted recipe is for Chocolate Chip Blonde Brownies submitted to Diana's Desserts Website by Rena Cornell. They sound and look so good and I know you'll really enjoy them!

It's all about Almonds in this editions Food Tips and Information Section (see below), a surprisingly nutritious nut that may be used in so many different ways in cooking and baking or for just eating out of hand.

Hope you try your luck at making one or two of these recipes. You'll find them easy to make and I know they will be enjoyed by your friends and family.

---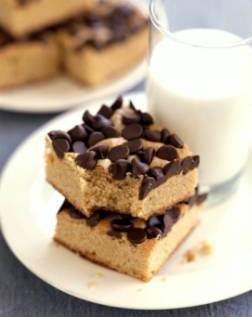 Guest Submitted Recipe
Chocolate Chip Blonde Brownies
Servings: 24 bars

Comments:
This family recipe has been around for at least 50 years. The blonde brownies are wonderfully rich and I believe they taste best the day after they are made, after the chocolate chips have time to set hard.

Ingredients:
2/3 cups vegetable shortening
2 cups light brown sugar
2 tablespoons hot water
2 large eggs
2 teaspoons vanilla extract
2 cups all-purpose flour
1 teaspoon salt
1/4 teaspoon baking soda
12 oz. package semi-sweet chocolate chips
1/2 cup chopped walnuts (optional)

Instructions:
Preheat oven to 350 degrees F/180 degrees C. Grease two square 9 x 9 x 2-inch baking pans.

Melt shortening in medium sauce pan. Add light brown sugar and hot water to melted shortening, stir well in pan. Remove from heat. Sift dry ingredients in a large bowl, set aside. Add the 2 eggs and 2 teaspoons of vanilla to shortening mixture, stir well. Add the dry ingredients to the shortening mixture in pan, also add nuts (if desired). Divide the mixture in half and fold each half into prepared pans. Sprinkle half of the package of chocolate chips on top of each pan of batter. They should be thoroughly covered with chips. Bake for 25 minutes, or until an inserted toothpick comes out clean. Allow to cool on a wire rack for at least 3 to 4 hours before cutting into squares.

Makes two (9-inch) pans of brownies, 24 servings.

Source: Paternal Grandmother's Recipe

Submitted By: Rena Cornell

Date: February 10, 2006

Click here to view recipe and photo of Chocolate Chip Blonde Brownies on Diana's Desserts Website


---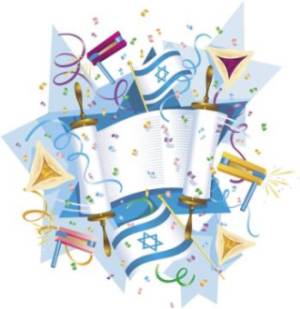 The Jewish Holiday of Purim
Purim is the most festive of Jewish holidays, a time of prizes, noisemakers, costumes and treats. The Festival of Purim commemorates a major victory over oppression and is recounted in the Megillah, the scroll of the story of Esther. Purim takes place on the fourteenth and fifteenth days of Adar, the twelfth month of the Jewish calendar. All Jewish holidays begin the evening before the date specified. This is because a Jewish "day" begins and ends at sunset, rather than at midnight. This year (2006), Purim begins at sundown on Monday, March 13th and ends at sundown on Tuesday, March 14th.

Source: Holidays.net: http://www.holidays.net/purim

---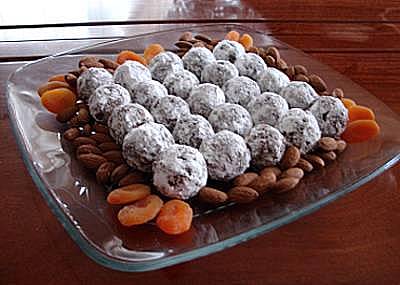 Apricot Almond Chocolate Balls for Purim
Although the traditional treat for Purim is Hamentashen (the triangle shaped poppy seed, jam filled or prune filled cookie), I thought it might be nice to enjoy something different this year. You'll love these little goodies and they're so easy to make. The children will enjoy helping you roll the balls up and rolling them in the powdered sugar.

This recipe comes from the Jewish Holiday Feasts Cookbook by Louise Fiszer and Jeannette Ferrary and is a recipe for Purim. These are wonderful as candy or cookies, after dinner or with wine.

Makes approximately 48 balls

Ingredients:
1/2 lb. (8 oz/226g) dried apricots
1/2 lb. (8 oz/226g) almonds, toasted and cooled
2 oz. bittersweet chocolate, cut into small pieces
1 cup granulated sugar
1/2 cup water
Powdered sugar, for rolling balls in

Instructions:
1. In a food processor, process apricots, almonds and chocolate until very finely chopped.
2. In a medium saucepan over medium-high heat, cook sugar and water until soft ball stage, approximately 240°F/115°C (approximately 10 minutes).
3. Stir in apricot mixture and cool.
4. Squeeze mixture together with hands to form a firm ball.
5. Using approximately 1 tablespoon of the mixture, form into 1-inch balls.
6. Roll each ball in powdered sugar.
7. Place in candy cups or place balls on an attractive serving plate.

Recipe makes approximately 48 balls.

Nutrition Facts

Serving Size: 1 ball

Recipe makes 48 balls

Calories: 61
Calories from Fat: 28
Total Fat: 3.1g
Saturated Fat: 0.6g
Polyunsaturated Fat: 0.6g
Monounsaturated Fat: 1.8g
Cholesterol: 0mg
Sodium: 16mg
Potassium: 100mg
Total Carbohydrate: 8.4g
Dietary Fiber: 1.1g
Protein: 1.4g
Vitamin A: 170mcg
Vitamin B6: 0.0mg
Vitamin B12: 0.0mcg
Vitamin C: 0mg 0%
Vitamin E: 1mcg
Calcium: 16mg
Magnesium: 18mg
Iron: 0mg

Click here to view recipe and photo of Apricot Almond Chocolate Balls on Diana's Desserts Website

---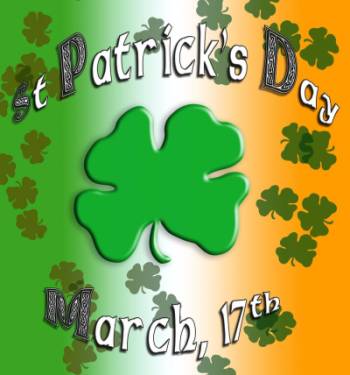 St. Patrick's Day
The person who was to become St. Patrick, the patron saint of Ireland, was born in Wales about AD 385. His given name was Maewyn, and he almost didn't get the job of bishop of Ireland because he lacked the required scholarship.

Far from being a saint, until he was 16, he considered himself a pagan. At that age, he was sold into slavery by a group of Irish marauders that raided his village. During his captivity, he became closer to God.

He escaped from slavery after six years and went to Gaul where he studied in the monastery under St. Germain, bishop of Auxerre for a period of twelve years. During his training he became aware that his calling was to convert the pagans to Christianity.

His wishes were to return to Ireland, to convert the native pagans to Christianity. But his superiors instead appointed St. Palladius. But two years later, Palladius transferred to Scotland. Patrick, having adopted that Christian name earlier, was then appointed as second bishop to Ireland.

Patrick was quite successful at winning converts. And this fact upset the Celtic Druids. Patrick was arrested several times, but escaped each time. He traveled throughout Ireland, establishing monasteries across the country. He also set up schools and churches which would aid him in his conversion of the Irish country to Christianity.

His mission in Ireland lasted for thirty years. After that time, Patrick retired to County Down. He died on March 17 in AD 461. That day has been commemorated as St. Patrick's Day ever since.

Much Irish folklore surrounds St. Patrick's Day. Not much of it is actually substantiated.

Some of this lore includes the belief that Patrick raised people from the dead. He also is said to have given a sermon from a hilltop that drove all the snakes from Ireland. Of course, no snakes were ever native to Ireland, and some people think this is a metaphor for the conversion of the pagans. Though originally a Catholic holy day, St. Patrick's Day has evolved into more of a secular holiday.

One traditional icon of the day is the shamrock. And this stems from a more bona fide Irish tale that tells how Patrick used the three-leafed shamrock to explain the Trinity. He used it in his sermons to represent how the Father, the Son, and the Holy Spirit could all exist as separate elements of the same entity. His followers adopted the custom of wearing a shamrock on his feast day.

The St. Patrick's Day custom came to America in 1737. That was the first year St. Patrick's Day was publicly celebrated in this country, in Boston.

Today, people celebrate the day with parades, wearing of the green, and drinking beer. One reason St. Patrick's Day might have become so popular is that it takes place just a few days before the first day of spring. One might say it has become the first green of spring.

Copyright (c) 2005 by Jerry Wilson. Used with Permission.

Source: Wilstar.com: http://wilstar.com/holidays/patrick.htm

---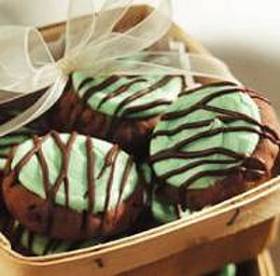 St. Patrick's Day Recipes
Chocolate-Peppermint Shortbread Cookies
Servings: Makes 3 1/2 dozen cookies

Comments:
A great treat for the kids on St. Patrick's Day. Make some extra cookies and wrap them in a festive box and send them off to school with your kids. Also, these make a great "teacher's" gift for St. Patrick's Day. He or she will love these delicious cookies.

Ingredients:
Cookie Ingredients:
3/4 cup (1 1/2 sticks/6 oz/170g) butter, softened
1/2 cup confectioners' sugar
1/4 teaspoon peppermint extract
2 (1-ounce) squares unsweetened baking chocolate, melted, cooled slightly
1 1/2 cups all-purpose flour
1 cup semi-sweet miniature chocolate chips

Frosting Ingredients:
1 cup confectioners' sugar
2 tablespoons (1/4 stick/1 oz/28g) butter, softened
1 tablespoon milk
1/4 teaspoon peppermint extract
1 drop green food color

Drizzle Ingredients:
1/2 cup semi-sweet miniature chocolate chips
1/2 teaspoon vegetable shortening

Instructions:
Preheat oven to 375 degrees F/190 degrees C. Combine all cookie ingredients except flour and 1 cup mini chocolate chips in large mixer bowl. Beat at medium speed until creamy (1 to 2 minutes).

Reduce speed to low. Add flour; beat until mixture forms a dough (1 to 2 minutes). Stir in 1 cup mini chocolate chips by hand.

Roll dough into 1-inch balls. Place 2 inches apart onto ungreased cookie sheet. Flatten to 1 1/2-inch circle with bottom of glass dipped in flour (See Tip Below). Bake in preheated oven for 5 to 7 minutes or until set. (DO NOT OVER BAKE.) Let stand 2 minutes; remove from cookie sheet. Cool completely on wire rack.

Combine all frosting ingredients in small mixer bowl. Beat at low speed, adding milk, 1 teaspoonful at a time, if necessary until frosting is smooth. Frost cooled cookies. Place on waxed paper.

Place 1/2 cup mini chocolate chips and shortening in small microwave-safe bowl. Microwave on HIGH, stirring every 30 seconds, until smooth (60 to 90 seconds). Drizzle thin lines of chocolate over frosting with teaspoon. Let stand until chocolate is set (at least 30 minutes).

If desired, place melted chocolate in small resealable plastic food bag. Cut tiny tip off one corner of bag to drizzle chocolate.

Makes: 3 1/2 dozen cookies

Tips:
To measure flour, lightly spoon flour into metal or plastic dry measuring cup. Level off excess with table knife. (Do not dip cup into flour or pack flour into cup.)

Tips from Sadie, a Guest to Diana's Desserts:
If the cookie dough is a bit sticky, chill for a few minutes in the refrigerator before rolling out.

Add a teaspoon of cocoa to the flour when flattening cookies with bottom of glass.

Click here to view recipe and photo of Chocolate-Peppermint Shortbread Cookies on Diana's Desserts Website

---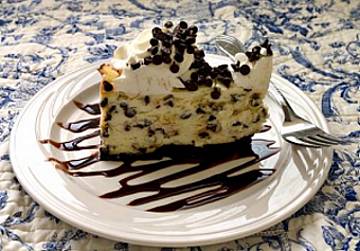 Irish Cream Cheesecake
Servings: 12-16

Comments:
A wonderful Irish Cream Cheesecake for your St. Patrick's Day celebration. You can flavor the whipped cream topping with coffee or leave it plain. Either way, this "Luck o' the Irish" cheesecake is oh so yummy, to be sure now!

Ingredients:
For the Crust:
2 cups graham cracker crumbs (plain or chocolate)
6 tbsp.(3/4 stick/3 oz./85g) butter, melted

For the Filling:
2 1/4 pounds (approximately 1 kilo) cream cheese, at room temperature
1 2/3 cups granulated sugar
5 eggs
1/3 to 1/2 cup (depending on your taste) Irish Cream Liqueur (Baileys Irish Cream is a good brand)
1 tablespoon vanilla extract
1 cup miniature semisweet chocolate chips
1 teaspoon all-purpose flour

For the Topping:
1 cup heavy cream
2 tablespoons granulated sugar
1 teaspoon coffee extract (optional)

Garnish: (optional)
Store-bought chocolate syrup

Instructions:
For the Crust:
Preheat oven to 325 degrees F/160 degrees C. Lightly grease a 10-inch (25cm) springform pan with butter.

Combine crumbs and melted butter in a bowl, then press into bottom and 1 inch up the sides of pan. Bake until light brown, about 7 minutes. Leave oven on.

For the Filling:
Using an electric mixer or food processor fitted with a metal blade, beat cream cheese until smooth. Gradually incorporate sugar. Beat in eggs 1 at a time. Blend in Irish Cream Liqueur and vanilla. Stir together 1/2 cup chocolate chips and 1 teaspoon flour in small bowl; gently stir into cream cheese mixture. Pour batter into crust. Set aside the remaining chocolate chips for later.

Place cheesecake in preheated oven and bake until puffed, center springs back, and golden brown, about 1 hour and 20 minutes. Cool cheesecake completely, then release sides of springform pan.

For the Topping:
When cheesecake is completely cool, whip the heavy cream and sugar together with an electric mixer. Add coffee extract (if using), and whip until firm peaks form. With pastry bag and decorative tip, pipe whipped cream around edges of cheesecake. Decorate top with the remaining chocolate chips. When ready to serve, if desired, drizzle a small amount of chocolate syrup on each plate, then place the slice of cheesecake over the sauce.

Store any remaining cheesecake in the refrigerator.

Makes 12-16 servings.

Source: DianasDesserts.com

Click here to view recipe and photo of Irish Cream Cheesecake on Diana's Desserts Website

---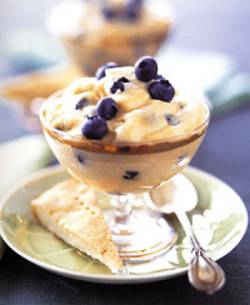 Bailey's Irish Cream Blueberry Mousse
Servings: 6

Comments:
Mousse is a French term meaning "froth" or "foam," and this Baileys Irish Cream-enriched dessert is just that. A cross between a pudding and a fool, it is made with whole fruit instead of crushed blueberries, and meringue instead of whipped cream. Serve it with shortbread cookies. This will be one of your most requested desserts for St. Patrick's Day.

Ingredients:
Grated zest and juice of 1 lemon
1 large egg
5 large egg whites
1/2 cup Baileys Irish Cream liqueur
1 cup granulated sugar
4 tablespoons (1/2 stick/2 oz/56g) unsalted butter
1/8 teaspoon cream of tartar
2 cups fresh blueberries (reserve a few for topping)

Instructions:
Chill six 8 or 9-ounce stemmed dessert glasses. In the top of a double broiler set over simmering water, whisk together the lemon zest and juice, egg, 1 egg white, Baileys Irish Cream and 3/4 cup of the sugar. Cook, stirring continuously, for 12 to 15 minutes, or until the mixture thickens. Remove the double boiler from the heat and stir in the butter. Set the top of the double boiler in a large bowl filled with ice and let the mixture cool, whisking occasionally.

In a small bowl, combine the remaining 4 egg whites and the cream of tartar. Beat with an electric mixer until soft glossy peaks form. Add the remaining 1/4 cup of sugar, a little at a time, and continue to beat until stiff peaks form.

Stir a few spoonfuls of the egg white mixture into the cooled custard mixture to lighten it. Fold in the remaining egg whites and 1 1/2 cups of the blueberries. Spoon into glasses and refrigerate for 1 to 2 hours, or until set. At serving time, garnish with the reserved blueberries.

Makes 6 servings.

Source: Irish Puddings, Tarts, Crumbles and Fools by Margaret M. Johnson.

Click here to view recipe and photo of Bailey's Irish Cream Blueberry Mousse on Diana's Desserts Website
---
Food Tips and Information Section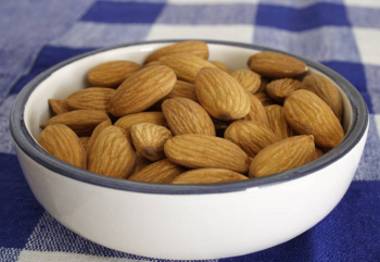 Almonds
Almonds are a surprisingly decent source of calcium: Although you would have to consume 330 calories' worth of almonds to get a significant quantity of this bone-building mineral, almonds contain more calcium than any other nut. Almonds are also a significant source of magnesium, which contributes to strong bones as well, and they supply a healthy amount of vitamin E. These sweet, versatile nuts have the highest dietary fiber content of any nut or seed, supplying more than 3 grams of fiber per ounce; like all nuts, almonds are a good source of protein, although they are lacking the essential amino acid, lysine. (However, that problem is easily solved by combining almonds with legumes that are high in lysine).

More than 65% of the fat in almonds is monounsaturated, which can help lower LDL (bad) cholesterol levels. Almonds also contain the phytochemicals quercetin and kaempferol, both of which may be protective against cancer.

Varieties

There are two types of almonds, bitter and sweet. Sweet almonds are the kind used in cooking and baking, whereas bitter almonds (whose sale is prohibited in the United States) are used primarily to make almond extract. There are also Chinese almonds, but these are actually apricot kernels.

Sweet almonds are sold in a number of forms, in shell and out. Whole, shelled almonds are sold "natural" (with their brown skin on) and blanched (with the skin removed); almonds are also sold sliced or slivered (natural or blanched).

Almonds are sold roasted and dry-roasted. Roasted almonds (as with any "roasted" nut) are oil-roasted, which is akin to being deep-fried, and the fat used is often highly saturated coconut oil. The process adds about 10 calories per ounce of nuts, or a little more than a gram of fat (mostly saturated fat, if coconut oil is used).

Dry-roasted almonds are not cooked in oil, so they are slightly lower in calories and fat than oil-roasted nuts. However, they may be salted or contain other ingredients, such as corn syrup, sugar, starch, MSG, and preservatives.

Almonds are also sold in the form of almond butter (a delicious alternative to peanut butter), almond paste (ground almonds combined with sugar, to use in desserts), and almond oil (for baking and flavoring).

Availability

Packaged almonds are widely available all year round. Fresh almonds in their shells are easiest to find in fall and early winter.

Shopping

For the sake of freshness, buy almonds in sealed packages when possible. When buying from a bulk source, choose a store where there's a rapid turnover and where the bulk foods are kept in covered containers. Smell the almonds to be sure that they're fresh and sweet--beware of any musty or rancid odor.

Storage

Like all nuts, almonds have a high fat content that makes them susceptible to spoilage. To keep them fresh if not using right away, freeze the nuts in their original unopened package or in a tightly covered jar or a zip-seal plastic bag. It's not necessary to thaw them before using. Almonds keep better in their shells, if you don't mind the work of shelling them.

Preparation

To enhance the flavor of natural almonds, toast them in a dry skillet over low heat, stirring frequently, until golden and fragrant, about 5 minutes. Remove the almonds from the pan immediately or they're likely to scorch.

You can also toast almonds in a shallow baking pan in a 350 degree F/180 degree C oven for 7 to 10 minutes (slivered and sliced almonds will take a shorter time than whole almonds).

To finely chop almonds, place in a food processor and pulse on and off until finely ground, being careful not to overprocess or the nuts will turn oily and pasty. If almonds are to be ground for a cake, process with a small amount of the flour called for.

Nutritional Information

Almonds/1 ounce (28 grams)
Calories: 167
Total fat (g): 15
Saturated fat (g): 1.4
Monounsaturated fat (g): 9.6
Polyunsaturated fat (g): 3.1
Dietary fiber (g): 3.1
Protein (g): 6
Carbohydrate (g): 6
Cholesterol (mg): 0
Sodium (mg): 3
Vitamin E (mg): 6.8
Manganese (mg): 0.6
Magnesium (mg): 84
Phosphorus (mg): 147

Source: WholeHealthMD: http://www.wholehealthmd.com/refshelf/foods_view/1,1523,113,00.html

---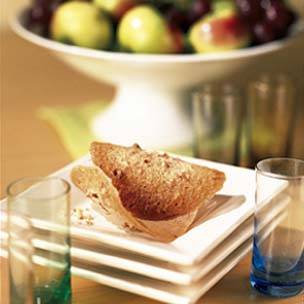 Almond Tuiles (wafers)
Servings: Makes 3 dozen wafers

Comments:
These almond-flavored wafer cookies are often served in elegant restaurants in Europe. The traditional name of this cookie is the French word for "tiles" because they are shaped like the curved terracotta roof tiles so prevalent along the Mediterranean.

Ingredients:
1/3 cup granulated sugar
2 egg whites
1/2 teaspoon almond extract
1/8 teaspoon salt
1/2 cup all-purpose flour
1/3 cup (1/2 stick + 1 tbsp/2 1/2 oz/68g) unsalted butter
1/4 cup sliced almonds, finely chopped

Instructions:
Combine sugar, egg whites, almond extract and salt in small bowl. Beat at medium speed until soft peaks form (1 to 2 minutes). Gradually beat in flour until smooth. Continue beating, adding butter, 1 tablespoon at a time, until batter is smooth and well mixed. Cover; refrigerate 20 minutes.

Preheat oven to 350 degrees F/180 degrees C.

Drop batter by teaspoonfuls at least 3 inches apart onto greased cookie sheets. Spread batter, using spatula and working in a circular motion, into 1 1/2-inch circles; sprinkle immediately with almonds. Bake for 6 to 8 minutes or until edges are lightly browned.

Remove cookies from oven. Immediately press cookies over rolling pin or 12-ounce beverage can to form curved shape. Let cookies set until well formed and cooled slightly. Cool completely.

Makes 3 dozen wafers.

Click here to view recipe and photo of Almond Tuiles on Diana's Desserts Website

---
Until Next Month
That's it for this edition of Diana's Desserts Newsletter. I sincerely hope you enjoyed the brief descriptions of the holidays and the hopefully useful and tasty recipes I've included this month.

Right now I am planning my next newsletter with recipes for Passover and Easter and a few other "Springtime" inspired recipes. Look for it to arrive in your email In-Box around the second week of April.

I wish you all a happy and cheerful month and for those of you that celebrate Purim, enjoy the festivities, and Happy St. Patrick's Day to all who celebrate this fun day and as they say in Ireland:

"Dance as if no one were watching, Sing as if no one were listening, and Live every day as if it were your last".

Sincerely, Diana

Diana's Desserts