EDITION NUMBER 31
SUMMER 2005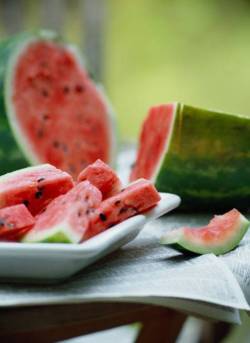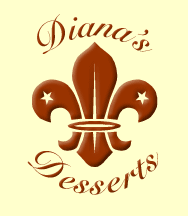 June 28, 2005

Welcome Home Bakers and Friends,

Well it hasn't been that long since I sent out my last newsletter. I wanted to share some recipes with you for Canada Day, July 1st, and for Independence Day here in the United States celebrated on July 4th.

Hope you have had a good month and that you enjoyed some of June's holidays and celebrations such as graduations, Father's Day, Juneteenth Day and the Jewish holiday of Shavuot.

Included in this edition of Diana's Desserts Newsletter is a guest submitted recipe. Pat Wynn shares one of her favorites; Dessert Pizza, a quick and easy and fun dessert to make during the warmer summer months.

Some very useful information on Cherries in the Food Tips and Information Section below is also included in this summer edition.

Enjoy the recipes and the information on Cherries!

---
Guest Submitted Recipe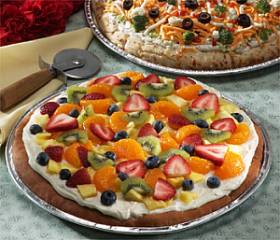 Dessert Pizza
Servings: 16

Comments:
This is a good treat for kids and adults alike. Also easy to make. Enjoy!

Ingredients:
1 package refrigerated sugar cookie dough
1 (8 ounce) package cream cheese, softened
1/3 cup granulated sugar
4 cups assorted fresh fruits, sliced (strawberries, peaches, pineapple, bananas, blueberries, etc.)

Instructions:
Preheat oven to 350 degrees F (180 C).

For Crust:
Shape cookie dough into a ball. Place in the center of a 12-inch round pizza pan. Roll out into a 12-inch circle. Bake 18 to 20 minutes or until golden brown. Cool completely.

For Topping:
Combine cream cheese and sugar. Mix and spread evenly over the cookie crust. Decorate with fruit slices. Refrigerate.

Makes 16 servings.

Source: Friend

Submitted By: Pat Wynn

Date: June 6, 2005

---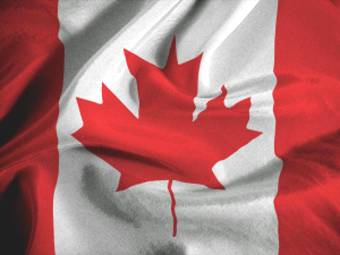 Treats for Canada Day
On July 1, 2005 Canada will celebrate it's 138th year since Confederation.

Before 1982 Canada Day had been known as Dominion Day, First of July, Confederation Day, and July the First.

Canada Day celebrates the events that occurred on July 1, 1867, when the British North America Act created the Canadian federal government. The BNA Act proclaimed "one Dominion under the name of Canada," hence the original title of the holiday, "Dominion Day." Dominion Day was officially renamed "Canada Day" by an Act of Parliament on October 27, 1982. This change reflected the policy of successive governments to down play Canada's colonial origins.

Canada's national celebration is always observed on July 1st, unless that date falls on a Sunday, in which case it is observed the following day. Canada Day is considered a Family Day with outings, picnics and celebrations of the birth of the nation. Flags are waved, songs are sung and people enjoy picnics and barbeques. It's a fun day!

Here are some desserts for you to enjoy on Canada Day.

---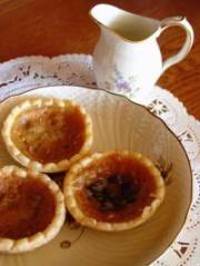 Canadian Butter Tarts
Servings: 24

Comments:
Celebrate Canada Day with a traditional favorite, Butter Tarts. Whether you're watching a parade or spending time in the backyard, these gooey treats are a yummy hit with young and old alike. For pastry, use the Canola oil pastry recipe below (the Double Crust version will make enough pastry for the Butter Tarts), or you may use store bought ready-made miniature tart shells (see note below).

Ingredients:
1 Canola Oil Pastry recipe* (see recipe below), or use 24 (3-inch/8cm) unbaked tart shells
1 cup (250 mL) raisins
2 eggs
1 cup (250 mL) brown sugar, packed
1 cup (250 mL) light corn syrup
1/2 cup (125 mL) unsalted butter, softened
1 1/2 tsp. (7 mL) vanilla extract
1/2 tsp. (1 mL) salt

Instructions:
Prepare Double-crust version of Canola Oil Pastry Recipe* (See pastry recipe below). Roll 1/8 inches (3mm) thick to yield 24 tart shells. Line muffin tins with tart shells; divide raisins evenly among shells. In a bowl, lightly beat together eggs, brown sugar, corn syrup, butter, vanilla and salt. Pour over raisins, filling shells about 3/4 full. Bake in a preheated 425 degrees F (220 degrees C) oven just until set, about 15 minutes. Cool on wire rack, then carefully remove from pan.

Note: If you wish, you may use 24 miniature (3-inch/8 cm) unbaked tart shells. Fill with raisins, filling, and bake per instructions above.

Makes 24 tarts.

Canola Oil Pastry Recipe
This tender, melt-in-your mouth pastry is easy to make and great in any pie or tart recipe.

Ingredients
For Double Crust:
2 1/4 cups (550 mL) all-purpose flour
1 tsp. (5mL) salt
3/4 cup (175 mL) canola oil
1/4 cup (50 mL) water, cold

Instructions:
To Make a Basic Pie Crust

Stir together flour and salt in a mixing bowl. In another bowl, combine oil and water. Add to flour all at once. Stir lightly with a fork until dough comes together.

Gather pastry into a ball. Divide into 2 portions for double-crust pie. Flatten balls slightly. Place 1 ball of dough between 2 large squares of waxed paper. Place on moistened surface to keep paper from moving.

Roll out dough between waxed paper to desired size for recipe. Peel off top paper.

Flip dough over with remaining paper onto pie plate. Gently peel off top paper. Ease dough into pan.

For a top crust, roll remaining ball from double-crust recipe the same way and flip over filling.

Cut slits for steam to escape. Bake as directed in recipe.

To Bake Blind (without filling):

Cut out a 12-inch (30 cm) circle of aluminum foil or parchment paper. Fit into pastry shell. Fill with pie weights or dried beans (lima, kidney, etc.).

Bake on lower rack of a preheated 425 degrees F (220 degrees C) oven 10 minutes.

Cool 5 minutes, then remove beans. Lower heat to 350 degrees F (180 degrees C) and bake 15 to 20 minutes longer or until golden.

Photograph taken by Diana Baker Woodall© 2003

---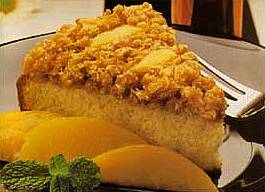 Peach Cake
Servings: 8

Comments:
A quick and easy cake to make for an every day dessert or to serve for a festive occasion such as Canada Day. Serve with whipped cream or vanilla ice cream.

Ingredients:
For Peach Layer:
398 mL (one 14 oz. can) sliced peaches, drained
125 mL (1/2 cup) firmly packed brown sugar
50 mL (1/4 cup) butter or margarine, melted
250 mL (1 cup) Quaker Harvest Crunch® cereal Original Blend

For Cake:
325 mL (1 1/3 cups) unsifted all-purpose flour
125 mL (1/2 cup) milk
75 mL (1/3 cup) granulated sugar
50 mL (1/4 cup) vegetable oil
10 mL (2 tsp) baking powder
2 eggs
2 mL (1/2 tsp) salt
5 mL (1 tsp) vanilla extract

Instructions:
For Peach Layer:
Arrange peach slices on bottom of a greased 1.5 L (9-inch) round cake pan. Combine butter, sugar and Harvest Crunch; sprinkle evenly over peach slices.

For the Cake:
Preheat oven to 180 degrees C (350 degrees F). Stir together in a bowl flour, sugar, baking powder and salt. Add milk, oil, eggs and vanilla. Beat until smooth, about one minute. Batter will be thick. Spread batter evenly over peach layer. Bake in preheated oven 45 to 50 minutes. Invert pan immediately onto serving plate; remove pan. Serve warm with sweetened whipped cream if desired.

Makes 8 servings.

Source: Quaker Oats Canada

---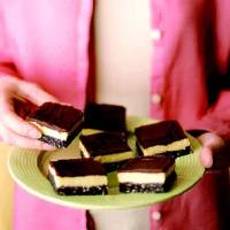 Nanaimo Bars
Servings: 16 bars

Comments:
Nanaimo Bar recipes can be found in many Canadian cookbooks. Nanaimo is a port city on Vancouver Island in British Columbia Canada. Who actually wrote the original recipe, no one is quite sure, but it seems to be from the 1950's. The bars will keep in the freezer, tightly wrapped, for a couple of weeks, but you'll have difficulty keeping them around that long.

Ingredients:
2 cups crushed chocolate sandwich cookies
1 cup flaked coconut or chopped nuts
1/2 cup (1 stick/4 oz/113g) butter or margarine, melted
1 package (4-serving size) vanilla instant pudding and pie filling mix
1/3 cup (5 1/3 tbsp/75g) butter or margarine, softened
1/3 cup hot water
2 cups confectioners' sugar
4 ounces semi-sweet baking chocolate, chopped
1 tablespoon (1/2 oz/14g) butter or margarine

Instructions:
1. Mix cookie crumbs, flaked coconut and 1/2 cup melted butter. Press firmly onto bottom of 9-inch (1.5 L) square pan. Refrigerate until ready to use.

2. Beat pudding mix, 1/3 cup softened butter and hot water. Add confectioners' sugar; beat until well blended. Spread over crust. Refrigerate 2 hours or until filling is set.

3. Microwave chocolate and 1 tablespoon butter on HIGH for 1 minute. Stir until chocolate is completely melted. Spread over pudding layer; refrigerate until set. Cut into bars to serve. Store leftover bars in refrigerator.

Makes 16 bars.

---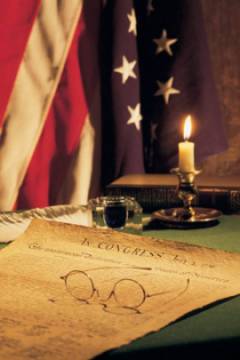 Independence Day - 4th of July Treats
The Story of Independence Day and America's Birthday

Independence Day is the national holiday of the United States of America commemorating the signing of the Declaration of Independence by the Continental Congress on July 4, 1776, in Philadelphia, Pennsylvania.

At the time of the signing the US consisted of 13 colonies under the rule of England's King George III. There was growing unrest in the colonies concerning the taxes that had to be paid to England. This was commonly referred to as "Taxation without Representation" as the colonists did not have any representation in the English Parliament and had no say in what went on. As the unrest grew in the colonies, King George sent extra troops to help control any rebellion. In 1774 the 13 colonies sent delegates to Philadelphia Pennsylvania to form the First Continental Congress. The delegates were unhappy with England, but were not yet ready to declare war.

In April 1775 as the King's troops advanced on Concord Massachusetts Paul Revere would sound the alarm that "The British are coming, the British are coming" as he rode his horse through the late night streets. The battle of Concord and its "shot heard round the world" would mark the unofficial beginning of the colonies war for Independence.

The following May the colonies again sent delegates to the Second Continental Congress. For almost a year the congress tried to work out its differences with England, again without formally declaring war.

By June 1776 their efforts had become hopeless and a committee was formed to compose a formal declaration of independence. Headed by Thomas Jefferson, the committee included John Adams, Benjamin Franklin, Philip Livingston and Roger Sherman. Thomas Jefferson was chosen to write the first draft which was presented to the congress on June 28. After various changes a vote was taken late in the afternoon of July 4th. Of the 13 colonies, 9 voted in favor of the Declaration, 2 - Pennsylvania and South Carolina voted No, Delaware undecided and New York abstained.

To make it official John Hancock, President of the Continental Congress, signed the Declaration of Independence. It is said that John Hancock signed his name "with a great flourish" so "King George can read that without spectacles!."

The following day copies of the Declaration were distributed. The first newspaper to print the Declaration was the Pennsylvania Evening Post on July 6, 1776. On July 8th the Declaration had its first public reading in Philadelphia's Independence Square. Twice that day the Declaration was read to cheering crowds and pealing church bells. Even the bell in Independence Hall was rung. The "Province Bell" would later be renamed "Liberty Bell" after its inscription -

Proclaim Liberty Throughout All the Land Unto All the Inhabitants Thereof

And although the signing of the Declaration was not completed until August, the 4th of July has been accepted as the official anniversary of United States independence. The first Independence Day celebration took place the following year - July 4 1777. By the early 1800s the traditions of parades, picnics, and fireworks were established as the way to celebrate America's birthday. And although fireworks have been banned in most places because of their danger, most towns and cities usually have big firework displays for all to see and enjoy.

Source: Holidays on the Net - http://www.holidays.net/independence/story.htm

---
Recipes for the 4th of July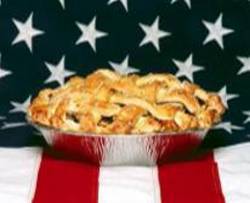 All-American Apple Pie
Servings: 8

Comments:
I think Apple Pie is the most delicious and patriotic dessert for serving on the 4th of July, America's Independence Day. It just seems like everyone loves a slice of good old Apple Pie. You'll never go wrong serving it to your family or guests with a big scoop of vanilla ice cream on top, or as they say "ala mode". A definite winner, and an American favorite. Happy Birthday America!

Ingredients:
For Crust:
2 1/2 cups all-purpose flour
1 tablespoon granulated sugar
3/4 teaspoon salt
10 tablespoons (1 1/4 sticks) chilled unsalted butter, cut into 1/2-inch pieces
1/3 cup chilled solid vegetable shortening (such as Crisco), diced
6 tablespoons (or more if needed) ice water

For Filling:
1/2 cup granulated sugar
1/4 cup (firmly packed) golden brown sugar
2 tablespoons all-purpose flour
1 tablespoon lemon juice
2 teaspoons grated lemon peel
1/8 teaspoon ground nutmeg
3 pounds Golden Delicious or Granny Smith apples, peeled, cored, thinly sliced

Additional Ingredients For Top Crust:
Milk
Additional sugar

Instructions:
For Crust:
Blend flour, sugar and salt in processor. Add butter and shortening and cut in using on/off turns until mixture resembles coarse meal. Add 6 tablespoons ice water and process until moist clumps form, adding more water by teaspoonfuls if dough is dry. Gather into ball; divide into 2 pieces. Flatten each into disk. Wrap each in plastic; chill 2 hours. (Can be made 2 days ahead. Keep chilled. Let dough soften slightly before rolling out.)

For Filling:
Position rack in lowest third of oven and preheat to 400 degrees F (200 degrees C). Mix first 6 ingredients in large bowl. Add apples and toss to blend.

Rolling Out Dough and Assembling Pie:
Roll out 1 dough disk on floured surface to 12-inch round. Transfer to 9-inch-diameter (23cm) glass pie dish. Fold edge under, forming high-standing rim; crimp. Add filling. Roll out second dough disk on floured surface to 13-inch round. Cut into twelve 1-inch-wide strips. Arrange 6 strips across pie. Form lattice by arranging 6 strips diagonally across first strips. Gently press ends into crust edges. Brush lattice with milk. Sprinkle lightly with additional sugar. Bake pie 10 minutes. Reduce oven temperature to 375 degrees F (190 degrees C). Continue baking until juices bubble thickly and crust is deep golden, covering edges with foil if browning too quickly, about 1 hour 20 minutes. Cool on rack 1 hour. Serve with vanilla ice cream or a little sweetened whipped cream.

Note: Can be made 8 hours ahead. Let stand on rack.

Makes 8 servings.

---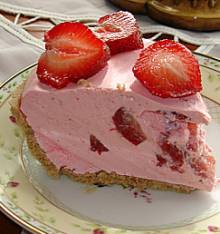 Strawberry Parfait Pie
Servings: 6-8

Comments:
This light and airy pie is a great summertime dessert. Tastes just like a parfait but in a graham cracker crust, and is perfect served after a light meal on a warm day. This will become one of your most requested desserts to make for the 4th of July.

Ingredients:
2/3 cup boiling water
1 package (4-serving size) Strawberry Flavor Gelatin
Ice cubes
1/2 cup cold water
1 (8 oz.) container non-dairy whipped topping, thawed
1 cup chopped fresh strawberries
1 (6 oz. size) ready-made store bought graham cracker crumb crust
1 cup sliced strawberries

Garnish:
Sliced strawberries

Instructions:
Stir boiling water into gelatin in large bowl at least 2 minutes until completely dissolved. Add enough ice cubes to cold water to measure 1 cup. Add to gelatin; stir until slightly thickened. Remove any unmelted ice.

Add whipped topping; stir until well blended. Stir in chopped strawberries. Refrigerate 20 to 30 minutes or until mixture is very thick and will mound. Spoon into crust.

Refrigerate pie for 4 hours or overnight until firm. Top with sliced strawberries before serving. Store any leftover pie in refrigerator.

Makes 6-8 servings.

Photograph taken by Diana Baker Woodall © 2005

---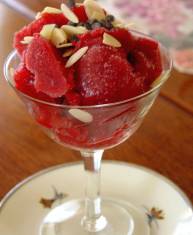 Cherry Pie Sorbet
Servings: Makes 4 servings, about 3 cups

Comments:
A perfect 4th of July dessert, and a great treat on a warm day. So cool and refreshing!

Ingredients:
1 (21-ounce) can cherry pie filling and topping
3/4 cup frozen cherry juice blend concentrate, thawed, undiluted
2 tablespoon fresh lemon juice
1/2 teaspoon grated lemon peel
1/2 teaspoon almond extract (optional)

Toppings:
Mini semisweet chocolate chips
Toasted slivered almonds, or sliced almonds

Instructions:
Put cherry pie filling, cherry juice blend concentrate, lemon juice, lemon peel and almond extract in the container of an electric blender or food processor. Cover and process 15 to 20 seconds, or until smooth.

Pour mixture into a 9 x 9 x 2-inch pan or other shallow container. Cover with aluminum foil and freeze overnight. (Mixture becomes slushy, but never freezes firm.)

Stir cherry mixture with a fork before serving. Scoop into serving bowls and garnish with toppings. Store remaining cherry sorbet in freezer.

Makes 4 servings (about 3 cups).

Photograph taken by Diana Baker Woodall © 2003

---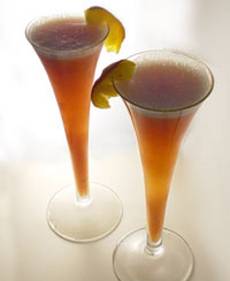 Bellini
Servings: 2

Comments:
What is a Bellini?

Created in 1948 by Harry Cipriani at Harry's Bar in Venice, Italy, this sophisticated drink was named for the 15th-century Venetian artist Jacopo Bellini, a painter Cipriani much admired. Apparently, the wonderful faint pink hue of the Bellini reminded him of a similar shade in one of the artist's paintings. The components are fairly simple but when combined, they make an intricate, stylish drink.

If white peaches are out of season, don't hesitate to make this with yellow ones. The drink won't be quite the same in color, but it will retain its marvelous balance and flavor. You may also use frozen peach purée in place of the fresh peaches (if you do, omit the lemon juice and the sugar).

Note: If you want to make alcohol-free bellini's for the kids or for others who don't drink, substitute 7-Up or Ginger ale for the sparkling wine. They'll love it !

This recipe is adapted from that of Walter Bolzonella, barman of the Hotel Cipriani in Venice.

A great drink to celebrate the 4th of July !!

Ingredients:
For the Peach Purée:
1/2 cup water
1/4 cup lemon juice
1/2 to 3/4 pound ripe white peaches
2 teaspoons sugar

For the Drinks:
A few raspberries, if desired, for color
1 bottle Prosecco sparkling wine, preferably Nino Franco (or substitute 7-Up or Ginger ale for the sparkling wine, if needed)

Instructions:
Purée ALL Peach Purée ingredients in a blender (adding a few raspberries for color, if desired). Chill.

Pour chilled peach purée into a pitcher. Add one bottle of chilled Prosecco sparkling wine and stir gently. Pour into glasses and drink at once.

Serves 2.

Source: Hotel Cipriani - Venice, Italy

---
Food Tips and Information Section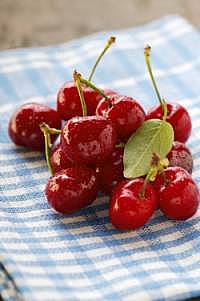 Cherries
Compact, juicy, and colorful, cherries are nicely supplied with nutrients, notably pectin (a soluble fiber that helps control blood cholesterol levels), vitamin C, and beta-carotene, with some potassium. (Sour cherries, which are sometimes called "pie cherries," have considerably more vitamin C than sweet cherries do, though much of it is lost when the cherries are cooked.)

Cherries are also high in a number of phytochemicals, including: anthocyanins (pigments responsible for the red and blue colors of fruits and vegetables), which may have anticancer properties based on their antioxidant activities that defend cells against harmful carcinogens); and quercetin, a so-called flavonoid, which is an antioxidant and may have both anticancer potential as well as anti-inflammatory and antihistaminic properties. It is this anti-inflammatory activity that has made cherries (specifically cherry juice) of interest to people who suffer from gout.

There's even a possible dental health bonus in that studies have shown that a substance (not yet identified) in cherry juice may help prevent tooth decay.

Although some people find the cherry pit an annoying feature, their only other shortcoming is their brief season, which lasts less than 3 months. But during that time, they are in abundant supply. Cherries are grown successfully in commercial quantities in only 20 countries, and the U.S. is one of the leading producers. Seventy percent of the cherries produced in the U.S. come from four states: Washington, Oregon, Idaho, and Utah.


Varieties
There are two basic categories of cherry: sweet and sour. Sweet cherries are further differentiated by color: dark- and light-skinned cherries. Of the dark-skinned cherries, Bing is far and away the commonest, but other red- or dark-skinned varieties include the Van, Chapman, Larian, and Black Republican.

Bing: There are many commercial varieties of sweet cherries, but the leader is the Bing, a large, round, extra-sweet cherry with purple-red flesh and a deep red skin that verges on black when fully ripe.

Lambert: The second most popular variety is the Lambert, a smaller, heart-shaped red cherry similar in taste and texture to the Bing.

Rainier: The Rainier, a sweet cherry with yellow or pinkish skin, is grown in limited quantities and is milder and sweeter than the Bing.

Royal Ann: Another light-skinned variety, the Royal Ann, is often canned or made into maraschino cherries.

Sour cherries: Most commercially grown sour varieties--such as Montmorency, the best known--are canned or frozen for use as pie fillings or sauces, although you can occasionally find fresh sour cherries during the summer months at farmers' markets and roadside stands. Sour cherries are smaller than sweet cherries and are a bright scarlet.


Availability
Bing cherries are usually available from the end of May through early August, with their peak in June and July. Lamberts, Vans, and other Bing look-alikes appear in markets until mid-August. Keep in mind that the varieties appearing earliest and latest in the season are softer and less sweet than Bings. Any fresh cherries sold after August probably come from cold storage. Small quantities of sweet cherries are imported from New Zealand during the winter months.


Shopping
Buy cherries that have been kept cool and moist, as flavor and texture both suffer at warm temperatures. Take just a few cherries at a time in your hand and select only the best. If circumstances allow, taste one. Good cherries should be large (an inch or more in diameter), glossy, plump, hard, and dark colored for their variety (good Bing cherries, for example, range from a purplish-mahogany color to nearly black). Reject undersized fruits or those that are soft or flabby.

Check carefully for bruises or cuts on the dark surface, and toss back cherries that are sticky through juice leakage. If you find many damaged fruits, consider shopping elsewhere, as a number of spoiled cherries in a bin will start the others on the road to decay.

The stems should be fresh and green; avoid cherries without stems, as the resulting skin break presents an opportunity for decay to begin. Darkened stems are a sign of either old age or poor storage conditions.

Sour cherries sold fresh should be plump, firm, and a bright scarlet color.


Storage
Loosely pack (to minimize bruising) unwashed cherries in plastic bags, or pour them into a shallow pan in a single layer and cover with plastic wrap. Store them in the refrigerator. Fresh cherries in good condition should keep for up to a week, but check them occasionally and remove any that have begun to go bad.

You can extend the cherry season by freezing them. Rinse and drain the cherries thoroughly, then spread them out in a single layer on a cookie sheet and freeze. Once frozen, transfer the cherries to a heavy plastic bag. They'll keep for up to 1 year. When freezing fruits, vegetables or any other food, it's a good idea to label and date the bag, that way you'll know what you have on hand and how long you've had it.


Preparation
When serving fresh cherries, simply rinse them under cold water and drain; they're most attractive with the stems intact. To pit cherries for cooking, halve them with a paring knife and pry out the pit with the tip of the knife, or use an inexpensive cherry pitter (found in any kitchenware shop), which works like a hole punch. A partially unbent paper clip (or an old-fashioned V-shaped hairpin, if you can find one) will also do the job.

If cooked for just a few minutes, sweet cherries retain their firm texture, and their flavor develops a depth and richness. Try poaching them--this gentle cooking method preserves their texture. Stem and pit the cherries, then drop them into a small amount of simmering water or a combination of water and wine (about 1 cup of liquid per 2 cups of cherries) and cook until the fruit is slightly softened and heated through--about 1 to 3 minutes. If you like, you can season the simmering water with a cinnamon stick, a little ground allspice, or even a hint of pepper.

Cherries can also be sautéed in a small amount of butter and sugar and served in crepes, atop pancakes or waffles or over frozen yogurt.

Sour cherries are particularly good in pies. Toss pitted cherries with sugar and cornstarch, flour or minute tapioca and let stand 15 minutes until cherries begin to release their juice. Spoon into pie shell and bake as recipe directs. You may also combine sour cherries and a small amount of sweet cherries for variety.

Both sweet and sour cherries make excellent jam and preserves, but will require pectin to thicken. Follow your favorite recipe.


Nutrition Chart
Sweet Cherries/1 cup pitted
Calories 104
Total fat (g) 1.4
Saturated fat (g) 0.3
Monounsaturated fat (g) 0.4
Polyunsaturated fat (g) 0.4
Dietary fiber (g) 3.3
Protein (g) 2
Carbohydrate (g) 24
Cholesterol (mg) 0
Sodium (mg) 0

Sour Cherries/1 cup pitted
Calories 78
Total fat (g) 0.5
Saturated fat (g) 0.1
Monounsaturated fat (g) 0.1
Polyunsaturated fat (g) 0.1
Dietary fiber (g) 2.5
Protein (g) 2
Carbohydrate (g) 19
Cholesterol (mg) 0
Sodium (mg) 5
Beta-carotene (mg) 1.1
Vitamin C (mg) 16

Source: WholeHealthMD: http://www.wholehealthmd.com/refshelf/foods_view/1,1523,49,00.html

---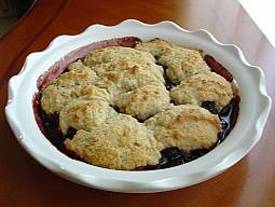 Fresh Cherry Cobbler
Servings: 6-8

Comments:
During the summer when so many fresh fruits are available to us, why not make this delicious fresh cherry cobbler. Although many people like to make cherry pies or cobblers with tart red cherries, I like to use the sweeter darker varieties such as Bing, Lapin, Lambert, or Stella's. My advice is to use cherries that look the freshest in your local supermarket's produce section or at your local farmer's market; ones that look, feel and TASTE the very best.

Ingredients:
Cherry Filling:
4 to 6 cups fresh sweet dark cherries, pitted (about 2 to 2 1/2 pounds)
1 cup granulated sugar
2 tbsp. cornstarch
1/2 tsp. grated lemon zest
1/4 tsp. almond extract
1/8 tsp. salt
1/2 tsp. ground cinnamon (optional)

For Topping:
1 1/4 cups all-purpose flour
1/3 cup granulated sugar
2 tsp. baking powder
1/2 tsp. ground cinnamon
1/4 tsp. salt
1 egg
1/2 cup buttermilk
6 tbsp. (3/4 stick/3 oz/85g) unsalted butter, melted and cooled
1/2 tsp. vanilla extract

Instructions:
To Make the Cherry Filling:
In a large bowl combine the pitted cherries with the sugar, cornstarch, lemon rind, almond extract, salt and cinnamon (if using). Let stand at room temperature for at least 30 minutes so the flavors have time to combine well.

To Make the Topping:
Preheat oven to 350 degrees F (180 C). Lightly butter a (2-inch deep) 8 or 9-inch round pie dish, preferably glass or ceramic.

In a large mixing bowl, stir together the flour, sugar, baking powder, cinnamon and salt. In a medium mixing bowl, whisk together the egg, buttermilk, the melted butter and vanilla until well blended. Pour the wet ingredients into the dry ingredients and, using a rubber spatula, fold gently until the flour is moistened and the mixture forms a soft dough.

To Assemble Cobbler:
Pour cherry filling mixture into prepared pie dish.

Drop heaping spoonfuls of the dough onto the cherry mixture, spacing them evenly; the dough will not completely cover the fruit. Bake in preheated oven until the filling is bubbling, the topping is browned and a toothpick inserted into the topping comes out clean, about 40-45 minutes. Remove from oven and cool on rack. Serve warm or at room temperature with vanilla ice cream, whipped cream, or non-dairy whipped topping.

Makes 6-8 servings.

Photograph taken by Diana Baker Woodall © 2004

---
Until Next Time
Have a great July and I will be back in the late summer/early fall with more tasty recipes for you to try. Have a great 4th of July and a Happy Canada Day for those of you who are Canadian.

If you'd like to submit one of your favorite dessert recipes, click on the link below to bring you to the Submit a Recipe page on Diana's Desserts Website:

Submit a Recipe

Sincerely, Diana