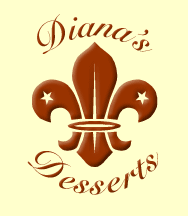 DIANA'S DESSERTS NEWSLETTER
EDITION NUMBER 17

MARCH 6, 2004


Welcome Home Baker's and Friends,

I hope you had a good February, and a very Happy Valentine's Day.

My husband Kenny and I celebrated Valentine's Day by going out to lunch at a local hotel. We had a delicious and very romantic meal (rose petals scattered over the table) at their restaurant called "Jellyfish". After lunch we took a leisurely drive home by way of a very interesting route. We ended up at a See's Candy store. Well, if you know anything about California, you'll know that See's has the best chocolates in the state, or for that matter (in my opinion), in the whole world. As they say "the joint was jumpin' with last minute Valentine's Day shoppers picking out that very special hand-selected box of chocolates for their other half. We picked out our 2-pound box of chocolates and drove home. After dinner, we enjoyed the "Chocolate Mousse for Two" that I had prepared that morning. All in all, it was a really lovely day.


On to Spring
Spring is almost here and with it comes sunnier and warmer weather. The spring flowers are starting to pop up; roses are getting ready to bloom, bringing bright and cheery color into our lives. Spring is also a time we tend to come out of our "winter" doldrums, and become more motivated. With a revitalized and brighter outlook, wouldn't it be nice to start baking a bit for our family and friends, or for just "ourselves". I hope this edition of Diana's Desserts Newsletter finds you rested and energized and ready to begin a much deserved new and colorful season. Happy Spring!

Two very cheerful and happy holidays are celebrated around the world in March. One is the very popular Irish St. Patrick's Day, and the other is the Jewsih holiday of Purim. In this edition of Diana's Desserts Newsletter, I am including several recipes for St. Patty's Day, and one very nice Hamantaschen Cookie recipe for Purim. As always, a guest submitted recipe is included in the newsletter. This month the guest submitted recipe is for Sadie's Fudge Toffee Cheesecake. Enjoy!


March's Guest Submitted Recipe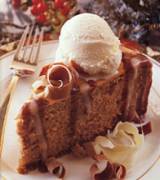 Sadie's Fudge Toffee Cheesecake

Servings: 8-10

Comments:
This decadent cheesecake is a chocoholic's dream. It's silky smooth and deeply chocolate. Be careful not to overbake. The filling will wobble when the pan is gently shaken, but will firm up as the cheesecake cools.

Ingredients:
2 cups chocolate wafer crumbs
1/3 cup melted butter
1 can Eagle Brand® sweetened condensed milk, caramelized* (see below)
3 Skor chocolate bars, crumbled (this is much easier if you freeze the bars first)
3 (8-ounce) packages cream cheese at room temperature (do not use light cream cheese)
3/4 cup granulated sugar
1/4 cup Kahlua liqueur
3 eggs, at room temperature
6 (1-ounce) squares semi-sweet chocolate, melted and cooled

Garnish: (optional)
2 (1-ounce) squares semi-sweet chocolate
Chocolate curls

Instructions:
*To Carmelize sweetened condensed milk:
To caramelize the sweetened condensed milk, simmer slowly in the top of a double boiler for about an hour, or longer, until it thickens and turns a golden brown. Stir occasionally. Set aside to cool.

(Note: Any brand of sweetened condensed milk may be substituted for the Eagle Brand®.)

Generously grease the sides of a 9-inch springform pan. Wrap the outside of the pan with a double layer of foil to prevent the butter in the crust from leaking out.

Combine the chocolate crumbs and melted butter and press onto the bottom and part way up the sides of the greased pan. Bake in a preheated 350 degree F (180 degrees C) oven for 10 minutes then set aside to cool.

Spread the caramelized sweetened condensed milk over the cooled crust (warm it in the microwave for a few seconds if necessary). Sprinkle the 3 crushed Skor bars evenly over the caramel layer. If you've had to reheat the caramel before spreading, let it cool for a moment before adding the Skor bars.

With an electric mixer, beat the softened cream cheese and sugar until smooth, scraping down the bowl several times. Add the eggs, one at a time and beat only till smooth (don't overbeat the batter once you've added the eggs or the cheesecake could crack). Quickly stir in the melted chocolate and Kahlua (can do this by hand). Pour the batter over the caramel layer. It should almost fill the pan.

Bake the cheesecake in the preheated 350 degree F (180 degrees C) oven for approximately 50-55 minutes. It will be set around the edges, but the center will wobble when you gently shake the pan. Turn the oven off and leave the cake in the oven for 1 hour, then completely cool at room temperature before putting it in the fridge. Run a sharp knife around the edge of the cake when it first starts to cool so that it doesn't pull away from the sides of the pan and crack. Refrigerate overnight before removing the sides of the pan.

To garnish, melt 2 squares of semi-sweet chocolate and drizzle over the top and down the sides of the chilled cake. Pile chocolate curls in the center.

Tip: Before preheating the oven set a large pan of water on the bottom rack. This adds moisture while the cheesecake is baking and will help to prevent cracks.

Makes 8-10 servings.

Source: Sadie

Date Submitted: February 15, 2004

Click here to view recipe and photo of Sadie's Fudge Toffee Cheesecake on Diana's Desserts Website


---
What is Purim?


Purim Eve begins at Sundown on Saturday March 6, 2004

Purim Day is celebrated on Sunday March 7, 2004

Purim is the most festive of Jewish holidays, a time of prizes, noisemakers, costumes and treats. The Festival of Purim commemorates a major victory over oppression and is recounted in the Megillah, the scroll of the story of Esther. Purim takes place on the fourteenth and fifteenth days of Adar, the twelfth month of the Jewish calendar. All Jewish holidays begin the evening before the date specified. This is because a Jewish "day" begins and ends at sunset, rather than at midnight. This year (2004), Purim begins at sundown on saturday March 6th.

Source: Holidays.net (Purim on the Net)


St. Patrick's Day


Wednesday March 17, 2004

Customs and Traditions

The person who was to become St. Patrick, the patron saint of Ireland, was born in Wales about AD 385. His given name was Maewyn, and he almost didn't get the job of bishop of Ireland because he lacked the required scholarship.

Far from being a saint, until he was 16, he considered himself a pagan. At that age, he was sold into slavery by a group of Irish marauders that raided his village. During his captivity, he became closer to God.

He escaped from slavery after six years and went to Gaul where he studied in the monastery under St. Germain, bishop of Auxerre for a period of twelve years. During his training he became aware that his calling was to convert the pagans to Christianity.

His wishes were to return to Ireland, to convert the native pagans to Christianity. But his superiors instead appointed St. Palladius. But two years later, Palladius transferred to Scotland. Patrick, having adopted that Christian name earlier, was then appointed as second bishop to Ireland.

Patrick was quite successful at winning converts. And this fact upset the Celtic Druids. Patrick was arrested several times, but escaped each time. He traveled throughout Ireland, establishing monasteries across the country. He also set up schools and churches which would aid him in his conversion of the Irish country to Christianity.

His mission in Ireland lasted for thirty years. After that time, Patrick retired to County Down. He died on March 17 in AD 461. That day has been commemorated as St. Patrick's Day ever since.

Much Irish folklore surrounds St. Patrick's Day. Not much of it is actually substantiated.

Some of this lore includes the belief that Patrick raised people from the dead. He also is said to have given a sermon from a hilltop that drove all the snakes from Ireland. Of course, no snakes were ever native to Ireland, and some people think this is a metaphor for the conversion of the pagans. Though originally a Catholic holy day, St. Patrick's Day has evolved into more of a secular holiday.

One traditional icon of the day is the shamrock. And this stems from a more bona fide Irish tale that tells how Patrick used the three-leafed shamrock to explain the Trinity. He used it in his sermons to represent how the Father, the Son, and the Holy Spirit could all exist as separate elements of the same entity. His followers adopted the custom of wearing a shamrock on his feast day.

The St. Patrick's Day custom came to America in 1737. That was the first year St. Patrick's Day was publicly celebrated in this country, in Boston.

Copyright © 2003 by Jerry Wilson. Used with Permission.
Also available on the Web at www.wilstar.com

---
ST. PATRICK'S DAY RECIPES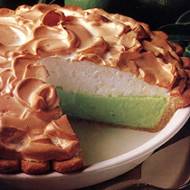 Irish Key Lime Meringue Pie


Servings: 6-8

Comments:
Not a typical Irish dessert for St. Patrick's Day, but it's "oh so good" and has a bit of green food coloring in the pie to make it work for this festive holiday. Adding a little Irish Whiskey and green food coloring to this sweet and tangy key lime meringue pie will possibly bring you "The luck of the Irish" on St. Patty's Day, "To be sure now".

Ingredients:
1 (9-inch/23 cm) pie crust, baked
3 eggs, separated
1 can sweetened condensed milk
1/2 cup (125 mL) Key Lime juice (or regular lime juice)
1-2 tablespoons Irish Whiskey (optional)
Few drops green food coloring (optional)
1/2 tsp. (2 mL) cream of tartar
1/3 cup (75 mL) sugar

Instructions:
Bake pie crust. Let cool.

Preheat oven to 350 degrees F (180 C).

Beat egg yolks in medium bowl. Stir in sweetened condensed milk, lime juice, irish whiskey (optional) and just a few drops of green food coloring if desired. Pour into baked pie crust.

Beat egg whites with cream of tartar in small mixer bowl until soft peaks form; gradually beat in sugar, beating until stiff.

Spread meringue on top of pie, sealing carefully to edge of pie crust.

Bake in preheated 350 degrees F (180 C) oven 12 to 15 minutes or until golden brown. Cool on rack, and then chill in refrigerator. Serve chilled.

Makes 6-8 servings.

Source: DianasDesserts.com

Click here to view recipe and photo of Irish Key Lime Pie on Diana's Desserts Website:

---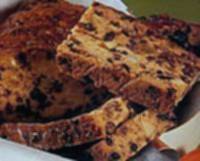 Guinness Cake

(Porter Cake)

Servings: 12

Comments:
Porter is a type of dark Irish beer, not now as widely available as it once was. It is not as strong as stout but Guinness, Murphy's or other Irish stout can be substituted in this recipe if mixed fifty-fifty with water. This cake is quickly and easily made and, though it tastes good fresh from the oven, it is best kept for about a week in an airtight container.

Porter or Guinness Cake is made commercially in Ireland and is exported to countries all over the world. It is especially popular during the St. Patrick's Day holiday.

Ingredients:
1 1/4 sticks/10 tbsp. (175gm) unsalted butter
16 oz. (450gm) mixed dried fruit (currants, raisins and sultanas))
Zest and juice from 1 orange
6 oz. (175gm) light muscovado sugar (or dark brown sugar)
7 fluid oz. (200mL) Porter or Guinness Stout
1 tsp. baking soda
3 eggs, beaten
10 oz. (300gm) all-purpose flour (plain white flour)
2 tsp. mixed spice (or pumpkin pie spice)

For the Topping:
2 tbsp. sliced almonds
2 tbsp. demerara sugar* (see note below)

Instructions:
1. Preheat oven to 300 degrees F (150 C). Grease and line (with parchment or wax paper) the base of a 8-inch/20cm round deep cake pan.

Put the butter, dried fruit, orange zest and juice, sugar and porter (or Guinness) in a large pan. Bring slowly to the boil, stirring until the butter has dissolved, then simmer for 15 minutes. Cool for 10 minutes, then stir in the baking soda. The mixture will foam up, but don't worry this is just the baking soda doing its work.

2. Stir the beaten eggs into the pan, then sift in the flour and spice and mix well. Pour into the prepared pan, smooth the top with the back of a spoon and sprinkle with sliced almonds and demerara sugar. Bake for 1 1/4 to 1 1/2 hours until a skewer or toothpick inserted in the center of the cake comes out clean.

3. Cool cake in the pan for 15 minutes; then turn out and remove the paper and leave to cool completely on a wire rack. Ideally, return to the pan for a couple of days.

*Note: Tubinado sugar, granulated sugar or light brown sugar may be substituted for the Demerara sugar in this recipe, if needed.

Makes 12 servings.

Click here to view recipe and photo of Guinness Cake (Porter Cake) on Diana's Desserts Website

---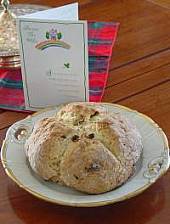 Irish White Soda Bread


Servings: Makes 1 (6 x 2- inch) round loaf

Comments:
Serve this traditional Irish White Soda Bread with butter or with double or clotted cream and preserves. It's delicious with cherry or strawberry jam or preserves. Soda bread is best eaten fresh, but if there's any left over, it's wonderful eaten the next day, toasted.

Ingredients:
3 1/2 cups all-purpose flour
1-2 tablespoons caraway seeds, depending on your taste (optional)
1/2-3/4 cup raisins, depending on your taste (optional)
1 teaspoon baking soda
3/4 teaspoon salt
1 1/2 cups buttermilk* (see note below)

For Baking Sheet:
Nonstick cooking spray
Extra flour

Instructions:
Preheat oven to 425 degrees F (220 C). Very lightly spray baking sheet with nonstick cooking spray, and lightly sprinkle baking sheet with flour.

Mix flour, caraway seeds, raisins, (if using either or both), baking soda and salt in a large bowl. Mix in enough buttermilk* (see note below) to form a cohesive dough.

With floured hands, gather dough into ball. Turn out onto lightly flour surfaced and knead just until dough holds together, about 1 minute. Shape dough into a 6-inch diameter by 2-inch-high round loaf.

Place on prepared baking sheet. Dip large sharp knife in flour, and cut a cross (X) halfway through center of dough so that it will easily break into quarters when baked.

Bake at 425 degrees F (220 C) for 15 minutes, then reduce oven temperature to 375 degrees F (190 C) and bake for 20 minutes more, or until bread is golden brown and sounds hollow when tapped on bottom and when skewer inserted into center comes out clean. Transfer bread to rack and cool completely. Serve with butter, clotted or double cream. Spread with jam or preserves.

Tip: Soda bread is best eaten as fresh as possible. It's great eaten the next day, toasted.

*Note: If needed, substitute the liguid buttermilk in this recipe with 6 tablespoons powdered buttermilk, and mix with 1 1/2 cups water. Continue with instructions above.

Makes 1 (6 x 2-inch) round loaf, or 8 servings.

Source: DianasDesserts.com

Click here to view recipe and photo of Irish White Soda Bread on Diana's Desserts Website

---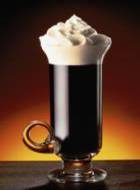 Irish Coffee


Servings: 1

Comments:
A little History of the famous "Irish Coffee".

The Buena Vista, San Francisco, California USA
"Irish Coffee was concieved by bartender Joe Sheridan at Shannon Airport, Ireland. Patrons would approach the small bar shivering and ask for a heart warmer. The blend of Irish Whiskey, piping hot coffee topped with cool cream was just the trick. In 1952 Stanton Delaplane, an international travel writer, discovered this treat and brought it home to bartender Jack Koeppler at the Buena Vista. Here they attempted to recreate the magnificent drink without success. The cool cream float kept sinking. Koeppler visited the Shannon Airport to learn from the drink's creator, and the rest is history".

For an alcohol-free version, try it without the Irish Whiskey, and add a little Vanilla Extract and a sprinkle of Cinnamon!!

Ingredients:
1 Jigger Irish Whiskey
Strong coffee
Heavy cream
Brown sugar

For Alcohol-Free Irish Coffee:
Omit the Irish Whiskey
Add 1/8 teaspoon Vanilla Extract
Add a sprinkle of ground cinnamon over the cream
Cinnamon stick to garnish (optional)

Instructions:
Fill glass with hot water to pre-heat it empty. Pour piping hot coffee into warmed glass until it is about 3/4 full. Add 1 tablespoon brown sugar and stir until completely dissolved. Blend in Irish Whiskey. Top with a collar of slightly whipped heavy cream by pouring gently over a spoon. Enjoy while piping hot.

Makes 1 serving.

Source: The Buena Vista, San Francisco

Click here to view recipe and photo of Irish Coffee on Diana's Desserts Website

---
For The Kids on St. Patricks Day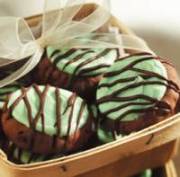 Chocolate-Peppermint Shortbread Cookies


Servings: Makes 3 1/2 dozen cookies

Comments:
A great treat for the kids on St. Patricks Day. Make some extra cookies and wrap them in a festive box and send them off to school with your kids. Also, these make a great "teacher's gift for St. Patrick's Day. He or she will love these delicious cookies.

Ingredients:
Cookie Ingredients:
3/4 cup (1 1/2 sticks) butter, softened
1/2 cup confectioners' sugar
1/4 teaspoon peppermint extract
2 (1-ounce) squares unsweetened baking chocolate, melted, cooled slightly
1 1/2 cups all-purpose flour
1 cup semi-sweet mini chocolate chips

Frosting Ingredients:
1 cup confectioners' sugar
2 tablespoons butter, softened
1 tablespoon milk
1/4 teaspoon peppermint extract
1 drop green food color

Drizzle Ingredients:
1/2 cup semi-sweet mini chocolate chips
1/2 teaspoon vegetable shortening

Instructions:
Heat oven to 375 degrees F (190 C). Combine all cookie ingredients except flour and 1 cup mini chocolate chips in large mixer bowl. Beat at medium speed until creamy (1 to 2 minutes).

Reduce speed to low. Add flour; beat until mixture forms a dough (1 to 2 minutes). Stir in 1 cup mini chocolate chips by hand.

Roll dough into 1-inch balls. Place 2 inches apart onto ungreased cookie sheet. Flatten to 1 1/2-inch circle with bottom of glass dipped in flour. Bake for 5 to 7 minutes or until set. (DO NOT OVER BAKE.) Let stand 2 minutes; remove from cookie sheet. Cool completely on wire rack.

Combine all frosting ingredients in small mixer bowl. Beat at low speed, adding milk, 1 teaspoonful at a time, if necessary until frosting is smooth. Frost cooled cookies. Place on waxed paper.

Place 1/2 cup mini chocolate chips and shortening in small microwave-safe bowl. Microwave on HIGH, stirring every 30 seconds, until smooth (60 to 90 seconds). Drizzle thin lines of chocolate over frosting with teaspoon. Let stand until chocolate is set (at least 30 minutes).

TIP: To measure flour, lightly spoon flour into metal or plastic dry measuring cup. Level off excess with table knife. (Do not dip cup into flour or pack flour into cup.)

If desired, place melted chocolate in small resealable plastic food bag. Cut tiny tip off one corner of bag to drizzle chocolate.

Makes: 3 1/2 dozen cookies.

Click here to view recipe and photo of Chocolate-Peppermint Shortbread Cookies on Diana's Desserts Website

---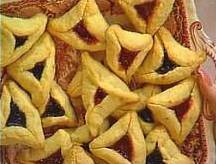 Hamantaschen for the Jewish Holiday of Purim


Servings: Makes 26 hamantashen cookies

Comments:
What is Hamantaschen?
Some of the nicest traditions of Purim are matanot laevyonim, the giving of gifts to the poor, and mishloach manot, the giving of gifts of food to friends and family. Purim is known as a time of delicious smells emanating from the kitchen from the baking of the delicious sweets and goodies.

The traditional Ashkenazi (Jews from eastern and central Europe, or their descendants) dessert for Purim is hamantashen, a triangular cookie usually filled with poppy or prune filling. According to different theories, the triangular shape of the hamantashen or "Haman's pockets" is supposed to represent Haman's pockets filled with lots, his tri-cornered hat, or his ears. The shape may also represent the three Patriarchs, Abraham, Isaac and Jacob, who inspired Queen Esther. The most traditional filling is poppy seed (or "mohn" in Yiddish), perhaps because the Yiddish word is so close to "Homen" (Yiddish for Haman). Most people prefer not to make their own fillings, but homemade filling is easier to tailor the sugar to the fruit used. The recipe below gives you both options for the filling; store-bought or homemade.

Serve Hamantaschen on Purim, Yom ha-Atzma'ut or Shabbat. Hamantaschen may be eaten at dairy or pareve* (see note) meals.

*Note: Use vegetable shortening instead of butter for "pareve" meals.

Ingredients:
1 1/2 cups (180 grams) all-purpose flour, lightly sprinkled into a measuring cup
1/2 cup Plus 1 tablespoon (60 grams) sifted cake flour, lightly sprinkled into a measuring cup
1 teaspoon baking powder
1/4 teaspoon salt
1/2 cup granulated sugar
7 tablespoons unsalted butter, chilled (use vegetable shortening for pareve)
1 teaspoon vanilla extract
1 teaspoon orange juice
1 large egg, cold

Filling for Hamantaschen:
12 ounces (approximately 340 grams) store-bought Poppy Seed, Prune, Apricot, Cherry, or Strawberry filling, or use Homemade Filling (see recipe below)

Instructions:
1. Preheat oven to 375 degrees F (190 C), with shelves in the middle and lower third of the oven. Line 2 cookie sheets with parchment paper.

2. Place the all-purpose flour, cake flour, baking powder, salt, and sugar in a food processor bowl. Process just to mix ingredients together.

3. Cut the butter into 1/2-inch chunks and place on top of the flour. Pulse-process until the butter is cut into the flour so that the mixture looks like coarse meal.

4. In a bowl, lightly whisk together the vanilla extract, orange juice, and egg. With the processor running, add the egg mixture through the feed tube. Pulse-process for 10 seconds, 3 times. Dump the dough out onto a board. You should be able to press it into a ball that is neither sticky nor dry. When you shape the dough you will know if it is the right consistency: it will not be too sticky to roll, and the dough will not crack when you fold up the edges to make the triangles. If the dough is not right after shaping the first cookie, it can be put back in the processor and a little more water or flour added. If necessary, add up to 2 tablespoons more cake flour, a little at a time, to make the dough the proper consistency (those who are weighing the flour should use 240 grams, which makes the perfect consistency).

5. Because this dough has so much sugar in it, it gets stickier as it sits. It is best to use it at once, and to work quickly.

6. Divide the dough into 2 pieces. Flatten each piece, and roll it to a scant 1/8-inch thick. Cut into 2 1/2-inch rounds. Gather the scraps, re-roll and cut. Place 1 rounded teaspoon of filling, almost centered, just slightly closer to the top edge than the bottom edge. Fold the edges towards the center to form a triangle, leaving a bit of filling showing. Pinch the edges to seal.

7. Place the cookies 1/2-inch apart on the cookie sheets. Put one cookie sheet on each rack. Bake 6 minutes, switch the position of the top and bottom cookie sheets, and continue to bake for 5 to 6 minutes or until cookies are firm, but not browning. Cool completely before eating.

Makes 26 hamantaschen cookies.


Homemade Mohn "Poppy Seed" Filling


Ingredients:
1 cup poppy seeds
1/2 cup boiling water
1/2 cup water
1/2 cup honey
2 teaspoons fresh lemon juice
1/2 teaspoon ground cinnamon
1 large egg

Instructions:
1. Soak the poppy seeds in the boiling water until cool, or overnight.

2. Grind the seeds in a coffee or spice grinder, as finely as possible. A mortar and pestle can also be used.

3. Combine the seeds, water, honey, lemon juice and cinnamon in a small pot and cook over medium heat until the filling is thick, stirring frequently.

4. Remove from heat, cool, and then stir in the egg. Refrigerate until ready to use.

Makes enough filling for 26 small hamantaschen.

Source: DianasDesserts.com

Click here to view recipe and photo of Hamantaschen for Purim on Diana's Desserts Website

---
Until Next Month


That's about it for this month's edition of Diana's Desserts Newsletter. I hope you enjoyed the recipes and the history of St. Patrick's Day and the information on the Jewsih holiday Purim.

I wish you a lovely month, and as always, I look forward to your guest submitted recipes.

Click here to bring you to the page on Diana's Desserts Website to Submit a Recipe

I will be back in April with dessert recipes for Easter and Passover. Have a Happy St. Patrick's Day and for those of you who are Jewish, Happy Purim!

Sincerely, Diana