Diana's Desserts - www.dianasdesserts.com
See more recipes in
Miscellaneous Desserts, Etc.
Almond Paste
in Guest Recipe Book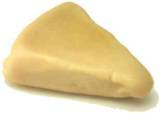 [Be the first to post a review!]
Servings: 1 3/4 cups
Comments:
Almond Paste
Definition:
Used in a variety of confections, almond paste is made of blanched ground almonds, sugar and glycerin or another liquid. almond extract is sometimes added to intensify the flavor. Almond paste is less sweet and slightly coarser than marzipan. It should be firm but pliable before use in a recipe. If it becomes hard, it can be softened by heating for 2 or 3 seconds in a microwave oven. Once opened, it should be wrapped tightly and refrigerated. Almond paste is available in most supermarkets in 6- to 8-ounce cans and packages. Bitter-almond paste is used to flavor the famous amaretti cookies.


Copyright (c) 1995 by Barron's Educational Series, from The New Food Lover's Companion, Second Edition, by Sharon Tyler Herbst
Ingredients:

1 1/2 cups finely ground blanched almonds
1 cup granulated sugar
2 egg whites
1/4 tsp. almond extract
Instructions:
Pound the almonds, sugar and egg whites until they are smooth; flavor with almond extract. Keep in an airtight container. Use in baking as directed in recipes.

Makes about 2 1/2 cups.

Note:
Almond Paste may also be purchased in cans or tubes.

VARIATION
For Marzipan:
Add 1 cup confectioner's sugar, a few drops of any desired flavoring, and a drop or two of food coloring to 1 cup of Almond Paste. Place on a cold Surface and knead 15 to 20 minutes. Mold into desired candy shapes or spread over cakes before icing.

Makes 1 3/4 cups almond paste.
Source: The Horizon Cookbook
Submitted By: Ariel Smith
Date: 10/30/02