Diana's Desserts - www.dianasdesserts.com
See more recipes in
Holidays and Celebrations
Simnel Cake
in Guest Recipe Book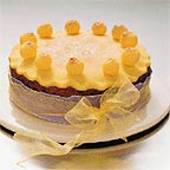 [Be the first to post a review!]
Servings: Makes one 8-inch round cake
Comments:
Simnel Cake
Definition:

Now an Easter cake, this was originally given by servant girls to their mothers when they went home on Mothering Sunday. A fairly rich fruit cake, it is covered with almond paste or marzipan, stamped with the figure of Christ and decorated with 11 marzipan balls to represent the 11 apostles (excluding Judas).

Ingredients:

3/4 cup unsalted butter
1 3/4 cups granulated sugar
4 large eggs
2 cups all-purpose flour, sifted
1 tsp. salt
1 cup currants
1/3 cup thinly sliced candied lemon rind
1/3 cup thinly sliced candied orange rind
2 1/2 cups almond paste (see homemade recipe below) or use ready made store bought almond paste in cans or tubes
1 Recipe Almond Buttercream Icing (see recipe below)
11 Marzipan Balls (see recipe below) Optional

For Decorating:
Wide ribbon, to tie around the outside of the cake for decoration, any color (optional)
Instructions:
In large bowl cream butter and sugar until light and fluffy. Beat in eggs, one at a time. Re-sift flour with salt and add gradually to mixture. Fold in currants and rind, dreding in a little
flour.

Butter an 8-inch spring form pan and line with buttered wax paper. Pour in half the batter. Roll out enough almond paste to make an 8 inch round circle, and put over batter and pour remaining batter over almond paste circle. (May be made in 3 layers with two layers of almond paste).

Bake in preheated 350 degree F oven for 1 hour or until cake is golden and springs back when touched.

Ice with almond butter cream icing or roll out another 8 inch round almond paste circle for the top.
If desired make 11 marzipan balls for decorating the top of the cake. Tie a ribbon around the outside of the cake to enhance its look, if you wish (optional).

Homemade Almond Paste:
Ingredients
1 1/2 cups finely ground blanched almonds
1 cup granulated sugar
2 egg whites
1/4 tsp. almond extract

Instructions:
Pound the almonds, sugar and egg whites until they are smooth; flavor with almond extract. Keep in an airtight container. Use in baking as directed in recipes.

Makes about 2 1/2 cups.

Note:
Almond Paste may also be purchased in cans or tubes.

VARIATION
For Marzipan:
Add 1 cup confectioner's sugar, a few drops of any desired flavoring, and a drop or two of food coloring to 1 cup of almond paste. Place on a cold surface and knead 15 to 20 minutes. Mold into desired candy shapes or spread over cakes before icing.

Makes 1 3/4 cups almond paste.

Almond Buttercream Icing:

Ingredients:
1/2 cup butter, softened
1 (16 oz) pkg. or box confectioners' sugar, divided
1/3 cup milk
1 tsp. vanilla extract
1/2 tsp. almond extract

Instructions:
Beat butter and 1 cup powdered sugar at low speed with an electric mixer until blended.
Add remaining sugar alternately with milk, beating until blended.
Add extracts and beat at medium speed until spreading consistency.

Makes about 3 cups icing.

Marzipan Balls
Ingredients:
2 (7 ounce) tubes marzipan paste or almond paste (Odense Brand is good)

Instructions:
Roll marzipan or almond paste into 11 walnut sized balls and place around top edges of cake for decoration.







Source: The Horizon Cookbook
Submitted By: Ariel Smith
Date: 10/30/02