Diana's Desserts - www.dianasdesserts.com
See more recipes in
Pies and Tarts
Bartlett Pear Pie
in Guest Recipe Book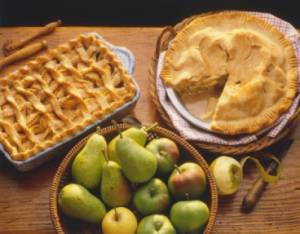 [Be the first to post a review!]
Servings: 8
Comments:
Sometimes I add Morello cherries to the pie and sometimes I use less pears and add sliced apples. This pie is a little time consuming, but it is worth it.
Ingredients:

For the Pie Crust:
1 cup (2 sticks/8 oz./226g) unsalted butter
2 1/2 cups all-purpose flour
1/4 tsp. salt
7 to 8 tbsp. ice-cold water

For the Pie Filling:
6 to 7 medium, ripe but firm Bartlett pears
3 tbsp. granulated sugar
3 tbsp. brown sugar
2 tbsp. brandy (preferably pear brandy - this enhances the flavor, but you can also use regular brandy if you like)
1/4 tsp. salt
1/2 vanilla bean
1/2 tsp. finely grated lemon zest
1 tbsp. cornstarch
Instructions:
To Prepare Pie Crust:
Cut butter into medium chunks, and toss with flour and salt in a small bowl. Transfer mixture to a food processor bowl and place in the freezer for 15 to 20 minutes. Remove from the freezer and use the pulse button to process the mixture, stopping when butter chunks are the size of large crumbs. Place in a bowl and dribble ice water over the mixture slowly, stirring with a wooden spoon or using your fingertips just until dough holds together. Divide dough into 2 balls and wrap in plastic wrap for 1 hour before rolling out.

To Prepare the Filling:
Peel, quarter and core pears. Cut each quarter into 3 even slices and place in a bowl with both sugars, the brandy and the salt.

With a small, sharp paring knife cut vanilla bean in half vertically. With the edge of the knife scrape the vanilla seeds into the pears and mix well. Cover with plastic wrap and set aside for at least 45 minutes or up to 2 hours.

To Assemble Pie:
Preheat oven to 400 degrees F/200 degrees C.

With a rolling pin, roll out one ball of pie crust dough into a 12-inch diameter circle. Place the pie crust into a 9-inch pie pan.

Place a colander over a heavy bottomed saucepan and pour pears into colander. When juices have ceased to drip into the saucepan, set pears aside.

Place saucepan over medium heat and allow juices to come to a boil. Reduce heat and simmer vigorously until juices have become syrupy and caramel colored, about 8 minutes, then remove from heat.

Meanwhile toss pears with lemon zest and cornstarch until cornstarch is no longer visible. Pour caramelized juice over the pears, toss well and pour mixture into prepared pie crust.

Roll out the remaining pie crust dough to a 12-inch in diameter circle, then cover pie filling with pie crust, cut vents on top crust and place in the freezer for 10 to 15 minutes.

Place pie on baking sheet and place in preheated oven. Bake for about 45 to 50 minutes, until juices are bubbling through the vents and the fruit feels soft but not mushy when tested with a knife. Edges of crust may have to be protected with aluminum foil after 30 minutes to prevent over browning. Remove pie from oven and place on wire cooling rack. Let pie cool for 2 hours. Pie can be served slightly warm or at room temperature.

Makes 8 servings.
Source: California Pear Advisory Board
Submitted By: Lillian Mittner
Date: March 8, 2008