Diana's Desserts - www.dianasdesserts.com
See more recipes in
Spoon Desserts - Gelatins - Puddings
Vanilla Bread Pudding
in Guest Recipe Book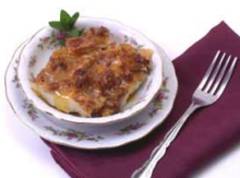 [Be the first to post a review!]
Servings: 12
Comments:
Drizzle Bourbon Sauce over this delicious bread pudding, and sprinkle with a little cinnamon and powdered sugar, or top with whipped cream or vanilla ice cream................
Ingredients:

1 Tbsp. unsalted butter, melted
2 cups half-and-half, light cream or milk
1 cup sugar
3 large eggs, lightly beaten
1 tsp. vanilla extract
8 slices firm-textured white bread or 7 ounces French Bread

Bourbon Sauce (see recipe below)


Instructions:
Spead melted butter in 2-quart square or rectangular baking dish, coating pan bottom; set aside. In large mixing bowl combine half-and-half, sugar, eggs and vanilla. Remove crust from bread, tear bread into pieces. (You should have about 4 cups) Add bread to half-and-half mixture; stir gently to combine. Pour into prepared baking dish. Cover and chill for 2 to 24 hours. Bake, uncovered at 350 degrees F for 30 to 35 minutes or until knife inserted near center comes out clean. Cool about 30 minutes before serving. Serve with Chocolate Bread Pudding and Bourbon Sauce.

Bourbon Sauce:
Makes: 1-1/2 Cups
Serve with Chocolate and/or Vanilla Bread Pudding.

Ingredients:
1/2 cup unsalted butter
1 1/4 cups superfine sugar
1/3 cup water
1 egg yolk, slightly beaten
3 - 4 Tbsp. Bourbon Whiskey

Instructions:
Melt butter. Stir in sugar, water and egg yolk; whisk over medium heat until sugar dissolves and mixture just comes to boil. Remove from heat; cool for 15 minutes. Stir in bourbon to taste. Serve warm with Chocolate and/or Vanilla Bread Pudding.

NOTE: See VANILLA BREAD PUDDING and CHOCOLATE BREAD PUDDING recipes under GUEST RECIPE BOOK on this website.
Vanilla Bread Pudding is under: Spoon Desserts, Gelatins, and Puddings category, and Chocolate Bread Pudding is under: Chocolate Sweets and Desserts category.
Source: Traditional Home-May 2002
Submitted By: Chris Rea
Date: July 16, 2002