Diana's Desserts - www.dianasdesserts.com
See more recipes in
Pies and Tarts
Easy Pie Filling
in Guest Recipe Book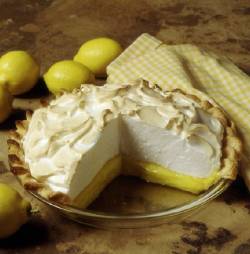 [Be the first to post a review!]
Servings: Will fill 7-9 (9-inch) pies
Comments:
Be prepared for dessert in a hurry! Pre-mix your pudding/pie filling in advance. Simple to remember! Pudding/Pie Filling Mixture will fill 7-9 pies. Just add 1 1/2 cups of the Cornstarch Mixture (see recipe below) to pudding/pie filling mixture and fill a 9-inch pre-baked pie crust, then spread with meringue topping (see recipe below for Meringue Topping), and you've got a great quickly baked pie in a short time.
Ingredients:

Cornstarch Mixture:
1 (16 oz/453 g) box cornstarch
9 cups granulated sugar
6 tsp. salt

Pudding/Pie Filling Mixture:
3 cups milk
4 egg yolks
1 tbsp. margarine
1 1/2 cups dry vanilla pudding mix (or you may use other flavor pudding of your choice)
1 tsp. vanilla extract
Instructions:
For Cornstarch Mixture:
Mix together all Cornstarch Mixture ingredients and store in a large airtight container.

For Pudding/Pie Filling Mixture:
Bring to boil milk, egg yolks and margarine. When mixture comes to a boil add your dry pudding mix and mix well. For each pie add 1 1/2 cups of Cornstarch Mixture. Mixture will thicken very fast. Turn off heat when the mixture has reached the desired thickness. Add 1 tsp. vanilla extract.

Pour cooked pie filling in a pre-baked pie crust and put meringue (Recipe for Meringue Topping Follows) over top of pie and bake for 7-10 minutes at 375 degrees F/190 degrees C until brown.

For Easy Lemon Pie:
Add 1 package Kool-Aid Lemon flavor to the above mixture.

Meringue Topping

Ingredients:
4 large egg whites
1/4 cup granulated sugar
1 tsp. vanilla extract
Pinch salt
1/2 tsp. cream of tartar

Instructions:
With an electric mixer, beat meringue ingredients until shiny and fluffy. Spread over hot filling and bake at 375 degrees F/190 degrees C for 7-10 minutes (watch that the meringue topping doesn't become too brown.)

Optional Additions:

For Coconut Pie:
Add 1 cup shredded coconut to above pie filling mixture.

Chocolate Pie:
Add 1/4 cup cocoa and 1/4 cup chocolate chips to pie filling mixture.
Source: Cast Iron Skillet
Submitted By: Karen Torres
Date: January 1, 2008