Diana's Desserts - www.dianasdesserts.com
See more recipes in
Pies and Tarts
Lemon Tart
in Guest Recipe Book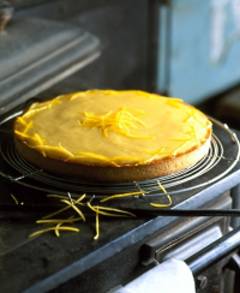 [Be the first to post a review!]
Servings: Makes 1 large or 4 to 5 small tartlets
Comments:
The combination of the almonds and the tartness of the lemon custard gives this dessert a wonderful taste.
Ingredients:

For the Pastry:
2 1/4 cups all purpose flour (250 grams)
5/8 cup (9 tbsp./4.5 oz./130g) unsalted butter, softened
1/3 cup finely ground almonds (60 grams)
1 1/8 cups confectioners' sugar (130 grams)
2 egg yolks
4 tbsp. chilled water
Pinch of salt

For the Lemon Custard:
Juice of 3 large lemons
1/2 cup + 1 tbsp. (125 grams) butter softened and cut into pieces
1 1/3 cups confectioners' sugar (150 grams)
1/2 cup finely ground almonds (100 grams)
3 eggs
Instructions:
To Make the Pastry:
Combine flour and butter in a large bowl. Add ground almonds, salt, confectioners' sugar and egg yolks. Add chilled water and knead quickly in order to get a smooth dough. Shape dough into a ball. Wrap in plastic wrap and refrigerate for two hours.

Note:
Let the pastry sit at room temperature after removing from refrigerator for 15 minutes before using it. It is necessary to flour your work surface because the pastry dough is quite difficult to spread. With your fingers, press dough onto bottom and up the sides of a 11-inch tart or pie tin or 4 or 5 (3 1/2-inch) tartlet tins and refrigerate while making the custard.

To Make the Custard:
In a large bowl, using an electric mixer, cream the butter. Using a whisk, add in the confectioners'sugar and finely ground almonds. Whisk in eggs, one at a time. Then add juice from the 3 lemons and whisk until smooth. Transfer mixture to a saucepan and cook over low heat, stirring constantly until mixture thickens. Remove from the heat and let cool.

Pour cooled custard into tart crust (or crusts, if making small tartlets) and bake in preheated oven at 180°C (350°F). Bake for about 30 minutes. Let stand on a wire rack until cool. Decorate tarts with lemon peel, if desired.

Makes 1 (11-inch) tart or 4 to 5 (3 1/2-inch) tartlets.
Source: a friend
Submitted By: Lise
Date: June 17, 2007