Diana's Desserts - www.dianasdesserts.com
See more recipes in
Cookies
Mama Carrie Biscuits
in Guest Recipe Book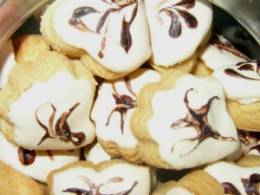 [Be the first to post a review!]
Servings: 6-8
Comments:
This is a recipe that I found in a local Malaysian magazine. I substituted ground cornflakes for the milk powder (which was in the original recipe). I've never tried the original recipe that called for milk powder but all the same my children loved it. I've improvised the cookie recipe accordingly.

Note: See the Tips & Tools Page (click on Conversion Calculator) on this website to convert ingredients from metric to imperial, if needed.
Ingredients:

300g butter
100g icing sugar
Pinch of salt
300g all-purpose flour, sifted
220g finely ground cornflakes
1/2 tsp. vanilla essence or extract

Icing Topping:
2 egg whites
150g icing sugar
15g cornflour

20g chocolate, melted
Instructions:
1. Cream butter and sugar with pinch of salt until smooth.

2. Add in the sifted flour, ground cornflakes and vanilla essence, mix until well blended.

3. Roll out the dough in between sheets of plastic wrap to a 5-mm (1/4-inch) thickness.

4. Cut biscuits with your choice of biscuit or cookie cutters and place them on a cookie or baking pan.

5. Bake at 180 degrees C/350 degrees F for 20 minutes or until golden brown.

6. Let biscuits cool and then pipe the topping over top (see Icing Topping instructions below). Drizzle melted chocolate on cookies. Using a cocktail stick or toothpick to make marbled pattern. Let stand for 30 minutes.

7. Put in oven and bake at 150 degrees C/300 degrees F for 10 minutes.

Icing Topping:

Instructions:
Mix all the ingredients except for the melted chocolate until well combined to a drizzling consistency.
Source: Nur Magazine
Submitted By: Suriati
Date: March 18, 2007