Diana's Desserts - www.dianasdesserts.com
See more recipes in
Valentine's Day
Mini Chocolate Heart Cakes
in Guest Recipe Book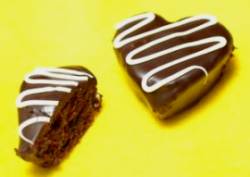 [Be the first to post a review!]
Servings: Makes approximately 30 little cakes
Comments:
These mini chocolate heart cakes (made by baking them in heart shaped silicone molds) are really pretty and very tasty.

After they are cool, I level off the tops and then using an apple corer, I core out a small center and fill the center with a cherry filling (made by Solo Brand) and then using part of the cake I removed, I create a small 'plug' and cover up the cherry mixture. I then chill them well. Once chilled, I enrobe them with ganache. Once the ganache is set, I melt some white chocolate and decorate them with a random zig zag pattern.

When you put them in an oversized cupcake paper liner, they are just big enough to make the paper form a white heart around them.

I usually serve one cake per person because they are so rich.
Ingredients:

FOR CAKES:
2-1/4 cups all-purpose flour
1 cup unsweetened cocoa powder
2 tsp. baking powder
3/4 tsp. baking soda
1/4 tsp. salt
1 cup (2 sticks/8 oz./226g) unsalted butter, at room temperature
1-1/2 cups granulated sugar
4 eggs
1 tsp. vanilla extract
1-1/2 cups sour cream
6 oz. semisweet chocolate, melted and cooled

Cherry or Raspberry Filling (made by Solo Brand) or use seedless jam of your choice

FOR GANACHE:
1 pound good quality semisweet chocolate, finely chopped
2 cups heavy cream

FOR DECORATION
8 oz. good quality white chocolate

Special Equipment:
You will need a 6-cavity (each heart shaped cavity should measure approximately 2 1/4" to 2 1/2") silicone heart mold pan (you will need to bake in batches).

Where to Purchase Heart Molds
Wilton makes a 6-cavity heart shaped silicone mold (each heart shaped cavity measures 2 1/2"). The measurements of this Wilton pan are 10-5/8" by 7" by 1-1/4 inches. The Wilton mold can be purchased at Amazon.com.

Williams-Sonoma's website also sells a 6-cavity heart shaped mold which will also work for this recipe.
Instructions:
TO MAKE THE CAKES:
Whisk together the flour, cocoa, baking powder, baking soda and salt (put cocoa through a sieve if needed). Set mixture aside.

In a bowl of an electric mixer, mix together the butter, and sugar. Beat until light and fluffy. Add the eggs, one at a time, then add the vanilla, sour cream and the melted chocolate. Scoop (I use a small ice cream scoop) approximately 3 tablespoons of batter into each heart-shaped mold that has been lightly sprayed with cooking spray. Fill about halfway (I use a small offset spatula to spread it out a bit into the corners of the heart). Bake at 325 degrees F/160 degrees C for 12-15 minutes (start checking cakes for doneness after 12 minutes of baking). Remove from oven and cool 10 minutes in the mold and then 'pop' them out and cool completely.

Refrigerate hearts until very cold, about 1 hour. When cold, using a serrated long-bladed knife, cut off mounded tops to make them flat. Using an apple corer, core out about 1" deep into heart, Save the removed 'plug'.

Fill centers with a little bit of Solo brand cherry or raspberry filling, or seedless jam of your choice (or even peanut butter mousse!). Cut the removed 'plug' in half and replace half of the plug so it is even with the top of the heart. Refrigerate the hearts for about an hour or put in the freezer for 15 minutes.

TO MAKE THE GANACHE
Place chopped chocolate into a bowl. In a saucepan, over medium heat, bring the heavy cream to a simmer and then pour over the finely chopped chocolate. Let this mixture sit for about 2 minutes, then whisk until smooth with a whisk.

TO ASSEMBLE
Place one cold heart cake on a wire rack. Place a large bowl underneath the wire rack to catch the chocolate ganache that will drip down through the rack. Using a soup ladle, ladle ganache over the cake several times until all sides of cake is coated. Gently tap the wire rack so the excess chocolate falls off. Repeat with each little heart cake. Remove each heart cake carefully to a wax paper or parchment lined cookie sheet. Place the heart cakes in the refrigerator to fully set, about 4 hours or overnight.

TO DECORATE
Melt the white chocolate (either over a bain marie, double boiler or in the microwave) and put into a small pastry bag with plain round tip. Drizzle zig-zag lines (or whatever pattern you like) over the hearts and let set another hour.

These heart cakes will keep refrigerated for up to 4 days.

Servings.
Makes approximately 30 little cakes (1 serving per person).
Source: Lee Danek
Submitted By: Lee Danek
Date: February 11, 2007