Diana's Desserts - www.dianasdesserts.com
See more recipes in
Candy and Confections
Donna's Chocolate-Coconut Almond Bon Bons
in Guest Recipe Book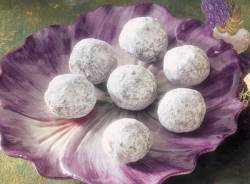 [Be the first to post a review!]
Servings: Makes approximately 5 dozen Bon Bons
Comments:
These Bon Bons can be made in two days, but, it's easier to make them in three days. They're worth the time spent making them, so plan ahead!!


Ingredients:

3/4 pound (12 oz.) Coating or Dipping Chocolate
1 pound confectioners' sugar
1 pound package flaked coconut
1 can (14 oz.) sweetened condensed milk
1 teaspoon vanilla extract
1 stick (4 oz.) margarine, melted
60 whole unsalted almonds
Confectioners' sugar, for dusting tops of bon bons (optional)


Instructions:
Day 1:
In a large bowl, mix confectioners' sugar, flaked coconut, sweetened condensed milk, and vanilla extract. Pour melted margarine over mixture, stir well, cover with plastic wrap and put in refrigerate overnight.

Day 2:
The next day, remove mixture from refrigerator, roll by hand approximately sixty (60) 1-inch balls, covering one almond in center of each ball. Put them on cookie sheets, and chill in refrigerator for 3-4 hours or overnight.

Day 3:
Melt the chocolate. Cover bottoms of 1 or 2 (depending on how many bon bons you end up making) clean cookie or baking sheets with wax paper or parchment paper. Dip balls completely into warm chocolate to coat. Place dipped bon bons on waxed paper or parchment paper lined cookie or baking sheets. Chill bons bons for 2-3 hours. Sprinkle bon bons with confectioners' sugar. ENJOY!

Makes approximately 5 dozen bon bons.

NOTE:
Coating Chocolate or Dipping Chocolate (which is a safe, edible coating) can be purchased at Sugarcraft, Inc. on the internet. Their web address is: http://www.sugarcraft.com, or at other candy making supply stores.
Source: Donna Kesch
Submitted By: Donna Kesch
Date: April 26, 2002