Diana's Desserts - www.dianasdesserts.com
See more recipes in
Cakes and Tortes
10 Minute Microwave Chocolate Cake
in Guest Recipe Book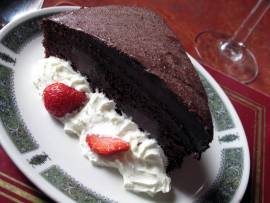 Average Rating:
(total ratings: 3)
[Read reviews]
[Post a review]
Servings: 8
Comments:
This is a wonderful chocolate cake that is great served plain or with a little whipped cream and fruit and wonderful to dress up for birthday parties with chocolate fudge icing (see recipe below). The cake tends to go a little dry when not iced, so I suggest that you store it in an airtight container. Great to put into children's lunch boxes for school or if iced, as a dessert warmed up and served with vanilla ice cream and berries or crumbled pralines or cookies. Also makes a great base for chocolate trifles.
I hope that you enjoy baking and serving this cake to your loved ones as much as I have.
Ingredients:

1 1/2 cups all-purpose flour (plain flour)
1 1/4 cups confectioners' sugar (powdered or icing sugar)
1 cup vegetable oil
1/2 cup unsweetened cocoa powder
1 cup milk, at room temperature
2 eggs
1 tsp. baking soda
1 tbsp. vinegar
2 tbsp. curd/natural yogurt
1 tsp. vanilla essence (vanilla extract or flavoring)
Instructions:
1. Sieve together the flour, baking soda and cocoa. Set aside.

2. In a large bowl mix together the sugar and oil.

3. Add the eggs and mix well.

4. Add the vanilla essence.

5. Add the vinegar and curd and mix well.

6. Add the previously seived flour, baking soda and cocoa and mix well until incorporated.

7. Add the room temperature milk.

8. When mixed well, pour batter into a greased 8-inch square microwave safe baking pan and bake for 10 minutes in microwave on regular setting.

Notes:
Let cake stand in microwave oven about 5 minutes before removing.

With condensation, the cake tends to sweat, so turn cake over if icing it as soon as it is slightly cool, using a rubber spatula to loosen it from edges and bottom of pan.

TIP:
If you want to keep cake moist, before icing, using a toothpick, prick cake well all over then spoon over 1/2 to 3/4 cup seived orange juice to which you may add 1-2 tbsp. rum (optional). Allow the juice to soak through cake.

Follow this up by icing the cake (recipe for icing follows). Pour the icing on top of the cake and let it run down the sides.

Quick and Easy Fudge Icing

Ingredients:
200ml (7 ounces) cream
60g (1/4 cup/1/2 stick/2 oz.) butter
100g (3 1/2 oz.) confectioners' sugar (powdered or icing sugar)
120g (4 oz.) brown sugar
90g (3 oz.) unsweetened cocoa powder

Instructions:
1. In a non-stick saucepan combine the cream and butter and cook on low heat until butter melts.

2. Add the confectioners' sugar and brown sugar and continue to stir on low heat until both sugars are completely dissolved.

3. With a whisk add the cocoa powder, whisking well to remove all lumps and to achieve a homogenous mixture.

4. Remove icing from heat and add 1-2 tbsp. rum or any other flavouring of your choice (flavouring is optional).

Makes enough frosting for 2 cakes of this size.

The remaining frosting can be refridgerated or frozen for up to 2 weeks. Warm in microwave for a few seconds to bring it to a spreading consistency.

Any left over fudge can also be used as a topping for ice cream and other desserts.

ENJOY !!!!
Source: Rakhi Ravindran
Submitted By: Rakhi Ravindran
Date: January 27, 2006
Reviews
Reviewer:
renee
Rating:
Review:
This is the perfect microwave cake! I've tried a lot of microwave cakes but have not found the perfect, fool-proof one until I tried this recipe! Thanks Rakhi!
Reviewer:
Pallavi Sharma
Rating:
Review:
Amazing recipe!!! Absolutely perfect chocolate cake.... it turned out chocolaty, soft, moist and fluffy! I added a pinch of salt too. I did not add the orange juice though, just poured in some homemade chocolate sauce (for the chocolate fanatics!). Will try it with orange juice next time!
Reviewer:
Samantha
Rating:
Review:
absolutely fabulous! its moist and turned out so perfect!!