Diana's Desserts - www.dianasdesserts.com
See more recipes in
Pies and Tarts
Lemon Pie
in Guest Recipe Book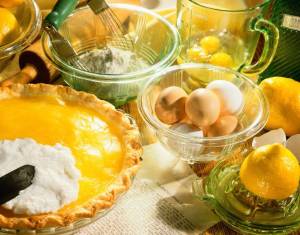 [Be the first to post a review!]
Servings: 8
Comments:
I was looking at your site and printed out your sweet cherry cobbler recipe. So I looked around; when I saw your lemon pie recipe, I thought it was only fair to offer you mine. It uses half the number of egg yolks and no butter so the fat content is reduced considerably. This makes for a crisper flavor and a less greasy mouth feel.

"Lemon Meringue Pie"
This is another of my mother's recipes. I think it is one of her best. After she became a snowbird and started spending part of the winter in Florida, she used the same recipe to make Wild Orange Pie. If you can get a Wild Orange, just replace it's juice for the lemon juice.
Ingredients:

1 (9-inch) baked pie shell
3 tablespoons cornstarch
1 1/4 cups granulated sugar
1/4 cup fresh lemon juice
1 tablespoon lemon rind
3 egg yolks, slightly beaten
1 1/2 cups boiling water
1 meringue recipe (see recipe below)

Instructions:
In a saucepan, combine all ingredients (except pie shell, boiling water and meringue.) Slowly add boiling water to other ingredients, stirring constantly. (Do this slowly or the boiling water will scramble your egg yolks.) Continue stirring and bring to a boil; allow to boil over medium to low heat stirring constantly until thick. Stir very carefully because this can scorch easily. (You might want to use a double boiler.) Pour into baked pie shell. Top with meringue and bake.

Meringue:
I'm fussy about meringues, and this Farm Journal recipe works very well.

Ingredients:
3 egg whites
1/4 teaspoon cream of tartar
1/4 teaspoon salt
1/2 teaspoon vanilla extract
6 tablespoons granulated sugar

Have egg whites at room temperature to get the best volume. Place in bowl with salt and cream of tartar. Beat until frothy. Add sugar slowly, a little at a time, beating after each addition. When sugar is all added, check to make sure it is dissolved. (To check, rub some of the meringue between you fingers to see if it is still grainy.) Continue beating until smooth and meringue forms stiff pointed peaks when beaters are lifted. (It is possible to overbeat egg whites; they lose their glossy look and form clumps rather than pretty peaks. It's very irritating and there's nothing you can do about it. Just don't tell, and nobody but you will notice. Of course, nobody will notice if you make a perfect meringue either.)

Place meringue around edge of filled pie shell sealing to edge. Pile the remaining meringue in center and completely cover lemon filling. Using your spreading knife or the back of a spoon, lift soft curls over surface. Bake at 350 degrees F (180 C) for 12 to 15 minutes.

Makes 8 servings.

Source: My Mother
Submitted By: Anna Marie Moriarty
Date: July 12, 2005