Diana's Desserts - www.dianasdesserts.com
See more recipes in
Cakes and Tortes
Pistachio Cake with White Chocolate Buttercream
in Guest Recipe Book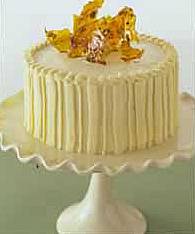 Average Rating:
(total ratings: 4)
[Read reviews]
[Post a review]
Servings: Makes one (3-layer) cake, 12 servings
Comments:
Yummy!!!
Ingredients:

For the Cake:
1 2/3 cups all-purpose flour
4 teaspoons baking powder
1/2 teaspoon baking soda
3/4 cup (1 1/2 sticks/6 oz/170g) butter (no substitutes), softened
2 cups granulated sugar
1 teaspoon vanilla extract
1 teaspoon almond extract
1 cup buttermilk or sour milk
6 egg whites
1 1/2 cups toasted chopped pistachio nuts
2 teaspoons finely shredded orange peel

Frosting and Garnish:
1/2 cup granulated sugar
2 tablespoons all-purpose flour
6 egg yolks
1 1/2 cups milk
1 (6-ounce) package white baking bars
1 1/2 teaspoons vanilla extract
1/2 teaspoon almond extract
1 cup butter (2 sticks/8 oz/226g), softened (no substitutes)
Caramelized Pistachio shards (optional)

Instructions:
1. Preheat oven to 350 degrees F (180 C). Grease and lightly flour three 8 x 1-1/2-inch round baking pans; set aside. Stir together flour, baking powder, and baking soda; set aside.

2. Beat the 3/4 cup butter with an electric mixer on medium to high speed for 30 seconds. Add the 2 cups sugar, 1 teaspoon vanilla, and 1 teaspoon almond extract; beat until fluffy. Alternately add flour mixture and buttermilk or sour milk, beating on low to medium speed just until combined.

3. Thoroughly wash and dry beaters. In a medium mixing bowl, beat egg whites until stiff peaks form (tips stand straight). Gently fold beaten egg whites into batter. Fold in the pistachio nuts and the orange peel. Pour batter into prepared pans.

4. Bake in preheated oven 30 to 35 minutes or until a wooden toothpick inserted near the center of each cake comes out clean. Cool in pans on wire racks for 10 minutes. Remove cakes from pans and cool thoroughly on wire racks.

For the Frosting and Assembling Cake:
Combine the 1/2 cup sugar and 2 tablespoons all-purpose flour in a medium mixing bowl; add egg yolks. Beat mixture with a wire whisk until combined; set aside. Heat the 1-1/2 cups milk in a heavy saucepan over medium heat just to boiling. Remove from heat. Gradually beat hot milk into egg mixture with the wire whisk; return entire mixture to saucepan. Cook over medium heat until bubbly, whisking constantly. Cook 2 minutes more. Remove from heat. Add white baking bars, 1-1/2 teaspoons vanilla, and 1/2 teaspoon almond extract. Let stand for 1 minute; stir until smooth. Transfer mixture to a bowl. Cover surface with plastic wrap to prevent skin from forming; cool to room temperature. Beat the 1 cup butter in a medium mixing bowl on medium to high speed until fluffy. Add cooled baking bar mixture, one-fourth at a time, beating on low speed after each addition until combined. Spread between layers and over cake.

If desired, pipe decorative lines along the edges and down the sides of the cake, using a decorating bag fitted with a star tip. Serve immediately or cover and store cake in the refrigerator for up to 3 days. Let stand at room temperature for 30 minutes before serving. Just before serving, if desired, top with Caramelized Pistachio Shards.

Makes one (3-layer) cake, 12 servings.

Caramelized Pistachio Shards:
Preheat oven to 350 degrees F (180 C). Line a cookie sheet with aluminum foil; coat foil with nonstick cooking spray. Sprinkle 1 tablespoon chopped pistachios onto prepared foil. Bake in preheated oven 6 to 8 minutes or until lightly toasted. Meanwhile, place 1/3 cup sugar in a heavy 10-inch skillet. Heat over medium-high heat until sugar begins to melt, shaking skillet occasionally to heat sugar evenly. Do not stir. When sugar begins to melt, reduce heat to low. Cook for 2 minutes more or until sugar is melted and lightly golden, stirring as needed with a wooden spoon. Remove pan from heat. Stir in 1/2 teaspoon hot water. Immediately pour over nuts on hot baking sheet. Let cool for 1 minute. Using two forks, gently pull caramel mixture as thinly as possible, lifting slightly as you pull. Let cool thoroughly on foil. Break into pieces; store tightly covered.

Source: Better Homes and Gardens
Submitted By: Kendra
Date: May 3, 2005
Reviews
Reviewer:
Maria
Rating:
Review:
The frosting was exceptionally 'eggy" I could smell and taste the yolks which turned me off a bit. Somewhere I went wrong with the frosting- it was impossible to pipe into decorative lines because it turned out to be more of a white chocolate glaze. Maybe I failed to cool it to room temp before adding the butter. Should I have chilled it? Anyhow, it was way too sweet for my taste. I don't know if I will try again. :( I was going to bring it to a Valentine party but I don't want to anymore. Heartbreaking because the picture looks beautiful and an expensive waste of ingredients.
Reviewer:
John
Rating:
Review:
For Maria - This particular recipe is very difficult. The icing is a form of French Buttercream which is very very difiicult to make. This is an expert recipe so dont feel bad.
Reviewer:
Heidi
Rating:
Review:
brilliant and decadent cake. difficult and timely. yes the frosting is sweet, but dense and rich and exceptionally impressive. I'll share the recipe.
Reviewer:
Rob
Rating: