Diana's Desserts - www.dianasdesserts.com
See more recipes in
Chinese New Year
Kuih Bangkit/Shih Fun Paeng
in Guest Recipe Book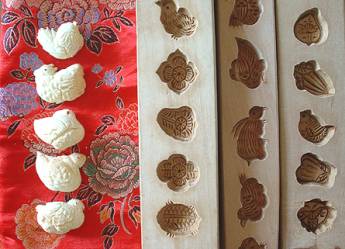 Average Rating:
(total ratings: 16)
[Read reviews]
[Post a review]
Servings: Makes approximately 100 cookies
Comments:
You'll find this cookie in every Malaysian home during Chinese New Year. Melts in the mouth!
Ingredients:

350g/13 oz. tapioca flour
5 pieces pandan/screwpine leaves
1 tsp. salt
2 tbsp. custard powder
2 large egg yolks
140g/5 oz. fine granulated sugar* (see notes)
150 ml thick coconut milk* (see notes)
1 tbsp. butter
Red food coloring

*Notes:
It would make a lot of difference if you can get fresh coconut milk. A medium-sized coconut yields 150 – 200 ml milk. However, coconut milk in cartons is acceptable. Make sure you get "thick" coconut milk.

Fine granulated sugar is called caster sugar in the UK and in some other countries, and is called Baker's sugar or superfine sugar in the United States.
Instructions:
1. Wash the pandan leaves. Wipe them dry and cut into 2-inch pieces.

2. Fry the tapioca flour in a wok together with the pandan leaves till it is very light and fluffy. Make sure the wok is big so that the flour will not splatter out as you fry it. The "lightening" will take around 15 minutes for this amount of flour. Leave to cool.

3. Sift flour gently (it's so light it will fly) together with salt and custard powder.

4. Fill a cloth bag with some tapioca flour. This will be used to dust the moulds. The moulds should be washed in warm soapy water, rinsed and left to dry thoroughly before use. Prepare this a day or two in advance.

5. Whisk egg yolks and sugar till pale and fluffy. Add butter.

6. Alternately add flour mixture and coconut milk. The last addition of flour should be done bit by bit to get a good firm dough. Dough should not be too wet or too dry.

7. Dust moulds well. Pinch a small ball of dough and firmly press into mould. However, do not use too much pressure or the dough will have difficulty coming out. Slice off excess with a knife, and press excess together with the rest of the dough in a bowl covered with a damp cloth. Hold the moulds at 45 degree angle and give a firm knock on the working surface. As soon as the cookie comes out of the mould, pick it up and arrange in a parchment-lined pan. You may place the cookies as close as 1/2 an inch away as there is not much expansion.

8. If the moulds are not dusted evenly, you may get some dough stuck in the crevices. Use a pointed toothpick to gently get the dough out – not too hard or the carvings might get distorted.

9. Fill a small dipping bowl with red food coloring and using a toothpick make a dot on each cookie.

10. Bake in preheated 170 degree C (340 F) oven for 10 to 15 minutes. The cookies should just begin to have some color. However, some people like to have the fragrance of "browner" cookies, in which case, you can leave it in the oven for a few more minutes. Cool.

11. Soak moulds in warm soapy water for 5 minutes and clean with a soft brush. Dry.

Makes approximately 100 cookies.

Photograph taken by Choo Teck Poh ©2005
Source: Mom's tweaked recipe
Submitted By: Choo Teck Poh
Date: February 3, 2005
Reviews
Reviewer:
adelyn
Rating:
Review:
can i know the history of this kuih bangkit?
Reviewer:
Kellie
Rating:
Review:
Please advise .. at which stage should I put the butter?
Reviewer:
Diana, Diana's Desserts
Rating:
Review:
Adelyn, Here is a little history of the Kuih Bangkit (or Kueh Bangkit):
Kueh/Kue Indonesia, Malaysia, Singapore (Also called kopiah, koah, koah lau huay)
Kueh, translated from Malaysian or Indonesian into English means "cake", but strickly speaking kuehs are more like biscuits or cookies. While variations are common, the biscuit must be sweet and have an auspicious color. Kuehs appear to have been adopted in Southeast Asia from China. In Southeast Asia, most have assumed the popular Malay name.
They are generally small and fragile. Some are reminiscent of Christmas cakes. Small scale producers have been key in keeping these traditional cakes alive. Many women have developed good small scale businesses from producing these seasonal treats. This is especially true in areas where most women work outside the home and do not have either the time or perhaps the interest in making them.
Kueh Bangkit are made from rice flour or tapioca flour. These were originally used for alter offerings for the ancestors. Then they were made in the shape of currency. Today they are made in various animal or floral shapes with their own symbolic meaning such as goldfish, peonies and chrysanthemums. They can be sprinkled with sesame seeds to symbolize fertility. Tan (1991) stated that kueh bangkit are typical of the evolution of the cultural osmosis from mainland China to overseas Chinese communites.
Source: Asian Festivals and Customs A Food Exporter's Guide by Grant Vinning and Kaye Crippen Asian Markets Research Rural Industries Research and Development Corporation Global Competitiiveness Research and Development 1999 ISBN 0 642 57944 X ISBN 1440-6845
Asian Festivals and Customs: A Food Exporter's Guide Publication No. 99/60 Project No. AMR-3A
Hope this helps......Diana, Diana's Desserts
Reviewer:
Vicky
Rating:
Review:
texture is light and it melts in your mouth.
Reviewer:
Wendy Chua
Rating:
Review:
This tastes great compared to so many recipes I've tried before. Not only are the steps easy to follow but it tastes fantastic too! Well done.
Reviewer:
Eugenia
Rating:
Review:
I have tried many recipes and they all turned out hard, but this one really does melt in your mouth, however I would give the salt a miss...
Reviewer:
Bagas
Rating:
Review:
Yay finally i found an article about this. I need this for my school task. Thank you very much. This recipe looks yummy, i'll ask my mom to make some..
Reviewer:
Sandra
Rating:
Review:
Hi, would love to try these cookies, I live in Brisbane, Australia. Any ideas on where I can purchase the moulds? Thanks, Sandra
Reviewer:
Suganthi
Rating:
Review:
I have tried so many recipes before, but none of them taste as great as this one. My mum loves it very much. Thank you for the wonderful recipe.
Reviewer:
jun
Rating:
Review:
it's definitely melt in your mouth quality, however, it's too salty! could you give some advice?
Reviewer:
Cedric
Rating:
Review:
I have tried this and very yummy! Thank you for your step by step guide...very useful! Where do you buy wooden moulds? I couldn't find them anywhere here...
Reviewer:
hatiqah
Rating:
Review:
Can I dip the Kuih Bankit into melted chocolate?
Reviewer:
CuteGal[Curious]
Rating:
Review:
Can you tell me whether this is peranakan? Also, when are pernanakans usually eaten? Which festival? During a wedding so as to ensure fertility? Please help me with this. I have to do a project about peranakan desserts and kuehs so I'm asking the questions! Thank you very much!
Reviewer:
Lee
Rating:
Review:
Hello Diana,
I'm desperately trying to find nice wooden cookie molds alike to the one that produced those awesome fishes you have there! May I please know where to get them?
Reviewer:
Mrs. Woo
Rating:
Review:
Hi Diana, May I know if the amount of 350g tapioca flour is referring to before or after frying and sieving? I like to try your recipe. Please advice.
Thanks, Mrs. Woo
Reviewer:
Angel
Rating:
Review:
A bit too salty.. The biscuit is more on a crunch side compare to those that are done with icing sugar and without the custard powder..