Diana's Desserts - www.dianasdesserts.com
See more recipes in
Cookies
Ooey Gooey Caramel Cookies
in Guest Recipe Book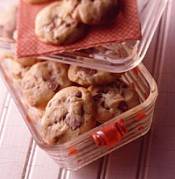 Average Rating:
(total ratings: 4)
[Read reviews]
[Post a review]
Servings: Makes 3 dozen (3-inch) cookies
Comments:
This is a recipe that I got from the internet for the most delicious caramel cookies. I've made 3 batches of these recently and they just disappear the moment I bring them into work. These are 5 star as far as I'm concerned. Everyone else seems to think so too.

The caramel cookies are to-die-for according to everyone who had them. They're about 3 inches in diameter, very thin and chewy, very buttery, and loaded with jumbo chocolate chips or chunks, toasted pecans, and big gobs of chewy caramel. One word of caution...you have to hang on to your teeth when you're eating them!!

Ingredients:

1 cup butter, softened
3/4 cup packed brown sugar
1/2 cup granulated sugar
1 egg
2 tsp. vanilla extract
2 cups all-purpose flour
1 tsp. baking soda
Pinch of salt
6 squares (1 oz. each) semi-sweet chocolate, chopped or use semi-sweet chocolate chips (I used Ghirardelli Double Chocolate Chocolate Chips)
25 individually wrapped vanilla caramels, quartered (I recommend Kraft Caramels)
3/4 cup coarsely chopped pecans, toasted
Instructions:
1. Preheat oven to 375°F/190°C (I baked mine at 350°F/180°C). Line cookie sheet with parchment paper. This is a must. The cookies will stick to the pan if it's not lined with parchment (I learned the hard way!).

2. Cream butter, sugars, egg and vanilla in a large bowl on medium speed of electric mixer until light and creamy.

3. Combine flour, baking soda and salt. Add to creamed mixture, beating on low speed until blended. Stir in remaining ingredients.

4. Drop dough by rounded tablespoonful at least 2 inches apart onto the prepared cookie sheet. Bake for 8 to 12 minutes (mine took 10 – 12 minutes at 350°F/180°C), or until light golden (they'll still look a bit under baked).

5. Cool for 5 minutes then transfer to rack and cool completely. It's best if you cover the rack with parchment because the caramels melt while the cookies are baking and the bottoms are sticky until the cookies are completely cooled.

Note: You may substitute white chocolate chips or chunks for the semi-sweet chocolate.

Makes 3 dozen (3-inch) cookies.
Source: Internet
Submitted By: Sadie
Date: June 20, 2004
Reviews
Reviewer:
Kathy
Rating:
Review:
These cookies have potential but they don't cut it. The caramels melt quickly creating odd shaped cookies with burnt parts. Perhaps you could press the caramels on top of the cookies instead of mixing them in with the chocolate. These cookies do not have the caramel taste that I was hoping for. Although they are a decent base for chocolate chip cookies. I won't be making them again.
Reviewer:
Joanne
Rating:
Review:
A great cookie - I managed to get 4.5 dozen out instead of just 3 (slightly smaller cookies however). Used walnuts instead of pecans since I didn't have any. A yummy cookie - baked up perfectly, although on some, the caramel melted and got away...sniff.
Reviewer:
Donna
Rating:
Review:
I just finished making a version of these cookies, let me explain. I received a gift basket from Mrs. Beasley's and their Caramel Pecan Cookies were outstanding. I searched the internet for a Caramel Pecan Cookie recipe and settled on trying this one with a slight change. I didn't put the chocolate chips in them but everything else was the same. I agree with the previous poster about pressing the caramels into the cookie dough after you have placed them on the cookie sheet. The caramels that were at the bottom of the cookies made a mess and not knowing where they are going to end up can cause problems. If you place the caramels on the top and press in lightly you can control the depth and the all around placement on the cookie. This is a very good cookie and I am sure they are equally as good with the chocolate in them. Thanks for the recipe!
Reviewer:
toni
Rating:
Review:
I am always looking for ways not too create a mess, so for me the best way is to make your dough mix all together and refrigerate for an hour. Get yourself a box of mini cupcake papers and cut the portion in half and put on the paper cups. Leave the cups just the way they are, no support with parchment paper on the bottom. Just in case, bake for about the same time that you would the cookies and see if that helps..... Toni