Diana's Desserts - www.dianasdesserts.com
See more recipes in
Cakes and Tortes
Chiffon Cake
in Guest Recipe Book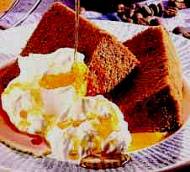 [Be the first to post a review!]
Servings: 8
Ingredients:

(A)
4 egg yolks
115 mL water
85 mL corn oil
1/4 tsp. salt
100 gm castor (granulated or superfine) sugar
150 gm all-purpose flour
1 tsp. baking powder

(B)
4 egg whites
90 gm castor (granulated or superfine) sugar
1/8 tsp. Cream of Tartar

Instructions:
Mix with a spatula (A) until well blended. Set aside. With an electric mixer, whisk the egg whites in (B) until soft peaks form; then add sugar and cream of tartar and continue to whisk until stiff.

Fold the beaten egg whites mixture into the egg yolk mixture gently with a spatula until well combined. Pour the batter into an ungreased 8-inch (20 cm) tube pan.

Bake at 175 C (350 F) for 40 minutes. Immediately invert pan upside down after removing from the oven. Let it stand in this postion until it cools. When cake is completely cool, remove it from the pan.

Makes 8 servings.

Tip:
The cake should be baked on the lower shelf of oven. The egg whites should be whipped until firm stiff peaks form.

Variations
To Make Chocolate Chiffon Cake:
Use 135 grams flour Plus 15 grams cocoa powder instead of 150 grams of flour. The water used is 135 mL instead of 115 mL.

To Make Coffee Chiffon Cake:
Dissolve 1 1/2 tsp. instant coffee or 1 tsp. coffee paste in the 115 mL of water.

To Make Mocha Chiffon Cake:
Dissolve 1 tsp. chocolate paste Plus 1/2 tsp. coffee paste in the 115 ml of water.
Submitted By: Irene
Date: March 21, 2004