Diana's Desserts - www.dianasdesserts.com
See more recipes in
Miscellaneous Desserts, Etc.
Coffee Baked Alaska with Mocha Sauce
in Guest Recipe Book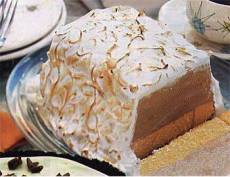 [Be the first to post a review!]
Servings: 6-8
Comments:
Invented in the 1800s, the Baked Alaska was possibly named to commemorate America's purchase of that northern territory. The dessert was a big hit in the 50's, because convenience was a watchword, and for all the showy effect it created at the table, Baked Alaska was not difficult to make. Restaurants served ornately decorated versions under flaming cascades of liqueur, while home cooks could just bake it in the oven. Either way, the magic was there—a layer of meringue kept the ice cream inside from melting in the oven. These days, store-bought premium ice creams help Baked Alaska taste even better and offers a wide range of flavor options.
Ingredients:

Cake
1 quart coffee ice cream, softened
1 (10.75-ounce size) frozen pound cake
4 large egg whites
1/4 teaspoon cream of tartar
1 teaspoon coffee liqueur
1/3 cup granulated sugar

Sauce
1 1/2 cups freshly brewed strong coffee
10 ounces semisweet chocolate, chopped
2 tablespoons coffee liqueur


Instructions:
For the Cake:
Line a 9 x 5 x 2 1/2-inch metal loaf pan with plastic wrap, leaving overhang. Spoon ice cream into prepared pan, spreading evenly and smoothing top. Cut cake horizontally in half. Arrange 1 cake piece, cut side down, atop ice cream and against 1 corner of pan. Cut remaining cake piece into strips and arrange in pan to cover ice cream completely. Cover with overhanging plastic and freeze until firm, at least 4 hours.

Uncover cake. Invert onto metal or other ovenproof platter. Freeze while preparing meringue. Beat egg whites in large bowl until foamy. Add the cream of tartar. Beat until soft peaks form. Beat in liqueur. Gradually add sugar, beating until stiff glossy peaks form. Spread meringue over cake, covering cake completely and sealing meringue to platter. Freeze overnight.

For the Sauce:
Combine coffee and semisweet chocolate in heavy small saucepan. Stir over medium-low heat until mixture is smooth. Increase heat to medium. Simmer until sauce thickens, about 2 minutes. Cool slightly. Stir in coffee liqueur. (Can be prepared 3 days ahead. Keep cake frozen. Cover sauce and refrigerate; rewarm sauce over medium-low heat before serving.)

Position rack in center of oven and preheat to 500°F (260°C) for 20 minutes. Bake dessert until meringue is lightly browned and just set, about 3 minutes.

Cut baked Alaska into slices; arrange on plates. Spoon warm sauce around dessert and serve.

Makes 6-8 servings.
Source: Bon Appétit
Submitted By: Joanne Teo
Date: January 28, 2004