Diana's Desserts - www.dianasdesserts.com
See more recipes in
Thanksgiving Desserts
Aunt Mildred's Pecan Pie
in Guest Recipe Book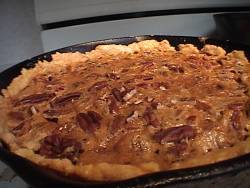 Average Rating:
(total ratings: 1)
[Read reviews]
[Post a review]
Servings: 8
Comments:
"This is my Aunt Mildred's recipe for Pecan Pie, which has been a Thanksgiving staple for decades in her home. I think she may have gotten her recipe from a Better Homes and Gardens or some such magazine in the 1950's. I wanted the crust to have a completely "non commercial" look, so I allowed the edges to be rough. Also, I baked it in a cast iron skillet, mostly because I didn't have anything better, and those skillets serve me so well. Here's the final result, just out of the oven"....Dave
(See Dave's photo of Pecan Pie above)
Ingredients:

For Crust:
1 recipe Flaky Vinegar Pie Crust (See recipe ingredients and instructions below)

For Pecan Filling:
1 1/4 cups brown sugar
1/2 cup light corn syrup
About 3-4 tablespoons butter
About 1-2 tablespoons milk
About 1 1/4 teaspoon vanilla extract
1/4 teaspoon salt
1 tablespoon all-purpose flour
3 large eggs
1 1/4 cup pecans
1 egg, lightly beaten (for egg wash)

Instructions:
1). Make Flaky Vinegar Pie Crust. (See recipe ingredients and instructions below).

2). Preheat oven to 300 degrees F (150 C). Check pecans for any shells.

3). Beat the 3 eggs till frothy.

4). Roll out the pie crust and place into pie dish; flute sides of crust if desired. (Note: I used a 10" cast iron skillet, which evenly heated the pie and gave it a nice thin brown crispy layer on the crust).

5). Brush crust with the lightly beaten egg, and put crust in the refrigerator.

6). In a small sauce pan on medium heat, melt the butter and allow the butter to brown for a few seconds; turn heat down to low. Once the butter melts, add the corn syrup, brown sugar, milk, salt, flour, and 1 cup of the pecans together; stir into melted butter, and mix until all the sugar has melted. Add the beaten eggs and vanilla to mixture and mix completely.

7). Remove the crust from the refrigerator and pour the filling into it.

8). Take the remaining 1/4 cup of pecans and place on top of the pie in a slightly decorative fashion. If you like, turn over any upside down pecans that are floating on top.

9). Bake pie in preheated 300 degree F (150 C) oven for 60 minutes, checking to see if the crust has set by giving the pie a push and seeing if the filling is still liquid or not. Remove from oven and transfer to wire rack. Allow pie to cool somewhat before serving with whipped cream or ice cream.

Cook's Tips:
If you decide to use a cast iron skillet to make the pecan pie in like I did, keep the pie in the skillet on the stove top to cool completely after baking.

I also used an "optional" ingredient, 2 ounces of Baker's unsweetened chocolate. I added chocolate to melted butter, and allowed it to melt.

Makes 8 servings.

Flakey Vinegar Pie Crust

Makes enough dough for 1 (9 or 10-inch) double crust pie.

Ingredients:
1 1/2 cups cake flour
1 1/2 cups all-purpose flour
2 teaspoons granulated (white) sugar
1/2 teaspoon salt
1/4 teaspoon baking powder
8 tablespoons (1 stick/ 4 oz.) unsalted butter
10 tablespoons solid shortening (such as Crisco)
2 large egg yolks
4 teaspoons distilled white vinegar
6 ice cubes
1 cup cold water

Instructions:

1). Measure butter and shortening onto a plate, put into freezer for about 20 minutes.

2). Measure cake flour, all-purpose flour, sugar, salt and baking powder into the bowl of a food processor. Pulse for a few seconds to mix.

3). Take 1/2 of the cold butter and 1/2 of the cold shortening, put into processor with dry ingredients and pulse off and on for about 1 minute. Scrape down twice while doing this.

4). Take remainder of the cold butter and cold shortening and cut in very briefly with the processor, leaving visible pea-sized chunks. Do not over process at this stage.

5). In a measuring cup, mix egg yolks and vinegar together, add ice cubes and water. Let this get chilled, about 3 to 4 minutes.

6). Remove mixed flours and shortening from processor, put into a large mixing bowl. Sprinkle in approximately 7-12 tablespoons of this egg, water, vinegar mixture, a little at a time, mixing gently with a fork. The very important thing here is you do not want a wet dough, and you do not want to overmix.

7). Place the dough into plastic wrap or plastic bag; chill in refrigerator for a 30 minutes. (May also be frozen for a few weeks at this stage for future use).

8). Remove dough from refrigerator; let rest at room temperature for 10 minutes; then roll out.

Note:
Since the Pecan Pie only uses a single bottom crust, you may refrigerate or freeze the remaining dough for another time, or make another single crust pie.

Makes enough dough for 1 (9 or 10-inch) double crust pie.

Photograph taken by Dave Kliman
Source: Aunt Mildred
Submitted By: Dave Kliman
Date: December 1, 2003
Reviews
Reviewer:
Lisa
Rating:
Review:
This pie was the best pecan pie I've made so far. I used my pie crust recipe, but the rest was all Aunt Mildred's pie recipe. My husband said it was the best pecan pie he has ever tasted, And That's All That Counts!! Thanks for a great recipe.