Diana's Desserts - www.dianasdesserts.com
See more recipes in
Cookies
Old Fashioned Chocolate Cookies
in Guest Recipe Book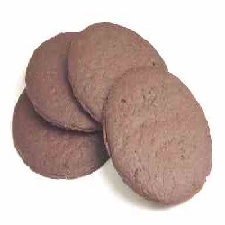 Average Rating:
(total ratings: 2)
[Read reviews]
[Post a review]
Ingredients:

This delicious Chocolate Cookie recipe was
sent in by Jake and his girlfriend Jackie of San Francisco.
The cookbook Jackie got it from is from her Grandmother,
and dates back to 1940. The book didn't say how many cookies
the recipe makes, so it will be a surprise!!!


1/2 Cup Butter
1 1/2 Cups Sugar
1 Egg
1/4 teaspoon salt
2 1/2 cups flour
2 Teaspoons baking powder
1/4 cup milk
2 Squares (2oz.) Chocolate
Instructions:
Cream butter, add sugar, egg well beaten, salt and chocolate (melted). Beat well and add flour sifted with baking powder, alternately, with milk. Chill several hours, roll very thin, shape with a small cutter, bake in moderate oven, 350'F, 10 Minutes.

Author: Mrs. Simon Kander
Recipe Source: The Settlement Cookbook by: Mrs. Simon Kander
Cookbook Published: 1940
Recipe Submitted by: Jake and Jackie

Adapted by: Diana's Desserts
February 24, 2002

























































Date: Submitted February 24, 2002
Reviews
Reviewer:
Chef-Boy-Ar-Bakke
Rating:
Review:
What I forgot to add to the Old Fashioned Chocolate Cookies review, was that instead of 2 Squares (2 Ozs) Chocolate, I just melted 3 Ozs carob chips, to give it a contrast in flavors.
Reviewer:
Chef-Boy-Ar-Bakke
Rating:
Review:
Good & very easy. This is the second time I made this recipe so I decided to add 1 Cup of quick oats. Even better this time around with the oatmeal in there.