Diana's Desserts - www.dianasdesserts.com
See more recipes in
Cakes and Tortes
Praline Mousse Torte
in Guest Recipe Book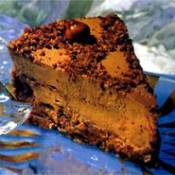 Average Rating:
(total ratings: 2)
[Read reviews]
[Post a review]
Servings: 12
Comments:
This is a deliciously rich mousse cake. I have tried to decrease the fat by substituting some of the chocolate with cocoa, using almonds for making the praline and made the mousse lighter by using less cream. Believe me the result is equally delicious.
Ingredients:

For Cake:
4 1/2 tbsp. cocoa powder
9 tbsp. butter
1 1/4 cups granulated sugar
3 large eggs
3/4 cup flour, sifted with good pinch of salt
1 tsp. vanilla essence or extract
75 grams (3 ounces) bittersweet chocolate, roughly chopped

For Almond Praline
100 grams (4 ounces) whole almonds, unblanched
2/3 cup granulated sugar

For Chocolate Mousse:
200 grams (8 ounces) bittersweet chocolate, roughly chopped
2 tbsp. butter
2 tsp. instant coffee
1 tsp. unflavored gelatin, softened in 1 tsp. cold water
2 tbsp. boiling water
3 eggs, separated
1 1/2 cups whipping cream
Instructions:
Make the Cake:
Grease a 9-inch (23cm) springform cake pan. Line with greaseproof paper. Grease the paper with a little oil. Preheat oven to 180 degrees C (350 degrees F).

Put cocoa powder, butter, and 1/4 cup of the sugar in a microwavable dish and heat at 100% for 2 minutes until butter has melted.

Whisk the egg whites with the remaining 1 cup of sugar until stiff.

Whisk the egg yolks until creamy, and then whisk in the cocoa mixture, vanilla essence and sifted flour and salt. Fold in the egg whites and then the chopped chocolate. Pour mixture into prepared pan and bake for 20 minutes until slightly risen and springy. A skewer inserted should come out clean. Cool on a wire rack (until it shrinks a a bit, dont worry). Meanwhile prepare the praline.

Make the Almond Praline:
Grease or spray a cookie or baking sheet with oil or vegetable cooking spray.

Combine the whole almonds with the sugar in a heavy bottomed saucepan and heat over medium-low heat until sugar is melted. Lower heat and allow to bubble until it becomes a rich golden colour. (Do keep a watch on it as it burns very easily). Mix with a wooden spoon and pour out onto the cookie or baking sheet. Allow to cool for about 30 minutes. *After praline has cooled, chop it finely, reserving some whole almonds for garnish. Meanwhile prepare the mousse.

*Note: This may also be done by breaking up the praline into pieces, reserving some whole praline almonds for garnish. Place broken up praline pieces in food processor bowl; cover and process until finely ground.

Make the Chocolate Mousse:
Melt the butter and chocolate over boiling water, or microwave at 60% power for 3 minutes until almost melted. Take out and stir once.

Whisk the egg whites in a clean bowl until stiff peaks form.

Whisk the whipping cream until light and fluffy.

Mix only the egg yolks into the chocolate mixture.

Now dissolve the 2 tsp. of instant coffee into the 2 tbsp. of boiling water and immediately add it to the softened gelatin to dissolve. Whisk the hot gelatin mixture into the chocolate mixture. Now fold in the whisked egg whites and then fold in the whipped cream.

Final Assembly:
Release sides of springform pan.
Spread half of the mousse on top of the cooled cake. Sprinkle with 1/2 of the finely chopped (or ground) almond praline. Then top with the remaining mousse, followed by the remaining chopped almond praline. Garnish with whole almonds around the cake and chill for at least 2 hours in the cold section of the fridge. If desired, transfer torte to a serving platter. Slice torte into individual wedges. Serve cold. Keep any leftover torte covered in the fridge.

Makes 12 servings.

Source: Adapted from Godiva Chocolatier
Submitted By: Fyezah J
Date: July 7, 2003
Reviews
Reviewer:
Milenko
Rating:
Review:
If there was a higher rating than excellent I would gladly give it. Cake is different with all the components of a true cake. Has great crunch, soft mouseline part, and presentation is fabulous. You could win a competition with this cake. Cake has several steps, it is not a 1 - 2 - 3 recipe, it takes a good 1 hour or so to assemble, equilibrating your time. Be careful adding yolks to chocolate, that's about the only problem you might encounter, in other words, chocolate might seaze if all the ingredients are not at room temperature that touch chocolate first. Once you fold in egg whites you can't go wrong. Superb recipe!
Reviewer:
Fabio
Rating:
Review:
Great recipe, just make sure you dont use Bakers or Ghirardelli chocolate. Use a high quaity chocolate such as Valrhona, El Rey, or Guittard. Nothing cheap, final product totally depends on it.