Diana's Desserts - www.dianasdesserts.com
See more recipes in
Cookies
Bran Wafers
in Guest Recipe Book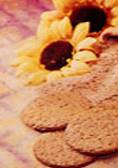 [Be the first to post a review!]
Servings: Makes 36 wafers
Comments:
Just 2 of these thin wafers would fulfill the daily requirement of bran in our diet...my mom likes them with tea.
Ingredients:

1/2 cup all-purpose flour, sifted
1 cup bran
50 grams (3 1/2 tbsp./1 3/4 oz.) butter
1 tbsp. icing (confectioners') sugar
1 egg, lightly beaten
Instructions:
1. In a large mixing bowl, mix the bran, the sifted flour and icing sugar.

2. Either in a food processer or with your hands, incorporate the butter into the flour mixture until mixture becomes fine.

3. Mix in the egg with a fork until a paste is formed, then make a soft dough with your hands.

4. Grease a cookie sheet and spread the wafer dough with a spoon (or your hands) into a thin layer on cookie sheet. After you spread the layer of dough onto the cookie sheet, you cut the dough into approximately 36 squares* (see note below) with a sharp knife. It's quite easy to do as the dough is very soft. After that you put it into the oven.

5. Bake in a preheated 395 degree F (200 C) oven for 15 minutes, or until golden brown.

6. Immediatey remove wafers from cookie sheet with a metal spatula. Let wafers cool completely on rack. Store them in an airtight jar.

*Notes: Wafers can be stored for up to a week in a airtight jar or container, at room temperature.

*Above photo is of "round" bran wafers.

Makes 36 wafers.

Source: My Own Recipe
Submitted By: Fyezah J
Date: June 1, 2003