Diana's Desserts - www.dianasdesserts.com
See more recipes in
Cakes and Tortes
Banana Walnut Ring Cake
in Guest Recipe Book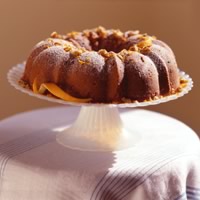 [Be the first to post a review!]
Servings: 10-12
Comments:
Comments from Bea:

"Diana, a friend of mine substituted the self-raising flour with cake flour. She said the texture is much better (more firm) than when using self-raising flour (as the cake tends to be softer and crumbles when cut). I haven't tried using with cake flour yet."......Bea

Ingredients:

225gm (1/2 pound or 2 sticks) butter
1 cup caster or granulated sugar
5 egg yolks
1/4 cup condensed milk
1 cup finely chopped bananas
1/2 - 1 cup chopped walnuts
A few drops of banana essence or extract (optional)
210gm (7 1/2 oz.) self-raising flour or cake flour* (see note below)
1 tsp. baking powder
1 tsp. baking soda
Pinch of salt (optional)
5 egg whites

Instructions:
1). Preheat oven to 180°C (350°F). Lightly grease and flour a 20cm (7 or 8- inch) ring, bundt or tube pan.

2). In a large bowl, cream the butter and sugar until light and creamy.

3). Add in the egg yolks, one at a time, beating well.

4). Blend in the condensed milk, the finely chopped bananas, the walnuts, and a few drops of banana essence or extract (optional). Set aside.

5). Sift together the flour, baking powder, and salt. Fold into creamed mixture.

6). In another bowl, whisk the 5 egg whites until stiff but not dry. Gently fold into creamed mixture.

7). Pour mixture into prepared pan and bake in preheated 180°C (350°F) oven for 50-60 minutes or until tester inserted in cake comes out clean. Cool for 10 minutes in pan, then remove from pan and cool completely on wire rack. If desired, dust cake when cooled completely with confectioners' sugar and garnish with chopped walnuts.

*Note: If using self-raising flour, it is not necessary to use baking powder, baking soda or salt in this recipe, as self-raising flour has these ingredients in it already.

Makes 10-12 servings.
Source: Bea
Submitted By: Bea
Date: May 1, 2003