Diana's Desserts - www.dianasdesserts.com
See more recipes in
Pound Cakes
Cream Cheese Pound Cake
in Guest Recipe Book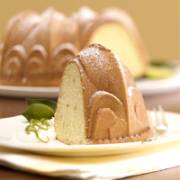 Average Rating:
(total ratings: 3)
[Read reviews]
[Post a review]
Servings: 12
Comments:
"The contrast of sweet butter with tangy cream cheese gives this pound cake its wonderful flavor and velvety texture. This is an especially rich cake, so I try to cut my slices a little thinner than usual. Admittedly, not taking a second helping is a struggle. (I can't agree more.) This recipe also works especially well as a lemon-flavored pound cake. Cream cheese and lemon are a terrific flavor duo"..........Carole Walter, Great Cakes


Ingredients:

2 cups sifted cake flour
1 1/2 tsp. baking powder
1/4 tsp. salt
1 cup (2 sticks) unsalted butter
6 ounces cream cheese
1/2 tsp. freshly grated lemon rind (optional)
1 1/3 cups superfine sugar
5 large egg yolks, lightly stirred
2 tsp. vanilla extract
5 large egg whites
1/8 tsp. cream of tartar


Instructions:
1. Preheat oven to 325 degrees F (160 C). Butter a 9-inch flat-bottomed tube pan or fluted ring pan and dust with all-purpose flour.

2. Sift tog the flour, baking powder, and salt. Set aside.

3. Cut the butter and cream cheese into 1-inch pieces and place in the large bowl of an electric mixer fitted with the beaters or paddle attachment. Add the lemon rind. Soften on low speed for 2 to 3 minutes. Increase the speed to medium-high and cream until smooth and light in color, about 1-1/2 to 2 minutes.

4. Add the sugar, 1 tablespoon at a time, taking 6 to 8 minutes to blend it in well. Scrape the sides occasionally.

5. Add the egg yolks in 3 additions at 1-minute intervals, scraping the sides of the bowl as necessary. Blend in the vanilla.

6. Reduce the mixer speed to low. Add the dry ingredients all at once and mix until blended. Scrape the sides of the bowl. Increase mixer speed to medium-low and mix about 30 seconds longer.

7. In a separate large bowl of an electric mixer fitted with beaters or whip attachment, beat egg whites on medium speed until frothy. Add the cream of tartar and increase the speed to medium high. Continue to beat until the whites are shiny and stand in firm peaks. Do not overbeat.

8. With a 2-3/4 inch wide rubber spatula, fold 1/3 of the beaten whites into the batter, taking about 20 turns to lighten. Then fold in the remaining whites, taking about 40 additional turns.

9. Spoon the batter into the prepared pan and smooth the surface with the back of a tablespoon. Center the pan on the rack and bake in the preheated oven for 60 to 65 minutes, or until the cake is golden brown on the top.

10 Remove the cake from the oven and set the pan on a cake rack for 10 to 15 minutes to cool. Invert the cake onto a cake rack and remove the pan. Just before serving, dust the top lightly with confectioners' sugar.

Storage: Store at room temperature under a glass cover or in an airtight container for up to 7 days.

For Lemon Cream Cheese Pound Cake: Increase freshly grated lemon rind from 1/2 teaspoon to 1 tablespoon. Reduce the vanilla extract to 1 teaspoon.

Makes approximately 12 servings.

*Note from Diana's Desserts:
Above photo of cream cheese pound cake was made in "Fleur De Lis" Cake Pan, made by Nordic Ware.

This beautiful cake pan can be purchased online at: http://www.happycookers.com.
Just do a search on their website for "Nordic Ware", and a page will come up with all the Nordic Ware products, including the Fleur de lis pan.

Source: Great Cakes by: Carole Walter
Submitted By: Choo Teck Poh
Date: April 1, 2003
Reviews
Reviewer:
Marjurie Cabrera
Rating:
Reviewer:
cat
Rating:
Review:
it's a lovely cake! i'll give it a try!
Reviewer:
Sierra
Rating:
Review:
I have made my own version of a cream cheese pound cake and our recipes are very different. This one wasn't as good as I expected. Sorry.