Diana's Desserts - www.dianasdesserts.com
See more recipes in
Chanukah
Honey Whole-Wheat Challah
in Guest Recipe Book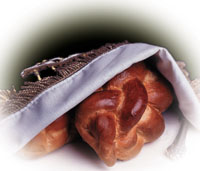 [Be the first to post a review!]
Servings: 2 large loaves-16 servings each
Comments:
This is the richest tasting challah that I have ever eaten. My mother used to make this every week for Sabbath dinner. It is very good to serve for holidays and special occasions.
Ingredients:

3 packets yeast
3/4 cup warm water
2 tbsp. sugar
1/2 cup sugar
2 sticks of unsalted butter-melted
1 tbsp. salt
1/4 cup honey
8 eggs
5 cups of bread flour
4 cups of whole wheat flour
2 cups of golden raisins (optional)
Instructions:
1. Dissolve yeast and 2 tbsp. sugar in warm water and set aside.

2. Mix the rest of the sugar, melted butter, salt, honey, eggs and raisins (optional) in a large bowl. Add yeast mixture.

3. Knead on a floured surface until right consistency is achieved. Approximately 10 minutes.

4. Place in a greased bowl to rise. Approximately 1 hour.

5. Punch down and separate dough into 2 sections. Separate each section of dough into 3 sections and braid.

6. Place on a greased cooking stone or pan to rise. Approximately 1 hour.

7. Bake in 350 degree F oven for 20 minutes or until golden brown. Brush with butter.

Makes 2 loaves (16 slices each).


Source: My mother Dianna's recipe box
Submitted By: Sharra Badgley
Date: 11-26-02