Diana's Desserts - www.dianasdesserts.com
See more recipes in
Candy and Confections
SHE-SHE'S Peanut Butter Balls
in Guest Recipe Book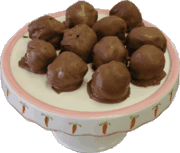 Average Rating:
(total ratings: 4)
[Read reviews]
[Post a review]
Servings: Makes 100 (8-9 dozen) Peanut Butter Balls
Comments:
"At Christmas time, I have no choice but to make these. I have spoiled family and friends for years with these creamy Peanut Butter Balls. I can fit about 20 in the 1 pound boxes that I decorate up and give as my Christmas gifts. A small family gets 1 box and a family of 5 or more may get 2 boxes. I hope you enjoy them, as much as my beggars do"..........Sheila
Ingredients:

For The Peanut Butter Balls:
1 pound (16 oz.) butter, softened at room temperature
2 cups JIF CREAMY Peanut Butter (or any creamy style peanut butter of your choice)
3 tsp. pure vanilla extract
2 (16 oz.) boxes Domino Confectioners' sugar (or any other confectioners' sugar of your choice)

For The Chocolate Coating:
5 pound bag of Light Chocolate Coating Wafers (I use Merckins Chocolate Coating Wafers)


Instructions:
MAKING THE PEANUT BUTTER BALLS
1) Cream together peanut butter, the softened butter and the vanilla extract. I mix mine in a Kitchen Aid Mixer and I mix this until it is very creamy. Then slowly add your confectioners' sugar. Cover, and I refrigerate mine overnight.

2) Remove mixture the next morning from refrigerator and roll the refrigerated peanut butter ball mixture into ball shapes .(Not too little and not too big).

PREPARING CHOCOLATE FOR DIPPING

NOTE: I always buy a 5 pound bag of Light Chocolate Wafers for Coating. You will have some left over. I melt small amounts of the Chocolate Coating Wafers alittle at a time in a double boiler. I find melting chocolate can be tricky.

1) First, boil about 1 cup water in bottom pan of the double boiler; then remove pan from heat.

2) Set the top part of the double boiler pan into the bottom part of the double boiler that has the hot water in it and add chocolate.

NOTE: If chocolate gets moisture from the hot water from the bottom of the double boiler, it can ruin all your work. I only learned with experience. Perhaps Diana's Baking Tips and Ideas Section, under the Chocolate Category can help with preparing the chocolate.

3) Stir constantly until chocolate is melted and creamy.

4) Dip peanut butter balls into melted chocolate ( I use a plastic dipping spoon to help me with this part).

5) After you dip the peanut butter balls in melted chocolate, place the balls on a sheet of wax paper till they harden. Store peanut butter balls in an airtight container.

Makes approximately 100 (8-9 dozen) Peanut Butter Balls.

NOTES:
I am sorry if I did not give full details. I do alot of guess work when I cook or bake. The chocolate wafers are so easy to use, you do not need to add paraffin wax to these. This way also makes a better, creamier taste. However if you would like to make your chocolate coating from chocolate chips and paraffin wax, here is what you do: Melt 1 bag of chocolate chips with 1/2 block of paraffin wax.
I do not recommend using this kind of chocolate coating (using the paraffin wax) for the peanut butter balls as far as getting a good taste.

Source: Unknown
Submitted By: Sheila Weller
Date: 11/25/02
Reviews
Reviewer:
Kelly Voth
Rating:
Review:
These are so creamy, they almost melt before you have a chance to chew them!
Reviewer:
Kathy
Rating:
Review:
I have used this recipe for three years and this year I thought I had lost the recipe. It caused wide spread panic throughout the whole community. LOL! Thank goodness it was still listed!!
Reviewer:
breanna williamson
Rating:
Review:
all i can say is "great", you will absoultely love "em".
Reviewer:
stacey
Rating:
Review:
I make the same thing but with white chocolate coating. Very yummy!