Diana's Desserts - www.dianasdesserts.com
See more recipes in
Breads - Biscuits - Rolls - Scones
Amish Friendship Bread and Starter
in Guest Recipe Book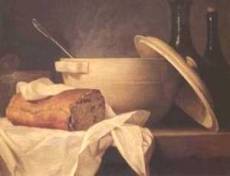 Average Rating:
(total ratings: 26)
[Read reviews]
[Post a review]
Servings: Makes 2 (9x5-inch) loaves
Comments:
Amish Friendship Bread

This is a delicious bread that can be adapted many ways. Make it plain or mix in your favorite fruit. Give the starter and recipe as a gift during the holidays.

Amish Friendship Bread Starter

Make something special to share with a friend. This delicious starter can make a variety of breads. Do not use metal containers or utensils.
Ingredients:

Amish Friendship Bread Starter:
Ingredients:
1 (.25 ounce) package active dry yeast
1/4 cup warm water (110 degrees F/45 degrees C)
3 cups all-purpose flour, divided
3 cups granulated sugar, divided
3 cups milk

Instructions For Making Starter:
1). In a small bowl, dissolve yeast in water. Let stand 10 minutes. In a 2 quart container glass, plastic or ceramic container, combine 1 cup flour and 1 cup sugar. Mix thoroughly or flour will lump when milk is added. Slowly stir in 1 cup milk and dissolved yeast mixture. Cover loosely and let stand at room temperature until bubbly. Consider this day 1 of the 10 day cycle.

2). On days 2 thru 4; stir starter with a spoon. Day 5; stir in 1 cup flour, 1 cup sugar and 1 cup milk. Days 6 thru 9; stir only.

3). Day 10; stir in 1 cup flour, 1 cup sugar and 1 cup milk. Remove 1 cup to make your first bread, give 2 cups to friends along with this recipe, and your favorite Amish Bread recipe. Store the remaining 1 cup starter in a container in the refrigerator, or begin the 10 day process over again (beginning with step 2).

Note:
Once you have made the starter, you will consider it Day One, and thus ignore step 1 in this recipe and proceed with step 2. You can also freeze this starter in 1 cup measures for later use. Frozen starter will take at least 3 hours at room temperature to thaw before using.

Amish Friendship Bread Recipe Ingredients:

1 cup starter
1 cup vegetable oil
2 cups all-purpose flour
1 cup granulated sugar
1/2 cup milk
1 1/4 teaspoons baking powder
3 large eggs
3 teaspoons vanilla extract
1/2 teaspoon baking soda
1/2 teaspoon salt
1 teaspoon ground cinnamon
3/4 cup chopped nuts (optional)




Instructions:
Preheat oven to 350 degrees F. Combine all ingredients (including Starter) and mix well. Pour into 2 well greased and sugared 9x5-inch loaf pans. Bake for 40-50 minutes or until done. Cool 20 minutes before removing from pans.

Makes 2 (9x5-inch) loaves.
Source: DianasDesserts.com
Date: November 3, 2002
Reviews
Reviewer:
Nancy West
Rating:
Review:
this was a lot of fun. we have been doing it every year for 3 years and this year we started it at church. it's really easy to do just follow the directions for your day and pass it on.
Reviewer:
LINDA P. BOLLWINKEL
Rating:
Review:
This has been a lot of fun, and it is absolutely wonderful! However, I was wondering why you can't use metal bowls or utensils when mixing? Just curious!
Reviewer:
Cathy
Rating:
Review:
I love this recipe. I have made many loaves and experiment with different ingredients. They have all come out great. I would also like to know why we cannot use metal of any kind for the recipe? Please explain. Thank you. Cathy N. Florida
Reviewer:
Shara
Rating:
Review:
My MIL was given the starter kit and has been making bread at my house all day today. I'm so glad I was able to find the starter kit and now that I know I can freeze it that is so helpfull. All my MIL has is the day 1-10. Thanks so much the last bit of bread is cooking right now it smells so yummy! thanks again!
Reviewer:
Laura LeBlanc
Rating:
Review:
A good friend of mine gave me this recipe and a starter so many years ago and I lost the recipe...but never the longing for the bread. Imagine my excitement to find it here again. Just like finding a long lost friend once again. Thanks, so much for posting this recipe here!
Reviewer:
brenda downing
Rating:
Reviewer:
Camilla Haefeli
Rating:
Review:
My family loves this bread. Just curious as to why you can't use metal. Does it kill the sour dough? I did by mistake and was just wondering.
Reviewer:
Joy McCombs
Rating:
Review:
I have had this bread before and loved it.I always wondered how to make it, I thought the recipe was a big secret. I am glad to see that it isn't. One question though, do I refrigerate the starter or not? I have seen the recipe on other sites and they vary. Does it matter if it is refrigerated and why? Thanks
Reviewer:
karen bagley
Rating:
Review:
a friend gave me a starter kit but my recipe called for a large box of vanilla pudding or chocalate and it gives it a great taste.
Reviewer:
Vickie Massey
Rating:
Review:
This is a very good recipe. I did not get the starter recipe with mine so it is good to find. I only had 1 glass loaf pan and several metal pans. I had 2 different recipes a little different and one said that you could use metal pans. So, due to the fact I did not have all glass loaf pans I used one of each and they both turned out OK. I just didn't use metal bowls or spoons to mix. I think the metal has something to do with it rising. Please advise about the metal pans. I would like to know about them. Thanks
Reviewer:
Ashley
Rating:
Review:
Someone offered me a starter kit, what does this mean? Is it a club?
Reviewer:
Robin
Rating:
Review:
I have read two different reasons for not using metal bowls and utensils. One is that the acids in the fermenting starter can cause pitting in your metal bowls. This would mainly be a problem if you kept the starter in the bowl the whole 10 days, but wouldn't be a problem just for mixing up the bread. The second reason I have read is that the metal can affect the taste of the bread.
Some recipes call for the starter to be stored in the refrigerator. This is to reduce the risk of mold or harmful bacteria, especially when the starter is made with milk, rather than water. I would suggest that the risk would be lower when using raw, unpasteurized milk, but most people don't use that. One site that gives some info: http://www.ext.nodak.edu/extnews/newsrelease/2002/042502/03prairi.htm
Reviewer:
Cristy
Rating:
Review:
I tried the amish cake yesterday for the frist time and I love it. Now I am trying the starter for the first time and sharing it with my in-laws.
Reviewer:
Angel
Rating:
Review:
I have varied the recipe with different puddings, I think pistachio being my favorite! Really glad I learned about freezing starters!
Reviewer:
Rita
Rating:
Review:
At my job we usually do this once a year. Human Services has their starter, so I will begin my starter next week, and pass it on.
Reviewer:
Patrice
Rating:
Review:
WOW!!!! I love "everything" about it. I was introduced to this bread in November, 2007. Mixing nuts in is the best to me. Thanks for sharing and ENJOY...
Reviewer:
Danny
Rating:
Review:
This was so delicious. The taste just blows you away. I absolutely loved it and passed it on to all of my friends each christmas i am making a loaf for my new years eve party aswell.
GREAT JOB!!
Reviewer:
barb
Rating:
Review:
Hi, I have been making this bread for a long time it is awesome. I save the one cup starter to start all over again, but with the 4 extra cups, I mix each one as directed then mix it all together in one large container and store in fridge so I can make bread all week. It seems to work out good and taste's awesome...
Reviewer:
kathy
Rating:
Review:
A friend gave me this recipe to make because she is not good at baking. Now I have four extra bags laying around. I am glad to find out I can freeze it. And the bread is soooo good, I added raisins to one loaf & small pieces of apple to the other. My kitchen smells the same as when I was little.
Reviewer:
gittel
Rating:
Review:
Excellent-plus. I received the starter bag 20 days ago and my second cake(s) are almost ready to come out of the oven. The house smells heavenly, and we can't wait to have a slice of the cake. For the first batch, I did stir (Day 10) with a metal fork. The kits were just fine. I'm really glad that the starters could be frozen. I might freeze them after the Day 5 additions.
Reviewer:
Robby
Rating:
Review:
Fantastic recipe. I love my starter, its one of my favorite pets. Is it safe to lick the bowl?
Reviewer:
Betsy
Rating:
Review:
Wow, oh wow... Want to be amazed? In the cake recipe, add another 1/2 tsp of cinnamon, 1 teaspoon of ginger, 1/2 teaspoon of cloves and NO ginger, also add a can of pumpkin. Prepare to be BLOWN AWAY! This smelled so good, the natives (family) were anxious to eat!
Reviewer:
Ashleigh F.
Rating:
Review:
I absolutely love Amish Friendship Bread, and have been looking all over to find a good Starter for it. I've finally found it on this site! Thanks for posting! Oh, and for all the other reviewers, the reason behind the 'no metal' rule is that if stored in a metal bowl, after a few weeks, the acids from the starter will cause the metal from the bowl to dissolve into it. This causes a chemical reaction that will contaminate and eventually kill it. The contamination can be seen as a black, blue or pink liquid that pools on the surface. And, supposedly the electrolytes from the metal interfere with those that are in the starter while it sits for the ten days. Hope that helps!
Reviewer:
Anita
Rating:
Review:
When you freeze the starter...once you take it out, can you use it only for a recipe or can you restart the duplication process? Do I start from day 1 all the way to day 10? Thank you
Reviewer:
Sara Newcomb
Rating:
Review:
I made this bread and used French Vanilla Pudding. I also sprinkled cinnamon in the bottom of my bread pan and the top of the bread before cooking it. My daughter loved it and so did the Bunko ladies. I love this bread because it is so versatile as far as flavor goes.
Reviewer:
Stephany
Rating:
Review:
This recipe is terrible. You say three cups flour, milk & sugar but only say to use 1? What do I do with the rest? When? How many times do I do this? See my point? Separate the starter recipe and the bread recipe from day one (using 1/4 of the starter) This is way too confusing. How much flour, sugar and milk and eggs am I going to waste before I figure out what you mean? My directions did not say anything about using metal until baking day, which I am not at yet, is my stuff ruined?