Diana's Desserts - www.dianasdesserts.com
See more recipes in
Christmas
Jamaican Dark Rum Christmas Fruitcake
in Guest Recipe Book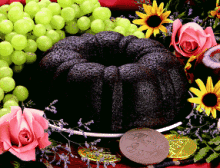 Average Rating:
(total ratings: 14)
[Read reviews]
[Post a review]
Servings: 1 large or 2 medium cakes
Comments:
The elements of this fruit cake from Jamaica and Trinidad are prepared on separate days. The preparation has been divided it into three sections - the early preparation, caramelizing sugar, which can be done the day before, and the day of cooking. This is a rum cake, a fruit cake, a Christmas cake. This is euphoria.

"Jackie, a guest to Diana's Desserts website told me that this delicious cake should be served with Whole Cream, not whipped cream, and that there is enough batter to make 2 tube cakes in this recipe".....Diana

Ingredients:

1 pound currants
1 pound raisins
1 pound prunes
1 pound dried figs
1 (16 ounce) jar maraschino cherries, drained
1/2 pound mixed peel
1/4 pound almonds, chopped
1 tablespoon angostura bitters
2 1/2 cups Dark Jamaica rum

For Caramelizing Sugar:
3/4 pound brown sugar
1/2 cup boiling water

For Final Cooking:
2 teaspoons grated lime peel
2 teaspoons vanilla
4 cups flour
4 teaspoons baking powder
1 teaspoon ground cloves
1 pound butter (4 sticks) softened
2 1/4 cups sugar
9 large eggs


Equipment:
Two 9x5x3 inch loaf pans or one 10 inch tube pan.


Instructions:
Step 1: Preparation Day:

Chop currants, raisins, prunes, figs and cherries. Put in large bowl with mixed peel and almonds. Stir to combine. Sprinkle on bitters and pour rum over mixture. Soak for a minimum of 24 hours, extending to one month. Dream about this cake for whatever period of time you have chosen.

Step 2: Caramelizing Sugar

Put brown sugar in heavy pot. Stir, letting sugar liquefy. Cook over low heat until dark, stirring constantly, so sugar does not burn. When almost burnt, remove from heat and stir in hot water gradually. Mix well, let cool, and pour into container for use in final cooking.

Step 3: Final Cooking

Preheat oven to 250°F.

Bring fruit from its resting place. Stir lime peel, vanilla and caramelized sugar into fruit. Mix well. Set aside.

Sift together flour, baking powder and cloves. Set aside.

Cream together butter and sugar until mixture is light. Add the eggs, one at a time until blended.

Stir in dry ingredients gradually. When mixed, stir in fruit mixture.

Pour into tins lined with buttered parchment paper or waxed paper. Place pan (or pans) in large shallow pan of hot water. Cook in preheated 250°F oven for 2 1/2 - 3 hours or until a tester inserted in center of cake comes out clean. Cake should have shrunk from sides of pan.

Cool for 24 hours in pans. When cool, moisten with rum, remove from pans, and wrap in aluminum foil or a rum drenched cloth. Cakes may be stored to ripen. If keeping for any length of time, check occasionally to add more rum.

Makes: 1 large or 2 medium cakes.
Date: October 30, 2002
Reviews
Reviewer:
Karen Ramsey
Rating:
Review:
I am from Trinidad and this is our traditional Christmas Cake, which is also known as Black Cake. This cake can be soaked with at least a cup or more of rum,while it is still in the cake tin, as soon as it comes out of the oven, before it has had a chance to cool. The rum is soaked up immediately. Don't be afraid if it looks as though you have soaked it with too much rum because within a day or two, it will be fully absorbed. One cup of sliced TOASTED almonds can also be added to the batter, if you do not want to use the full amount of fruits called for in the recipe. We also use this recipe for Wedding Cakes.
Karen
Reviewer:
marilyn lawrence
Rating:
Review:
it came out perfect
Reviewer:
Maxia M
Rating:
Review:
My cake turned out prefect. Perfection at it's best.
Reviewer:
Mike M
Rating:
Review:
Phenomenal. Recipe yields large amounts. May cut the recipe in half. It is a keeper.
Reviewer:
maritza gamez
Rating:
Review:
My cake turned out delicious, the only thing i observed is that it didn't turn out as dark as yours in the illustration, otherwise it's a beautiful cake, nice to be made ahead for the holidays.
Reviewer:
joanna jackson
Rating:
Review:
please help! your cake sounds amazing but do you use plain flour or self raising flour?
Reviewer:
Diana, Diana's Desserts
Rating:
Review:
This recipe uses all-purpose flour (plain flour), not self-raising flour.
Reviewer:
kristan wilmot
Rating:
Review:
it was awsome i love everything from jamaica that is the land of my birth.
Reviewer:
Sheka Brice
Rating:
Review:
This is our traditional Christmas cake in the Bahamas. This is the first time I've ever tried baking one and it came out beautiful and it tasted awesome.
Reviewer:
dona persaud
Rating:
Review:
jamaican fruit cake does not include figs or nuts or lime peel, or angostora bitters. we use white rum instead of dark rum. we use cinnamon. the currants, raisins and prunes are all ground up with sweet red wine and soaked for 6 months or at least two weeks before baking. as soon as it is done baking soak with red wine everyday until you are ready to cover with marzipan. using rum to soak it may lead to a very bitter tasting cake. i hold the recipe to probably be the best jamaican fruit cake ever but it was left to me by my mother as her legacy.
Reviewer:
hazel p
Rating:
Review:
the season is here again for me to bake this delicious cake...it is best to use Cherry B Wine and a litttle bit of rum to soak the fruits.
Reviewer:
Ann Marie
Rating:
Review:
We loved this! It is the first truly moist dark fruitcake I have ever had. My family gives this cake a standing ovation. The full recipe made a 10" tube cake plus two large, square bread tins. I cut the square cakes into smaller loafs and gave them as neighbor gifts.
Reviewer:
Sonia
Rating:
Review:
I have not made the cake from this recipe. I never saw nuts in our Jamaican fruit cake.
Reviewer:
heather blanford
Rating:
Review:
This recipe uses all-purpose flour or self-raising flour.