Diana's Desserts - www.dianasdesserts.com
See more recipes in
Breads - Biscuits - Rolls - Scones
Jamaican Hard Dough Bread
in Guest Recipe Book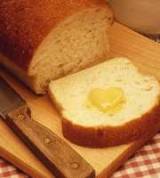 Average Rating:
(total ratings: 28)
[Read reviews]
[Post a review]
Servings: 1 or 2 (9 x 5-inch) loaves
Comments:
Oblong-shaped and made in various sizes. Hard Dough Bread is everyone's choice in Jamaica. It's moist and can be eaten alone or with butter, pate, jelly or any kind of spread. It is very good for sandwiches because it will not become soggy.

Bread which is to be served in eight hours must be left unwrapped. For longer storage, wrap in moisture-proof bags to retard staling. Bread must be thoroughly cooled before wrapping or moisture will collect in the bag. Wrapping and freezing maintains quality for longer periods. Refrigeration on the other hand increases staling.
Ingredients:

1 1/2 lbs. all-purpose flour
1/2 oz. fresh yeast OR 1 rounded tsp. dried yeast
2 tsp. salt
2 tbsp. vegetable shortening (optional)
1 tsp. granulated sugar
1/2 pint warm water
2 beaten egg whites OR milk, for brushing tops of loaves

Note: Commercial hard dough bread recipe includes 30 grams (2 tbsp.) shortening and the same amount of egg white. (optional)


Instructions:
Preheat oven to 350°F (180°C). It takes 40 minutes for the loaf to bake.

All ingredients and utensils should be warmed to assist the fermentation.

1. Dissolve the yeast in some of the liquid and add 1 teaspoon sugar. Leave it to stand in a warm place for 10 minutes. This activates the yeast and starts the fermentation process.

2. Sift the flour and salt together. (Rub in the 2 tbsp. shortening, if being used).

3. Add the yeast liquid and the rest of the liquid all at once.

4. Mix quickly to a soft dough which is elastic and pliable.

5. Knead the dough vigorously either by hand or in an electric mixer, using dough hook. Kneading ensures thorough distribution of yeast in the dough so that it is in contact with the natural sugars in the flour. It also helps to develop the gluten so that it is capable of stretching during fermentation.

6. Cover the dough with a damp cloth to prevent the formation of a skin and leave it to rise or 'proof' in a warm place for 1 to 2 hours. During this time the process of fermentation takes place. The temperature inside the dough should be about 77ºF (25ºC) to work efficiently.

7. Knock back (punch) the dough by kneading it again to bring the yeast into contact with more of the flour.

8. Shape the dough into loaves or rolls. Place in 9 x 5-inch greased loaf pans and leave to rise again for 40 minutes so that more Carbon Dioxide gas is produced.

9. Brush top of loaves with milk or beaten egg whites.

10. Bake at 350°F (180°C) for 30-40 minutes or until set and golden brown in color, and bottom sounds hollow when tapped.

Sources: Food and Nutrition by Anita Tull and Professional Cooking by Wayne Gisslen.


Source: West Indian Times
Date: October 29, 2002
Reviews
Reviewer:
Vanessa
Rating:
Review:
this bread is great, when i made it everyone loved it at the charity event ! thank you for making this website
Reviewer:
polly anna
Rating:
Review:
the taste is amazing. i make it every month, its great. thank you
Reviewer:
REACE
Rating:
Review:
I love island food. Thanks for the recipe; it's hard to find real good ones.
Reviewer:
grabriella
Rating:
Review:
Very good. I tried it and it was very nice.
Reviewer:
sandra
Rating:
Review:
nice sweet bread but nothing like hard dough that I'm used to. oh the search continues!
Reviewer:
Romeo
Rating:
Review:
like this bread. only thing the water should precisely be a pint on a half.
Reviewer:
renee
Rating:
Review:
Oh my goodness, I'm a 14 year old Nigerian girl who loves to bake and who also adores Jamaican food, this recipe is so good that every Saturday, instead of going to the shop to buy it i make it for myself and my family! The recipe is wonderful. thanks for posting it!!!!!!!!!
Reviewer:
sonj
Rating:
Review:
did not taste like hard dough to me.
Reviewer:
Tresha
Rating:
Review:
Take it from a Jamaican this tastes like the real thing!!
Reviewer:
Cooper
Rating:
Review:
Like Paula, I , too, think it is a misprint, and agree that it should be approximately 1-1/2 pints water.
Reviewer:
Cooper
Rating:
Review:
I have made this bread about three times, and each time I have had to add water to the dough. The amount of water specified is not even enough to moisten all the flour. Has anyone had this problem?
Reviewer:
Paula
Rating:
Review:
The water specification is very wrong.  I wonder whether its not a misprint and the correct measurement should be one and a half pints of water.
Reviewer:
Liz
Rating:
Review:
I haven't tried the recipe yet although I love hard dough bread.. I have a bread machine and was wondering whether to take the plunge or not and try baking the bread this way. I can't seem to find a recipe for hard dough bread for a bread machine online. Anybody tried baking the bread in a bread machine please leave any comments .. by the way for the amount of water for the recipe, Diana says we can use between 1 to 1-1/2 pints water.
Reviewer:
Tayo
Rating:
Review:
I've tried it and it works well for me, very straight forward too...like Diana says you need to add more water- 1 to 1-1/2 pints. I use whole wheat flour instead (my preference)
Reviewer:
Elsue
Rating:
Review:
Well done Diana! Clear and accurate. Good quality bread! I am a baker from Jamaica myself, but I mostly do international stuff. Yes, it should take maybe double the water specified. That seems to be an error there. Peace.
Reviewer:
culture
Rating:
Review:
Good bread but needs more water, don't know how much?
Reviewer:
keshaun
Rating:
Review:
No man!! this bread doesn't taste right it needs more water, 1 to 1-1/2 pints..
Reviewer:
gerry
Rating:
Review:
Good bread, I like it, and this coming from a chef...
Reviewer:
Earl Young
Rating:
Review:
Taste like the bread I make at my Bakery...Flagstaff Bakery in Montego Bay Jamaica.
Reviewer:
george
Rating:
Review:
JUST GREAT!
Reviewer:
Steve H.
Rating:
Review:
This is just a template on how to start from scratch, but the next step would be to follow this one at http://www.getjamaica.com/Jamaican%20Recipes%20-%20Jamaican%20Bread%20Recipe.asp
Reviewer:
person
Rating:
Review:
I love this bread!! Has to be the best bread made.
Reviewer:
Your mum
Rating:
Review:
This bread is very nice the best bread ive tasted. Especially coz its jamaican bread ....
Reviewer:
Star
Rating:
Review:
This is a very good recipe for hard dough bread. I use this recipe once per a week with ease. I beg to differ with the other participants but 1/2 pint of water is the correct amount, 1 pint would be a liquid mixture.
Reviewer:
Edwin T.
Rating:
Review:
Loved it, loved it, loved it... this bread taste sooo good, it tastes much better then my mother's....
Reviewer:
Sonia Harris
Rating:
Review:
I tried the recipe and it is not even close to the real thing, even with the water adjustment.
Reviewer:
C Morris
Rating:
Review:
Haven't used the recipe as yet, but I'm sure it will work since it looked straight forward. One small point though, that is: "vegetable shortening should be explained. CM
Reviewer:
Mike
Rating:
Review:
I foolishly listened to those comments suggesting the need for over double the amount of water! What a mistake. Was that a joke? Stick with the recipe as it is. You just need to knead it long enough. My first attempt 2 weeks ago was a disaster, which I tried to salvage by adding more flour. I'm now trying the recipe as it is. Will post my results. Just don't add extra water!