Diana's Desserts - www.dianasdesserts.com
See more recipes in
Christmas
Steamed Cranberry Pudding with Pistachio Cream
in Guest Recipe Book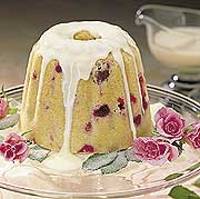 [Be the first to post a review!]
Servings: 8
Comments:
A spectacular dessert for Christmas. This steamed pudding is a wonderful change from the traditional pumpkin, apple, or mincemeat pies so often served at Christmas or Thanksgiving........Diana

What a classy dish. Although it's called a pudding, it really tastes like a cake. And even better—a warm cake.

What makes this so unusual is that it's not baked like a cake, but steamed right on top of your stove. Another neat thing about this pudding is that you can reheat it several days later to serve it warm.

Steaming changes everything. Instead of the dry heat of an oven surrounding a batter, this pudding is put into a "sauna" climate. This produces a very moist dense pudding-like cake.


Ingredients:

For The Cranberry Pudding:
1 vanilla bean
1/2 cup milk, scalded
1/2 cup (4oz.) unsalted butter
1/2 cup granulated sugar
2 large eggs, beaten
1 1/2 cups all-purpose flour
1 tsp. baking powder
1/2 tsp. salt
1 1/2 cups frozen cranberries
1/4 cup granulated sugar

For The Pistachio Cream:
(Makes 2 cups)
2 tbsp. unsalted butter
1 cup skinned and coarsely chopped pistachio nuts
*(see note below for tips on skinning nuts)*
1 cup milk
1 + cups milk
3 large egg yolks, beaten
2 tbsp. cornstarch
1/3 cup granulated sugar
1/8 tsp. salt

Garnish-Optional
Sugared Roses
Edible Leaves


Special Equipment You'll Need:
1) One tall stockpot or dutch oven with pasta/vegetable steamer insert (steamer insert is optional).

2) Rack or trivet, to fit inside the pot to hold pudding mold.

3) 6 to 8 cup Steam Pudding Mold (can be purchased at www.kitchenetc.com)
(They list their pudding mold sizes in liters. You will need a 1 1/2 to 2 liter mold with lid).


Instructions:
Scald milk. Turn off heat and add vanilla bean. Let set 15 minutes, (this is your vanilla-flavored milk). Remove bean and cool. Set aside for adding to the pudding mixture.

Cream the butter and sugar until well blended. Beat the eggs in a separate bowl, then add to butter/sugar mixture.
Mix in the flour, baking powder, and salt. Now, add the cooled vanilla-flavored milk.

Shake the frozen cranberries in a plastic bag with 1/4 cup sugar. (By keeping the cranberries frozen, the berries won't break or streak). Stir the berry/sugar mixture into the batter. The frozen berries will thicken the batter—it will seem like ice cream.

Spray a pudding mold with cooking spray. Spoon in the batter, packing it with a spatula. Your mold should be 3/4 full.

*Securing Lid and Pudding*
Spray a square of aluminum foil with cooking spray. You need a layer on top of the pudding mold so the lid will make a tight, waterproof seal. With lid on, you're ready to steam.

Set up Steaming Equipment:
Place your tall stockpot or dutch oven on stovetop.

Place rack or trivet in bottom of pot.

If using, place your pasta/vegetable insert inside of stockpot or dutch oven.

Put pudding mold lid on tightly, *(see instructions for securing lid and pudding above)*. Place the mold inside the pasta/vegetable insert (if using); and place on trivet or rack.

Pour boiling water into the pot until it is halfway up the side of the mold. Keep water at a gentle boil.

Steam for 1 1/2 hours, topping the boiling water to the same level when necessary.

While the pudding steams, make the sauce. Saute the nuts until golden. Add 1 cup milk to the nuts and simmer for 30 minutes. This infuses the nut flavor into the milk. Strain nuts from the milk. Add milk to equal 2 cups. Pour into top of double boiler, begin heating. Whisk eggs, cornstarch, sugar, and salt thoroughly. Stir into milk in double boiler, cook over medium heat. Cook the sauce until it thickens, stirring often. When it is done, it will coat the back of a spoon.

When the pudding is done, remove the mold from the steamer and take off the lid. Let it rest 10 minutes. Then invert and unmold it onto a serving plate. Plan to serve the pudding warm.

To serve:
Pour the pistachio cream sauce over your warm pudding.

For Garnish:
If desired, for a special presentation, circle the pudding with about a half dozen sugared roses, and a few edible leaves.

Makes 8 servings.

Notes:
Special Tips: Skinning Nuts and Storing Vanilla Beans

Skinning Nuts
Blanch nuts like pistachios or almonds to remove their skins. To blanch nuts, bring a pot of water to a boil. Add nuts and boil them for one minute. Drain the water from the nuts, then place them on a clean towel. Fold the towel over the nuts, and rub it back and forth. The skins will rub off onto the towel. Clinging skins are easy to slide off.

Storing Vanilla Beans:
You can reuse vanilla beans two or three times, I don't like to store them in plastic. Instead, I keep my used vanilla beans in a closed container of sugar. The beans stay fresh and pliable. Plus the sugar picks up the flavor from the beans. The subtle vanilla sugar is perfect in tea and coffee, or used in frostings and sauces that shouldn't be colored by vanilla extract.


Date: October 23, 2002