Diana's Desserts - www.dianasdesserts.com
See more recipes in
Christmas
Greek Christmas Shortbread
in Guest Recipe Book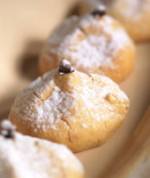 Average Rating:
(total ratings: 4)
[Read reviews]
[Post a review]
Servings: 4 dozen
Comments:
Kourabiethes:

Greek shortbread is prepared mainly during Christmas. It is filled with almonds and sprinkled with confectioners' sugar.

In Greece, the big midwinter feast isn't Christmas but New Year's Day. It's the feast day of St. Basil, the founder of the Greek church, and on that day everyone has a vasilopitta—Basil's bread—a big sweet bread with a cross baked on top and a coin buried inside. You cut a slice for everyone, and the tradition is that whoever gets the gold will be lucky that year. But there are also foods special to Christmas, stuffed turkey with chestnuts, rice, raisins, pine nuts and spices. And everyone has to have something sweet on hand for the carolers who come to the house: nuts and raisins, and traditional cookies like KOURABIETHES, which are GREEK SHORTBREADS, or diples, which are supposed to look like Christ's swaddling clothes.


Ingredients:

1/2 cup blanched almonds
16 oz. unsalted butter, softened
3 tbsp. confectioners' sugar
2 egg yolks
3 tbsp. cognac, or other brandy
1 tsp. vanilla extract
3 cups cake flour
1/2 tsp. baking powder
Whole cloves (optional)
Confectioners' sugar (about 1 pound), for sifting over tops


Instructions:
Heat oven to 350°F (175 C).

Spread almonds in single layer on baking sheet.

Bake, stirring occasionally, until lightly toasted, about 10 minutes.

Remove from oven; cool, and chop coarsely.

Beat softened butter in large bowl of electric mixer on medium-high speed until very light and fluffy, 5 minutes.

Add the 3 tablespoons of confectioners' sugar; continue beating 3 minutes.

Add egg yolks, cognac and vanilla; beat until smooth.

Mix in almonds, flour and baking powder until mixed well.
(if dough is too soft to handle, add additional flour).

Shape tablespoons of dough between your palms and roll into round balls or oval shaped or crecsent shaped cookies.
Place (push down slightly) one whole clove on top of each cookie, (optional).

Bake on ungreased baking sheets until set and very pale golden in color, about 15 minutes. The shortbread cookies should not be too brown, a very light color, almost no color.

Remove cookies to cooling rack.

Place remaining confectioners" sugar into sifter, and while cookies are still hot, sift confectioners" sugar over tops.

When cookies are completely cool, ROLL cookies in confectioners' sugar, and then repeat this rolling in sugar one more time. Place each cookie in a pretty paper muffin cup for serving.

Makes: 4 dozen cookies.


Source: DianasDesserts.com
Date: October 19, 2002
Reviews
Reviewer:
Saria
Rating:
Review:
Don't listen to Simon ioannou... this recipe is wonderful for the holidays and tastes delicious.
Reviewer:
SIMON IOANNOU
Rating:
Review:
It is unfortunate that persons like Saria who are gastronomically ignorant lead others astray. Anyone who bothers to make a comparative taste test between my recipe and the one which Saria claims as "good for the holidays" will immediately perceive that the rosewater is indispensible and that the difference in taste is something akin to chalk and cheese.
Saria's viewpoint is only to be accepted if someone deliberately wishes to eat something which is inferior as opposed to that which is superior and sublime.
Saria, dear, I dare you to organise a blind taste test for 12 Middle-East friends and see which they prefer.
Reviewer:
SIMON IOANNOU
Rating:
Review:
WARNING: THIS RECIPE, LIKE VIRTUALLY ALL RECIPES FOR KOURABIETHES FOUND ON THE INTERNET, IS FUNDAMENTALLY WRONG AND FLAWED. THIS RECIPE FAILS TO POINT OUT THAT THE BISCUIT HAS TO BE EITHER IMMERSED IN ROSEWATER, OR BRUSHED LIBERALLY WITH ROSEWATER, BEFORE IT IS COVERED IN ICING SUGAR. THERE IS NO COMPARISON IN TASTE BETWEEN THE BLANDNESS OF THE ABOVE RECIPE AND ALL THE OTHERS ON THE INTERNET, AND THE INCREDIBLE AROMA AND SEDUCTION OF KOURABIETHES FLAVOURED WITH ROSEWATER BEFORE BEING COVERTED IN ICING SUGAR. PLEASE PASS ON THIS WARNING. (FOR THOSE WHO DOUBT MY CREDENTIALS, I WAS BORN IN ATHENS, LEARNT THE RECIPE FROM MY MOTHER, AND AS A STUDENT OF COOKERY HAD MY MOTHER'S RECIPE CONFIRMED IN THE BOOKS OF THE GREAT MEDITARRANEAN AND MIIDLE-EAST COOKERY EXPERT, CLAUDIA RODEN.)
SIMON IOANNOU ==============
Reviewer:
asimina
Rating:
Review:
Simon is right. I have been making my mom's recipe and rosewater is a must. Kourambiedes without rosewater are just plain butter cookies. That is what makes these cookies stand out.