Diana's Desserts - www.dianasdesserts.com
See more recipes in
Breads - Biscuits - Rolls - Scones
Walnut Raisin Bread
in Guest Recipe Book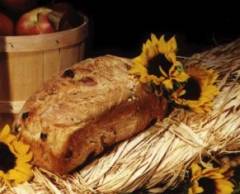 [Be the first to post a review!]
Servings: Makes one loaf, serves 12
Comments:
Like many whole wheat bread recipes, this one contains all-purpose flour as well for a lighter texture. Let your mind go blank as you knead the dough—it's a tried-and-true stress releaser. If you like, shape the dough into 2 small loaves rather than 1 large loaf, the baking time may be slightly less.

Ingredients:

3/4 cup golden raisins
1 package (1/4 ounce) active dry yeast
2 cups lukewarm water (105° to 115° F) (40°-45° C)
2 tbsp. honey
2 3/4 cups whole wheat flour
2 cups all-purpose flour
2 tsp. salt
1 cup walnuts, coarsely chopped
1 large egg beaten with 1 tbsp. water


Instructions:
1. In a small bowl, combine raisins and 1/3 cup hot tap water. Set aside to soften.
2. In a large mixing bowl, stir together honey and 1/2 cup of the lukewarm water. Add yeast and stir to dissolve. Let stand until foamy, about 5 minutes. Stir in remaining 11/2 cups lukewarm water.
3. Add whole wheat flour, 11/2 cups of all-purpose flour, and salt, stirring until well combined. Stir in enough of remaining all-purpose flour until dough leaves sides of bowl.
4. Turn dough on to floured surface and knead 5 to 10 minutes, adding more flour if necessary, until dough is smooth, elastic, and slightly sticky.
5. Place dough in lightly oiled large mixing bowl, turning to coat. Cover with damp cloth and set aside in warm place to rise until doubled in bulk, about 11/2 hours. Lightly oil large cookie sheet.
6. Punch dough down and turn on to floured surface. Drain raisins and pat dry with paper towels. Knead raisins and walnuts into dough. Shape into 1 large round loaf and place on prepared cookie sheet. Cover with damp cloth and let rise until almost doubled, about 30 minutes.
7. Preheat oven to 425°F (220 C). With paring knife, slash top of loaf; brush with beaten egg mixture. Bake 15 minutes. Reduce oven temperature to 375ºF (190 C) and bake 30 minutes or until nicely browned and bottom of loaf sounds hollow when tapped. Cool on rack before slicing.

Makes one loaf, 12 servings.
Source: DianasDesserts.com
Date: October 13, 2002